Abstract
We report the case of a 56-year-old woman who underwent pleural biopsy to identify the cause of the right pleural effusion. The pathological diagnosis was epithelial malignant pleural mesothelioma. The patient worked as a junior high school teacher and strongly hoped for continuing work. Thus, we performed pleurectomy/decortication (P/D) as a curative surgery. The operative findings showed pleural thickening that in the lower lobe of the lung. Thus, peeling of the lower lobe was performed. Pleural biopsy was only performed on the upper and middle lobes. As a result, the operation was limited P/D. The pathological findings showed a small number of mesothelioma cells in the upper and middle lobes. The patient received four courses of cisplatin plus pemetrexed systemic chemotherapy after surgery. Continuous maintenance chemotherapy using pemetrexed has been performed until the time of writing. At present, she has continued her work for 6 years after the operation and has extended her retirement age without recurrence.
This is a preview of subscription content, log in to check access.
Access options
Buy single article
Instant access to the full article PDF.
US$ 39.95
Price includes VAT for USA
Subscribe to journal
Immediate online access to all issues from 2019. Subscription will auto renew annually.
US$ 99
This is the net price. Taxes to be calculated in checkout.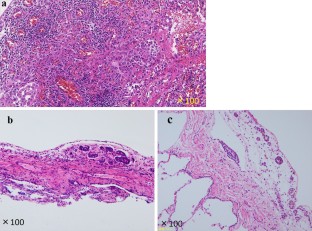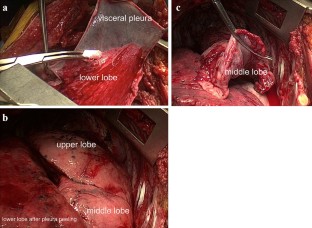 Abbreviations
MPM:

Malignant pleural mesothelioma

EPP:

Extrapleural pneumonectomy

P/D:

Pleurectomy/decortication

CT:

Computed tomography

IASLC:

International association for the study of lung cancer
References
1.

Mancuso MR, Neal JW. Novel sustemic therapy against malignant pleural mesothelioma. Transl Lung Cancer Res. 2017;6:295–314.

2.

Cameron RB. Extrapleural pneumonectomy is the preferred surgical management in the multimodality therapy of pleural mesothelioma: con argument. Ann Surg Oncol. 2007;14:1249–53.

3.

Treasure T, Lang-Lazdunski L, Waller D, Bliss JM, Tan C, Entwisle J, et al. Extra-pleural pneumonectomy versus no extra-pleural pneumonectomy for patients with malignant pleural mesothelioma: clinical outcomes of the mesothelioma ond radical surgery (MARS) randomized feasibility study. Lancet Oncol. 2011;12:763–72.

4.

Rusch VW, Giroux D, Kennedy C, Ruffini E, Cangir AK, Rice D, et al. Initial analysis of the international association for the study of lung cancer mesothelioma database. J Thorac Oncol. 2012;7:1632–9.

5.

Flores RM, Pass HI, Seshan VE, Dycoco J, Zakowski M, Carbone M, et al. Extrapleural pneumonectomy versus pleurectomy/decortication in the surgical management of malignant pleural mesothelioma: results in 663 patients. J Thorac Cardiovasc Surg. 2008;135:620–6.

6.

Rossini M, Rizzo P, Bononi I, Clementz A, Ferrari R, Martini F, Tognon MG. New perspectives on diagnosis and therapy of malignant pleural mesothelioma. Front Oncol. 2018;8:91.

7.

Tanaka F, Imanishi N, Takenaka M, Taira A. Non-incisional pleurectomy-decortication for malignant pleural mesothelioma. Surg Today. 2018;48:656–8.

8.

Takeda T, Itano H, Fukita S, Saitoh M, Takeda S. Long progeression-free survival by pemetrexed continuation maintenance thrapy following cisplatin-based chemotherapy in malignant pleural mesothelioma. Intern Med. 2014;53:2347–51.

9.

Jing XQ, Zhou L, Sun XD, Yu JM, Meng X. Pemetrexed maintenance therapy following bevacizumab-containing first-line chemotherapy in advanced maliganant pleural mesothelioma. Medicine. 2016;95:e3351.

10.

Fujimoto N, Aoe K, Kozuki T, Oze I, Kato K, Kishimoto T, et al. A phase II trial of first-line combination chemotherapy with Cisplatin, Pemetrexed, and Nivolumab for unresectable malignant pleural mesothelioma: a study protocol. Clin Lung Cancer. 2018;19:e705-7.
Acknowledgements
We thank Dr. Atsuji Matsuyama for helpful assistance in pathological diagnosis.
Additional information
Publisher's Note
Springer Nature remains neutral with regard to jurisdictional claims in published maps and institutional affiliations.
About this article
Cite this article
Takenaka, M., Ichiki, Y., Taira, A. et al. Return to work after surgical treatment for malignant pleural mesothelioma: report of a case. Gen Thorac Cardiovasc Surg 67, 897–900 (2019). https://doi.org/10.1007/s11748-019-01064-z
Received:

Accepted:

Published:

Issue Date:
Keywords
Malignant pleural mesothelioma

Pleurectomy/decortication

Incomplete resection

Maintenance chemotherapy

Long-term survival