Abstract
Pulmonary artery (PA) reconstruction has been accepted to avoid pneumonectomy in locally advanced lung cancer surgery because of its satisfactory outcomes with regard to long-term survival and its low postoperative morbidity and mortality rates. Several techniques of PA reconstruction have been documented. However, the availability of PA reconstruction using an autologous pulmonary vein (PV) patch is unclear. Here, we present a patient who successfully underwent PA reconstruction using an autologous PV patch during resection of a lung adenocarcinoma (cT2aN1M0: stage IIB) in the left upper lobe with hilar extension and left main PA invasion.
This is a preview of subscription content, log in to check access.
Access options
Buy single article
Instant access to the full article PDF.
US$ 39.95
Price includes VAT for USA
Subscribe to journal
Immediate online access to all issues from 2019. Subscription will auto renew annually.
US$ 99
This is the net price. Taxes to be calculated in checkout.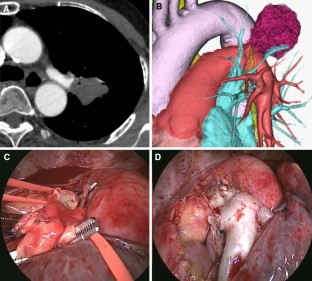 References
1.

Alifano M, Cusumano G, Strano S, Magdeleinat P, Bobbio A, Giraud F, et al. Lobectomy with pulmonary artery resection: morbidity, mortality, and long-term survival. J Thorac Cardiovasc Surg. 2009;137:1400–5.

2.

Galetta D, Borri A, Gasparri R, Petrella F, Spaggiari L. Surgical techniques and long-term results of pulmonary artery reconstruction in patients with lung cancer. Ann Thorac Surg. 2015;100:1196–202.

3.

D'Andrilli A, Maurizi G, Ciccone AM, Andreetti C, Ibrahim M, Menna C, et al. Long-segment pulmonary artery resection to avoid pneumonectomy: long-term results after prosthetic replacement. Eur J Cardiothorac Surg. 2018;53:331–5.

4.

Hirai A, Shinohara S, Kuwata T, Takenaka M, Chikaishi Y, Oka S, et al. Pulmonary artery reconstruction using autologous pulmonary vein for surgical treatment of locally advanced lung cancer: a case report. Surg Case Rep. 2016;2:46.

5.

Venuta F, Ciccone AM. Reconstruction of the pulmonary artery. Semin Thorac Cardiovasc Surg. 2006;18:104–8.

6.

Puma F, Capozzi R, Daddi N, Ragusa M, Cagini L, Quintili A, et al. Experience with the autologous pulmonary vein for pulmonary arterioplasty. Eur J Cardiothorac Surg. 2011;40:e107–11.

7.

D'Andrilli A, Maurizi G, Andreetti C, Ciccone AM, Ibrahim M, Poggi C, et al. Pulmonary artery reconstruction with pulmonary vein conduit for lung cancer: medium-term results. Ann Thorac Surg. 2014;98(3):990–5.
Ethics declarations
Conflict of interest
The authors have no conflict of interest to declare.
Additional information
Publisher's Note
Springer Nature remains neutral with regard to jurisdictional claims in published maps and institutional affiliations.
Electronic supplementary material
Below is the link to the electronic supplementary material.
Supplementary material 1 (MP4 90179 KB)
About this article
Cite this article
Tsunezuka, H., Ishikawa, N., Nishimura, T. et al. Pulmonary artery reconstruction using an autologous pulmonary vein patch in pulmonary resection. Gen Thorac Cardiovasc Surg 67, 569–571 (2019). https://doi.org/10.1007/s11748-018-1028-5
Received:

Accepted:

Published:

Issue Date:
Keywords
Pulmonary artery reconstruction

Pulmonary vein patch

Locally advanced lung cancer