Abstract
Descending necrotizing mediastinitis (DNM) is a rapidly progressive disease from the spread of cervical infection. Transcervical and transthoracic drainage was the recognized traditional surgical approach to achieve adequate clearance of infection. Non-invasive vacuum-assisted dressing is a new technique where applied negative pressure can help remove infective fluid and to promote wound healing. A 60-year-old man presented with odynophagia, fever and anterior neck swelling for 2 weeks. He was diagnosed to have anterior neck abscess and underwent surgical drainage. However, it did not respond well, but progressed to involve superior and inferior mediastinum. Vacuum-assisted dressing was applied for total of 2 weeks and the patient recovered without going through usual traditional transthoracic drainage. Vacuum drainage is a simple, safe and non-invasive method of managing DNM, in well selected group with small abscess cavity without airway obstruction and septicemia. This potential technique can lead to paradigm shift in treating life-threatening DNM.
Access options
Buy single article
Instant access to the full article PDF.
US$ 39.95
Tax calculation will be finalised during checkout.
Subscribe to journal
Immediate online access to all issues from 2019. Subscription will auto renew annually.
US$ 79
Tax calculation will be finalised during checkout.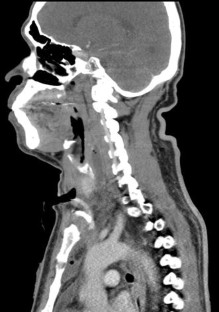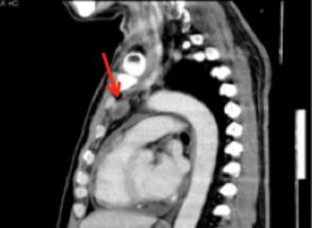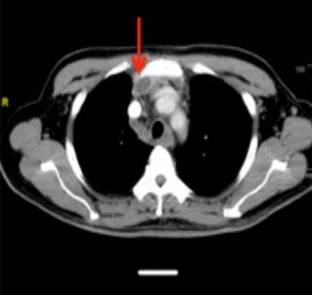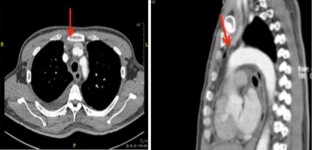 References
1.

Estrera AS, Landay MJ, Grisham JM, Sinn DP, Platt MR. Descending necrotizing mediastinitis. Surg Gynecol Obstet. 1983;157:545–52.

2.

Islam A, Oko M. Cervical necrotising fasciitis and descending mediastinitis secondary to unilateral tonsillitis: a case report. J Med Case Rep. 2008;2:368.

3.

Liptay MJ, Fry WA, Shields TW. Acute and chronic mediastinal infections. In: Shields TW, LoCicero J, Ponn RB, editors. Shields general thoracic surgery. Philadelphia: Lippincott Williams and Willkins; 2000. p. 2093–104.

4.

Ely WE, Stump TE, Hudspeth AS, et al. Thoracic complications of the dental surgical procedures: hazards of the dental drill. Am J Med. 1983;95:456–65.

5.

Wang LF, Kuo WR, Tsai SM, Huang KJ. Characterizations of life-threaten- ing deep cervical space infections: a review of one hundred ninety-six cases. Am J Otolaryngol. 2003;24:111–7.

6.

Corsten MJ, Shamji FM, Odell PF, et al. Optimal treatment of descending necrotizing mediastinitis. Thorax. 1997;52:702–8.

7.

Singhal P, Kejriwal N, Lin Z, et al. Optimal surgical management of descending necrotizing mediastinitis: our experience and review of the literature. Heart Lung Circ. 2008;17:124–8.

8.

Roberts JR, Smythe WR, Weber RW, et al. Thoracoscopic management of descending necrotizing mediastinitis. Chest. 1997;112:850–4.

9.

Inoue Yoshimasa, Gika Masatoshi, Nozawa Keijiro, et al. Optimum drainage method in descending necrotizing mediastinitis. Interact Cardiovasc Thorac Surg. 2005;4:189–92.

10.

Batacchi S, Matano S, Nella A, et al. Vacuum-assisted closure device enhances recovery of critically ill patients following emergency surgical procedures. Crit Care. 2009;13:194.

11.

Perez D, Wildi S, Demartines N, Bramkamp M, Koehler C, Clavien PA. Prospective evaluation of vacuum-assisted closure in abdominal compartment syndrome and severe abdominal sepsis. J Am Coll Surg. 2007;205:586–92.

12.

Gallo Oreste, Deganello Alberto, Meccariello Giuseppe, et al. Vacuum-assisted closure for managing neck abscesses involving the mediastinum. Laryngoscope. 2012;122:785–8.

13.

Deniz Hayati, Gokaslan Gokhan, Arslanoglu Yavuz, et al. Treatment outcomes of postoperative mediastinitis in cardiac surgery; negative pressure wound therapy versus conventional treatment. J Cardiothorac Surg. 2012;7:67.

14.

Freeman RK, Vallieres E, Verrier ED, Karmy-Jones R, Wood DE. Descending necrotizing mediastinitis: an analysis of the effects of serial surgical debridement on patient mortality. J Thorac Cardiovasc Surg. 2000;119:260–7.
Ethics declarations
Conflict of interest
All the authors have declared no competing interest.
About this article
Cite this article
Liew, Y.T., Lim, E.Y.L., Zulkiflee, A.B. et al. Severe descending necrotizing mediastinitis: vacuum-assisted dressing did wonder. Gen Thorac Cardiovasc Surg 65, 225–228 (2017). https://doi.org/10.1007/s11748-016-0642-3
Received:

Accepted:

Published:

Issue Date:
Keywords
Descending necrotizing mediastinitis

Transthoracic

Vacuum-assisted dressing