Abstract
Consumers seek naturalness across many domains, including physical appearance. It seems that the desire for natural beauty would discourage artificial appearance-enhancement consumption, such as cosmetic use. However, across an analysis of the "no-makeup movement" on Twitter and Nielsen cosmetic sales (Study 1a), an image analysis of #nomakeup selfies using machine learning approaches (Study 1b), and three experiments (Studies 2–4), we find that calls to look natural can be associated with increased artificial beauty practices. Drawing from attribution theory, we theorize that calls to look natural maintain the value of attractiveness while adding the consumer concern that others will discount their attractiveness if overt effort is present. Thus, rather than investing less effort, consumers may engage in a self-presentational strategy wherein they construct an appearance of naturalness to signal low effort to others, thereby augmenting their attractiveness. This work contributes to attribution and self-presentation theory and offers practical implications for naturalness consumption.
Access options
Buy single article
Instant access to the full article PDF.
US$ 39.95
Tax calculation will be finalised during checkout.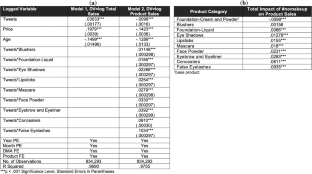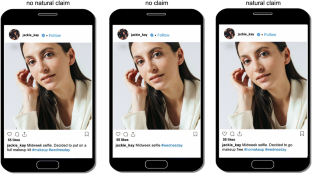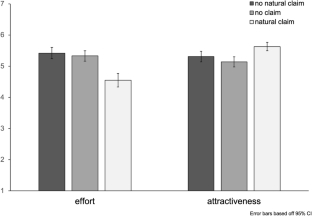 Notes
1.

Researchers own analyses calculated (or derived) based in part on data from Nielsen Consumer LLC and marketing databases provided through the NielsenIQ Datasets at the Kilts Center for Marketing Data Center at The University of Chicago Booth School of Business. The conclusions drawn from the NielsenIQ data are those of the researchers and do not reflect the views of NielsenIQ. NielsenIQ is not responsible for, had no role in, and was not involved in analyzing and preparing the results reported herein.
References
Alexandrov, A., Lilly, B., & Babakus, E. (2013). The effects of social-and self-motives on the intentions to share positive and negative word of mouth. Journal of the Academy of Marketing Science, 41(5), 531–546.

Appel, G., Grewal, L., Hadi, R., & Stephen, A. T. (2020). The future of social media in marketing. Journal of the Academy of Marketing Science, 48(1), 79–95.

Berger, J., & Ward, M. (2010). Subtle signals of inconspicuous consumption. Journal of Consumer Research, 37(4), 555–569.

Berry, C., Burton, S., & Howlett, E. (2017). It's only natural: The mediating impact of consumers' attribute inferences on the relationships between product claims, perceived product healthfulness, and purchase intentions. Journal of the Academy of Marketing Science, 45(5), 698–719.

Brandt, A. C., Vonk, R., & van Knippenberg, A. (2011). Augmentation and discounting in impressions of targets described by third parties with ulterior motives. Social Cognition, 29(2), 210–220.

Craig, M. L. (2002). Ain ' t I a beauty queen?: Black women, beauty, and the politics of race. Oxford University Press.

Creswell, J. (2017). Millennials' lust for makeup driving a boom in the cosmetics industry. Financial Post. https://business.financialpost.com/news/retail-marketing/millennials-lust-for-makeup-driving-a-boom-in-the-cosmetics-industry

DeAndrea, D. C., Tom Tong, S., Liang, Y. J., Levine, T. R., & Walther, J. B. (2012). When do people misrepresent themselves to others? The effects of social desirability, ground truth, and accountability on deceptive self-presentations. Journal of Communication, 62(3), 400–417.

Demarest, J., & Allen, R. (2000). Body image: Gender, ethnic, and age differences. The Journal of Social Psychology, 140(4), 465–472.

Dion, K., Berscheid, E., & Walster, E. (1972). What is beautiful is good. Journal of Personality and Social Psychology, 24(3), 285–290.

Etcoff, N. L., Stock, S., Haley, L. E., Vickery, S. A., & House, D. M. (2011). Cosmetics as a feature of the extended human phenotype: Modulation of the perception of biologically important facial signals. PLoS One, 6(10), 1–9.

Fales, M. R., Frederick, D. A., Garcia, J. R., Gildersleeve, K. A., Haselton, M. G., & Fisher, H. E. (2016). Mating markets and bargaining hands: Mate preferences for attractiveness and resources in two national US studies. Personality and Individual Differences, 88, 78–87.

Feldman, J. (2016). Alicia keys has started a #nomakeup movement, and it's amazing. Huffington Post. https://www.huffpost.com/entry/alicia-keys-no-makeup_n_575175f3e4b0ed593f140fd8

Folkes, V. S. (1988). Recent attribution research in consumer behavior: A review and new directions. Journal of Consumer Research, 14(4), 548–565.

Goffman, E. (1959). The presentation of self in everyday life. Doubleday.

Hayes, A. F. (2018). Introduction to mediation, moderation, and conditional process analysis: A regression-based approach. The Guilford Press.

Heider, F. (1958). The psychology of interpersonal relations. Lawrence Erlbaum Associates.

Hingston, S. T., & Noseworthy, T. J. (2018). Why consumers don ' t see the benefits of genetically modified foods, and what marketers can do about it. Journal of Marketing, 82(5), 125–140.

Kelley, H. H. (1973). The processes of causal attribution. American Psychologist, 28(2), 107–128.

Kwan, S., & Trautner, M. N. (2009). Beauty work: Individual and institutional rewards, the reproduction of gender, and questions of agency. Sociology Compass, 3(1), 49–71.

Langlois, J. H., Kalakanis, L., Rubenstein, A. J., Larson, A., Hallam, M., & Smoot, M. (2000). Maxims or myths of beauty? A meta-analytic and theoretical review. Psychological Bulletin, 126(3), 390–423.

Leary, M. R. (1995). Self-presentation: Impression management and interpersonal behavior. Westview Press.

Mulhern, R., Fieldman, G., Hussey, T., Lévêque, J. L., & Pineau, P. (2003). Do cosmetics enhance female Caucasian facial attractiveness? International Journal of Cosmetic Science, 25(4), 199–205.

Nash, R., Fieldman, G., Hussey, T., Lévêque, J. L., & Pineau, P. (2006). Cosmetics: They influence more than Caucasian female facial attractiveness. Journal of Applied Social Psychology, 36(2), 493–504.

Robin, M., & Trakoshis, A. (2020). The 30 most stunning makeup-free celebrity selfies. Allure. https://www.allure.com/gallery/makeup-free-celebrity-selfies

Robin, X., Turck, N., Hainard, A., Tiberti, N., Lisacek, F., Sanchez, J. C., & Müller, M. (2011). pROC: An open-source package for R and S+ to analyze and compare ROC curves. BMC Bioinformatics, 12(1), 77.

Rozin, P., Spranca, M., Krieger, Z., Neuhaus, R., Surillo, D., Swerdlin, A., & Wood, K. (2004). Preference for natural: Instrumental and ideational/moral motivations, and the contrast between foods and medicines. Appetite, 43(2), 147–154.

Samper, A., Yang, L. W., & Daniels, M. E. (2018). Beauty, effort, and misrepresentation: How beauty work affects judgments of moral character and consumer preferences. Journal of Consumer Research, 45(1), 126–147.

Scott, S. E., Rozin, P., & Small, D. A. (2020). Consumers prefer "natural" more for preventatives than for curatives. Journal of Consumer Research, 47(3), 454–471.

Shapiro, B. (2014). Beauty unmasked for all to see. New York Times. https://www.nytimes.com/2014/05/08/fashion/no-makeup-look-as-a-new-beauty-standard.html

Shea, M. (2016). The no-makeup movement is great–If you're young and rich. New York Post. https://nypost.com/2016/10/23/the-no-makeup-movement-is-great-if-youre-young-and-rich/

Sorvino, C. (2017). Why the $445 billion beauty industry is a gold mine for self-made women. Forbes. https://www.forbes.com/sites/chloesorvino/2017/05/18/self-made-women-wealth-beauty-gold-mine/#135c0ef82a3a

Tetlock, P. E. (1981). The influence of self-presentation goals on attributional reports. Social Psychology Quarterly, 44, 300–311.

Toma, C. L., Hancock, J. T., & Ellison, N. B. (2008). Separating fact from fiction: An examination of deceptive self-presentation in online dating profiles. Personality and Social Psychology Bulletin, 34(8), 1023–1036.

Van Overwalle, F. (2006). Discounting and augmentation of dispositional and causal attributions. Psychologica Belgica, 46(3), 211–234.

Verhulst, B., Lodge, M., & Lavine, H. (2010). The attractiveness halo: Why some candidates are perceived more favorably than others. Journal of Nonverbal Behavior, 34(2), 111–117.

Watkins, L. M., & Johnston, L. (2000). Screening job applicants: The impact of physical attractiveness and application quality. International Journal of Selection and Assessment, 8(2), 76–84.

Weary, G., Stanley, M. A., & Harvey, J. H. (2012). Attribution. Springer Science & Business Media.
Acknowledgments
The authors would like to thank the Georgia Research Symposium, the Aesthetics in the Expanded Field Group at the University of Georgia, and the Eccles Behavioral Group at the University of Utah for their feedback and Adrienne Brauch, Sara Brockmeier, Kimberly Case, Tony Dang, Abby Dunham, Youngtak Kim, and Ashley Old for their research assistance. Corresponding author: Rosanna K. Smith. C332 Benson Hall, 630 S. Lumpkin St., Athens, GA, 30602, Phone: 706-542-8400.
Additional information
Publisher's note
Springer Nature remains neutral with regard to jurisdictional claims in published maps and institutional affiliations.
Henrik Hagtvedt served as Area Editor.
Supplementary Information
About this article
Cite this article
Smith, R.K., Yazdani, E., Wang, P. et al. The cost of looking natural: Why the no-makeup movement may fail to discourage cosmetic use. J. of the Acad. Mark. Sci. (2021). https://doi.org/10.1007/s11747-021-00801-2
Received:

Accepted:

Published:
Keywords
Naturalness

Beauty

Effort

Attribution

Social media

Image analysis

Multimethod