Abstract
This paper develops a theoretical framework to address how dynamic competitive interactions and customer preferences change the observed relationship between market price and quality, and it offers an empirical framework to study these phenomena. Our framework proposes that price–quality relationships in a market (the fair value line) evolve according to several processes. We define and discuss these processes, including: (1) line formation, (2) line evolution (comprised of line elevation, erosion, steepening, flattening, blurring, tightening, extension and contraction), and (3) line replacement, which involves redefining price or quality in the marketplace. Instead of assuming that prices are a stable function of observable product attributes only (the static equilibrium view), our framework generalizes to dynamic disequilibrium patterns observed in many industries. These patterns are empirically assessed and explained by customer, competitive, and technology forces analyzed in marketing and strategy literatures. For managers, we discuss how they should react to these processes or, even better, set them in motion. For marketing researchers, we specify several hypotheses on the processes' antecedents and consequences, testable with readily available datasets.
Access options
Buy single article
Instant access to the full article PDF.
USD 39.95
Price excludes VAT (USA)
Tax calculation will be finalised during checkout.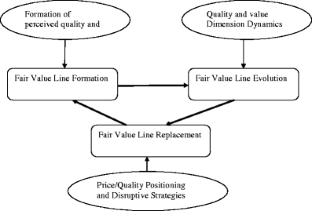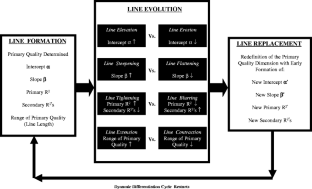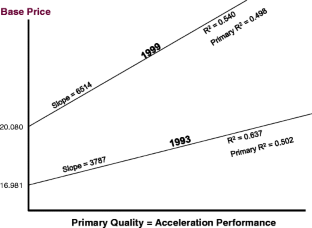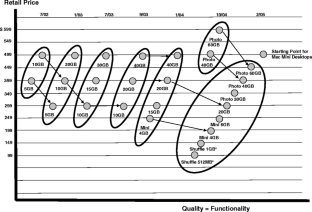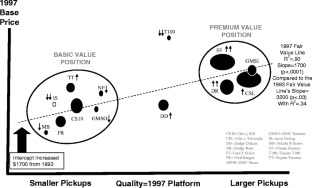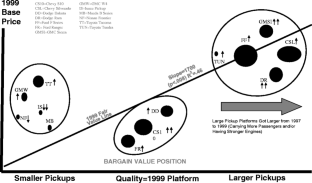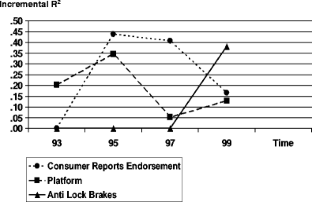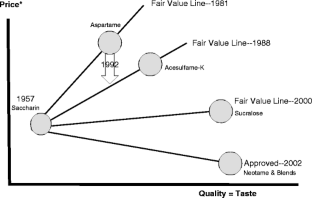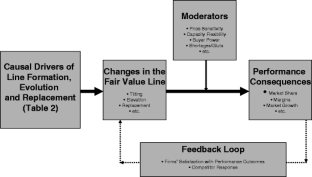 Notes
Throughout the manuscript, line refers to the fair value line, and not to the product line.

We agree with Dickson's (1992) argument that "the theory is also general in that it proposes a set of premises and propositions that have yet to be expressed systematically in a set of mathematical equations. To rush such specification might produce a theory so constrained by its simplifying assumptions that it would have many of the limitations of the static equilibrium theory it is intended to supplement, if not supplant" (p.70)

Note that the hedonic regression does not explicitly incorporate the argument that consumers infer quality from price, which would require a regression of perceived quality on price. While some consumers may indeed use price to judge quality, the evidence in marketing literature is that such inference is (1) highly variable across individuals, (2) nonlinear, (3) highly variable by product category, (4) substantially reduced when other quality information is pres-ent (Zeithaml 1988) to the extent it matters least among quality attributes (Parasuraman et al 1985). Most important to our purpose, such price–quality inference would not explain the observed near-zero or even negative price–quality relationship (Tellis and Wernerfelt 1987) nor the fair value line dynamics we observe and seek to explain.

We acknowledge that some of these quality attributes may be highly correlated with each other, and refer to the technical appendix for dealing with this issue.

We abstract from consumer heterogeneity as our analysis is at the aggregate level, as is the hedonic pricing literature we are extending. However, our analysis may be performed for different segments, as we demonstrated in the empirical illustrations. Future research may extend the ideas in this paper to allow for consumer heterogeneity in industries and situations where individual-level data is available over time.

Often, novice customers start out with a cheap and functional product to satisfy a certain need (e.g., a cassette recorder for music entertainment, a small car for transportation) and then move up as their disposable income grows and/or the price of a more satisfying substitute comes down (e.g., an Apple iPod Shuffle for music entertainment, an SUV for transportation). As a result, the downscale markets are forever confronted with an "out-stream" of experienced customers, which take their primary quality perceptions with them, and an "in-stream" of new customers, which form their primary quality perception on the spot.
References
Agarwal, M., & Ratchford, B. (1980). Estimating demand functions for product characteristics: the case of automobiles. The Journal of Consumer Research, 7(3), 249–262.

Akerlof, G. A. (1970). The market for 'Lemons': quality uncertainty and the market mechanism. Quarterly Journal of Economics, 84(3), 488–500.

Arguea, N. M., & Hsiao, C. (1993). Econometric issues of estimating hedonic price functions: With an application to the U.S. market for automobiles. Journal of Econometrics, http://ideas.repec.org/s/eee/econom.html 56(1–2), 243–267.

Beatty, S. E., & Smith, S. M. (1987). External search effort: an investigation across several product categories. Journal of Consumer Research, 14(June), 83–95.

Boulding, W., & Purohit, D. (1996). The price of safety. Journal of Consumer Research, 23(1), 12–25.

Carpeter, G. S., & Nakamoto, K. (1989). Consumer preference formation and pioneering advantage. Journal of Marketing Research, 26(August), 285–298.

Chow, G. C. (1960). Tests of equality between sets of coefficients in two linear regressions. Econometrica, 28(3), 591–605.

Christensen, C. (1997). The innovator's dilemma: When new technologies cause great firms to fail. Cambridge: Harvard Business School Press.

Curry, D., & Riesz, P. (1988). Prices and price-quality relationships: a longitudinal analysis. Journal of Marketing, 52(1), 36–51.

D'Aveni, R. A. (1994). Hyper-competition: Managing the dynamics of strategic maneuvering. New York: The Free Press.

Day, G. S. (1981). The product life cycle: analysis and applications issues. Journal of Marketing, 45(4), 60–67.

Day, G., & Fahey, L. (1988). Valuing market strategies. The Journal of Marketing 45–57.

Dickson, P. R. (1992). Toward a general theory of competitive rationality. Journal of Marketing, 56(1), 69–83.

Dickson, P. R. (1996). The static and dynamic mechanics of competition: a comment on Hunt and Morgan's comparative advantage theory. Journal of Marketing, 60(4), 102–106.

Edmonds, R. G. (1984). A theoretical basis for hedonic regression: a research primer. Real Estate Economics, 12(1), 72–85.

Erickson, G., & Jacobson, R. (1992). Gaining comparative advantage through discretionary expenditures: the returns to R&D and advertising. Management Science, 38(September), 1264–1279.

Freccia, D. M., Jacobsen, J. P., & Kilby, P. (2003). Exploring the relationship between price and quality for the case of hand-rolled cigars. The Quarterly Review of Economics and Finance, 43, 169–189.

Gale, B. T. (1994). Managing customer value: Creating quality and service that customers can see. New York: Free Press.

Gerstner, E. (1985). Do higher prices signal higher quality? Journal of Marketing Research, 23(May), 209–215.

Gerstner, E. (1986). Peak load pricing in competitive markets. Economic Inquiry 24(2) 349–361.

Guiltinan, J. P., & Gundlach, G. T. (1996) Aggressive and predatory pricing: a framework for analysis. The Journal of Marketing 87–102.

Hamel, G. (2000). Leading the revolution. Harvard Business School Press.

Heil, O. P., & Helsen, K. (2001). Toward and understanding of price wars: their nature and how they erupt. International Journal of Research in Marketing, 18(1–2), 83–98.

Hirshberg, J. (1999). The creative priority: Putting innovation to work in your business. New York: Harper Business.

Hoeffler, S., Ariely, D., West, P., & Duclos, R. (2013). Preference exploration and learning: the role of intensiveness and extensiveness of experience. Journal of Consumer Psychology, 23(3), 330–340.

Holak, S. L., & Tang, Y. E. (1990). Advertising's effect on the product evolutionary cycle. Journal of Marketing, 54(3), 16–29.

Holbrook, M. B. (1994). The nature of customer value: an axiology of services in the consumption experience. Service quality: New directions in theory and practice, 21, 21–71.

Hunt, S. D., & Morgan, R. M. (1995). The comparative advantage theory of competition. Journal of Marketing, 59(2), 1–15.

Hunt, S. D., & Morgan, R. M. (1996). The resource-advantage theory of competition: dynamics, path dependencies and evolutionary dimensions. Journal of Marketing, 60(4), 107–114.

Johnson, E. J., & Russo, J. E. (1997). Frames for understanding competitive. Decision making. In G. Day & D. Reibstein (Eds.), Wharton on dynamic competitive strategies (pp. 177–197). New York: Wiley.

Keller, K. L., Sternthal, B., & Tybout, A. M. (2002). Three questions you need to ask about your brand. Harvard Business Review, 80(9), 80–86.

Kim, W. C., & Mauborgne, R. (2005). Blue ocean strategy: How to create uncontested market space and make the competition irrelevant. Boston: Harvard Business School Press.

Kotler, P., & Keller, K. L. (2014). Marketing management (14th ed.). Upper Saddle River: Pearson Education Inc.

Lambkin, M., & Day, G. S. (1989). Evolutionary processes in competitive markets: beyond the product life cycle. Journal of Marketing, 53, 4–20.

Moore, G. (1995). Inside the tornado. Harper Business, New York.

Morris, R. T., & Bronson, C. S. (1969). The chaos of competition indicated by consumer reports. Journal of Marketing, July, 26–34.

Murray, J., & Sarantis, N. (1999). Quality, user cost, forward-looking behavior, and the demand for cars in the U.K. Journal of Economics and Business, 51(3), 237–258.

Nelson, P. (1970). Information and consumer behavior. Journal of Political Economy, 78(2), 311–329.

Pan, X., Ratchford, B. T., & Shankar, V. (2002). Can price dispersion in online markets be explained by differences in e-tailer service quality? Journal of the Academy of Marketing Science, 30(4), 433–445.

Parasuraman, A., Zeithaml, V. A., & Berry, L. L. (1985). A conceptual model of service quality and its implications for future research. Journal of Marketing, 41–50.

Peters, T. (2003). Re-imagine. Business Excellence in a Disruptive Age. Dorling Kindersley.

Porter, M. E. (1980). Competitive strategy: Techniques for analyzing industries and competitors. New York: Free Press.

Porter, M. E. (1990). The comparative advantage of nations. New York: Free Press.

Porter, M. E. (1991). Towards a Dynamic Theory of Strategy, Strategic Management Journal, 12 (Winter Special Issue), pp. 95–117.

Rao, A. R., & Monroe, K. B. (1989). The effect of price, brand name, and store name on buyers' perceptions of product quality: an integrative review. Journal of Marketing Research, 351–357.

Rosen, S. (1974). Hedonic prices and implicit markets: product differentiation in pure competition. Journal of Political Economy, 82(1), 34–55.

Sinha, I., & DeSarbo, W. S. (1998). An integrated approach toward the spatial modeling of perceived customer value. Journal of Marketing Research 236–249.

Steenkamp, J.-B. E. M. (1990). Conceptual model of the quality perception process. Journal of Business Research, 21(4), 309–333.

Tellis, G. J., & Crawford, C. M. (1981). An evolutionary approach to product growth theory. Journal of Marketing, 45(Fall), 125–132.

Tellis, G. J., & Wernerfelt, B. (1987). Competitive price and quality under asymmetric information. Marketing Science, 6(3) 240–253.

Thomas, J. (2001). The implicit market for service quality: an hedonic analysis. Southern Economic Journal, 59(4), 648–674. 1993.

Thomas, G. P., & Soldow, G. F. (1988). A rules-based approach for competitive interaction. Journal of Marketing, 52(April), 63–74.

Useem, J. (2014). Business school, disrupted. New York Times, May 31st accessed July 12 at http://www.nytimes.com/2014/06/01/business/business-school-disrupted.html?hp&_r=1.

Van Heerde, H. J., Gijsbrechts, E., & Pauwels, K. (2008). Winners and losers in a major price war. Journal of Marketing Research, 45(October), 499–518.

Vanden Abeele, P., Gijsbrechts, E., & Vanhuele, M. (1990). Specification and empirical evaluation of a cluster-asymmetry market share model. International Journal of Research in Marketing, 7, 223–247.

Webster, F. E., & Wind, Y. (1972). Organizational buying behavior. Prentice-Hall.

Wolinsky, A. (1983). Prices as signals of product quality. Review of Economic Studies, 50(4), 647–658.

Zeithaml, V. A. (1988). Consumer perceptions of price, quality, and value: a means-end model and synthesis of evidence. The Journal of Marketing, 2–22.
Acknowledgments
We would like to thank Barbara Lawrence and Dave Reibstein, and the following participants from a Tuck School seminar on this paper for their very helpful comments: Kusum Alawadi, Dick Bower, Bob Hansen, Kevin Keller, Punam Keller, Jackie Luan, and Aviad Pe'er. Their help was invaluable for shaping this paper and contributing to its content.
Appendix
Appendix
Empirical issues with estimating dynamic regressions of price on quality components
In this appendix, we elaborate on the differences and similarities of our empirical approach to that of the hedonic pricing literature. The main empirical difference is that we estimate reduced-form equations, which are generalizable across situations as we do not impose a theoretical structure of competition. We believe that current theoretical structures do not capture many empirical phenomena of interest and fail to sufficiently address the dynamics of price–quality relationships. In contrast, the hedonic pricing literature builds a model with a specific type of competition in mind (e.g., Bertrand, Cournot, and monopolistic competition) and then solves the model using its specific competition and equilibrium assumptions to generate structural (closed-solution) equations, which are then tested with data. The main empirical similarity is that both our approach and hedonic pricing regress prices on product attributes. However, we look at this as an empirical test of relationships, not of whether the industry conditions exist as assumed in the hedonic pricing model. The remaining similarities are that we benefit from empirical issues have been extensively discussed in the literature: data gathering, combining highly correlated variables, estimation procedure, and assessing the significance of changes to the fair value line components. We discuss these in turn.
First, information on price and quality dimensions is often available through independent industry analysts. For our pickup truck and car market illustrations, we use biannual data reported in US Automotive News and Ward's Automotive Directory. Consumer Reports provides reliability ratings, i.e., consumer complaints about defects.
Second, both price and quality variables may be highly correlated. For the car markets, fully loaded prices were highly correlated with base prices (ranging from 0.85 to 0.97), and we decided to use the latter for ease of interpretation. Next, a factor analysis indicated that several quality variables are highly correlated, and they are all related to vehicle size: larger vehicles have higher carrying capacity, engine power, and crashworthiness (vehicle damage claim reports from the Insurance Institute of America), but lower fuel efficiency (EPA mpg ratings) than smaller vehicles. We decided to combine these four variables into the new "platform" quality dimension (as suggested by, e.g., Thomas 2001, p. 649).
Likewise, acceleration performance is computed as engine power divided by chassis size (indicating more power for the size of the vehicle and better "pep"), and safety is a composite measure of the presence of driver-side, passenger-side, and side air bags, as well as driver and passenger injury rates from U.S. government crash tests. Third, much of the hedonic pricing literature in economics has focused on improving the estimation procedure, including one-step versus two-step estimation, the functional form (linear, log-log or log-linear), and heteroscedasticity issues. The current consensus is that one-step linear regressions perform best in a wide variety of industries, as long as each product is weighted by its sales units to correct for heteroscedasticity—in essence avoiding that marginally important products assert undue influence over the regression's coefficients (Arguea and Hsiao 1993; Murray and Sarantis 1999).
As for the significance of dynamic changes to fair value line components, we assess this with the Chow (1960) test, adjusted for multicollinearity and outliers. This test is widely used in econometrics to assess structural change in regression coefficients.
About this article
Cite this article
Pauwels, K., D'Aveni, R. The formation, evolution and replacement of price–quality relationships. J. of the Acad. Mark. Sci. 44, 46–65 (2016). https://doi.org/10.1007/s11747-014-0408-3
Received:

Accepted:

Published:

Issue Date:

DOI: https://doi.org/10.1007/s11747-014-0408-3
Keywords