Abstract
This research explores how same-language subtitles—on-screen text that matches the spoken language—can enhance advertising effectiveness for television commercials on normal viewing audiences outside of foreign-language or deaf-viewer contexts. A preliminary eye-tracker study shows that same-language subtitles capture disproportionate visual attention, and a first study highlights that same-language commercial subtitles can increase brand recall and memory of other verbal ad information. Three further studies using 12 additional ads reinforce the positive effects of subtitles and show how same-language subtitle effectiveness varies with changes in visual and verbal ad complexity. In addition to showing how subtitles can increase behavioral intent, results also highlight how varying subtitle content affects memory gains and illustrate how subtitles can lead to negative effects in the uncommon situation that brand information is missing from the audio. As the efficacy of television advertising becomes increasingly debated, same-language subtitling is a simple way to boost advertising effectiveness.
This is a preview of subscription content, log in to check access.
Access options
Buy single article
Instant access to the full article PDF.
US$ 39.95
Price includes VAT for USA
Subscribe to journal
Immediate online access to all issues from 2019. Subscription will auto renew annually.
US$ 99
This is the net price. Taxes to be calculated in checkout.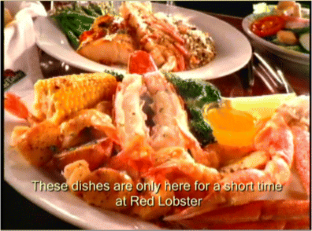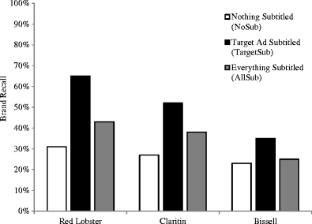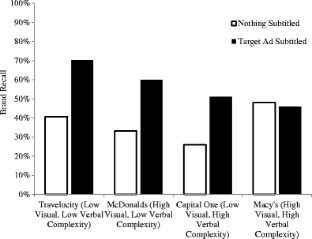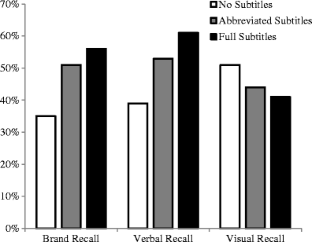 References
Alexander, P. A., & Winne, P. (2006). Handbook of educational psychology. Mahwah: Lawrence Earlbaum Associates.

Antes, J. R. (1974). The time course of picture viewing. Journal of Experimental Psychology, 103(1), 62–70.

Becker, S., & Horstmann, G. (2011). Novelty and saliency in attentional capture by unannounced motion singletons. Acta Psychologica, 136(3), 290–299.

Berman, S. J., Battino, B., Shipnuck, L., & Neus, A. (2009). The end of advertising as we know it. In D. Gerbarg (Ed.), Television goes digital. New York: Springer Science + Business Media.

Brasel, S. A., & Gips, J. (2008). Points of view: where do we look when we watch tv? Perception, 37(12), 1890–1894.

Brasel, S. A., & Gips, J. (2011). Media multitasking behavior: concurrent television and computer usage. Cyberpsychology, Behavior and Social Networking, 14(9), 527–534.

Brunyé, T. T., Taylor, H. A., Rapp, D. N., & Spiro, A. B. (2006). Learning procedures: the role of working memory in multimedia learning experiences. Applied Cognitive Psychology, 20(7), 917–940.

Chaiken, S., & Eagly, A. (1983). Communication modality as a determinant of persuasion: the role of communicator salience. Journal of Personality and Social Psychology, 45(2), 241–256.

Cintas, J. D. (2003). Audiovisual translation in the third millennium. In G. Anderman & M. Rogers (Eds.), Translation today: Trends and perspectives (pp. 192–204). Clevedon: Multilingual Matters.

D'Ydewalle, G., & De Bruycker, W. (2007). Eye movements of children and adults while reading television subtitles. European Psychologist, 12(3), 196–205.

D'Ydewalle, G., & Gielen, I. (1992). Attention allocation with overlapping sound, image, and text. In K. Rayner (Ed.), Eye movements and visual cognition: Scene perception and reading (pp. 415–427). New York: Springer.

D'Ydewalle, G., Van Rensbergen, J., & Pollet, J. (1987). Reading a message when the same message is available auditorily in another language: The case of subtitling. In O'Regan & Levy-Schoen (Eds.), Eye movements: From physiology to cognition (pp. 313–321). Amsterdam: North Holland.

D'Ydewalle, G., Praet, C., Verfaillie, K., & Van Rensbergen, J. (1991). Watching subtitled television: automatic reading behavior. Communication Research, 18(5), 650–666.

Dowell, J., & Shmueli, Y. (2008). Blending speech output and visual text in the multimodal interface. Human Factors: The Journal of the Human Factors and Ergonomics Society, 50(5), 782–798.

Drew, D. G., & Grimes, T. (1987). Audio–visual redundancy and tv news recall. Communication Research, 14(4), 453–461.

Ducoffe, R. H. (1996). Advertising value and advertising on the web. Journal of Advertising Research, 36(5), 21–35.

Egeth, H., & Yantis, S. (1997). Visual attention: Control, representation, and time course. Annual Review of Psychology, 48, 269–297.

Focker, J., Gondan, M., & Roder, B. (2011). Preattentive processing of audio-visual emotional signals. Acta Psychologica, 137(1), 36–47.

Gielen, M. (1988). Perceptie en Ondertitels: De Paravofeale en Perifere Informatieverwerking van Ondertitels [Perception and Subtitles: The Paravofeal and Peripheral Information Processing of Subtitles]. Leuven: University of Leuven.

Itti, L., & Baldi, P. (2009). Bayesian surprise attracts human attention. Vision Research, 49, 1295–1306.

Ivarsson, J., & Carroll, M. (1998). Subtitling. Simrishamn: TransEdit.

Jamet, E., & LeBohec, O. (2007). The effect of redundant text in multimedia instruction. Contemporary Educational Psychology, 32(4), 588–598.

Jamhouri, O., & Winiarz, M. L. (2009). The enduring influence of tv advertising and communications clout patterns in the global marketplace. Journal of Advertising Research, 49(2), 227–235.

Jensema, C. J., Sharkawy, S. E., Danturthi, R. S., Burch, R., & Hsu, D. (2000). Eye movement patterns of captioned television viewers. American Annals of the Deaf, 145(3), 275–285.

Jonassen, D., & Grabowski, B. (1993). Handbook of individual differences, learning, and instruction. Hillsdale: Lawrence Erlbaum Associates, Inc.

Kalyuga, S., Chandler, P., & Sweller, J. (2004). When redundant on-screen text in multimedia technical instruction can interfere with learning. Human Factors: The Journal of the Human Factors and Ergonomics Society, 46(3), 567–581.

Kirino, E., Belger, A., Goldman-Rakic, P., & McCarthy, G. (2000). Prefrontal activation evoked by infrequent target and novel stimuli in a visual target detection task: an event-related functional magnetic resonance imaging study. Journal of Neuroscience, 20(17), 6612–6618.

Kolmogorov, A. (1968). Logical basis for information theory and probability theory. IEEE Transactions on Information Theory, 14(5), 662–664.

Koolstra, C. M., Peeters, A. L., & Spinhof, H. (2002). The pros and cons of dubbing and subtitling. European Journal of Communication, 17(3), 325–354.

Kothari, B., & Takeda, J. (2000). Same language subtitling for literacy: Small change for colossal gains. In S. C. Bhatnagar & R. Schware (Eds.), Information and communication technology in development (pp. 130–151). New Delhi: Sage Publications.

Kuppens, A. H. (2010). Incidental foreign language acquisition from media exposure. Learning, Media and Technology, 35(1), 65–85.

Loewenstein, J., Raghunathan, R., & Heath, C. (2011). The repetition-break plot structure makes effective television advertisements. Journal of Marketing, 75, 105–119.

Loftus, G. R., & Mackworth, N. H. (1978). Cognitive determinants of fixation location during picture viewing. Journal of Experimental Psychology: Human Perception and Performance, 4(4), 565–572.

Macinnis, D., Moorman, C., & Jaworski, B. J. (1991). Enhancing and measuring consumers' motivation, opportunity, and ability to process brand information from ads. Journal of Marketing, 55, 32–53.

MacKenzie, S., Lutz, R., & Belch, G. (1986). The role of attitude toward the ad as a mediator of advertising effectiveness: a test of competing explanations. Journal of Marketing Research, 23, 130–143.

Mayer, R. E. (2009). Multimedia learning (2dth ed.). Cambridge: Cambridge University Press.

Mayer, R. E., Heiser, J., & Lonn, S. (2001). Cognitive constraints on multimedia learning: when presenting more material results in less understanding. Journal of Educational Psychology, 93(1), 187–198.

Moreno, R., & Mayer, R. E. (1999). Cognitive principles of multimedia learning: the role of modality and contiguity. Journal of Educational Psychology, 91(2), 358–368.

Perego, E., Del Missier, F., Porta, M., & Mosconi, M. (2010). The cognitive effectiveness of subtitle processing. Media Psychology, 13(3), 243–272.

Pieters, R., & Wedel, M. (2007). Attention capture and transfer in advertising: brand, pictorial, and text-size effects. Journal of Marketing, 69, 36–50.

Pieters, R., Wedel, M., & Batra, R. (2010). The stopping power of advertising: measures and effects of visual complexity. Journal of Marketing, 74, 48–60.

Rayner, K. (1998). Eye movements in reading and information processing: 20 years of research. Psychological Bulletin, 124(3), 372–422.

Rundle, C. (2000). Using subtitles to teach translation. In R. M. Bollettieri Bosinelli, C. Heiss, M. Soffritti, & S. Bernardini (Eds.), La Traduzione Multimediale: Quale Traduzione per Quale Testo? [Multimedia Translation: What translation for what text?] (pp. 167–181). Bologna: CLUEB.

Sacharin, K. (2001). Attention! How to interrupt, yell, whisper, and touch consumers. New York: John Wiley & Sons.

Schmidt-Weigand, F., Kohnert, A., & Glowalla, U. (2010). A closer look at split visual attention in system- and self-paced instruction in multimedia learning. Learning and Instruction, 20(2), 100–110.

Shachar, R., & Anand, B. (1998). The effectiveness and targeting of television advertising. Journal of Economics & Management Strategy, 7(3), 363–396.

Singh, S., & Cole, C. (1993). The effects of length, content, and repetition on television commercial effectiveness. Journal of Marketing Research, 30, 91–104.

Sohl, G. (1989). Het Verwerken van de Vreemdtalige Gesproken Tekst in een Ondertiteld TV Programma [Processing foreign spoken text in a subtitled television program], Unpublished licence thesis, University of Leuven, Belgium.

Stewart, D. (2009). Marketing accountability: linking marketing actions to financial results. Journal of Business Research, 62(6), 636–643.

Strasheim, A., Pitt, L., & Caurana, A. (2007). Psychometric properties of the Schillinger Viewer Response Profile: evidence from a large sample. Journal of Advertising, 36(4), 101–114.

Suwazono, S., Machado, L., & Knight, R. T. (2000). Predictive value of novel stimuli modifies visual event-related potentials and behavior. Clinical Neurophysiology, 111(1), 29–39.

Wissmath, B., Weibel, D., & Groner, R. (2009). Dubbing or subtitling? Effects on spatial presence, transportation, flow, and enjoyment. Journal of Media Psychology, 21(3), 114–125.

Yuviler-Gavish, N., Yechiam, E., & Kallai, A. (2011). Learning in multimodal training: Visual guidance can be both appealing and disadvantageous in spatial tasks. International Journal of Human-Computer Studies, 69(3), 113–122.

Zekveld, A., Kramer, S., Kessens, J., Vlaming, M., & Houtgast, T. (2008). The benefit obtained from visually displayed text from an automatic speech recognizer during listening to speech presented in noise. Ear & Hearing, 29(6), 838–852.

Zhou, S. (2004). Effects of visual intensity and audiovisual redundancy in bad news. Media Psychology, 6(3), 237–256.
About this article
Cite this article
Brasel, S.A., Gips, J. Enhancing television advertising: same-language subtitles can improve brand recall, verbal memory, and behavioral intent. J. of the Acad. Mark. Sci. 42, 322–336 (2014). https://doi.org/10.1007/s11747-013-0358-1
Received:

Accepted:

Published:

Issue Date:
Keywords
Advertising

Subtitles

Brand recall

Memory