Abstract
Increasingly, consumers use the internet as a vehicle for pre-purchase information gathering. While technical specifications and potentially biased selling points can be gleaned from corporate web sites, online brand communities are becoming essential conduits for the customer-to-customer (C2C) sharing of product information and experiences. This study develops and tests a model of online C2C communications in developing desirable online brand community outcomes. Two studies were used to test the model. In Study 1, a netnography technique was employed and conversations between brand community members were coded and combined with survey data to test the research model. In Study 2 an experiment was conducted to further test the sequence of events in our base model. Our findings show that online brand communities are effective tools for influencing sales, regardless of whether these communities reside on company-owned or independently-owned websites. In addition, we demonstrate interesting asymmetrical effects, whereby the positive information shared by community members has a stronger moderating influence on purchase behavior than negative information. Further, we find that online brand communities are effective customer retention tools for retaining both experienced and novice customers. These findings highlight the need for all firms to carefully consider their online community strategies.
Access options
Buy single article
Instant access to the full article PDF.
USD 39.95
Price excludes VAT (USA)
Tax calculation will be finalised during checkout.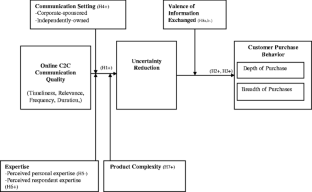 Notes
Relationship quality is defined as the customer's overall assessment of the strength of the relationship they have with a firm (Crosby et al. 1990; De Wulf et al. 2001). Relationship quality has been conceptualized as a higher-order construct made up of relationship satisfaction, trust, and commitment (Crosby et al. 1990; De Wulf et al. 2001). According to Social Penetration Theory (SPT) relationship partners will continue to strengthen relationships if they perceive that the relationship is beneficial (Altman and Taylor 1973). In the OBC setting, members display the strength of their relationship, if they perceive the relationship to be beneficial, through actual purchases. Crosby et al. (1990) showed this linkage between relationship quality and repeat purchase (depth of purchase) and cross-buying (breadth of purchase) behavior in successful customer-salesperson relationships. Relationship quality has also been shown to be a strong predictor of the customer's repeat purchase behavior in the traditional brick-and-mortar environment (Bolton et al. 2004; Verhoef et al. 2002); therefore we include relationship quality as a control variable to account for these past findings.

In this study, brand communities, online brand communities, and discussion forums are used interchangeably.

A "thread" is defined as the initial discussion board posting by a respondent and all the replies to that message.

We only looked at threads where the creator asked a product related question and not threads that creators started for the purposes of selling his/her own products. Also, threads started by employees as well as those with replies from employees were excluded from the sample.

Converting textual material into quantitative data is not new in the marketing literature. For instance, to assess the strategic orientations of the firms in their sample, Noble et al. (2002) converted senior management letters to shareholders into quantitative data. On a similar note, Mohr and Nevin (1990) acknowledged that the content of communication can be analyzed using pre-determined categories by counting the frequency with which messages of a particular category are conveyed.

We also included relationship quality in our CFA because we controlled for the influence of relationship quality on consumer purchase behavior in our model.

Shared variance between pairs of constructs is calculated as the squared correlation between the constructs in question.

Splitting our sample into two resulted in a sample size of 159 for corporate-sponsored forum members and 53 for independently-owned forum members. Although the latter sample size is quite small, this data split was only done to test one hypothesis in our model, i.e., the moderating role of communication setting on the influence of C2C communication quality in reducing uncertainty. Therefore, we do not consider this limitation a major problem for the study as a whole.

When we randomly selected 50% of the total sample (N = 97), the results remained consistent (we did this three times to check the robustness of the results).

We thank the anonymous JAMS reviewer for suggesting the additional content analysis to examine the different types of questions OBC members with relatively higher/lower expertise ask. Two researchers—one is a co-author on this study and the other is not involved with the study—did the content analysis. First, the respondents' expertise was coded as low/high based on a median split. Next, the two coders read and coded the questions asked as either specific/broad within the low/high expertise categories. Finally, the categorizations were compared, and any differences were discussed in order to reach consensus.
References
Algesheimer, R., Dholakia, U. M., & Herrman, A. (2005). The social influence of brand community: evidence from European car clubs. Journal of Marketing, 69, 19–34.

Altman, I., & Taylor, D. (1973). Social penetration: The development of interpersonal relationships. New York: Holt, Rinehart, and Winston.

Anderson, J. C., & Gerbing, D. W. (1988). Structural equation modeling in practice: a review and recommended two-step approach. Psychological Bulletin, 103(3), 411–423.

Armstrong, S. J., & Overton, T. S. (1977). Estimating non-response bias in mail surveys. Journal of Marketing Research, 24(3), 396–402.

Ba, S., & Pavlou, P. A. (2002). Evidence of the effect of trust building technology in electronic markets: price premiums and buyer behavior. MIS Quarterly, 26(3), 243–268.

Balasubramanian, S., & Mahajan, V. (2001). The economic leverage of the virtual community. International Journal of Electronic Commerce, 5, 103–138.

Beatty, S. E., & Smith, S. M. (1987). External search effort: an investigation across several product categories. Journal of Consumer Research, 14, 83–95.

Bem, S. L. (1981). Gender schema theory. Psychological Review, 88(4), 354–364.

Berger, C. R. (1987). Communicating under uncertainty. In M. E. Rolloff & G. R. Miller (Eds.), Interpersonal processes: New directions in communication research (pp. 39–62). Newbury Park: Sage.

Berger, C., & Calabrese, R. J. (1975). Some explorations in initial interactions and beyond: towards a developmental theory of interpersonal communication. Human Communication Research, 1, 99–112.

Bhattacharya, C. B., & Sen, S. (2003). Consumer–company identification: a framework for understanding consumers' relationships with companies. Journal of Marketing, 67, 76–88.

Bolton, R. N., Lemon, K. N., & Verhoef, P. C. (2004). The theoretical underpinnings of customer asset management. Journal of the Academy of Marketing Science, 32(3), 271–292.

Brown, S., Kozinets, R. V., & Sherry, J. F., Jnr. (2003). Teaching old brands new tricks: retro branding and the revival of brand meaning. Journal of Marketing, 67(3), 19–33.

Carlson, J. R., & Zmud, R. W. (1999). Channel expansion theory and the experiential nature of media richness perceptions. Academy of Management Journal, 42, 153–170.

Crosby, L. A., & Stephens, N. J. (1987). Effects of relationship marketing on satisfaction, retention and prices in the life insurance industry. Journal of Marketing Research, 24, 404–411.

Crosby, L. A., Evans, K. R., & Cowles, D. (1990). Relationship quality in services selling: an interpersonal influence perspective. Journal of Marketing, 54(3), 68–81.

Daft, R. L., & Lengel, R. H. (1984). Information richness: A new approach to manager information processing and organization design. In Staw Barry & L. L. Cummings (Eds.), Research in organization behavior (Vol. 6, pp. 191–233). Greenwich: JAI.

Daft, R. L., & Lengel, R. H. (1986). Organizational information requirements, media richness and structural design. Management Science, 32, 554–571.

Dellaert, B. G., & Stremersch, S. (2005). Marketing mass-customized products: striking a balance between utility and complexity. Journal of Marketing Research, 42, 219–227.

De Wulf, K., Odekerken-Schroder, G., & Iacobucci, D. (2001). Investments in consumer relationships: a cross-country and cross-industry exploration. Journal of Marketing, 65, 33–51.

Doney, P. M., & Cannon, J. P. (1997). An examination of the nature of trust in buyer-seller relationships. Journal of Marketing, 61, 35–51.

Fornell, C., & Larcker, D. F. (1981). Evaluating structural equation models with unobservable variables and measurement error. Journal of Marketing Research, 18(1), 39–50.

Hagel, J., & Armstrong, A. G. (1997). Net gain: Expanding markets through virtual communities. Boston: Harvard Business School.

Johnson, E. J., & Payne, J. W. (1985). Effort and accuracy in choice. Management Science, 31(3), 395–414.

Kahneman, D., & Tversky, A. (1979). Prospect theory: an analysis of decisions under risk. Econometrica, 47, 263–291.

Kelley, H. H., & Thibaut, J. W. (1978). Interpersonal relations: A theory of interdependence. New York: Wiley. 1978.

Kozinets, R. V. (2002). The field behind the screen: using netnography for marketing research in online communities. Journal of Marketing Research, 39(1), 61–72.

Kozinets, R. V. (2007). Brandthroposophy—on marketing, media, and technoculture. (accessed Feb 20, 2008), [available at http://www.kozinets.net].

Marketing Science Institute. (2008). Research Priorities, 2008–2010 Guide to MSI Research Programs and Procedures.

Martin, C. L., & Clark, T. (1996). Networks of customer-to-customer relationships in marketing. In D. Iacobucci (Ed.), Networks in marketing (pp. 342–366). London: Sage.

Mohr, J., Fisher, R., & Nevin, J. R. (1996). Collaborative communication in interfirm relationships: moderating effects of integration and control. Journal of Marketing, 60, 103–115.

Mohr, J. & Nevin, J. R. (1990). Communication strategies in marketing channels: a theoretical perspective. Journal of Marketing, 54(4), 36–51.

Mohr, J., & Spekman, R. (1994). Characteristics of partnership success: partnership attributes, communication behavior and conflict resolution techniques. Strategic Management Journal, 15(2), 135–152.

Mohr, J., & Sohi, R. S. (1995). Communication flows in distribution channels: impact on assessments of communication quality and satisfaction. Journal of Retailing, 71(4), 393–416.

Morgan, R. M., & Hunt, S. D. (1994). The commitment-trust theory of relationship marketing. Journal of Marketing, 58(3), 20–38.

Muniz, A. M., Jr., & O'Guinn, T. C. (2001). Brand community. Journal of Consumer Research, 27, 412–432.

Muniz, A. M., Jr., & Schau, H. J. (2005). Religiosity in the abandoned apple Newton brand community. Journal of Consumer Research, 31(4), 737–747.

Netemeyer, R. G., & Bearden, W. O. (1992). A comparative analysis of two models of behavioral intention. Journal of the Academy of Marketing Science, 20(1), 49–59.

Noble, C. H., Sinha, R. K., & Kumar, A. (2002). Market orientation and alternative strategic orientations: a longitudinal assessment of performance implications. Journal of Marketing, 66, 25–39.

Parks, M. R., & Adelman, M. B. (1983). Communication networks and the development of romantic relationships: an expansion of uncertainty reduction theory. Human Communication Research, 10(1), 55–80.

Ping, R. A. (1995). A parsimonious estimating technique for interaction and quadratic latent variables. Journal of Marketing Research, 32, 336–347.

Punj, G. N., & Staelin, R. (1983). A model of consumer information search behavior for new automobiles. Journal of Consumer Research, 9, 366–380.

Putrevu, S., & Lord, K. R. (1994). Comparative and noncomparative advertising: attitudinal effects under cognitive and affective involvement conditions. Journal of Advertising, 23, 77–90.

Rollof, M. E., & Miller, G. R. (1987). Interpersonal processes: New directions in communication research (Vol. 14). London: Sage.

Schau, H. J., Muñiz, A. M. Jr., & Arnould, E. J. (2009). How brand community practices create value. Journal of Marketing.

Sirdeshmukh, D., Singh, J., & Sabol, B. (2002). Consumer trust, value, and loyalty in relational exchanges. Journal of Marketing, 66, 15–37.

Thompson, S. A., & Sinha, R. K. (2008). Brand communities and new product adoption: the influence and limits of oppositional loyalty. Journal of Marketing, 72, 65–80.

Verhoef, P. C., Frances, P. H., & Donkers, B. (2002). Changing perceptions and changing behavior in customer relationships. Marketing Letters, 13(2), 121–134.

Xue, F., & Phelps, J. (2004). Internet-facilitated consumer-to-consumer communication: the moderating role of receiver characteristics. International Journal of Internet Marketing and Advertising, 1(2), 121–136.

Weiss, A. M., Lurie, N. H., & MacInnis, D. J. (2008). Listening to strangers: whose responses are valuable, how valuable are they, and why? Journal of Marketing Research, 45, 425–436.

Williams, R. L., & Cothrel, J. (2000). Four smart ways to run online communities. Sloan Management Review, 41(4), 81–91.

Wyer, R. S., & Gordon, S. E. (1982). The recall of information about persons and groups. Journal of Experimental Social Psychology, 18, 128.
Acknowledgements
The authors would like to thank Anthony Ammeter, Victoria Bush, Mark Bing, Frederick Adjei, Gordon Brunner II, Douglas Vorhies, and the four anonymous JAMS reviewers for their insightful comments on this manuscript.
About this article
Cite this article
Adjei, M.T., Noble, S.M. & Noble, C.H. The influence of C2C communications in online brand communities on customer purchase behavior. J. of the Acad. Mark. Sci. 38, 634–653 (2010). https://doi.org/10.1007/s11747-009-0178-5
Received:

Accepted:

Published:

Issue Date:

DOI: https://doi.org/10.1007/s11747-009-0178-5
Keywords
Customer-to-customer communication

Online brand communities

Information exchange