Abstract
Consumer researchers have yet to examine how consumers frame and deal with conflict. Understanding how consumers manage conflict is essential for service providers seeking to effectively recover instances of service failure, and avoid the costs associated with increasing instances of consumer anger. Using a modified grounded theory approach, we develop a model of consumer conflict management drawing on 39 informant accounts of service failures. The emergent model proposes that consumers' conflict style is related to whether conflict is framed in task or personal terms. Task-framed conflicts resulted in more productive conflict styles than those framed in personal terms. Self vs. other orientation moderated the relationship between conflict frame and conflict style. These findings help us better understand the nature of consumer conflict and identify the importance of carefully targeting service recovery efforts to reduce instances of anger.
Access options
Buy single article
Instant access to the full article PDF.
USD 39.95
Price excludes VAT (USA)
Tax calculation will be finalised during checkout.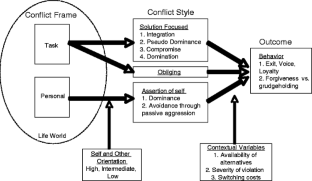 Notes
To facilitate articulation of unconscious meanings and motivations, simple projective techniques were employed; informants were shown pictures from magazines including depictions of people, nature scenes, and products. Pictures included that of an eye, people having coffee, two women kickboxing, and approximately thirty others. Probes were based on informants' own accounts and concepts from the literature (e.g., disconfirmation, forgiveness, and switching).
References
Aaker, J., Fournier, S., & Brasel, A. S. (2004). When good brands do bad. Journal of Consumer Research, 31(1), 1–16.

Adair, W. L., Okumura, T., & Brett, J. M. (2001). Negotiation behavior when cultures collide: the United States and Japan. Journal of Applied Psychology, 86(3), 371–385.

Andreassen, T. W. (2001). From disgust to delight: do customers hold a grudge? Journal of Service Research, 4(1), 39–49.

Ariely, D. (2007). The customer's revenge. Harvard Business Review, 85, 31–42.

Barclay, D. W. (1991). Interdepartmental conflict in organizational buying: the impact of the organizational context. Journal of Marketing Research, 28(2), 145–159.

Bechwati, N. N., & Morrin, M. (2003). Outraged consumers: getting even at the expense of getting a good deal. Journal of Consumer Psychology, 13(4), 440–453.

Bolton, R. N., Smith, A. K., & Wagner, J. (2003). Striking the right balance: designing service to enhance business-to-business relationships. Journal of Service Research, 5(4), 271–293.

Bonifield, C., & Cole, C. (2007). Affective responses to service failure: anger, regret, and retaliatory versus conciliatory responses. Marketing Letters, 18, 85–99.

Bougie, R., Pieters, R., & Zeelenberg, M. (2003). Angry customers don't come back, they get back: the experience and behavioral implications of anger and dissatisfaction in services. Journal of the Academy of Marketing Science, 31(4), 377–393.

Boyd, H. C., III, & Helms, J. E. (2005). Consumer entitlement: theory and measurement. Psychology and Marketing, 22(3), 271–286.

Fischer, E., & Otnes, C. C. (2006). Breaking new ground: Developing grounded theories in marketing and consumer behavior. In W. Russell (Ed.), Handbook of qualitative research methods in marketing (pp. 19–30). Belk Northampton, MA: Edward Elgar.

Flint, D. J., Woodruff, R. B., & Gardial, S. F. (2002). Exploring the phenomenon of customers' desired value change in a business-to-business context. Journal of Marketing, 66(4), 102–117.

Fournier, S. (1998). Consumers and their brands: developing relationship theory in consumer research. Journal of Consumer Research, 24, 343–373.

Friedman, R. A., Tidd, S. T., Currall, S. C., & Tsai, J. C. (2000). What goes around comes around: the impact of personal conflict style on work conflict and stress. International Journal of Conflict Management, 11(1), 32–55.

Grandey, A. A., Dickter, D. N., & Sin, H.-P. (2004). The customer is not always right: customer aggression and emotion regulation of service employees. Journal of Organizational Behavior, 25, 397–418.

Grandey, A. A., Kern, J. H., & Frone, M. R. (2007). Verbal abuse from outsiders versus insiders: comparing frequency, impact on emotional exhaustion, and the role of emotional labor. Journal of Occupational Health Psychology, 12(1), 63–79.

Grégoire, Y., & Fisher, R. (2006). The effects of relationship quality on customer retaliation. Marketing Letters, 17, 31–46.

Grégoire, Y., & Fisher, R. J. (2008). Customer betrayal and retaliation: when your best customers become your worst enemies. Journal of Academy of Marketing Science, 36(3), 247–261.

Grégoire, Y., Tripp, T. M., & Legoux, R. (2009). When customer love turns into lasting hate: the effects of relationship strength and time on customer revenge and avoidance. Journal of Marketing forthcoming.

Heider, F. (1958). The psychology of interpersonal relations. New York: John Wiley & Sons.

Hess, R. L., Jr., Ganesan, S., & Morrin, M. (2003). Service failure and recovery: the impact of relationship factors on customer satisfaction. Journal of the Academy of Marketing Science, 31(2), 127–145.

Hirschman, A. O. (1970). Exit, voice, and loyalty: Responses to decline in firms, organizations, and states. Cambridge, MA: Harvard University Press.

Koza, K. L., & Dant, R. P. (2007). Effects of relationship climate, control mechanism, and communications on conflict resolution behavior and performance outcomes. Journal of Retailing, 83(3), 279–296.

Macintosh, G., & Stevens, C. (2006). Consumer conflict management strategies in everyday service encounters. Advances in Consumer Research, 33, 279–280.

Maxham, J. G., III, & Netemeyer, R. G. (2002). Longitudinal study of complaining customers' evaluations of multiple service failures and recovery effort. Journal of Marketing, 66, 57–71.

McColl-Kennedy, J. R., & Sparks, B. A. (2003). Application of fairness theory to service failures and service recovery. Journal of Service Research, 5(3), 251–266.

McCracken, G. (1986). The long interview. Newbury Park, CA: Sage.

McGregor, J. (2008). Consumer vigilantes; memo to corporate america: hell hath no fury like a customer scorned. Business Week March 3rd: 38–58.

Nyer, P. U. (1997). A study of the relationships between cognitive appraisals and consumption emotions. Journal of the Academy of Marketing Science, 25(4), 296–204.

Pinkley, R. L. (1990). Dimensions of conflict frame: disputant interpretations of conflict. Journal of Applied Psychology, 75(2), 117–126.

Pinkley, R. L., & Northcraft, G. B. (1994). Conflict frames of reference: implications for dispute processes and outcomes. Academy of Management Journal, 37(1), 193–205.

Posthuma, R. A., White, G. O., III, Dworkin, J. B., Yánez, O., & Swift, M. S. (2006). Conflict resolution styles between co-workers in US and Mexican cultures. International Journal of Conflict Management, 17(3), 242–260.

Purohit, Y. S., & Simmers, C. A. (2006). Power distance and uncertainty avoidance: a cross-national examination of their impact on conflict management modes. Journal of International Business Research, 5(1), 1–19.

Rahim, M. A. (1986). Managing conflicts in organizations. New York: Praeger.

Schneider, B., & Bowen, D. E. (1999). Understanding customer delight and outrage. MIT Sloan Management Review, 41, 35–45.

Singh, J. (1990). Voice, exit, and negative word-of-mouth behaviors: an investigation across three service categories. Journal of the Academy of Marketing Science, 18(1), 1–15.

Strauss, A., & Corbin, J. (1998). Basics of qualitative research: Techniques and procedures for developing grounded theory. Newbury Park, CA: Sage.

Tax, S. S., Brown, S. W., & Chandrashekaran, M. (1998). Customer evaluations of service complaint experiences: implications for relationship marketing. Journal of Marketing, 62(2), 60–76.

Ward, J. C., & Ostrom, A. L. (2006). Complaining to the masses: the role of protest framing in customer-created complaint web sites. Journal of Consumer Research, 33, 220–230.

Weiner, B. (1973). Theories of motivation. Chicago, IL: Rand McNally.

Zaltman, G. (2004). How customers think. Cambridge, MA: Harvard Business School Press.

Zourrig, H., Chebat, J.-C., & Toffoli, R. (2009). Consumer revenge behavior: a cross-cultural perspective. Journal of Business Research, 62(10), 995–1001.
Acknowledgments
The authors thank David Bednall, Liliana Bove, Francis Farrelly, Yany Grégoire, Sandra Luxton, the four anonymous reviewers and the editor David Stewart for feedback on an earlier draft. Steven Kates would like to acknowledge the generous funding from the Social Science and Humanities Council of Canada.
About this article
Cite this article
Beverland, M.B., Kates, S.M., Lindgreen, A. et al. Exploring consumer conflict management in service encounters. J. of the Acad. Mark. Sci. 38, 617–633 (2010). https://doi.org/10.1007/s11747-009-0162-0
Received:

Accepted:

Published:

Issue Date:

DOI: https://doi.org/10.1007/s11747-009-0162-0
Keywords