Abstract
Despite placing items in virtual shopping carts, online shoppers frequently abandon them —an issue that perplexes online retailers and has yet to be explained by scholars. Here, we identify key drivers to online cart abandonment and suggest cognitive and behavioral reasons for this non-buyer behavior. We show that the factors influencing consumer online search, consideration, and evaluation play a larger role in cart abandonment than factors at the purchase decision stage. In particular, many customers use online carts for entertainment or as a shopping research and organizational tool, which may induce them to buy at a later session or via another channel. Our framework extends theories of online buyer and non-buyer behavior while revealing new inhibitors to buying in the Internet era. The findings offer scholars a broad explanation of consumer motivations for cart abandonment. For retailers, the authors provide suggestions to improve purchase conversion rates and multi-channel management.
Access options
Buy single article
Instant access to the full article PDF.
US$ 39.95
Tax calculation will be finalised during checkout.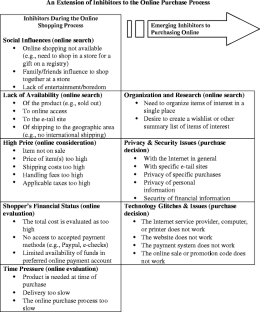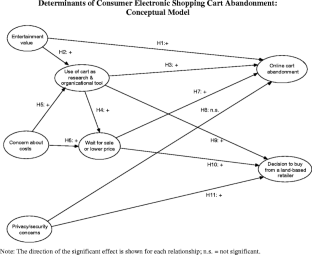 References
Baron, R. M., & Kenny, David A. (1986). The moderator-mediator variable distinction in social psychological research: conceptual, strategic and statistical considerations. Journal of Personality and Social Psychology, 51, 1173–1182. doi:10.1037/0022-3514.51.6.1173.

Bellenger, D. N., & Korgaonkar, P. K. (1980). Profiling the recreational shopper. Journal of Retailing, 56(3), 77–92.

Bloch, P. H., Sherrell, D. L., & Ridgway, N. M. (1986). Consumer search: an extended framework. The Journal of Consumer Research, 31(1), 119–126. doi:10.1086/209052.

Forrester Research. (2005). "Rethinking the significance of cart abandonment." Carrie A. Johnson, Charles P. Wilson, Sean Meyer, (Ed)

Hoffman, D. L., & Novak, T. P. (2005). Beyond the basics: Research-based rules for internet retailing advantage. Vanderbilt, TN: eLab.

Holbrook, M. B., & Hirschman, E. C. (1982). The experiential aspects of consumption: consumer fantasies, feelings, and fun. The Journal of Consumer Research, 9(2), 132–140. doi:10.1086/208906.

Howard, J. A., & Sheth, J. N. (1969). The theory of buyer behavior. New York: Wiley.

Laroche, M., Zhilin, Y., McDougall, G. H. G., & Jasmin, B. (2005). Internet versus bricks and mortar retailers: an investigation into intangibility and its consequences. Journal of Retailing, 81(4), 251–267. doi:10.1016/j.jretai.2004.11.002.

Li, S., & Chatterjee, P. (2006). Reducing shopping cart abandonment at retail websites. Working Paper.

MacKenzie, S. B. (2001). Opportunities for improving consumer research through latent variable structural equation modeling. The Journal of Consumer Research, 28, 159–166. doi:10.1086/321954.

Magill, K. (2005). Building a better shopping cart. Multichannel Merchant, 1(8), 18–19.

Mathwick, C., Malhotra, N., & Rigdon, E. (2001). Experiential value: conceptualization, measurement and application in the catalog and internet shopping environment. Journal of Retailing, 77(1), 39–56. doi:10.1016/S0022-4359(00) 00045-2.

Miyazaki, A. D., & Fernandez, A. (2001). Consumer perceptions of privacy and security risks for online shopping. The Journal of Consumer Affairs, 35(1), 27–44.

Moe, W. W. (2003). Buying, searching, or browsing: differentiating between online shoppers using in-store navigational clickstream. Journal of Consumer Psychology, 13(1–2), 29–39. doi:10.1207/S15327663JCP13-1&2_03.

Nedungadi, P. (1990). Recall and consumer consideration sets: influencing choice without altering brand evaluations. The Journal of Consumer Research, 17(4), 263–276. doi:10.1086/208556.

Nelson, R. A., Cohen, R., & Rasmussen, F. R. (2007). An analysis of pricing strategy and price dispersion on the internet. Eastern Economic Journal, 33(1), 95–110. doi:10.1057/eej.2007.6.

Novak, T. P., Hoffman, D. L., & Duhachek, A. (2003). The influence of goal-directed and experiential activities on online flow experiences. Journal of Consumer Psychology, 13(1–2), 3–16. doi:10.1207/S15327663JCP13-1&2_01.

Oliver, R. L., & Shor, M. (2003). Digital redemption of coupons: satisfying and dissatisfying effects of promotion codes. Journal of Product and Brand Management, 12(2), 121–134. doi:10.1108/10610420310469805.

Rayport, J. F., & Sviokla, J. J. (1995). Exploiting the virtual value chain. Harvard Business Review, 73(6), 75–85.

Tarasofsky, J. 2008. Online Reservations: Increasing Your Site's 'Look to Book' Ratio. Hotel Marketer. Retrieved from http://www.hotelexecutive.com (accessed October 30 2008)

Tellis, G. (1986). Beyond the many faces of price: an integration of pricing strategies. Journal of Marketing, 50(4), 146–160. doi:10.2307/1251292.

Weinberg, B. D., Parise, S., & Guinan, P. J. (2007). Multichannel marketing: mindset and program development. Business Horizons, 50(5), 385–394. doi:10.1016/j.bushor.2007.04.002.

Wolfinbarger, M., & Gilly, M. C. (2001). Shopping online for freedom, control and fun. California Management Review, 43(2), 34–55.

Xia, L., & Monroe, K. B. (2004). Price partitioning on the internet. Journal of Interactive Marketing, 18(4), 63–73. doi:10.1002/dir.20017.

Xie, E., Teo, H.-H., & Wan, W. (2006). Volunteering personal information on the internet: effects of reputation, privacy notices, and rewards on online consumer behavior. Marketing Letters, 17(1), 61–74. doi:10.1007/s11002-006-4147-1.

Zhou, L., Dai, L., & Zhang, D. (2007). Online shopping acceptance model—a critical survey of consumers factors in online shopping. Journal of Electronic Commerce Research, 8(1), 41–62.
Acknowledgment
The authors sincerely thank Heather Reineke for her help with the pilot studies, as well as the four reviewers, Michael Mejza, Bill Messier, Kent Monroe, Patricia Norberg, Koen Pauwels, David Stewart, Matt Thatcher, Richard Watson, and George Zinkhan for their peer reviews and thoughtful suggestions.
Additional information
The authors contributed equally.
About this article
Cite this article
Kukar-Kinney, M., Close, A.G. The determinants of consumers' online shopping cart abandonment. J. of the Acad. Mark. Sci. 38, 240–250 (2010). https://doi.org/10.1007/s11747-009-0141-5
Received:

Accepted:

Published:

Issue Date:
Keywords
Online shopping cart abandonment

Online buyer behavior theory

E-tail

E-commerce