Abstract
A study was conducted to compare the physicochemical properties of Hass avocado oil from different geographical locations (Mexico, Australia, United States and New Zealand). Regardless of geographical origins, Hass avocado pulp was characterized by high lipid content (61.27–62.66%). Among Hass avocados of different origins examined, avocado oil of New Zealand origin exhibited the lowest saponification value. The L*, a* and b* values for avocados of New Zealand origin were higher than others, translating into the oil being the lightest in color and containing more red and yellow pigments. The predominant fatty acids in the Hass avocado oil were oleic (42.59–50.97%) and palmitic (20.61–25.63%) acids, whereas the predominant triacylglycerols (TAGs) were OOO (21.41–34.69%) and POO (19.65–24.68%), where O and P denote oleic and palmitic acids, respectively. The melting curves of Hass avocado oil displayed three endothermic peaks, whereas the crystallization curves displayed two endothermic peaks. Hass avocado oil of New Zealand origin contained a significant amount of natural pigments and unsaturated compounds (unsaturated fatty acids and tri-unsaturated TAGs) than Mexico, Australia and United States origins.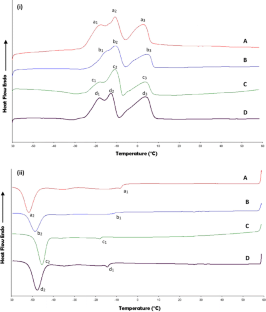 References
1.

Paz-Vega R (2015) Avocado production, marketing and consumption: a global perspective. https://industry.nzavocado.co.nz/resources/4564754/Avocado_production__marketing_and_consumption_presentation.pdf. Accessed Mar 2017

2.

Woolf A, Wong M, Eyres L, McGhie T, Lund C, Olsson S, Wang Y, Bulley C, Wang M, Friel E, Requejo-Jackman C (2008) Avocado oil. Gourmet and health-promoting specialty oils. AOCS Press, Urbana

3.

Mostert M (2007) Characterization of micro-components of avocado oil extracted with supercritical carbon dioxide and their effect on its oxidative stability. Dissertation, University of Pretoria South Africa

4.

USDA (U.S. Department of Agriculture) (2011) Avocado, almond, pistachio and walnut Composition. Nutrient Data Laboratory. USDA National Nutrient Database for Standard Reference. Washington, DC

5.

Bergh B (1957) Avocado breeding in California. Proc Fla State Hortic Soc 70:284–290

6.

Shepherd J, Bender G (2002) A history of the avocado industry in California. Calif Avocado Soc Yearb 85:29–50

7.

Mooz ED, Gaiano NM, Shimano MYH et al (2012) Physical and chemical characterization of the pulp of different varieties of avocado targeting oil extraction potential. Food Sci Technol 32:274–280

8.

Dreher ML, Davenport AJ (2013) Hass avocado composition and potential health effects. Crit Rev Food Sci Nutr 53:738–750

9.

Wong M, Requejo-Jackman C, Woolf A (2010) What is unrefined, extra virgin cold-pressed avocado oil? Inform 21:198–202

10.

Costagli G, Betti M (2015) Avocado oil extraction processes: method for cold-pressed high-quality edible oil production versus traditional production. J Agric Eng 46:115

11.

Berasategi I, Barriuso B, Ansorena D, Astiasarán I (2012) Stability of avocado oil during heating: comparative study to olive oil. Food Chem 132:439–446

12.

Salesa-Fetu G, Faumuina N, Maiava LF (2012) Samoa avocado oils: processing into export products and commercialization opportunities. Nafanua, Apia

13.

Tango J, Carvalho C, Soares N (2004) Physical and chemical characterization of avocado fruits aiming its potencial for oil extraction. Rev Bras Frutic 26:17–23

14.

Ozdemir F, Topuz A (2004) Changes in dry matter, oil content and fatty acids composition of avocado during harvesting time and post-harvesting ripening period. Food Chem 86:79–83

15.

Ratovohery J, Lozano Y, Gaydou E (1988) Fruit development effect on fatty acid composition of Persea americana fruit mesocarp. J Agric Food Chem 36:287–293

16.

Woolf AB, Ferguson IB, Requejo-Tapia LC et al (1999) Impact of sun exposure on harvest quality of ´Hass´avocado fruit. Rev Chapingo Ser Hortic 5:353–358

17.

AOAC (2007) Official methods of analysis of AOAC international, 18th edn. Association of Official Analytical Chemists, Washington

18.

Talebi A, Mohtashami S, Tabatabaei M, Tohidfar M (2013) Fatty acids profiling: a selective criterion for screening microalgae strains for biodiesel production. Algal Res 2:258–267

19.

Nyam KL, Tan CP, Lai OM et al (2009) Physicochemical properties and bioactive compounds of selected seed oils. LWT Food Sci Technol 42:1396–1403

20.

Cocks L, Rede C (1966) Laboratory handbook for oil and fat analysts. Academic Press, London

21.

Abdulkarim SM, Long K, Lai OM et al (2005) Some physico-chemical properties of Moringa oleifera seed oil extracted using solvent and aqueous enzymatic methods. Food Chem 93:253–263

22.

Lísa M, Holčapek M (2008) Triacylglycerols profiling in plant oils important in food industry, dietetics and cosmetics using high-performance liquid chromatography-atmospheric pressure chemical ionization mass spectrometry. J Chromatogr A 1198–1199:115–130

23.

Gatbonton G, De Jesus A, Lorenzo K (2013) Soxhlet extraction of Philippine avocado fruit pulp variety 240. Chem Eng 1:1–8

24.

Emil A, Yaakob Z, Kumar MNS et al (2010) Comparative evaluation of physicochemical properties of jatropha seed oil from Malaysia, Indonesia and Thailand. J Am Oil Chem Soc 87:689–695

25.

Elvers B, Hawkins S, Russey W (1989) Ullmann's encyclopedia of industrial chemistry. Verlag Chemie, Weinheim

26.

Karleskind A (1992) Manuel des corps gras. AFCEG, Paris

27.

Barrett DM, Beaulieu JC, Shewfelt R (2010) Color, flavor, texture, and nutritional quality of fresh-cut fruits and vegetables—desirable levels, instrumental and sensory measurement, and the effects of processing. Crit Rev Food Sci Nutr 50:369–389

28.

Warner K, Knowlton S (1997) Frying quality and oxidative stability of high-oleic corn oils. J Am Oil Chem Soc 74:1317–1322

29.

Zhang X, Li L, Xie H et al (2014) Effect of temperature on the crystalline form and fat crystal network of two model palm oil-based shortenings during storage. Food Bioprocess Technol 7:887–900
Acknowledgements
The authors would like to extend gratitude to the International Medical University (IMU) for providing facilities to perform this research.
About this article
Cite this article
Tan, C.X., Tan, S.S. & Tan, S.T. Influence of Geographical Origins on the Physicochemical Properties of Hass Avocado Oil. J Am Oil Chem Soc 94, 1431–1437 (2017). https://doi.org/10.1007/s11746-017-3042-7
Received:

Accepted:

Published:

Issue Date:
Keywords
Hass avocado oil

Physicochemical properties

Geographical origin