Abstract
Free, esterified, etherified and insoluble-bound phenolics from three samples, namely meal from whole peanuts (MWP), meal from dry-blanched peanuts (MDBP) and peanut skin (PS) were evaluated for their total phenolic content (TPC), and phenolic profile using HPLC–DAD–ESI–MSn. The TPC was in the order of PS > MWP > MDBP. Among 37 compounds identified 10 were reported for peanuts for the first time. Proanthocyanidins were detected in peanut skin and MWP, but not in MDBP. The presence of peanut skin in MWP rendered up to 9.8-fold higher scavenging activity towards the DPPH radical as compared with MDBP. Phenolics from all samples and fractions showed inhibition of alpha-glucosidase and lipase activities, which are key enzymes involved in the absorption of glucose and triacylglycerols, respectively. Therefore, their antioxidant properties as well as their potential role in the management of diabetes and obesity makes them worthy of further consideration as functional food ingredients.
Access options
Buy single article
Instant access to the full article PDF.
USD 39.95
Price excludes VAT (USA)
Tax calculation will be finalised during checkout.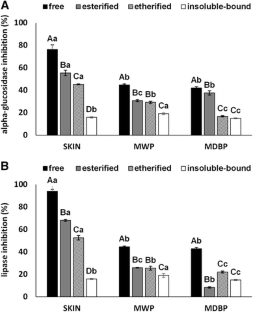 References
Food and Drug Administration (2017) Qualified Health Claims. http://www.fda.gov/Food/IngredientsPackagingLabeling/LabelingNutrition/ucm072926.htm. Accessed Jan 2017

Shin E-C, Craft BD, Pegg RB, Phillips RD, Eitenmiller RR (2010) Chemometric approach to fatty acid profiles in Runner-type peanut cultivars by principal component analysis (PCA). Food Chem 119:1262–1270

Shin E-C, Huang Y-Z, Pegg RB, Phillips RD, Eitenmiller RR (2009) Commercial runner peanut cultivars in the United States: tocopherol composition. J Agric Food Chem 57:10289–10295

de Camargo AC, Vieira TMFS, Regitano-D'Arce MAB, de Alencar SM, Calori-Domingues MA, Canniatti-Brazaca SG (2012) Gamma radiation induced oxidation and tocopherols decrease in in-shell, peeled and blanched peanuts. Int J Mol Sci 13:2827–2845

Leopoldini M, Marino T, Russo N, Toscano M (2004) Antioxidant properties of phenolic compounds: H-atom versus electron transfer mechanism. J Phys Chem A 108:4916–4922

Zhang H, Tsao R (2016) Dietary polyphenols, oxidative stress and antioxidant and anti-inflammatory effects. Curr Opin Food Sci 8:33–42

Yonekura L, Martins CA, Sampaio GR, Monteiro MP, Cesar LAM, Mioto BM, Mori CS, Mendes TMN, Ribeiro ML, Arcari DP, Torres E (2016) Bioavailability of catechins from guarana (Paullinia cupana) and its effect on antioxidant enzymes and other oxidative stress markers in healthy human subjects. Food Funct 7:2970–2978

Shahidi F, Ambigaipalan P (2015) Phenolics and polyphenolics in foods, beverages and spices: Antioxidant activity and health effects—a review. J Funct Foods 18, Part B:820–897

Ma YY, Kerr WL, Swanson RB, Hargrove JL, Pegg RB (2014) Peanut skins-fortified peanut butters: effect of processing on the phenolics content, fibre content and antioxidant activity. Food Chem 145:883–891

de Camargo AC, Vidal CMM, Canniatti-Brazaca SG, Shahidi F (2014) Fortification of cookies with peanut skin: effects on the composition, polyphenols, antioxidant properties and sensory quality. J Agric Food Chem 62:11228–11235

Chandrasekara A, Shahidi F (2011) Determination of antioxidant activity in free and hydrolyzed fractions of millet grains and characterization of their phenolic profiles by HPLC–DAD–ESI–MSn. J Funct Foods 3:144–158

de Camargo AC, Regitano-d'Arce MAB, Gallo CR, Shahidi F (2015) Gamma-irradiation induced changes in microbiological status, phenolic profile and antioxidant activity of peanut skin. J Funct Foods 12:129–143

Zhang B, Deng Z, Ramdath DD, Tang Y, Chen PX, Liu R, Liu Q, Tsao R (2015) Phenolic profiles of 20 Canadian lentil cultivars and their contribution to antioxidant activity and inhibitory effects on α-glucosidase and pancreatic lipase. Food Chem 172:862–872

Swain T, Hillis WE (1959) The phenolic constituents of Prunus domestica. I.—the quantitative analysis of phenolic constituents. LWT-Food Sci Technol 10:63–68

Re R, Pellegrini N, Proteggente A, Pannala A, Yang M, Rice-Evans C (1999) Antioxidant activity applying an improved ABTS radical cation decolorization assay. Free Rad Bio Med 26:1231–1237

Ambigaipalan P, Al-Khalifa AS, Shahidi F (2015) Antioxidant and angiotensin I converting enzyme (ACE) inhibitory activities of date seed protein hydrolysates prepared using Alcalase, Flavourzyme and Thermolysin. J Funct Foods 18(Part B):1125–1137

Oyaizu M (1986) Studies on products of browning reaction—antioxidative activities of products of browning reaction prepared from glucosamine. Jpn J Nutr Diet 44:307–315

Eom S-H, Lee S-H, Yoon N-Y, Jung W-K, Jeon Y-J, Kim S-K, Lee M-S, Kim Y-M (2012) α-Glucosidase- and α-amylase-inhibitory activities of phlorotannins from Eisenia bicyclis. J Sci Food Agric 92:2084–2090

Marrelli M, Menichini F, Statti GA, Bonesi M, Duez P, Menichini F, Conforti F (2012) Changes in the phenolic and lipophilic composition, in the enzyme inhibition and antiproliferative activity of Ficus carica L. cultivar Dottato fruits during maturation. Food Chem Toxicol 50:726–733

Chandrasekara N, Shahidi F (2011) Effect of roasting on phenolic content and antioxidant activities of whole cashew nuts, kernels, and testa. J Agric Food Chem 59:5006–5014

John JA, Shahidi F (2010) Phenolic compounds and antioxidant activity of Brazil nut (Bertholletia excelsa). J Funct Foods 2:196–209

Shahidi F, Alasalvar C, Liyana-Pathirana CM (2007) Antioxidant phytochemicals in hazelnut kernel (Corylus avellana L.) and hazelnut byproducts. J Agric Food Chem 55:1212–1220

Wijeratne SSK, Abou-Zaid MM, Shahidi F (2006) Antioxidant polyphenols in almond and its coproducts. J Agric Food Chem 54:312–318

Santos SAO, Freire CSR, Domingues MRM, Silvestre AJD, Neto CP (2011) Characterization of phenolic components in polar extracts of Eucalyptus globulus Labill. bark by high-performance liquid chromatography–mass spectrometry. J Agric Food Chem 59:9386–9393

de Camargo AC, Regitano-d'Arce MAB, Biasoto ACT, Shahidi F (2014) Low molecular weight phenolics of grape juice and winemaking byproducts: antioxidant activities and inhibition of oxidation of human low-density lipoprotein cholesterol and DNA strand breakage. J Agric Food Chem 62:12159–12171

Ma Y, Kosińska-Cagnazzo A, Kerr WL, Amarowicz R, Swanson RB, Pegg RB (2014) Separation and characterization of phenolic compounds from dry-blanched peanut skins by liquid chromatography–electrospray ionization mass spectrometry. J Chromatog A 1356:64–81

Sarnoski PJ, Johnson JV, Reed KA, Tanko JM, O'Keefe SF (2012) Separation and characterisation of proanthocyanidins in Virginia type peanut skins by LC–MSn. Food Chem 131:927–939

Seeram NP, Lee R, Scheuller HS, Heber D (2006) Identification of phenolic compounds in strawberries by liquid chromatography electrospray ionization mass spectroscopy. Food Chem 97:1–11

Cinkilic N, Cetintas SK, Zorlu T, Vatan O, Yilmaz D, Cavas T, Tunc S, Ozkan L, Bilaloglu R (2013) Radioprotection by two phenolic compounds: chlorogenic and quinic acid, on X-ray induced DNA damage in human blood lymphocytes in vitro. Food Chem Toxicol 53:359–363

Pero RW, Lund H, Leanderson T (2009) Antioxidant metabolism induced by quinic acid. increased urinary excretion of tryptophan and nicotinamide. Phytother Res 23:335–346

Shahidi F, Yeo J (2016) Insoluble-bound phenolics in food. Molecules 21:E1216

Li W, Liu J, Guan R, Chen J, Yang D, Zhao Z, Wang D (2015) Chemical characterization of procyanidins from Spatholobus suberectus and their antioxidative and anticancer activities. J Funct Foods 12:468–477

Calori-Domingues MA, Bernardi CMG, Nardin MS, de Souza GV, dos Santos FGR, de Abreu Stein M, da Gloria EM, dos Santos Dias CT, de Camargo AC (2016) Co-occurrence and distribution of deoxynivalenol, nivalenol and zearalenone in wheat from Brazil. Food Addit Contam: Part B 9:142–151

Santili ABN, de Camargo AC, Nunes RdSR, Gloria EMd, Machado PF, Cassoli LD, Dias CTS, Calori-Domingues MA (2015) Aflatoxin M1 in raw milk from different regions of São Paulo state—Brazil. Food Addit Contam: Part B 8:1–8

de Camargo AC, Vieira TMFS, Regitano-d'Arce MAB, de Alencar SM, Calori-Domingues MA, Spoto MHF, Canniatti-Brazaca SG (2012) Gamma irradiation of in-shell and blanched peanuts protects against mycotoxic fungi and retains their nutraceutical components during long-term storage. Int J Mol Sci 13:10935–10958

Akçam M, Artan R, Yilmaz A, Ozdem S, Gelen T, Nazıroğlu M (2013) Caffeic acid phenethyl ester modulates aflatoxin B1-induced hepatotoxicity in rats. Cell Biochem Funct 31:692–697

Miranda DDC, Arçari DP, Ladeira MSP, Calori-Domingues MA, Romero AC, Salvadori DMF, Gloria EM, Pedrazzoli J Jr, Ribeiro ML (2007) Analysis of DNA damage induced by aflatoxin B1 in Dunkin-Hartley guinea pigs. Mycopathologia 163:275–280

de Camargo AC, Vieira TMFS, Regitano-D'Arce MAB, Calori-Domingues MA, Canniatti-Brazaca SG (2012) Gamma radiation effects on peanut skin antioxidants. Int J Mol Sci 13:3073–3084

Sobolev VS, Cole RJ (2004) Note on utilisation of peanut seed testa. J Sci Food Agric 84:105–111

Braughler JM, Duncan LA, Chase RL (1986) The involvement of iron in lipid peroxidation. Importance of ferric to ferrous ratios in initiation. J Biol Chem 261:10282–10289

Troncoso JC, Costello AC, Kim JH, Johnson GVW (1995) Metal-catalyzed oxidation of bovine neurofilaments in vitro. Free Radical Bio Med 18:891–899

Sun S, Kadouh HC, Zhu W, Zhou K (2016) Bioactivity-guided isolation and purification of α-glucosidase inhibitor, 6-O-d-glycosides, from Tinta Cão grape pomace. J Funct Foods 23:573–579

Bustanji Y, Issa A, Mohammad M, Hudaib M, Tawah K, Alkhatib H, Almasri I, Al-Khalidi B (2010) Inhibition of hormone sensitive lipase and pancreatic lipase by Rosmarinus officinalis extract and selected phenolic constituents. J Med Plants Res 4:2235–2242

Badmaev V, Hatakeyama Y, Yamazaki N, Noro A, Mohamed F, Ho C-T, Pan M-H (2015) Preclinical and clinical effects of Coleus forskohlii,Salacia reticulata and Sesamum indicum modifying pancreatic lipase inhibition in vitro and reducing total body fat. J Funct Foods 15:44–51

de Toledo NMV, Rocha LC, da Silva AG, Brazaca SGC (2013) Interaction and digestibility of phaseolin/polyphenol in the common bean. Food Chem 138:776–780

Kalyanaraman B, Premovic PI, Sealy RC (1987) Semiquinone anion radicals from addition of amino acids, peptides, and proteins to quinones derived from oxidation of catechols and catecholamines. An ESR spin stabilization study. J Biol Chem 262:11080–11087
Acknowledgements
The first author acknowledges the FAPESP (São Paulo Research Foundation) for granting an international PhD internship (Process 2015/00336-4). This research is also supported by the doctoral scholarship granted by FAPESP to the first author in Brazil (Process 2012/17683-0). One of us (FS) thanks the Natural Sciences and Engineering Research Council (NSERC) of Canada for partial financial support.
Electronic supplementary material
Below is the link to the electronic supplementary material.
About this article
Cite this article
de Camargo, A.C., Regitano-d'Arce, M.A.B. & Shahidi, F. Phenolic Profile of Peanut By-products: Antioxidant Potential and Inhibition of Alpha-Glucosidase and Lipase Activities. J Am Oil Chem Soc 94, 959–971 (2017). https://doi.org/10.1007/s11746-017-2996-9
Received:

Revised:

Accepted:

Published:

Issue Date:

DOI: https://doi.org/10.1007/s11746-017-2996-9
Keywords