Abstract
Virgin olive oil (VOO) is generally recognized as a healthy fat because of its fatty acid composition and content in minor compounds but a wide range of these substances can be found in commercial oils. The concentration of compounds with attributed health benefits were analyzed in VOO of the PDO Montoro-Adamuz. Oleic acid represented around 79 % of the total fatty acids, and the mean squalene and tocopherols concentrations were 5800 and 247 mg/kg respectively. Despite the changes found in polyphenols concentration in the oils analyzed for six consecutive crops, these substances accounted for more than 700 mg/kg. Moreover, the effect of irrigation regime and sun radiation on the content in bioactive substances of these oils was also assessed. No significant differences were detected between oils from trees irrigated ad libitum or rain-feed. In contrast, the level of tree radiation exerted a great effect on the concentration of bioactive substances in oils. Oils from trees cultivated in a sunny area (south orientation) had a higher percentage of oleic acid and concentration in phenolic compounds than those from shady areas (north orientation). The opposite was detected for tocopherols and squalene which were more concentrated in oils from olives of the shady area. The results obtained in this study point out VOO of the PDO Montoro-Adamuz as a very healthy fat due to their composition in bioactive substances, in particular their richness in phenolic compounds.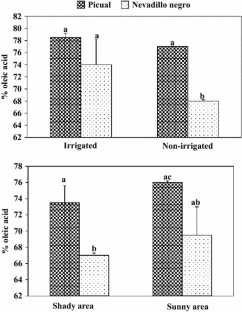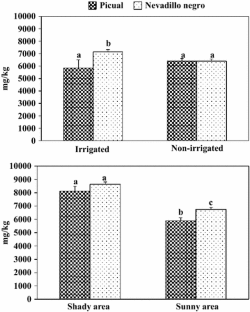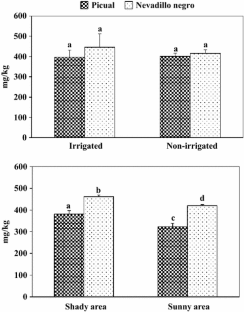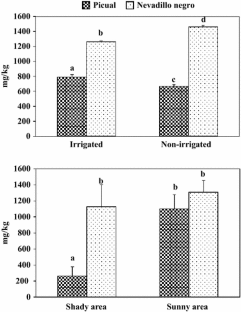 References
1.

Carrillo C, Cavia MD, Alonso-Torre SR (2012) Antitumor effect of oleic acid; mechanisms of action; a review. Nutr Hosp 27:1860–1865

2.

Varela LM, Ortega-Gomez A, Lopez S, Abia R, Muriana FJ, Bermudez B (2013) The effects of dietary fatty acid on the postprandial triglyceride-rich lipoprotein/apoB48 receptor axis in human monocyte/macrophage cells. J Nutr Biochem 24:2031–2039

3.

FDA (Food and Drug Administration, USA) (2004) Docket No. 2003Q-0559. Monounsaturated fatty acids from olive oil and coronary heart disease

4.

EC (European Commission) (2012) Regulation No 432/2012 establishing a list of permitted health claims made on foods. Off J Eur Union L/136/1

5.

Klingberg S, Ellegard L, Johansson I, Jansson JH, Hallmans G, Winkvist A (2013) Dietary intake of naturally occurring plant sterols is related to a lower risk of a first myocardial infarction in men but not in women in Northern Sweden. J Nutr 143:1630–1635

6.

Spanova M, Daum G (2011) Squalene-biochemistry, molecular biology, process biotechnology, and applications. Eur J Lipid Sci Technol 113:1299–1320

7.

Beltrán G, Jiménez A, del Rio C, Sánchez S, Martínez L, Uceda M, Aguilera MP (2010) Variability of vitamin E in virgin olive oil by agronomical and genetic factors. J Food Comp Anal 23:633–639

8.

Frankel EN (2011) Nutritional and biological properties of extra virgin olive oil. J Agric Food Chem 59:785–792

9.

García-González DL, Tena N, Aparicio R (2012) Describing the chemical singularity of the Spanish protected designations of origin for virgin olive oils in relation to oils from neighbouring areas. Grasas Aceites 63:26–34

10.

EC (European Commission) (2010). Publication of an applicant pursuant to Article 6 (2) of Council Regulation (EC) No 510/2006 on the protection of geographical indications and designations of origin for agricultural products and foodstuffs. Off J Eur Union C 125/19

11.

García A, Brenes M, Romero C, García P, Garrido A (2002) Use of 1-acetoxypinoresinol to authenticate Picual olive oils. Int J Food Sci Technol 37:615–625

12.

Romero C, Brenes M (2012) Analysis of total contents of hydroxytyrosol and tyrosol in olive oils. J Agric Food Chem 60:9017–9022

13.

Lanzón A, Albi T, Cert A, Gracián J (1994) The hydrocarbon fraction of virgin olive oil and changes resulting from refining. J Am Oil Chem Soc 71:285–292

14.

IUPAC (International Union of Pure and Applied Chemistry) (1992) Standards methods for the analysis of oils, fats and derivatives. 1st Suppl. to 7th Edn., Pergamon Press, Oxford

15.

EC (European Commission) (2007). Regulation EC/702/2007 amending Regulation EEC/2568/91 on the characteristics of olive oil and olive-residue oil and on the relevant methods of analysis. Off J Eur Union L-161/11-27

16.

Beltrán G, del Rio C, Sánchez S, Martínez L (2004) Influence of harvest date and crop yield on the fatty acid composition of virgin olive oils from cv. Picual. J Agric Food Chem 52:3434–3440

17.

Stefanoudaki E, Williams M, Chartzoulakis K, Harwood J (2009) Effect of irrigation on quality attributes of olive oil. J Agric Food Chem 57:7055–7408

18.

Piravi-Vanak Z, Ghasemi JB, Ghavami M, Ezzatpanah H, Zolfonoun E (2012) The influence of growing region on fatty acids and sterol composition of Iranian olive oils by unsupervised clustering methods. J Am Oil Chem Soc 89:371–378

19.

Nenadis N, Tsimidou MZ (2002) Determination of squalene in olive oil using fractional crystalization for simple preparation. J Am Oil Chem Soc 79:257–259

20.

De Leonardis A, Macciola V, De Felice M (1998) Rapid determination of squalene in virgin olive oils using gas-liquid chromatography. Ital J Food Sci 10:75–80

21.

Samaniego-Sánchez C, Quesada-Granados JJ, López-García de la Serrana H, López-Martínez MC (2010) ß-Carotene, squalene and waxes determined by chromatography method in picual extra virgin olive oil obtained by a new cold extraction system. J Food Comp Anal 23:671–676

22.

Ben-Gal A, Dag A, Basheer L, Yermiyahu U, Zipori I, Kerem Z (2011) The influence of bearing cycles on olive oil quality response to irrigation. J Agric Food Chem 59:11667–11675

23.

Fernández-Cuesta A, León L, Velasco L, De la Rosa R (2013) Changes in squalene and sterols associated with olive maturation. Food Res 54:1885–1889

24.

Aparicio R, Luna G (2002) Characterization of monovarietal virgin olive oils. Eur J Lipid Sci Technol 104:614–627

25.

Di Vaio C, Nocerino S, Paduano A, Sacchi R (2013) Influence of some environmental factors on drupe maturation and olive oil composition. J Sci Food Agric 93:1134–1139

26.

Kesen S, Kelebek H, Selli S (2014) LC-ESI-MS characterization of phenolic profiles Turkish olive oils as influenced by geographic origin and harvest year. J Am Oil Chem Soc 91:385–394

27.

García A, Brenes M, García P, Romero C, Garrido A (2003) Phenolic content in commercial olive oils. Eur Food Res Technol 216:520–525

28.

Andrewes P, Busch JLHC, Joode T, Groenewegen A, Alexandre H (2003) Sensory properties of virgin olive oil polyphenols: identification of deacetoxy-ligstroside aglycon as a key contributor to pungency. J Agric Food Chem 51:1415–1420

29.

Tovar MJ, Motilva MJ, Luna M, Girona J, Romero MP (2001) Analytical characteristics of virgin olive oil from young trees (Arbequina cultivar) growing under linear irrigation strategies. J Am Oil Chem Soc 78:843–849

30.

Servili M, Selvaggini R, Esposto S, Taticchi A, Montedoro GF, Morozzi G (2004) Health and sensory properties of virgin olive oil hydrophylic phenols: agronomic and technological aspects of production that affect their occurrence in the oil. J Chromatogr 1054:113–127

31.

Moriana A, Pérez-López D, Gómez-Rico A, Salvador M, Olmedilla N, Ribas F, Fregapane G (2007) Irrigation scheduling for traditional, low-density olive orchard: water relations and influence on oil characteristics. Agric Water Manage 8:71–179
Acknowledgments
The authors are grateful to Irene de la Rosa for technical help. The authors also thank Antonio Terán and PDO Montoro-Adamuz for providing samples and support.
About this article
Cite this article
Romero, C., Ruiz-Méndez, M.V. & Brenes, M. Bioactive Compounds in Virgin Olive Oil of the PDO Montoro-Adamuz. J Am Oil Chem Soc 93, 665–672 (2016). https://doi.org/10.1007/s11746-016-2803-z
Received:

Revised:

Accepted:

Published:

Issue Date:
Keywords
Olive oil

Phenolic

Oleic acid

Squalene

Tocopherols

Picual