Abstract
Sterol glycosides (SG) are known to cause filter blocking problems in biodiesel use. The extraction and quantitative analysis of SG is difficult due to its low problematic concentration and its compatibility with biodiesel. The purpose of this study is to develop a method to quantify SG in FAME and biodiesel using gas chromatography and other equipment found in laboratories performing routine biodiesel analyses. SG was isolated from FAME using n-dodecane, acidification and cold soaking, followed by cold centrifugation at −8 to −15 °C. The solids obtained were further separated by phase partition with a Folch wash, followed by a final n-dodecane rinse. This solution was analyzed by GC-FID using the operating conditions outlined in ASTM D6584. A calibration curve for SG was produced and a first order fit gave a value of r 2 = 0.992. Reproducibility tests were performed on soybean FAME and B100 canola biodiesel samples spiked with SG. The recovery of SG by the new method was found to be 99 % for soy FAME with a standard deviation of 0.7 and 100 % for B100 canola with a standard deviation of 3.5 %. The reproducibility based on two standard deviations of the predicted concentration for all 12 spiked samples studied in this work was 2.4 ppm.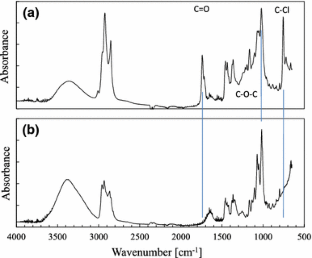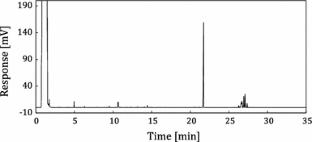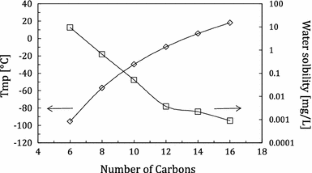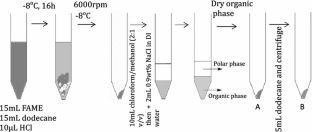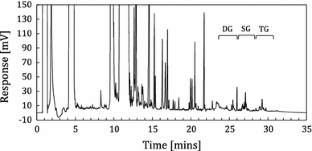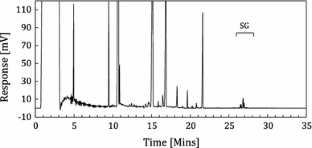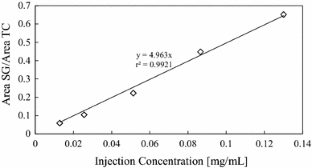 References
1.

Haggenson DM, Perleberg JR, Wiesenborn DP (2014) Fractionation of canola biodiesel sediment for quantification of steryl glycosides with HPLC/ELSD. J Am Oil Chem Soc 91:497–502

2.

Haupt J., Fisher JF, Witt K, Wilharm T (2011) Steryl glycosides and acylated steryl glycosides in vegetable oils and fatty acid methyl esters, effects on the filterability of biodiesel Final Report April 2011 Arbeitsgemeinschaft Qualitätsmanagement Biodiesel e.V

3.

Duff K, Van Gerpen J, He B (2010) Measurement and Control Strategies for Sterol Glycosides to Improve Biodiesel Quality, Final Report, KLK755, Isolation and Characterization of Acylated Steryl Glucosides in Oilseed Crops of the Pacific Northwest, N10-02, National Institute for Advanced Transportation Technology, University of Idaho, January 2010 http://www.webpages.uidaho.edu/niatt/research/Final_Reports/KLK755_N10-02.pdf. Accessed 20 Jan 2016

4.

Bondioli P, Della Bella L, Rivolta G, Faragò S, Boschi A, Beretta S (2015) Study of biodiesel solid contaminants by means of scanning electron microscopy (SEM). Riv Ital Delle Sostanze Grasse. http://www.researchgate.net/publication/278026098. Accessed 20 Jan 2016

5.

Van Hoed V, Nadezhda Z, De Greyt W (2008) Identification and occurrence of steryl glucosides in palm and soy biodiesel. J Am Oil Chem Soc 85:701–709

6.

Plata V, Gauthier-Maradei P, Kafarov V (2015) Influence of minor components on precipitate formation and filterability of palm oil biodiesel. Fuel 144:130–136

7.

Cyberlipid Org. [Internet]. [cited 2015 May 15]. http://www.cyberlipid.org/sterolt/ster0003.htm#1 Accessed 20 Jan 2016

8.

Wang H, Tang H, Salley S, Ng KYS (2010) Analysis of sterol glycosides in biodiesel and biodiesel, precipitates. J Am Oil Chem Soc 87:215–221

9.

Imperial Oil (2009) Canadian Petroleum Institute and Natural Resources Canada under National Renewable Diesel Demonstration Initiative (NRDDI) Low Temperature Storage Test Phase 2- Identification of Problem Species. R498-2009. http://canadianfuels.ca/userfiles/file/Low%20Temperature%20Storage%20Test%20Report%20Dec%2009%20Publication%20EN.pdf Accessed 20 Jan 2016

10.

MSDS Safety Data Sheet fro Isopar™ K Solvent, http://www.commercialoil.ca/sheets/view/216. Accessed 20 Jan 2016

11.

Plata V, Serrano M, Tiria K, Bohorquez ARR, Kafarov V, Gauthier-Maradei P, Castillo E (2013) Fractionation and characterization of insolubles formed in palm oil biodiesel. Ital Assoc Chem Eng (AIDIC). doi:10.3303/CET1335180

12.

White JM, Shah P, Sanford S, Valverde M, Meier G (2010) Evaluation of low concentrations of steryl glucosides in biodiesel by Gas Chromatography, Renewable Energy Group, Inc., https://www.researchgate.net/publication/238744485. Accessed 20 Jan 2016

13.

Breinhölder P, Mosca L, Lindner W (2002) Concept of sequential analysis of free and conjugated phytosterols in different plant matrices. J Chromatogr B 777(1):67–82

14.

Moreau RA, Scott KM, Hass MJ (2008) The identification and quantification of steryl glucosides in precipitates from commercial biodiesel. J Am Oil Chem Soc 85(8):761–770

15.

Lacoste F, Dejean F, Griffon H, Rouquette C (2009) Quantification of free and esterified steryl glucosides in vegetable oils and biodiesel. Eur J Lipid Sci Technol 111(8):822–828

16.

Pauls RE (2011) A review of chromatographic characterization techniques for biodiesel and biodiesel blends. J Chromatogr Sci 49(5):384–396
Acknowledgments
The authors gratefully acknowledge the financial support from the Natural Sciences and Engineering Research Council of Canada (NSERC) Discovery Grant program.
About this article
Cite this article
Montpetit, A., Tremblay, A.Y. A Quantitative Method of Analysis for Sterol Glycosides in Biodiesel and FAME Using GC-FID. J Am Oil Chem Soc 93, 479–487 (2016). https://doi.org/10.1007/s11746-016-2798-5
Received:

Revised:

Accepted:

Published:

Issue Date:
Keywords
Sterol glycosides

SG

GC-FID

FTIR

Biodiesel

FAME

Soybean oil