Abstract
This work describes two sustainable methods for production and purification of azelaic acid (AA) to replace the current process of ozonolysis of oleic acid (OA). The first proceeds in two steps, coupling smooth oxidation of OA to 9,10-dihydroxystearic acid (DSA) with subsequent oxidative cleavage by sodium hypochlorite. An alternative methodology is also proposed, using a chemocatalytic system consisting of H2O2/H2WO4 for direct oxidative cleavage of the double bond of OA at 373 K. A convenient technique for separation and purification of azelaic acid is also proposed.
Access options
Buy single article
Instant access to the full article PDF.
USD 39.95
Price excludes VAT (USA)
Tax calculation will be finalised during checkout.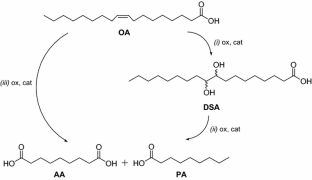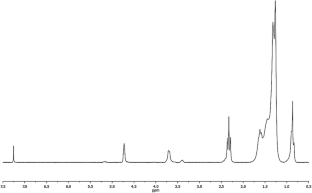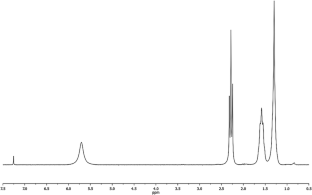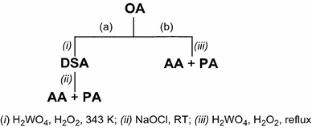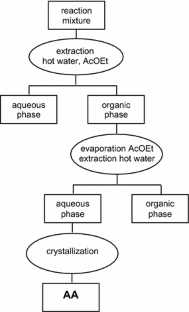 References
Gunstone FD (2008) Imports by commodity and by country. Lipid Technol 20:264

Biermann U, Bornscheuer U, Meier MAR, Metzger JO, Schäfer H (2011) Oils and fats as renewable raw materials in chemistry. Angew Chem Int Ed 50:3854–3871

Dierker M, Schäfer HJ (2010) Surfactants from oleic, erucic and petroselinic acid: synthesis and properties. Eur J Lipid Sci Technol 112:122–136

Brown AC, Goebel CG, Oehlschlaeger HF, Rolfes RP (1957) Method of making azelaic acid. US Patent 2,813,113

Nojori R, Aoku M, Sato K (2003) Green oxidation with aqueous hydrogen peroxide. Chem Commun 16:1977–1986

Köckritz A, Martin A (2011) Synthesis of azelaic acid from vegetable oil-based feedstocks. Eur J Lipid Sci Technol 113:83–91

Warwel S, Rüsch gen. Klaas M (1997) Oxidative cleavage of unsaturated fatty acids without ozone. Lipid Technol 9:10–14

Herrmann AT, Warwel S, Rüsch gen. Klaas M (1977) Production of compounds containing carboxylic acid. German Patent 19,724,736

Antonelli E, D'Aloisio R, Gambaro M, Fiorani T, Venturello C (1998) Efficient oxidative cleavage of olefins to carboxylic acids with hydrogen peroxide catalyzed by methyltrioctylammonium tetrakis(oxodiperoxotungsto)phosphate(3-) under two-phase conditions. Synthetic aspects and investigation of the reaction course. J Org Chem 63:7190–7206

Song HY, Chen J, Tong J (2005) Study on synthesis of azelaic acid by catalytic oxidation using phase transfer catalyst. Huaxue Shiji 27:65–67

Santacesaria E, Sorrentino A, Rainone F, Di Serio M, Speranza F (2000) Oxidative cleavage of the double bond of monoenic fatty chains in two steps: a new promising route to azelaic acid and other industrial products. Ind Eng Chem Res 39:2766–2771

Haimov A, Cohen H, Neumann R (2004) Alkylated polyethyleneimine/polyoxometalate synzymes as catalysts for the oxidation of hydrophobic substrates in water with hydrogen peroxide. J Am Chem Soc 126:11762–11763

Santacesaria E, Ambrosio M, Sorrentino A, Tesser R, Di Serio M (2003) Double bond oxidative cleavage of monoenic fatty chains. Catal Today 79–80:59–65

Oakley MA, Woodward S, Coupland K, Parker D, Temple-Heald C (1999) Practical dihydroxylation and C–C cleavage of unsaturated fatty acids. J Mol Catal A Chem 150:105–111

Köckritz A, Blumenstein M, Martin A (2010) Catalytic cleavage of methyl oleate or oleic acid. Eur J Lipid Sci Technol 112:58–63

Behr A, Tenhumberg N, Wintzer A (2013) Efficient ruthenium-catalysed oxidative cleavage of methyl oleate with hydrogen peroxide as oxidant. RSC Adv 3:172–180

Godard A, De Caro P, Thiebaud-Roux S, Vedrenne E, Mouloungui Z (2013) New environmentally friendly oxidative scission of oleic acid into azelaic acid and pelargonic acid. J Am Oil Chem Soc 90:133–140

Kulik K, Martin A, Pohl M-M, Fischer C, Köckritz A (2014) Insights into gold-catalyzed synthesis of azelaic acid. Green Chem 16:1799–1806

Van Aken K, Strekowski L, Patiny L (2006) EcoScale, a semi-quantitative tool to select an organic preparation based on economical and ecological parameters. Beilstein J Org Chem 3:2

Lemaire M, Favre-Reguillon A, Paquit B, Claude S, Raoul Y (2011) Method for preparing carboxylic acids by oxidative cleavage of a vicinal diol. WO 2011(107721):A1

Levey M (1959) Chemistry and technology in ancient Mesopotamia. Elsevier, Amsterdam, pp 33–34

Heuser A, Stoehr O (1891) Ueber methylierte dipyridyle. J Prakt Chemie 44:404–410

Zaidman B, Kisilev A, Sasson Y, Garti N (1988) Double bond oxidation of unsaturated fatty acids. J Am Oil Chem Soc 65:611–615
Acknowledgments
The authors warmly thank Prof. Thierry Ollevier (Université Laval, Canada) for helpful discussions. The authors thank MIUR (Progetto Rebiochem—Cluster 2012) for financial support. The authors also thank Solvay (Rosignano, Italy) for a generous loan of hydrogen peroxide (60 % v/v).
About this article
Cite this article
Benessere, V., Cucciolito, M.E., De Santis, A. et al. Sustainable Process for Production of Azelaic Acid Through Oxidative Cleavage of Oleic Acid. J Am Oil Chem Soc 92, 1701–1707 (2015). https://doi.org/10.1007/s11746-015-2727-z
Received:

Revised:

Accepted:

Published:

Issue Date:

DOI: https://doi.org/10.1007/s11746-015-2727-z
Keywords