Abstract
Fish oil is available primarily as triacylglycerols (TAG) or ethyl esters (EE). Anecdotal evidence suggests that TAG have superior bioavailability and oxidative stability compared to EE. In this work, peroxide value (PV) and p-anisidine value (AV) were used to monitor oxidation in commercially available TAG and EE fish oils incubated at temperatures from 5 to 60 °C. Pseudo first-order kinetics were assumed and rate constants were calculated for each temperature. At all temperatures, the rates of oxidation were higher for EE oils than TAG oils. For PV and AV measured in both oils, non-linear Arrhenius models were plotted, generating activation energies that ranged from 7 to 103 and 2 to 159 kJ/mol for PV and AV, respectively. Although TAG were more resistant to oxidation than EE, they had lower activation energies (E a) at ≤15 °C for reactions measured with PV and AV. The E a for EE was negative at temperatures ≥45 °C, indicating that reaction rate was influenced by factors in addition to temperature.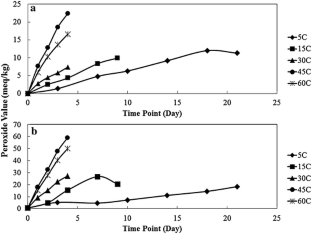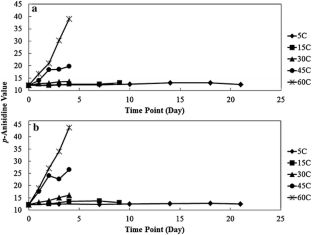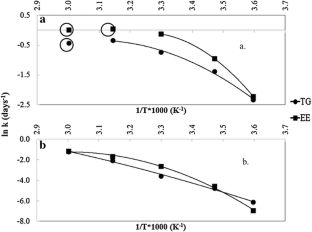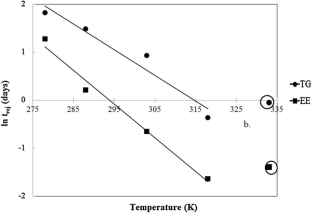 References
1.

Roth EM, Harris WS (2010) Fish oil for primary and secondary prevention of coronary heart disease. Curr Atheroscler Rep 12:66–72

2.

Riediger ND, Othman RA, Suh M, Moghadasian MH (2009) A systemic review of the roles of n-3 fatty acids in health and disease. J Am Diet Assoc 109:668–679

3.

Harris WS, Miller M, Tighe AP, Davidson MH, Schaefer EJ (2008) Omega-3 fatty acids and coronary heart disease risk: clinical and mechanistic perspectives. Atherosclerosis 197:12–24

4.

Kralovec JA, Zhang S, Zhang W, Barrow CJ (2012) A review of the progress in enzymatic concentration and microencapsulation of omega-3 rich oil from fish and microbial sources. Food Chem 131:639–644

5.

Dyerburg J, Madsen P, Møller JM, Aardestrup I, Schmidt EB (2010) Bioavailability of marine n-3 fatty acid formulations. Prostaglandins Leukot Essent Fat Acids 83:137–141

6.

Neubronner J, Schuchardt JP, Kressel G, Merkel M, von Schacky C, Hahn A (2010) Enhanced increase of omega-3 index in response to long-term n-3 fatty acid supplementation from triglycerides versus ethyl esters. Eur J Clin Nutr 65:247–254

7.

Min DB, Boff JM (2002) Chemistry and reaction of singlet oxygen in food. Compr Rev Food Sci Food Saf 1:58–71

8.

Sullivan JC, Budge SM, St-Onge M (2010) Modeling the primary oxidation in commercial fish oil preparations. Lipids 46:87–93

9.

Bórquez R, Koller WD, Wolf W, Spieß W (1997) A rapid method to determine the oxidation kinetics of n-3 fatty acid in fish oil. Lebensm Wiss Technol 30:502–507

10.

Lee H, Kizito SA, Weese SJ, Craig-Schmidt MC, Lee Y, Wei CI, An H (2003) Analysis of headspace volatile and oxidized volatile compounds in DHA-enriched fish oil on accelerated oxidative storage. J Food Sci 68:2169–2177

11.

Yoshii H, Furata T, Siga H, Moriyama S, Baba T, Maruyama K, Misawa Y, Hata N, Linko P (2002) Autoxidation kinetic analysis of docosahexaenoic acid ethyl ester and docosahexaenoic acid triglyceride with oxygen sensor. Biosci Biotechnol Biochem 66:749–753

12.

Litiwinienko G, Daniluk A, Kasprzycka-Guttman T (2000) Study on autoxidation kinetics of fats by differential scanning calorimetry. 1. Saturated C12–C18 fatty acids and their esters. Ind Eng Chem Res 39:7–12

13.

Martín D, Terrón A, Fornari T, Reglero G, Torres CF (2012) Oxidative stabilization of ultra-high omega-3 concentrates as ethyl esters or triacylglycerols. Food Res Int 45:336–341

14.

Global Organization for EPA and DHA (GOED). Voluntary monograph for omega-3, 2008. http://goedomega3.com/industry.html. Accessed 15 May 2012

15.

Sullivan JC, Budge SM, St-Onge M (2009) Determining ethyl esters in fish oil with solid-phase microextraction and GCMC. JAOCS 86:743–748

16.

Carpenter AP (1979) Determination of tocopherols in vegetable oils. JAOCS 56:668–671

17.

American Oil Chemists' Society (1997) Method Cd 18-90. In: Firestone D (ed) Official Methods and Recommended Practices of the American Oil Chemists' Society, 4th edn. American Oil Chemists' Society, Champaign

18.

American Oil Chemists' Society (1997) Method Cd 8-53. In: Firestone D (ed) Official Methods and Recommended Practices of the American Oil Chemists' Society, 4th edn. American Oil Chemists' Society, Champaign

19.

Labuza TP (1971) Kinetics of lipid oxidation in food. Crit Rev Food Sci 2:355–405

20.

Labuza TP, Bergquist S (1983) Kinetics of oxidation of potato chips under constant temperature and sine wave temperature conditions. J Food Sci 48:712–715

21.

Gόmez-Alonso S, Mancebo-Campos V, Descamparados Salvador M, Fregapane G (2004) Oxidation kinetics in olive oil triacylglycerols under accelerated shelf-life testing (25–75° C). Eur J Lipid Sci Technol 106:369–375

22.

Hamilton RJ, Kalu C, McNeill GP, Padley FB, Pierce JH (1998) Effects of tocopherols, ascorbyl palmitate, and lecithin on autoxidation of fish oil. JAOCS 75:813–822

23.

Kulås E, Ackman RG (2001) Properties of α-, γ-, and δ-tocopherol in purified fish oil triacylglycerols. JAOCS 78:361–367

24.

Frankel EN (2005) Lipid oxidation, 2nd edn. Oily Press, Bridgwater

25.

Atkins PW (1990) Physical chemistry, 4th edn. Freeman, New York

26.

Corradini MG, Peleg M (2007) Shelf-life estimation from accelerated storage data. Trends Food Sci Technol 18:37–47

27.

Shahidi F, Zhong Y (2005) Lipid oxidation: measurement methods. In: Shahidi F (ed) Bailey's industrial oil and fat products, 6th edn. Wiley, Hoboken
Electronic supplementary material
Below is the link to the electronic supplementary material.
About this article
Cite this article
Sullivan Ritter, J.C., Budge, S.M., Jovica, F. et al. Oxidation Rates of Triacylglycerol and Ethyl Ester Fish Oils. J Am Oil Chem Soc 92, 561–569 (2015). https://doi.org/10.1007/s11746-015-2612-9
Received:

Revised:

Accepted:

Published:

Issue Date:
Keywords
Lipid oxidation

Reaction rates

Kinetics

Arrhenius model

Shelf life

Activation energy