Abstract
We aimed at investigating oxidative stability and changes in fatty acid and tocopherol composition of extra virgin olive oil (EVOO) in comparison with refined seed oils during short-term deep-frying of French fries, and changes in the composition of the French fries deep-fried in EVOO. EVOO samples from Spain, Brazil, and Portugal, and refined seed oils of soybean and sunflower were studied. Oil samples were used for deep-frying of French fries at 180 °C, for up to 75 min of successive frying. Tocopherol and fatty acid composition were determined in fresh and spent vegetable oils. Tocopherol, fatty acid, and volatile composition (by SPME–GC–MS) were also determined in French fries deep-fried in EVOO. Oil oxidation was monitored by peroxide, acid, and p-anisidine values, and by Rancimat after deep-frying. Differential scanning calorimetry (DSC) analysis was used as a proxy of the quality of the spent oils. EVOOs presented the lowest degree of oleic and linoleic acids losses, low formation of free fatty acids and carbonyl compounds, and were highly stable after deep-frying. In addition, oleic acid, tocopherols, and flavor compounds were transferred from EVOO into the French fries. In conclusion, EVOOs were more stable than refined seed oils during short-term deep-frying of French fries and also contributed to enhance the nutritional value, and possibly improve the flavor, of the fries prepared in EVOO.
This is a preview of subscription content, log in to check access.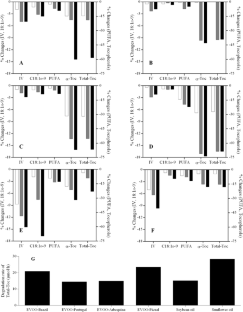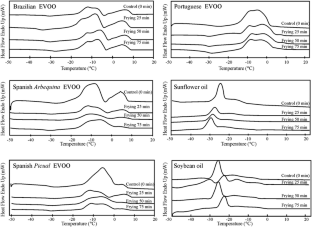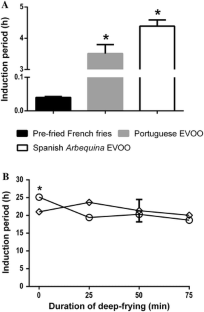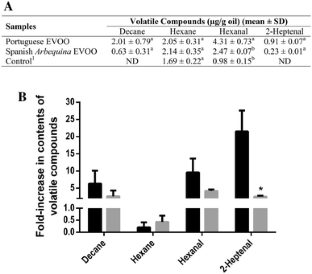 Abbreviations
AV:

Acid value

DAG:

Diacylglycerol

DSC:

Differential scanning calorimetry

EVOO:

Extra virgin olive oil

FAMEs:

Fatty acid methyl esters

FFA:

Free fatty acid

GC:

Gas chromatography

HPLC:

High performance liquid chromatography

IP:

Induction period

IV:

Iodine value

MAG:

Monoacylglicerol

MUFA:

Monounsatured fatty acids

PUFA:

Polyunsaturated fatty acid

p-Av:

p-Anisidine value

PV:

Peroxide value

TAG:

Triacylglycerol

Total-Toc:

Total tocopherols
References
1.

Santos CSP, Cruz R, Cunha SC, Casal S (2013) Effect of cooking on olive oil quality attributes. Food Res Int 54:2016–2024

2.

Frankel E (2010) Chemistry of extra virgin olive oil: adulteration, oxidative stability, and antioxidants. J Agric Food Chem 58:5991–6006

3.

Dana D, Saguy S (2001) Frying of nutritious food: obstacles and feasibility. Food Sci Technol Res 7:265–279

4.

Karoui IJ, Dhifi W, Jemia MB, Marzouk B (2011) Thermal stability of corn oil flavoured with Thymus capitatus under heating and deep-frying conditions. J Sci Food Agric 91:927–933

5.

Farnetti S, Malandrino N, Luciani D, Gasbarrini G, Capristo E (2011) Food fried in extra-virgin olive oil improves postprandial insulin response in obese, insulin resistant women. J Med Food 14:316–321

6.

Sanchez-Gimeno AC, Benito M, Vercet A, Oria R (2008) Aceite de oliva virgen extra del Somontano: evaluación de las modificaciones fisico-químicas tras la fritura doméstica de patatas prefritas congeladas. Grasas Aceites 59:57–61

7.

American Oil Chemists' Society (2004) Official methods and recommended practices of the AOCS, 4th ed. Boulder, USA

8.

Hartman L, Lago R (1973) A rapid preparation of fatty acid methyl esters from lipids. Lab Pract 22:475–476

9.

Tan B, Brzuskiewicz L (1989) Separation of tocopherol and tocotrienol isomers using normal- and reverse-phase liquid chromatography. Anal Biochem 180:368–373

10.

Cunha S, Amaral J, Fernandes J, Oliveira MB (2006) Quantification of tocopherols and tocotrienols in Portuguese olive oils using HPLC with three different detection systems. J Agric Food Chem 54:3351–3356

11.

Che Man YB, Tan CP (2002) Comparative differential scanning calorimetric analysis of vegetable oils: II. Effects of cooling rate variation. Phytochem Anal 151:142–151

12.

Instituto Adolfo Lutz (2008) Physical and chemical methods in food analysis [Métodos físicos-químicos para a análise de alimentos], 4th ed. São Paulo, Brazil

13.

Larick DK, Parker JD (2001) Chromatographic analysis of secondary lipid oxidation products. In: Wrolstad RE, Acree TE, Decker EA, Penner MH, Reid DS, Schwartz SJ et al (eds) Current protocols in food analytical chemistry. Wiley, Weinheim, pp D2.2.1–D2.2.9

14.

Viegas MC, Bassoli DG (2007) Linear retention index for characterization of volatile compounds in soluble coffee using GC-MS and HP-innowax column [Utilização do índice de retenção linear para caracterização de compostos voláteis em café solúvel utilizando GC-MS e coluna HP-Innowax]. Quim Nova 30:2031–2034

15.

Vichi S, Pizzale L, Conte L, Buxaderas S, López-Tamames E (2003) Solid-phase microextraction in the analysis of virgin olive oil volatile fraction: characterization of virgin olive oils from two distinct geographical areas of northern Italy. J Agric Food Chem 51:6572–6577

16.

Cerretani L, Bendini A, Caro A, Piga A, Vacca V, Carboni M et al (2006) Preliminary characterisation of virgin olive oils obtained from different cultivars in Sardinia. Eur Food Res Technol 222:354–361

17.

López-Miranda J, Badimon L (2006) Monounsaturated fat and cardiovascular risk. Nutr Rev 64:S2–S12

18.

FAO/WHO Alimentarius Codex (2009) Codex standard for olive oil, virgin and refined and for refined olive-pomacem oil. Food Stand Progr 8:25–39

19.

Silva L, Pinto J, Carrola J, Paiva-Martins F (2010) Oxidative stability of olive oil after food processing and comparison with other vegetable oils. Food Chem 121:1177–1187

20.

Farhoosh R, Khodaparast MHH, Sharif A, Rafiee SA (2012) Olive oil oxidation: rejection points in terms of polar, conjugated diene, and carbonyl values. Food Chem 131:1385–1390

21.

Frankel E (2005) Lipid oxidation. Oily Press/Woodhead, Cambridge

22.

Brasil (1999) Technical regulation for fixation of identity and quality of vegetable oils and fats [Regulamento técnico para fixação de identidade e qualidade de óleos e gorduras vegetais]. ANVISA (Brazil), RDC nº 482. http://portal.anvisa.gov.br/wps/wcm/connect/a2190900474588939242d63fbc4c6735/RDC_482_1999.pdf?MOD=AJPERES. Accessed 25 Jan 2015

23.

Casal S, Malheiro R, Sendas A, Oliveira BPP, Pereira JA (2010) Olive oil stability under deep-frying conditions. Food Chem Toxicol 48:2972–2979

24.

Houhoula DP, Oreopoulou V, Tzia C (2002) A kinetic study of oil deterioration during frying and a comparison with heating. J Am Oil Chem Soc 79:133–137

25.

Naz S, Siddiqi R, Sheikh H, Sayeed SA (2005) Deterioration of olive, corn and soybean oils due to air, light, heat and deep-frying. Food Res Int 38:127–134

26.

Kamal-Eldin A (2006) Effect of fatty acids and tocopherols on the oxidative stability of vegetable oils. Eur J Lipid Sci Technol 108:1051–1061

27.

Barrera-Arellano D, Ruiz-Méndez V, Ruiz G, Dobarganes C (1999) Loss of tocopherols and formation of degradation compounds in triacylglycerol model systems heated at high temperature. J Sci Food Agric 1928:1923–1928

28.

Ostrowska-Ligeza E, Bekas W, Kowalska D, Lobacz M, Wroniak M, Kowalski B (2010) Kinetics of commercial olive oil oxidation: dynamic differential scanning calorimetry and Rancimat studies. Eur J Lipid Sci Technol 112:268–274

29.

Toro-Vazquez J, Herrera-Coronado V, Dibildox-Alvarado E, Charo-Alonso C, Gomez-Aldapa C (2002) Induction time of crystallization in vegetable oils, comparative measurements by differential scanning calorimetry and diffusive light scattering. Food Eng Phys Prop 67:1057–1065

30.

Chiavaro E, Barnaba C, Vittadini E, Rodriguez-Estrada MT, Cerretani L, Bendini A (2009) Microwave heating of different commercial categories of olive oil: part II. Effect on thermal properties. Food Chem 115:1393–1400

31.

Ferrari C, Angiuli M, Tombari E, Righetti MC, Matteoli E, Salvetti G (2007) Promoting calorimetry for olive oil authentication. Thermochim Acta 459:58–63

32.

van Loon WAM, Linssen JPH, Legger A, Posthumus MA, Voragen AGJ (2005) Identification and olfactometry of French fries flavour extracted at mouth conditions. Food Chem 90:417–25

33.

Vichi S, Castellote AI, Pizzale L, Conte LS, Buxaderas S, López-Tamames E (2003) Analysis of virgin olive oil volatile compounds by headspace solid-phase microextraction coupled to gas chromatography with mass spectrometric and flame ionization detection. J Chromatogr A 983:19–33

34.

Morales MT, Rios JJ, Aparicio R (1997) Changes in the volatile composition of virgin olive oil during oxidation: flavors and off-flavors. J Agric Food Chem 45:2666–2673

35.

Dierkes G, Bongartz A, Guth H, Hayen H (2012) Quality evaluation of olive oil by statistical analysis of multicomponent stable isotope dilution assay data of aroma active compounds. J Agric Food Chem 60:394–401
Acknowledgments
We thank Alma Brasilis® (Rio de Janeiro, Brazil), which kindly provided the three commercial samples of European EVOOs. The financial support of FAPERJ, CAPES, and CNPq (Brazil) is greatly acknowledged. E. Akil was a recipient of an MSc scholarship, A.M.M. Costa was a recipient of a DSc scholarship, and V. Calado was a recipient of a research fellowship, from CNPq (Brazil). V.N.Castelo-Branco was a recipient of a DSc scholarship from CAPES (Brazil).
Conflicts of interest
The authors declare that there are no conflicts of interest to disclose.
About this article
Cite this article
Akil, E., Castelo-Branco, V.N., Costa, A.M.M. et al. Oxidative Stability and Changes in Chemical Composition of Extra Virgin Olive Oils After Short-Term Deep-Frying of French Fries. J Am Oil Chem Soc 92, 409–421 (2015). https://doi.org/10.1007/s11746-015-2599-2
Received:

Accepted:

Published:

Issue Date:
Keywords
Olive oil quality

Thermal oxidation

DSC

Deep-frying

Stability

Tocopherols