Abstract
The search for alternative fuels has been gaining attention in recent decades. The replacement of fossil fuels is driven by environmental, economic, and social factors, since the whole of society is dependent on their usage; and in this context, one alternative that has been highlighted is the use of biodiesel. Biodiesel represents a renewable, biodegradable, non-inflammable, and low toxicity alternative to diesel. In this study, the Hansen solubility parameters (HSPs) and the interaction radii (R 0) were determined for the following materials: used frying oil, coconut oil, palm oil, biodiesel from used frying oil, diesel, and biodiesel–diesel blends (B10 and B20), using 45 solvents and solvent mixtures. The values found for the solubility parameters of the used frying oil and coconut oil were very close to those found for the biodiesel; however, the biofuel showed higher solubility in polar solvents. The values of solubility parameters of diesel, B10, and B20 were similar, increasing values according to the amount (by volume) of biodiesel added to diesel fuel.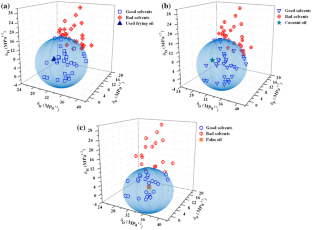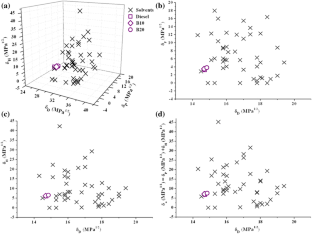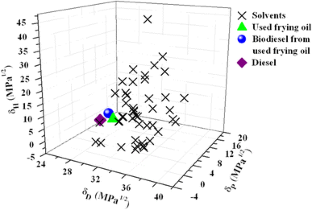 References
1.

Nitske WR, Wilson, CM (1965) Rudolf Diesel: pioneer of the age of power. University of Oklahoma Press, Norman

2.

Ma F, Hanna MA (1999) Biodiesel production: a review. Bioresour Technol 70:1–15

3.

Knothe G (2001) Historical perspectives on vegetable oil-based diesel fuels. Inform 12:1103–1107

4.

Knothe G, Van Gerpen J, Krahl J (2005) The biodiesel handbook. AOCS Press, Champaign

5.

Muppaneni T, Reddy HK, Ponnusamy S, Patil PD, Sun Y, Dailey P, Deng S (2013) Optimization of biodiesel production from palm oil under supercritical ethanol conditions using hexane as co-solvent: a response surface methodology approach. Fuel 107:633–640

6.

Tiwari GN, Mishra RK (2012) Advanced renewable energy sources. RSC, Cambridge, Chap 4

7.

Vicente G, Martinez M, Aracil J (2004) Integrated biodiesel production: a comparison of different homogeneous catalysts systems. Bioresour Technol 92:297–305

8.

Schumacher LG, Borget SC, Fossen D, Goetz W, Hires WG (1996) Heavy-duty engine exhaust emission tests using methyl ester soybean oil/diesel fuel blends. Bioresour Technol 57:31–36

9.

Conceição MM, Fernandes VJ, Araújo AS, Farias MF, Santos LMG (2007) Thermal and oxidative degradation of castor oil biodiesel. Energy Fuels 21:1522–1527

10.

Machado AB, Ardila YC, de Oliveira LH, Aznar M, Maciel MRW (2012) Liquid–liquid equilibria in ternary and quaternary systems present in biodiesel production from soybean oil at (298.2 and 333.2) K. J Chem Eng Data 57:1417–1422

11.

Demirbas A (2008) Biodiesel. Springer, London, Chap 4

12.

Encinar JM, González JF, Rodrígues-Reinares A (2007) Ethanolysis of used frying oil. Biodiesel preparation and characterization. Fuel Process Technol 88:513–522

13.

Benjumea P, Agudelo J, Agudelo A (2008) Basic properties of palm oil biodiesel–diesel blends. Fuel 87:2069–2075

14.

Mesquita FMR, Evangelista NS, Sant'Ana HB, Santiago-Aguiar RS (2012) Liquid–liquid equilibrium for the glycerol + alcohol + coconut biodiesel system at different temperatures and atmospheric pressure. J Chem Eng Data 57:3557–3562

15.

Candeia RA, Freitas JCO, Souza MA, Conceição MM, Santos IMG, Soledade LEB, Souza AG (2007) Thermal and rheological behavior of diesel and methanol biodiesel blends. J Therm Anal Calorim 87:653–656

16.

Januan J, Ellis N (2010) Perspectives on biodiesel as a sustainable fuel. Renew Sustain Energy Rev 14:1312–1320

17.

Hansen CM (2007) Hansen solubility parameters: a user's handbook, 2nd edn. CRC, Boca Raton, Chapt 1

18.

Hansen CM (2008) Polymer science applied to biological problems: prediction of cytotoxic drug interactions with DNA. Eur Polym J 44:2741–2748

19.

Burke J (1984) Solubility parameters: theory and application

20.

Ma J, Larsen RM (2013) Comparative study on dispersion and interfacial properties of single walled carbon nanotube/polymer composites using Hansen solubility parameters. Appl Mater Interfaces 5:1287–1293

21.

Hansen C, Skaarup K (1967) The three dimensional solubility parameter—key to paint component affinities. III. Independent calculation of the parameter components. J Paint Technol 39:511–514

22.

Medina Gonzales Y, de Caro P, Thiebaud-Roux S, Lacaze-Dafaure C (2007) Fatty acid methyl esters as biosolvents of epoxy resins: a physicochemical study. J Solut Chem 36:437–446

23.

Srinivas K, Potts TM, King JW (2009) Characterization of solvent properties of methyl soyate by inverse gas chromatography and solubility parameters. Green Chem 11:1581–1588

24.

Bobbitt NS, King JW (2010) Physicochemical characterization of dilute n-alcohol/biodiesel mixtures by inverse gas chromatography. J Chromatogr A 1217:7898–7906

25.

Vincent JD, Srinivas K, King JW (2012) Characterization of the solvent properties of glycerol using inverse gas chromatography and solubility parameters. J Am Oil Chemists' Soc 89(9):1585–1597

26.

Candeia RA, Silva MCD, Carvalho Filho JR, Brasilino MGA, Bicudo TC, Santos IMG (2009) Influence of soybean biodiesel content on basic properties of biodiesel—diesel blends. Fuel 88:738–743

27.

Joshi RM, Pegg MJ (2007) Flow properties of biodiesel fuel blends at low temperatures. Fuel 86:143–151

28.

Batista MM, Guirardello R, Krähenbühl MA (2013) Determination of the solubility parameters of biodiesel from vegetable oils. Energy Fuels 27:7497–7509

29.

Jing Ma, Zhou L (2012) A new procedure for calculating Hansen solubility parameters of carbon nanotube/polymer composites. Polym Bull 68:1053–1063

30.

Gharagheizi F (2007) New procedure to calculate the Hansen solubility parameters of polymers. J Appl Polym Sci 103:31–36

31.

Redelius P (2004) Bitumen solubility model using Hansen solubility parameter. Energy Fuels 18:1087–1092

32.

Acevedo A, Castro A, Vásquez E, Marcano F, Ranaudo MA (2010) Investigation of physical chemistry properties of asphaltenes using solubility parameters of asphaltenes and their fractions A1 and A2. Energy Fuels 24:5921–5933

33.

Vebber GC, Pranke P, Pereira CN (2014) Calculating Hansen solubility parameters of polymers with genetic algorithms. J Appl Polym Sci 131:1

34.

King JW (1995) Determination of the solubility parameter of soybean oil by inverse gas chromatography. LWT-Food Sci Technol 28:190–195

35.

Stirna U, Fridrihsone A, Misane M, Vilsone D (2012) Rapeseed oil as renewable resource for polyol synthesis. Sci J Riga Tech Univ Environ Clim Technol 6:85–90

36.

Gunstone FD, Harwood JL, Padley FB (1994) The lipid handbook, 2nd edn. Chapman & Hall, London

37.

BR-Petrobras Distributor (2014) www.br.com.br. Accessed 1 Jan 2014

38.

Thiebaud-Roux S, de Caro P (2007) Soy-based biosolvents: a real alternative to VOC-generating industrial solvents. Presented at the international seminar "Soybean—renewable resource for industrial non-food uses", Rio de Janeiro, Brazil

39.

Rowe RC (1988) Interaction of lubricants with microcrystalline cellulose and anhydrous lactose—a solubility parameter approach. Int J Pharm 41:223–226

40.

Zografi G, Tam SS (1976) Wettability of pharmaceutical solids: estimates of solid surface polarity. J Pharm Sci 65:1145–1149
Acknowledgments
The authors are grateful to Coordenação de Aperfeiçoamento de Pessoal de Nível Superior (CAPES) for its financial support.
About this article
Cite this article
Batista, M.M., Guirardello, R. & Krähenbühl, M.A. Determination of the Hansen Solubility Parameters of Vegetable Oils, Biodiesel, Diesel, and Biodiesel–Diesel Blends. J Am Oil Chem Soc 92, 95–109 (2015). https://doi.org/10.1007/s11746-014-2575-2
Received:

Revised:

Accepted:

Published:

Issue Date:
Keywords
Vegetable oils

Biodiesel

Diesel

Fuel blends

Hansen solubility parameters