Abstract
Lipid oxidation is the major form of deterioration in foods because it decreases food quality and nutritional value, and may have negative health implications. Selected aromatic plant extracts from leaves, flowers and stems of rosemary, thyme and lavender were investigated for their antioxidant activity. The total polyphenol content was determined by the Folin–Ciocalteu assay and the antioxidant capacity was determined by the Trolox equivalent antioxidant capacity, 1,1-diphenyl-2-picrylhydrazyl, oxygen radical absorbance capacity and ferric-reducing antioxidant power assays. For all four antioxidant assays, the extracts from thyme flowers, lavender leaves and thyme leaves had the highest antioxidant activity, followed by rosemary stems, rosemary leaves, and lavender stems, and the lavender flowers and thyme stems had the lowest antioxidant activity. The antioxidant activity was correlated with the polyphenol content, although minor deviations were observed. In oil-in-water emulsion, extracts from rosemary leaves and thyme leaves were most effective at retarding oxidation followed by the rosemary stems and thyme flowers. Extracts from thyme flowers and lavender leaves were less effective in the emulsion than predicted by the homogeneous antioxidant assays. This study demonstrated the potential use of plants extract as substitutes for synthetic antioxidants.
This is a preview of subscription content,
to check access.
Access this article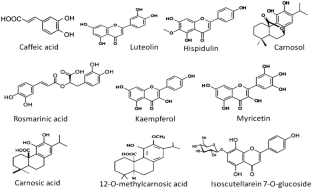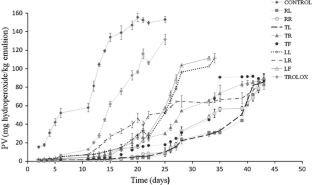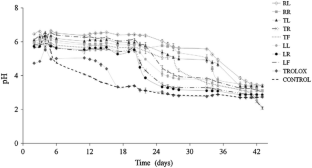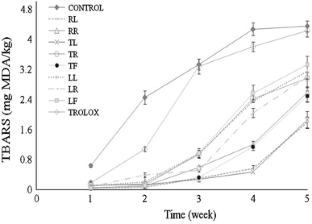 Similar content being viewed by others
References
McClements DJ, Decker EA (2000) Lipid oxidation in oil-in-water emulsions: impact of molecular environment on chemical reactions in heterogeneous food systems. J Food Sci 65:1270–1282. doi:10.1111/j.1365-2621.2000.tb10596.x

Mendis E, Rajapakse N, Kim SK (2005) Antioxidant properties of a radical-scavenging peptide purified from enzymatically prepared fish skin gelatin hydrolysate. J Agric Food Chem 53:581–587. doi:10.1021/jf048877v

Waraho T, McClements DJ, Decker EA (2011) Impact of free fatty acid concentration and structure on lipid oxidation in oil-in-water emulsions. Food Chem 129:854–859. doi:10.1016/j.foodchem.2011.05.034

Calucci L, Pinzino C, Zandomeneghi M, Capocchi A, Ghiringhelli SV, Saviozzi F, Tozzi S, Galleschi L (2003) Effects of gamma-irradiation on the free radical and antioxidant contents in nine aromatic herbs and spices. J Agric Food Chem 51:927–934. doi:10.1021/jf020739n

Wellwood CRL, Cole RA (2004) Relevance of carnosic acid concentrations to the selection of rosemary, Rosmarinus officinalis (L.), accessions for optimization of antioxidant yield. J Agric Food Chem 52:6101–6107. doi:10.1021/jf035335p

Frankel EN, Huang SW, Aeschbach R, Prior E (1996) Antioxidant activity of a rosemary extract and its constituents, carnosic acid, carnosol, and rosmarinic acid, in bulk oil and oil-in-water emulsion. J Agric Food Chem 44:131–135. doi:10.1021/jf950374p

Aparicio R, Harwoos J (2003) Manual del aceite de oliva. Mundi-Prensa, Madrid

Beretta G, Artali R, Facino RM, Gelmini F (2011) An analytical and theoretical approach for the profiling of the antioxidant activity of essential oils: the case of Rosmarinus officinalis L. J Pharm Biomed Anal 55:1255–1264. doi:10.1016/j.jpba.2011.03.026

AOCS Official Method Cd 8-53 (1997) Peroxide value acetic acid-chloroform method

Dorman HJD, Peltoketo A, Hiltunen R, Tikkanen MJ (2003) Characterisation of the antioxidant properties of de-odourised aqueous extracts from selected Lamiaceae herbs. Food Chem 83:255–262. doi:10.1016/S0308-8146(03)00088-8

Khaled T, Feras A, Mohammad G, Mohammad M, Tamam E (2007) Antioxidant activity and total phenolic content of selected Jordanian plant species. Food Chem 104:1372–1378

Viuda-Martos M, Ruiz Navajas Y, Sanchez Zapata E, Fernandez-Lopez J, Perez-Alvarez JA (2010) Antioxidant activity of essential oils of five spice plants widely used in a Mediterranean diet. Flavour Fragrance J 25:13–19. doi:10.1002/ffj.1951

Moreno S, Scheyer T, Romano CS, Vojnov AA (2006) Antioxidant and antimicrobial activities of rosemary extracts linked to their polyphenol composition. Free Radic Res 40:223–231. doi:10.1080/10715760500473834

Gramza-Michalowska A, Sidor A, Hes M (2011) Herb extract influence on the oxidative stability of selected lipids. J Food Biochem 35:1723–1736. doi:10.1111/j.1745-4514.2010.00497.x

Babovi N, Djilas S, Jadranin M, Vajs V, Ivanovic J, Petrovic S, Zizovic I (2010) Supercritical carbon dioxide extraction of antioxidant fractions from selected Lamiaceae herbs and their antioxidant capacity. Innov Food Sci Emerg Technol 11:98–107. doi:10.1016/j.ifset.2009.08.013

Lee C, Chen L, Chang T, Ke W, Lo Y, Wang C (2011) The correlation between skin-care effects and phytochemical contents in Lamiaceae plants. Food Chem 124:833–841. doi:10.1016/j.foodchem.2010.07.003

Miliauskas G, Venskutonis PR, van Beek TA (2004) Screening of radical scavenging activity of some medicinal and aromatic plant extracts. Food Chem 85:231–237. doi:10.1016/j.foodchem.2003.05.007

Wang HF, Provan GJ, Helliwell K (2004) Determination of rosmarinic acid and caffeic acid in aromatic herbs by HPLC. Food Chem 87:307–311. doi:10.1016/j.foodchem.2003.12.029

Chen H, Lin Y, Hsieh C (2007) Evaluation of antioxidant activity of aqueous extract of some selected nutraceutical herbs. Food Chem 104:1418–1424. doi:10.1016/j.foodchem.2007.02.004

Peake PW, Pussell BA, Martyn P (1991) The inhibitory effect of rosmarinic acid on complement involves the C5 convertase. J Immunol Pharm 13:853–857

Simpol LR, Otsuka H, Ohtani K, Kasai R, Yamasaki K (1994) Nitrile glucosides and rosmarinic acid, the histamine inhibitor from Ehretia philippinensis. Phytochemistry 36:91–95

Janicsak G, Mathe I, Miklossy-Vari V, Blunden G (1999) Comparative studies of the rosmarinic and caffeic acid contents of Lamiaceae species. Biochem Syst Ecol 27:733–738. doi:10.1016/S0305-1978(99)00007-1

Zheng W, Wang S (2001) Antioxidant activity and phenolic compounds in selected herbs. J Agric Food Chem 49:5165–5170

Tsai T, Tsai T, Chien Y, Lee C, Tsai P (2008) In vitro antimicrobial activities against cariogenic streptococci and their antioxidant capacities: a comparative study of green tea versus different herbs. Food Chem 110:859–864. doi:10.1016/j.foodchem.2008.02.085

Del Bano MJ, Lorente J, Castillo J (2003) Phenolic diterpenes, flavones, and rosmarinic acid distribution during the development of leaves, flowers, stems and roots of Rosmarinus officinalis. Antioxidant activity. J Agric Food Chem 51:4247–4253

Prior RL, Wu X, Schaich K (2005) Standardized methods for the determination of antioxidant capacity and phenolics in foods and dietary supplements. J Agric Food Chem 53:4290–4302

Tawaha K, Alali FQ, Gharaibeh M, Mohammad M, El-Elimat T (2007) Antioxidant activity and total phenolic content of selected Jordanian plant species. Food Chem 104:1372–1378. doi:10.1016/j.foodchem.2007.01.064

Brewer MS (2011) Natural antioxidants: sources, compounds, mechanisms of action, and potential applications. Compr Rev Food Sci Food Saf 10:221–247. doi:10.1111/j.1541-4337.2011.00156.x

Silva B, Ferreres F, Malva J, Dias ACP (2005) Phytochemical and antioxidant characterization of Hypericum perforatum alcoholic extracts. Food Chem 90:157–167

Wojdylo A, Oszmianski J, Czemerys R (2007) Antioxidant activity and phenolic compounds in 32 selected herbs. Food Chem 105:940–949. doi:10.1016/j.foodchem.2007.04.038

Katalinic V, Milos M, Kulisic T, Jukic M (2006) Screening of 70 medicinal plant extracts for antioxidant capacity and total phenols. Food Chem 94:550–557. doi:10.1016/j.foodchem.2004.12.004

Frankel E, Huang S, Kanner J, German J (1994) Interfacial phenomena in the evaluation of antioxidants—bulk oils vs emulsions. J Agric Food Chem 42:1054–1059

Blazekovic B, Vladimir-Knezevic S, Brantner A, Bival M (2010) Evaluation of antioxidant potential of Lavandula x intermedia Emeric ex Loisel. 'Budrovka': a comparative study with L. angustifolia Mill. Molecules 15:5971–5987

Che-Man Y, Jaswie I (2000) Effects of rosemary and sage extracts on frying performance of refined, bleached, and deodorised (RBD) palm olein during deep-fat frying. Food Chem 69:301–307

Jabri-Karoui I, Bettaieb I, Msaada K, Hammami M, Marzouk B (2012) Research on the phenolic compounds and antioxidant activities of Tunisian Thymus capitatus. J Funct Foods 4:661–669. doi:10.1016/j.jff.2012.04.007

Pangloli P, Melton SL, Collins JL, Penfield MP, Saxton AM (2002) Flavor and storage stability of potato chips fried in cottonseed and sunflower oils and palm olein/sunflower oil blends. J Food Sci 67:97–103. doi:10.1111/j.1365-2621.2002.tb11366.x
Acknowledgments
We would like to thank Margarita Dávila and the Comunidad de Trabajo de los Pirineos.
About this article
Cite this article
Gallego, M.G., Gordon, M.H., Segovia, F.J. et al. Antioxidant Properties of Three Aromatic Herbs (Rosemary, Thyme and Lavender) in Oil-in-Water Emulsions. J Am Oil Chem Soc 90, 1559–1568 (2013). https://doi.org/10.1007/s11746-013-2303-3
Received:

Revised:

Accepted:

Published:

Issue Date:

DOI: https://doi.org/10.1007/s11746-013-2303-3
Keywords