Abstract
With the increased use of plant oils as sustainable feedstocks, industrial oilseed meal from Crambe abyssinica (crambe) and Brassica carinata (carinata) can become a potential source for oilseed meal based plastics. In this study, crambe and carinata oilseed meal plastics were produced with 10–30 % glycerol and compression molding at 100–180 °C. Size exclusion HPLC was used to relate tensile properties to changes in protein solubility and molecular weight distribution. By combining glycerol and thermal processing, increased flexibility has been observed compared to previous work on unplasticized oilseed meal. Tensile results varied from a brittle crambe based material (10 % glycerol, 130 °C), Young's modulus 240 MPa, strain at maximum stress of 2 %, to a soft and flexible carinata based material (30 % glycerol, 100 °C), Young's modulus 6.5 MPa, strain at maximum stress of 13 %. Strength and stiffness development with increasing molding temperature is in agreement with the protein profiles obtained. Thus, the highest mechanical parameters were obtained at the protein solubility minimum at 140 °C. Higher temperatures caused protein degradation, increasing the level of low molecular weight extractable proteins. In carinata based materials the strain at maximum stress decreased as the protein aggregation developed. Results presented indicate that both crambe and carinata oilseed meal based materials can have their properties modulated through thermal treatment and the addition of plasticizers.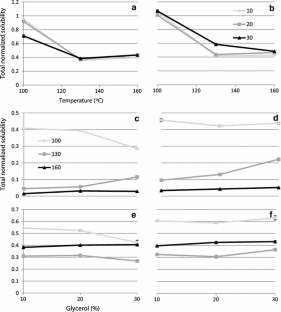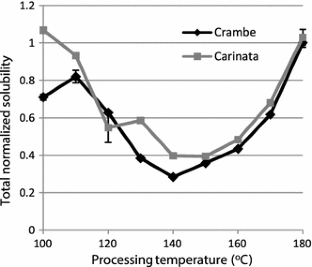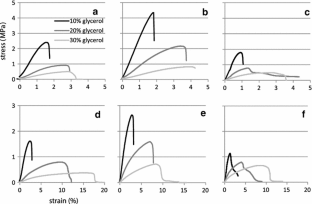 References
1.

Carlsson A (2009) Plant oils as feedstock alternatives to petroleum-a short survey of potential oil crop platforms. Biochimie 91:665–670

2.

Oplinger E, Oelke E, Kaminski A, Putnam D, Teynor D, Doll J, Kelling K, Durgan B, Noetzel D (1991) Crambe alternative field crops manual. University of Wisconsin-Extension, Madison

3.

Rakow G, Getinet A (1997) Brassica carinata an oilseed crop for Canada. Acta Horti 459:419–428

4.

Ullsten NH, Gällstedt M, Johansson E, Gräslund A, Hedenqvist MS (2006) Enlarged processing window of plasticized wheat gluten using salicylic acid. Biomacromolecules 7:771–776

5.

Reddy N, Li Y, Yang Y (2009) Alkali-catalyzed low temperature wet crosslinking of plant proteins using carboxylic acids. Biotechnol Prog 25:139–146

6.

Gällstedt M, Mattozzi A, Johansson E, Hedenqvist MS (2004) Transport and tensile properties of compression-molded wheat gluten films. Biomacromolecules 5:2020–2028

7.

Pommet M, Morel MH, Redl A, Guilbert S (2004) Aggregation and degradation of plasticized wheat gluten during thermo-mechanical treatments, as monitored by rheological and biochemical changes. Polymer 45:6853–6860

8.

Selling GW, Woods KK, Biswas A, Willett JL (2009) Reactive extrusion of zein with glyoxal. J Appl Polym Sci 113:1828–1835

9.

Mo X, Sun X (2002) Plasticization of soy protein polymer by polyol-based plasticizers. J Am Oil Chem Soc 79:197–202

10.

Jiang Y, Tang CH, Wen QB, Li L, Yang XQ (2007) Effect of processing parameters on the properties of transglutaminase-treated soy protein isolate films. Innovative Food Sci Emerg Technol 8:218–225

11.

Zhang J, Mungara P, Jane J (2001) Mechanical and thermal properties of extruded soy protein sheets. Polymer 42:2569–2578

12.

Marquie C (2001) Chemical reactions in cottonseed protein cross-linking by formaldehyde, glutaraldehyde, and glyoxal for the formation of protein films with enhanced mechanical properties. J Agric Food Chem 49:4676–4681

13.

Orliac O, Rouilly A, Silvestre F, Rigal L (2003) Effects of various plasticizers on the mechanical properties, water resistance and aging of thermo-moulded films made from sunflower proteins. Ind Crops Prod 18:91–100

14.

Rouilly A, Orliac O, Silvestre F, Rigal L (2006) New natural injection-moldable composite material from sunflower oil cake. Bioresour Technol 97:553–561

15.

Rouilly A, Mériaux A, Geneau C, Silvestre F, Rigal L (2006) Film extrusion of sunflower protein isolate. Polym Eng Sci 46:1635–1640

16.

Baganz K, Lang H, Meißner G (1999) Industrial use of oilseed meal: a reasonable injection moulding compound. Fett/Lipid 101:306–307

17.

Wäsche A, Wurst S, Borcherding A, Luck T (1998) Film forming properties of rape-seed protein after structural modification. Nahrung 42(3/4):269–271

18.

Johansson E, Spencer GM, Bettini E, Cho SW, Martilla S, Kuktaite R, Gällstedt M, Hedenqvist MS (2012) Biobased materials production from biodiesel residuals of rapeseed. ISRN Mater Sci. doi:10.5402/2012/193541

19.

Jang S, Lim GO, Song KB (2011) Preparation and mechanical properties of edible rapeseed protein films. J Food Sci 76:C218–C223

20.

Manamperi WAR, Chang SKC, Ulven CA, Pryor SW (2010) Plastics from an improved canola protein isolate: preparation and properties. J Am Oil Chem Soc 87:909–915

21.

Wretfors C, Cho SW, Hedenqvist MS, Marttila S, Nimmermark S, Johansson E (2009) Use of industrial hemp fibers to reinforce wheat gluten plastics. J Polym Environ 17:259–266

22.

Rouilly A, Rigal L (2002) Agro-materials: a bibliographic review. J Macromol Sci, Polym Rev 42:441–479

23.

Álvarez-Chávez CR, Edwards S, Moure-Eraso R, Geiser K (2012) Sustainability of bio-based plastics: general comparative analysis and recommendations for improvement. J Cleaner Prod 23:47–56

24.

Cho SW, Blomfeldt TOJ, Halonen H, Gällstedt M, Hedenqvist MS (2012) Wheat gluten-laminated paperboard with improved moisture barrier properties: a new concept using a plasticizer (Glycerol) containing a hydrophobic component (Oleic Acid). Int J of Polym Sci. doi:10.1155/2012/454359

25.

Appelqvist L-Å (1967) Further studies on a multisequential method for determination of oil content in oilseeds. J Am Oil Chem Soc 44:209–214

26.

American Society of Testing and Materials, ASTM Standard D 638–08 (1998) "Standard test method for tensile properties of plastics" USA: American society of testing and materials, Philadelphia PA

27.

Athamneh AI, Griffin M, Whaley M, Barone JR (2008) Conformational changes and molecular mobility in plasticized proteins. Biomacromolecules 9:3181–3187

28.

Mohammed ZH, Hill SE, Mitchell JR (2000) Covalent crosslinking in heated protein systems. J Food Sci 65:221–226

29.

Wanasundara JPD (2011) Proteins of Brassicaceae oilseeds and their potential as a plant protein source. Crit Rev Food Sci Nutr 51:635–677

30.

Cho SW, Gällstedt M, Hedenqvist MS (2010) Properties of wheat gluten/poly (lactic acid) laminates. J Agric Food Chem 58:7344–7350

31.

Argon A, Cohen R (2003) Toughenability of polymers. Polymer 44:6013–6032
Acknowledgments
The authors would like to thank the Swedish governmental strategic research program Trees and Crops for the Future (TC4F), VINNOVA, Formas and Bioraffinaderi Öresund for their support of this work.
About this article
Cite this article
Newson, W.R., Kuktaite, R., Hedenqvist, M.S. et al. Oilseed Meal Based Plastics from Plasticized, Hot Pressed Crambe abyssinica and Brassica carinata Residuals. J Am Oil Chem Soc 90, 1229–1237 (2013). https://doi.org/10.1007/s11746-013-2261-9
Received:

Revised:

Accepted:

Published:

Issue Date:
Keywords
Industrial oilseed meal

Protein aggregation

Seed proteins

Bio-based plastics

Compression molding

Biodegradable