Abstract
This work reports on the dry adhesion strength of wood adhesives formulated with fractions of an alkaline extract obtained from wastewater activated sludge, a renewable and abundant resource. The extract was fractionated and desalted using ultrafiltration techniques. The effect of molecular weight and composition (protein and carbohydrate content) on the extract's adhesion strength was assessed, as well as the effect of crosslinking using glutaraldehyde. The dry adhesion strength of adhesives formulated with soluble mustard seed protein isolate, a protein-rich alkaline extract, is also reported. In the presence of glutaraldehyde, an extract fraction with high protein content and low salt and hydroxide content showed adhesion strength close to that of the mustard protein adhesive and a commercial wood adhesive. It was further determined that the adhesion strength of the extract and its fractions was strongly correlated with their protein content.
Access options
Buy single article
Instant access to the full article PDF.
USD 39.95
Price excludes VAT (USA)
Tax calculation will be finalised during checkout.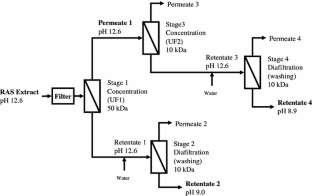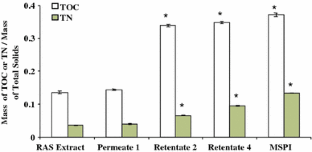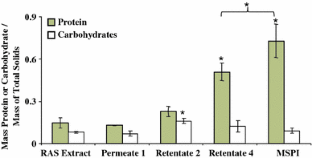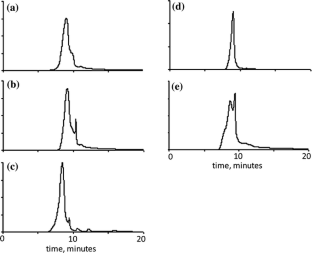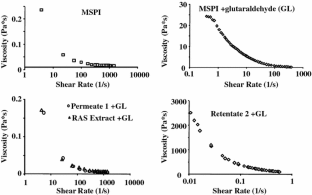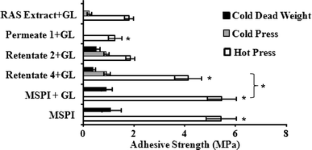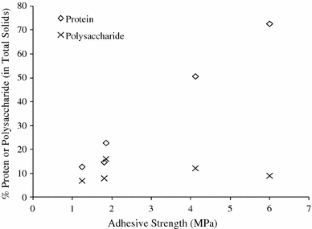 References
Wang WH, Li XP, Zhang XQ (2008) A soy-based adhesive from basic modification. Pigment Resin Technol 37:93–97

Wang Y, Mo X, Sun XS, Wang D (2007) Soy protein adhesion enhanced by glutaraldehyde crosslink. J Appl Polym Sci 104:130–136

Haag AP (2006) Mechanical properties of bacterial exopolymeric adhesives and their commercial development. In: Smith AM, Callow JA (eds) Biological adhesives. Springer, Berlin, pp 1–19

Park SK, Bae DH, Hettiarachchy NS (2000) Protein concentrate and adhesives from meat and bone meal. J Am Oil Chem Soc 77:1223–1227

Kalapathy U, Hettiarachchy NS, Myers D, Hanna MA (1995) Modification of soy proteins and their adhesive properties on woods. J Am Oil Chem Soc 72:507–510

Haag AP, Maier RM, Combie J, Geesey GG (2004) Bacterially derived biopolymers as wood adhesives. Int J Adhes Adhes 24:495–502

Sellers T (2001) Wood adhesive innovations and applications in North America. For Prod J 51:12–72

Odozi TO, Agiri GO (1986) Wood adhesives from modified red onion skin tannin extract. Agric Wastes 17:59–65

Liu Y, Li K (2002) Chemical modification of soy protein for wood adhesives. Macromol Rapid Commun 23:739–742

Zhang Z, Hua Y (2007) Urea-modified soy globulin proteins (7S and 11S): effect of wettability and secondary structure on adhesion. J Am Oil Chem Soc 84:853–857

Jiang Z, Qin D, Hse C, Kuo M, Luo Z, Wang G, Yu Y (2008) Preliminary study on chicken feather protein–based wood adhesives. J Wood Chem Technol 28:240–246

Akaranta O, Wankasi D (1998) Development of wood adhesives using flavonoid-glycosides from orange mesocarp. Pigment Resin Technol 27:175–179

Akaranta O, Donbebe W, Odozi TO (1996) Plywood adhesives based on red-onion-skin extract modified with cashewnut-shell liquid. Bioresour Technol 56:279–280

Weimer PJ, Conner AH, Lorenz LF (2003) Solid residues from Ruminococcus cellulose fermentations as components of wood adhesive formulations. Appl Microbiol Biotechnol 63:29–34

Weimer PJ, Koegel RG, Lorenz LF, Frihart CR, Kenealy WR (2005) Wood adhesives prepared from lucerne fiber fermentation residues of Ruminococcus albus and Clostridium thermocellum. Appl Microbiol Biotechnol 66:635–640

Combie J, Steel A, Sweitzer R (2004) Adhesive designed by nature (and tested at Redstone Arsenal). Clean Technol Environ Policy 6:258–262

Haag AP, Geesey GG, Mittleman MW (2006) Bacterially derived wood adhesive. Int J Adhes Adhes 26:177–183

Barker DJ, Stuckey DC (1999) A review of soluble microbial products (SMP) in wastewater treatment systems. Water Res 33:3063–3082

Frølund B, Palmgren R, Keiding K, Nielsen PH (1996) Extraction of extracellular polymers from activated sludge using a cation exchange resin. Water Res 30:1749–1758

Kroiss H (2004) What is the potential for utilizing the resources in sludge? Water Sci Technol 49:1–10

Reddy N, Tan Y, Li Y, Yang Y (2008) Effect of glutaraldehyde crosslinking conditions on the strength and water stability of wheat gluten fibers. Macromol Mater Eng 293:614–620

Hopwood D (1969) A comparison of the crosslinking abilities of glutaraldehyde, formaldehyde and α-hydroxyadipaldehyde with bovine serum albumin and casein. Histochem Cell Biol 17:151–161

Xiao Z, Xie Y, Militz H, Mai C (2010) Effect of glutaraldehyde on water related properties of solid wood. Holzforschung 64:483–488

García-Becerra FY, Acosta EJ, Allen DG (2010) Alkaline extraction of wastewater activated sludge biosolids. Bioresour Technol 101:6983–6991

Marnoch R, Diosady LL (2006) Production of mustard protein isolates from oriental mustard seed (Brassica juncea L.). J Am Oil Chem Soc 83:65–69

Wanasundara JPD (2011) Proteins of Brassicaceae oilseeds and their potential as a plant protein source. Crit Rev Food Sci Nutr 51:635–677

Musale DA, Kulkarni SS (1998) Effect of membrane-solute interaction on ultrafiltration performance. J Macromol Sci Rev Macromol Chem Phys 4:615–636

Musale DA, Kulkarni SS (1997) Relative rates of protein transmission through poly(acrylonitrile) based ultrafiltration membranes. J Membr Sci 136:13–23

Jones KL, O'Melia CR (2000) Protein and humic acid adsorption onto hydrophilic membrane surfaces: effects of pH and ionic strength. J Membr Sci 165:31–46

Hettiarachchy NS, Kalapathy U, Myers DJ (1995) Alkali-modified soy protein with improved adhesive and hydrophobic properties. J Am Oil Chem Soc 72:1461–1464

Masuko T, Minami A, Iwasaki N, Majima T, Nishimura SI, Lee YC (2005) Carbohydrate analysis by a phenol-sulfuric acid method in microplate format. Anal Biochem 339:69–72

Garcia-Becerra FY, Allen DG, Acosta EJ (2010) Surfactant-like properties of alkaline extracts from wastewater biosolids. J Surfactants Deterg 13:261–271

Foley G (1999) Minimisation of process time in ultrafiltration and continuous diafiltration: the effect of incomplete macrosolute rejection. J Membr Sci 163:349–355

Piccolo A (2001) The supramolecular structure of humic substances. Soil Sci 166:810–832

Liu H, Fang HHP (2002) Extraction of extracellular polymeric substances (EPS) of sludges. J Biotechnol 95:249–256

Kalapathy U, Hettiarachchy NS, Myers D, Rhee KC (1996) Alkali-modified soy proteins: effect of salts and disulfide bond cleavage on adhesion and viscosity. J Am Oil Chem Soc 73:1063–1066

Ibañez MC, Ferrero C (2003) Extraction and characterization of the hydrocolloid from Prosopis flexuosa DC seeds. Food Res Int 36:455–460

Kato A (2002) Industrial applications of maillard-type protein-polysaccharide conjugates. Food Sci Technol Res 8:193–199
Acknowledgments
The authors gratefully acknowledge the financial support from the Ontario Ministry of Economic Development and Innovation, Early Researcher Award program to E. Acosta, and from the Natural Sciences and Engineering Research Council of Canada (NSERC).
About this article
Cite this article
García-Becerra, F.Y., Acosta, E.J. & Grant Allen, D. Wood Adhesives Based on Alkaline Extracts from Wastewater Biosolids and Mustard Protein. J Am Oil Chem Soc 89, 1315–1323 (2012). https://doi.org/10.1007/s11746-012-2024-z
Received:

Revised:

Accepted:

Published:

Issue Date:

DOI: https://doi.org/10.1007/s11746-012-2024-z
Keywords