Abstract
Jatropha curcas is a multipurpose plant with numerous attributes. It can potentially become one of the world's key energy crops. Its seed weighs 0.53–0.86 g and the seed kernel contains 22–27% protein and 57–63% lipid indicating good nutritional value. The seeds can produce crude vegetable oil that can be transformed into high quality biodiesel. Several methods for oil extraction have been developed. In all processes, about 75% of the weight of the seed remains as a press cake containing mainly carbohydrates, protein and residual oil and is a potential source of livestock feed. The highly toxic nature of whole as well as dehulled seed meal due to the presence of high levels of shells, toxic phorbol esters and other antinutrients prevents its use in animal diet. The genetic variation among accessions from different regions of the world and rich diversity among Mexican genotypes in terms of phorbol ester content and distinct molecular profiles indicates the potential for improvement of germplasm of Jatropha through breeding programs. The extracts of Jatropha display potent cytotoxic, antitumor, anti-inflammatory and antimicrobial activities. The possibilities on the exploitation potential of this plant through various applications have been explored.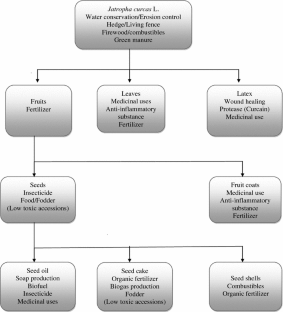 References
1.

Dyer JM, Mullen RT (2008) Engineering plant oils as high value industrial feedstocks for biorefining: the need for underpinning cell biology research. Physiol Plant 132:11–22

2.

Glover JD, Cox CM, Reganold JP (2007) Future farming: a return to roots? Sci Am 297:82–89

3.

Fairless D (2007) Biofuel: the little shrub that could: maybe. Nature 499:652–655

4.

Foidl N, Foidl G, Sanchez M, Mittelbach M, Hackel S (1996) Jatropha curcas L. as a source for the production of biofuel in Nicaragua. Bioresour Technol 58:77–82

5.

Becker K, Makkar HPS (2008) Jatropha curcas: a potential source for tomorrow's oil and biodiesel. Lipid Technol 20:104–107

6.

Openshaw K (2000) A review of Jatropha curcas: an oil plant of unfulfilled promise. Biomass Bioenergy 19:1–15

7.

ENVIS-NBRI, Lucknow (2009) Jatropha: the biofuel plant. Newsletter 5:1–8

8.

Carvalho AMX, Moreira BC, Silva MCS, Silva ND, Kasuya MCM (2007) Fungos Micorrizicos Arbusculares em Plantios de Pinhao Manso (Jatropha curcas L.) XXX1 Congresso Brasilerio de Ciencia do Solo. Conquistas e Desafios da Ciencia do Solo Brasileria Gramado-RS. http://www6.ufrgs.br/cbcs/trabalhos/trabalhos/trab_9897-1924.pdf

9.

Kochhar S, Singh SP, Kochhar VK (2008) Effects of auxins and associated biochemical changes during clonal propagation of the biofuel plant–Jatropha curcas. Biomass Bioenergy 32:1136–1143

10.

Abdelgadir HA, Johnson SD, Van staden J (2008) Approaches to improve seed production of Jatropha curcas L. S Afr J Bot 74:359

11.

Heller J (1996) Physic nut Jatropha curcas L. Promoting the conservation and use of underutilized and neglected crops, vol. I. Institute of Plant Genetics and Crop Plant Research and International Plant Genetic Resources Institute, Rome

12.

Zanzi R, Perez JAS, Soler PB (2008) Production of biodiesel from J. curcas in the region of Guantanamo in Cuba. Third International Congress University—industry cooperation, Ubatuba, Brazil

13.

Singh RN, Vyas DK, Srivastava NSL, Narra M (2008) SPRER1 experience on holistic approach to utilize all parts of J. curcas fruit for energy. Renew Energy 33:1868–1973

14.

Jones N, Miller J (1997) Jatropha curcas: a multipurpose species for problematic site. The World Bank, Washington

15.

Dehgan B, Webster GL (1979) Morphology and infragene relationships of the genus Jatropha (Euphorbiaceae). University of California Press, Berkeley

16.

Akintayo ET (2004) Characteristics and composition of Parkia biglobbossa and Jatropha curcas oils and cakes. Bioresour Technol 92:307–310

17.

Fagbenro-Beyioku AF, Oyibo WA, Anuforom BC (1998) Disinfectant/antiparasitic activities of Jatropha curcas. E Afr Med J 75:508–511

18.

Kirtikar KR, Basu BD (1991) Indian medicinal plants. Shiva Publishers, Dehradun, vol 4, pp 2240–2247

19.

Makkar HPS, Becker K (2009) Jatropha curcas, a promising crop for the generation of biodiesel and value-added coproducts. Eur J Lipid Sci Tech 111:773–787

20.

Gubitz GM, Mittelbech M, Trabi M (1999) Exploitation of tropical oil seed plant Jatropha curcas L. Bioresour Technol 67:73–82

21.

Singh RA, Munish K, Haiden E (2007) Synergistic cropping of summer groundnut with Jatropha curcas a new two-tier cropping system for Uttar Pradesh. ICRISAT J 5:1–2

22.

Morton JF (1981) Atlas of medicinal plants of Middle America. Bahamas to Yucantan. CC Thomas, Springfield

23.

Tewari JP, Shukla IK (1982) Inhibition of infectivity of two strains of watermelon mosaic virus by latex of some Angiosperms. Geobios (Jodhpur, India) 9:124–126

24.

Osoniyi O, Onajobi F (2003) Coagulant and anticoagulant activities in Jatropha curcas latex. J Ethnopharmacol 89:101–105

25.

Mujumdar AM, Misar AV, Salaskar MV, Upadhye AS (2001) Antidiarrhoeal effect of and isolated fraction of Jatropha curcas roots in mice. J Nat Remedies 1:89–93

26.

Mujumdar AM, Misar AV (2004) Anti-inflammatory activity of Jatropha curcas roots in mice and rats. J Ethnopharmacol 90:11–15

27.

Makkar HPS, Becker K (1997) Nutrients and antiquality factors in different morphological parts of the Moringa oleifera tree. J Agric Sci (Cambridge) 128:311–322

28.

Makkar HPS, Becker K (1999) Plant toxins and detoxification methods to improve feed quality of tropical seeds—review. Asian Austral J Anim 12:467–480

29.

Rakshit KD, Makkar HPS, Becker K (2010) Nutritional, biochemical and pharmaceutical potential of proteins and peptides from Jatropha: review. J Agric Food Chem 58:6543–6555

30.

Martinez-Herrera J, Siddhuraju P, Francis G, Davila-Ortiz G, Becker K (2006) Chemical composition, toxic/antimetabolic constituents and effects of different treatments on their levels, in four provenances of J. curcas L. from Mexico. Food Chem 96:80–89

31.

Duke JA (1985) Medicinal plants. Science 229:1036

32.

Ochse JJ (1931) Vegetables of the Dutch East Indices. Asher, Amsterdam reprinted 1980

33.

Ng KS, Ooi WY, Goh LK, Shenbagarathai R, Sudesh K (2010) Evaluation of Jatropha oil to produce poly (3-hydroxybutyrate) by Cupriavidus necator H16. Polym Degrad Stabil 95:1365–1369

34.

Vyas DK, Singh RN (2007) Feasibility study of Jatropha seed husk as an open core gasifier feedstock. Renew Energy 32:512–517

35.

Mahanta N, Gupta A, Khare SK (2008) Production of protease and lipase by solvent tolerant Pseudomonas aeruginosa PseA in solid state fermentation using Jatropha curcas seed cake as substrate. Bioresour Technol 99:1729–1735

36.

Lestari D, Wim JM, Johan PMS (2011) Jatropha seed protein functional properties for technical applications. Biochem Eng J 53:297–304

37.

Gui MM, Lee KT, Bhatia S (2008) Feasibility of edible oil vs non-edible oil vs waste edible oil as biodiesel feedstock. Energy 33:1646–1653

38.

Srivastava A, Prasad R (2004) Triglycerides—based diesel fuels. Renew Sustain Energy Rev 4:111–133

39.

Willems P, Kuipers NJM, De Hann AB (2008) Gas assisted mechanical expression of oil seeds: influence of process parameters on oil yield. J Supercrit Fluid 45:298–305

40.

Beerens P (2007) Screw-pressing of Jatropha seeds for fueling purposes in less developed countries. Master of Science dissertation Eindhoven University of Technology

41.

Veronique JB, Chornick T, James KD (2002) Comparison of methods to measure the oil contents in oilseeds. J Oleo Sci 51:589–597

42.

Shah S, Sharma A, Gupta MN (2004) Extraction of oil from Jatropha curcas L. seed kernels by enzyme assisted three phase partitioning. Ind Crop Prod 20:275–279

43.

Kaushik N, Kumar K, Kumar S, Kaushik N, Roy S (2007) Genetic variability and divergence studies in seed traits and oil content of Jatropha (Jatropha curcas L.) accessions. Biomass Bioenergy 31:497–502

44.

Schwab AW, Baghy MO, Freedman B (1987) Preparation and properties of diesel fuels from vegetable oils. Fuel 66:1372

45.

Freedman B, Pryde EH, Mounts TL (1984) Variables affecting the yields of fatty esters from transesterified vegetable oils. J Am Oil Chem Soc 61:1638–1643

46.

Al-Zuhair S, Ling FW, Jun LS (2007) Proposed kinetic mechanism of the production of biodiesel from palm oil using lipase. Process Biochem 42:951–960

47.

Canakci M, Van Gerpen J (1999) Biodiesel production via acid catalysis. Trans Am Soc Agric Eng 42:1203–1210

48.

Berchmans HJ, Hirata S (2008) Biodiesel production from crude Jatropha curcas L. seed oil with a high content of free fatty acids. Bioresour Technol 99:1716–1721

49.

Tiwari KA, Kumar A, Raheman H (2007) Biodiesel production from Jatropha oil (Jatropha curcas) with high free fatty acids: an optimized process. Biomass Bioenergy 31:569–575

50.

Ozaki E, Uragaki T, Sakashita K, Sakimate A (1995) Enzymatic preparation of alkanedicarboxylic acid monoesters. Chem Lett 24:539–540

51.

Tamalampudi S, Talukder MR, Hama S, Numata T, Kondo A, Fukuda H (2007) Enzymatic production of biodiesel from Jatropha oil: a comparative study of immobilized whole cell and commercial lipases as a biocatalyst. Biochem Eng J 39:185–189

52.

Chen CH, Chen WH, Chang CMJ, Lai SM, Tu CH (2010) Biodiesel production from supercritical carbon dioxide extracted Jatropha oil using subcritical hydrolysis and supercritical methylation. J Supercrit Fluid 52:228–234

53.

Achten WMJ, Verchot L, Franken YJ, Mathijs E, Singh VP, Aerts R, Muys B (2008) Jatropha bio-diesel production and use. Biomass Bioenergy 32:1063–1084

54.

Pinzi S, Garcia IL, Lopez-Gimenez FJ, Luque de Castro MD, Dorado G, Dorado MP (2009) The ideal vegetable oil-based biodiesel composition: a review of social, economic and technical implications. Energy Fuel 23:2325–2341

55.

Sujatha M, Papi Reddy T, Mahasi MJ (2008) Role of biotechnological interventions in the improvement of castor (Ricinus communis L.) and Jatropha curcas L. Biotechnol Adv 26:424–435

56.

Ganesh Ram S, Parthiban KT, Kumar RS, Thiruvengadam V, Paramathma M (2008) Genetic diversity among Jatropha species as revealed by RAPD markers. Genet Resour Crop Evol 55:803–809

57.

Basha SD, Sujatha EM (2007) Inter and intra population variability of Jatropha curcas (L.) characterized by RAPD and ISSR markers and development of population specific SCAR markers. Euphytica 156:375–386

58.

Ranade SA, Srivastava AP, Rana TS, Srivastava J, Tuli R (2008) Easy assessment of diversity in Jatropha curcas L. plants using two single—primer amplification reaction (SPAR) methods. Biomass Bioenergy 32:533–540

59.

Sun QB, Li LF, Li Y, Wu GJ, Ge XJ (2008) SSR and AFLP markers reveal low genetic diversity in the biofuel plant Jatropha curcas in china. Crop Sci 48:1865–1871

60.

Tatikonda L, Wani SP, Kannan S, Beerelli N, Sreedevi TK, Hoisington DA, Devi P, Varshney RK (2009) AFLP-based molecular characterization of an elite germplasm collection of Jatropha curcas L. a biofuel plant. Plant Sci 176:505–513

61.

Wen M, Wang H, Xia Z, Zou M, Lu C, Wang W (2010) Development of EST-SSR and genomic-SSR markers to assess genetic diversity in Jatropha Curcas L. BMC Res Notes 3:42

62.

Vieira RF (1999) Conservation of medicinal and aromatic plants in Brazil. In: Janick J (ed) Perspectives on new crops and new uses. ASHS press, Alexandria, VA, pp152–159

63.

Sunil N, Varaprasad KS, Sivaraj N, Suresh Kumar T, Abraham B, Prasad RBN (2008) Assessing Jatropha curcas L. germplasm in-situ—a case study. Biomass Bioenergy 32:198–202

64.

Liberalino AAA, Bambirra EA, Moraes-Santos T, Viera CE (1988) Jatropha curcas L. seeds chemical analysis and toxicity. Arq Biol Technol 31:539–550

65.

Becker K, Makkar HPS (1998) Toxic effects of phorbol esters in carp (Cyprinus carpio). Vet Hum Toxicol 40:82–86

66.

Stripe F, Pession-brizzi A, Lorenzoni E, Stroccji L, Montanaro I, Sperti S (1976) Studies on the proteins from the seeds of Croton tiglium and of Jatropha curcas. Biochem J 156:1–6

67.

Adolf W, Opferkuch HJ, Hecker E (1984) Irritant phorbol derivatives from four Jatropha species. Phytochemistry 23:129–132

68.

Cano-Asselein LM, Plumbly RA, Hylands PJ (1989) Purification and partial characterization of the haemagglutination from seeds of Jatropha curcas. J Food Biochem 13:1–20

69.

Aderibigbe AO, Johnson COLE, Makkar HPS, Becker K, Foidl N (1997) Chemical composition and effect of heat on organic matter and nitrogen degradability and some antinutritional components of Jatropha meal. Anim Feed Sci Tech 67:223–243

70.

Aregheore EM, Makkar HPS, Becker K (1998) Assessment of lectin activity in a toxic and a non-toxic variety of Jatropha curcas using latex agglutination and haemagglutination methods and inactivation of lectin by heat treatments. J Sci Food Agric 77:349–352

71.

Makkar HPS, Francis G, Becker K (2008) Protein concentrate from Jatropha curcas screw-pressed seed cake and toxic and antinutritional factors in protein concentrate. J Sci Food Agric 88:1542–1548

72.

Makkar HPS, Becker K (2009a) Challenges and opportunities for using byproducts from the production of biodiesel from Jatropha oil as livestock feed. In: Proceedings of Animal Nutrition Association World Conference, February 14–17, New Delhi, India, 168–170

73.

Liang Y, Siddaramu T, Yesuf J, Sarkany N, Abughazaleh A, Umagiliyage AL, Choudhary R (2010) Fermentable sugar release from Jatropha seed cakes following lime pretreatment and enzymatic hydrolysis. Bioresour Technol 101:6417–6424

74.

Evans FJ (1986) Environmental hazards of diterpene esters from plants. In: Evans FJ (ed) Naturally occurring phorbol esters. CRC press, Boca Raton, pp 1–31

75.

Haas W, Sterk H, Mittelbach M (2002) Novel 12-deoxy-16-hydroxyphorbol diesters isolated from the seed oil of Jatropha curcas. J Nat Prod 65:1434–1440

76.

Goel G, Makkar HPS, Francis G, Becker K (2007) Phorbol esters: structure, biological activity and toxicity in animals. Int J Toxicol 26:279–288

77.

Hirota M, Suttajit M, Suguri H, Endo Y, Shudo K, Wongchai V, Hecker E, Fujiki H (1988) A new tumor promoter from the seed oil of Jatropha curcas L. an intramolecular diester of 12-deoxy-16-hydroxyphorbol. Cancer Res 48:5800–5804

78.

Macneil A, Sumba OP, Lutzke ML, Moormann A, Richford R (2003) Activation of the Epstein–Barr virus lytic cycle by the latex of the plant Euphorbia tirucalli. Brit J Cancer 88:1566–1569

79.

Wender P, Kee JM, Warrington JM (2008) Practical synthesis of Prostratin, DPP and their analogs, adjuvant leads against latent HIV. Science 320:649–652

80.

Haas W, Mittelbach M (2000) Detoxification experiments with the seed oil from Jatropha curcas L. Ind Crop Prod 12:111–118

81.

Aregheore EM, Becker K, Makkar HPS (2003) Detoxification of a toxic variety of Jatropha curcas using heat and chemical treatments and preliminary nutritional evaluation with rats. S Pac J Nat Sci 21:50–56

82.

Makkar HPS, Becker K (1997a) Jatropha curcas toxicity: identification of toxic principles. In: Fifth international symposium on poisonous plants, San Angelo, Texas, USA, May 19–23, 1997

83.

Chivandi E, Mtimuni JP, Read JS, Makuza SM (2004) Effect of processing method on phorbol ester concentration, total phenolics, trypsin inhibitor activity and the proximate composition of the Zimbabwean Jatropha curcas provenance: a potential livestock feed. Pak J Biol Sci 7:1001–1005

84.

Rakshit KD, Bhagya S (2007) Effect of processing methods on the removal of toxic and antinutritional constituents of Jatropha meal: a potential protein source. J Food Sci Technol 3:88–95

85.

Joshi C, Mathur P, Khare SK (2011) Degradation of phorbol esters by Pseudomonas aeruginosa PseA during solid-state fermentation of deoiled Jatropha curcas seed cake. Bioresour Technol 102:4815–4819

86.

Makkar HPS, Aderibigbe AO, Becker K (1998) Comparative evaluation of non-toxic and toxic varieties of Jatropha curcas for chemical composition, digestibility, protein degradability and toxic factors. Food Chem 62:207–215

87.

Kumar V, Makkar HPS, Becker K (2008) Detoxification of Jatropha curcas seed meal and its utilization as a protein source in fish diet. 25th European Society for Comparative Physiology and Biochemistry (ESCPB) congress, September 7–11, Ravenna, Italy

88.

Kumar V, Makkar HPS, Becker K (2010) Nutritional, physiological and haematological responses in rainbow trout (Oncorhynchus mykiss) juveniles fed detoxified Jatropha curcas kernel meal. Aquacult Nutr 17:451–467

89.

Kumar V, Makkar HPS, Becker K (2011) Detoxified Jatropha curcas kernel meal as a dietary protein source: growth performance, nutrient utilization and digestive enzymes in common carp (Cyprinus carpio L.) fingerlings. Aquacult Nutr 17:313–326

90.

Adam SEI (1974) Toxic effects of Jatropha curcas in mice. Toxicology 2:67–76

91.

Ahmed OMM, Adam SEI (1979) Effects of Jatropha curcas on calves. Vet Pathol 16:476–482

92.

El-Badwi SMA, Adam SEI, Hapke HJ (1995) Comparative toxicity of Ricinus communis and Jatropha curcas in brown hisex chicks. Dtsch Tierarztl Wochenschr 102:75–77

93.

Abd-Elhamid HF (2004) Investigation of induced biochemical and histopathological parameters of acetonitrile extract of Jatropha curcas in albino rats. J Egypt Soc Parasitol 34:397–406

94.

Li CY, Devappa RK, Liu JX, Lv JM, Makkar HPS, Becker K (2010) Toxicity of Jatropha curcas phorbol esters in mice. Food Chem Toxicol 48:620–625

95.

Abdelgadir WS, Onsa TO, Ali WEM, El-Badwi SMA, Adam SE (2003) Comparative toxicity of Croton macrostachys, Jatropha curcas and Piper abyssinica seeds in Nubian goats. Small Ruminant Res 48:61–67

96.

Rakshit KD, Bhagya S (2008) Biochemical and nutritional evaluation of Jatropha protein isolate prepared by steam injection heating for reduction of toxic and antinutritional factors. J Sci Food Agric 88:911–919

97.

Chhabra SC, Mahunnah RL, Mshiu EN (1990) Plants used in traditional medicine in eastern Tanzania III. Angiosperms (Euphorbiaceae to Menispermaceae). J Ethnopharmacol 28:255–283

98.

Nath LK, Dutta SK (1997) Acute toxicity studies and wound healing response of curcain, a proteolytic enzyme extracted from latex of Jatropha curcas L. In: Gubitz GM, Mittelbach M, Trabi M (eds) Biofuels and industrial products from Jatropha curcas. DBV-Verlag für die Technische Universität Graz, Graz, pp 82–86

99.

Van den Berg AJJ, Horsten SFAJ, Kettenes-van den Bosch JJ, Kroes BH, Beukelman CJ, Leeflang BR, Labadie RP (1995) Curcacycline A—a novel cyclic octapeptide isolated from the latex of Jatropha curcas L. FEBS Lett 358:215–218

100.

Singh B, Bhat TK, Singh B (2003) Potential therapeutic applications of some antinutritional plant secondary metabolites. J Agric Food Chem 51:5579–5597

101.

Shimada T (2006) Salivary proteins as a defence against dietary tannins. J Chem Ecol 32:1149–1163

102.

Li H, Wang Z (2003) Review in the studies on tannins activity of cancer prevention and anticancer. Zhong-Yao-Cai 26:444–448

103.

Kam PCA, Liew S (2002) Traditional Chinese herbal medicine and anesthesia. Anaesthesia 57:1083–1089

104.

Hodek P, Trefil P, Stiborova M (2002) Flavonoids—potent and versatile biologically active compounds interacting with cytochrome P450. Chem Biol Interact 139:1–21

105.

Divakara BN, Upadhyaya HD, Wani SP, Laxmipathi Gowda CL (2009) Biology and genetic improvement of Jatropha curcas L.—a review. Appl Energy 87:732–742

106.

Tang Z, Wang L, Yang J (2007) Transesterification of the crude Jatropha curcas L. oil catalyzed by micro-NaOH in supercritical and subcritical methanol. Eur J Lipid Sci Technol 109:585–590

107.

Tapanes NCO, Aranda DAG, Carneiro JWM, Antunes OAC (2008) Transesterification of Jatropha curcas oil glycerides: theoretical and experimental studies of biodiesel reaction. Fuel 87:2286–2295

108.

Chitra P, Venkatachalam P, Sampathrajan A (2005) Optimisation of experimental procedure for biodiesel production from alkaline-catalysed transesterification of Jatropha curcas oil. Energy Sustain Dev 9:13–18

109.

Berchmans HJ, Morishita K, Takarada T (2010) Kinetic study of hydroxide catalyzed methanolysis of Jatropha curcas—waste food oil mixture for biodiesel production. Fuel. doi:10.1016/j.fuel.2010.01.017

110.

Zhu H, Wu Z, Chen Y, Zhang P, Duan S, Liu X, Mao Z (2006) Preparation of biodiesel catalyzed by solid super base of calcium oxide and its refining process. Chin J Catal 27:391–396

111.

Jain S, Sharma MP (2010) Kinetics of acid base catalyzed transesterification of Jatropha curcas oil. Bioresour Technol 101:7701–7706

112.

Jain S, Sharma MP (2010) Biodiesel production from Jatropha oil. Renew Sust Energy Rev 14:3140–3147

113.

Patil PD, Deng S (2009) Optimization of biodiesel production from edible and nonedible vegetable oils. Fuel 88:1302–1306

114.

Lu H, Liu Y, Zhou H, Yang Y, Chen M, Liang B (2009) Production of biodiesel from Jatropha curcas L. Oil Comput Chem Eng 33:1091–1096

115.

Corro G, Tellez N, Ayala E, Marinez-Ayala A (2010) Two-step biodiesel production from Jatropha curcas crude oil using SiO2. HF solid catalyst for FFA esterification step. Fuel 89:2815–2821

116.

Shah S, Gupta MN (2007) Lipase catalyzed preparation of biodiesel from Jatropha oil in a solvent free system. Process Biochem 42:409–414

117.

Su E, Wei D (2008) Improvement in lipase-catalyzed methanolysis of triacylglycerols for biodiesel production using solvent engineering method. J Mol Catal B Enzym 55:118–125

118.

Juan JC, Kartika DA, Wu TY, Hin TYY (2011) Biodiesel production from Jatropha oil by catalytic and non-catalytic approaches: an overview. Bioresour Technol 102:452–460

119.

DBTIndia(2007) http://dbtindia.nic.in/Energy_bioscience/presentations/TS_4_Dr%20Nutan%20Kaushik_TERI_N%20Delhi.pdf

120.

Gupta S, Srivastava M, Mishra GP, Naik PK, Chauhan RS, Tiwari SK, Kumar M, Singh R (2008) Analogy of ISSR and RAPD markers for comparative analysis of genetic diversity among different Jatropha curcas genotypes. Afr J Biotechnol 7:4230–4243

121.

Padmidiamarri DVNS, Pandya N, Reddy MP, Radhakrishnan T (2009) Comparative study of interspecific genetic divergence and phylogenic analysis of genus Jatropha by RAPD and AFLP: genetic divergence and phylogenic analysis of genus Jatropha. Mol Biol Rep 36:901–907

122.

Reddy MP, Chikara J, Potolia JS, Ghosh A (2007) Genetic improvement of Jatropha curcas adaptability and oil yield. In: Expert seminar on Jatropha curcas L. agronomy and genetics, 26–28 March, 2007. FACT Foundation, Wageningen

123.

Montes LR, Azurdia C, Jongschaap REE, Van Loo EN, Barillas E, Visser R, Mejia L (2008) Global evaluation of genetic variability in Jatropha curcas: http://www.pri.wur.nl/NR/rdonlyres/90AF26A1-47D5-4F2F-9E96-D413C2933685/70112/PosterMontesHR.pdf

124.

Basha SD, Francis G, Makkar HPS, Becker K, Sujatha M (2009) A comparative study of biochemical traits and molecular markers for assessment of genetic relationships between Jatropha curcas L. germplasm from different countries. Plant Sci 176:812–823

125.

Yadav HK, Ranjan A, Asif MH, Mantri S, Sawant SV, Tuli R (2011) EST-derived SSR markers in Jatropha curcas L., development, characterization, polymorphism and transferability across the species/genera. Tree Genet Genomes 7:207–219

126.

Hemalatha A, Radhakrishnaiah M (1993) Chemosystematics of Jatropha. J Econ Taxonom Bot 17:75–77

127.

Mitra CR, Bhatnagar SC, Sinha MK (1970) Chemical examination of J. curcas. Ind J Chem 8:1047

128.

Igbinosa OO, Igbinosa EO, Aiyegore OA (2009) Antimicrobial activity and phytochemical screening of stem bark extracts from Jatropha curcas L. Afr J Pharm Pharmacol 3:058–062

129.

Khafagy SM, Mohamed YA, Abdel NA, Mahmoud ZF (1977) Phytochemical study of Jatropha curcas. Plant Med 31:274–277

130.

Hufford CD, Oguntimein BO (1987) Non-polar constituents of Jatropha curcas. Lloydia 41:161–165

131.

Akinpelu DA, Aiyegoro OA, Okoh AI (2009) The bioactive potentials of two medicinal plants commonly used as folklore remedies among some tribes in West Africa. Afr J Biotechnol 8:1660–1664

132.

Nath LK, Dutta SK (1991) Extraction and purification of curcain, a protease from the latex of Jatropha curcas L. J Pharm Pharmacol 43:111–114

133.

Staubmann R, Ncube I, Gubitz GM, Steiner W, Read JS (1999) Esterases and lipase activity in Jatropha curcas L. seeds. J Biotechnol 75:117–126

134.

Aregheore EM, Makkar HPS, Becker K (1997) Lectin activity in toxic and non-toxic varieties of J. curcas using a latex agglutination test. In: Gubitz GM, Mittelbach M, Trabi M (eds) Biofuels and industrial products from Jatropha curcas. DBV, Graz, pp 65–69

135.

Wink M, Koschmieder C, Sauerwein M, Sporer F (1997) Phorbol esters of J. curcas-biological activities and potential applications. In: Gubitz GM, Mittelbach M, Trabi M (eds) Biofuels and industrial products from Jatropha curcas. DBV, Graz, pp 160–166

136.

Naengchomnong W, Thebtaranonth Y, Wiriyachitra P, Okamoto KT, Clardy J (1986) Isolation and structure determination of four novel diterpenes of Jatropha curcas. Tetrahed Lett 27:2439–2442

137.

Naengchomnong W, Tarnchompoo B, Thebtaranonth Y (1994) (+)-Jatropha, (+)-marmesin, propacin and Jatrophin from the roots of Jatropha curcas (Euphorbiaceae). J Sci Soc Thail 20:73–83
Acknowledgments
The authors are grateful to the Jatropower AG-MRP, Switzerland for the financial support extended.
About this article
Cite this article
Nithiyanantham, S., Siddhuraju, P. & Francis, G. Potential of Jatropha curcas as a Biofuel, Animal Feed and Health Products. J Am Oil Chem Soc 89, 961–972 (2012). https://doi.org/10.1007/s11746-012-2012-3
Received:

Revised:

Accepted:

Published:

Issue Date:
Keywords
Jatropha curcas

Biodiesel

Seed cake

Phorbol esters

Antinutrients

Genetic diversity