Abstract
Among numerous mesophilic fungi screened for sterol esterase activity followed by the esterification reaction between plant β-sitosterol and lauric acid in organic solvent, six Aspergillus strains were selected as the most active producers. These fungi had not been studied previously for sterol esterase production. The fungi were cultivated under solid state fermentation (SSF) conditions. The gently dried SSF cultures as such were tested in the esterification reactions, without any special enzyme isolation and purification (downstream) processes. All the six Aspergillus SSF preparations were able to synthesize sterol esters. Sterol esterase activity of these GRAS cleared Aspergillus strains was inducible by sterol ester supplementation to the SSF medium and showed remarkably different moisture optimum during growth as compared to the production of lipase (determined by pNP-palmitate). Genome analysis revealed that sterol esterase production might be a common feature of many Aspergillus species. The synthetic usefulness of the best SSF preparations of A. oryzae NRRL 6270 and A. sojae NRRL 6271 was demonstrated by synthesis of esters of plant sterols with lauric acid resulting in 45–63% conversions (GC) and 27–38% isolated yields of steryl laurates. The isomer preference of A. oryzae NRRL 6270 towards the 10E,12Z isomer of conjugated linoleic acid (CLA) in the esterification reaction with plant sterols was also determined.
This is a preview of subscription content, log in to check access.
Access options
Buy single article
Instant access to the full article PDF.
US$ 39.95
Price includes VAT for USA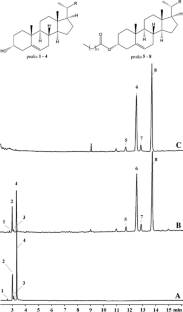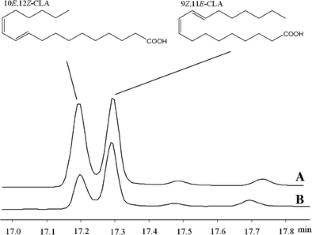 References
1.

Plat J, Mensink RP (2005) Plant stanol and sterol esters in the control of blood cholesterol levels: mechanism and safety aspects. Am J Cardiol 96(1A):15D–22D

2.

Thompson GR, Grundy SM (2005) History and development of plant sterol and stanol esters for cholesterol-lowering purposes. Am J Cardiol 96(1A):1D–9D

3.

Panitch MM (1997) Antiperspirant deodorant compositions. PCT Int Appl WO 9711678

4.

Villeneuve P, Turon F, Caro Y, Escoffier R, Baréa B, Barouh B, Lago R, Piombo G, Pina M (2005) Lipase-catalysed synthesis of canola phytosterols oleate esters as cholesterol lowering agents. Enzyme Microb Technol 37:150–155

5.

Phillips KM, Ruggio DM, Toivo JI, Swank MA, Simpkins AH (2002) Free and esterified sterol composition of edible oils and fats. J Food Comp Anal 15:123–142

6.

Moreau RA, Hicks KB (2004) The in vitro hydrolysis of phytosterol conjugates in food matrices by mammalian digestive enzymes. Lipids 39:769–776

7.

Leone R, Breuil C (1999) Biodegradation of aspen sterol esters and waxes by two filamentous fungi with or without other carbon sources. World J Microbiol Biotechnol 15:723–727

8.

Brahimi-Horn MC, Mickelson CA, Guglielmino ML, Gaal AM, Sparrow LG (1991) Identification of lipolytic activity in a multitrophic population grown in wool-scour effluent. J Ind Microbiol 8:53–58

9.

Taketani S, Osumi T, Katsuki H (1978) Characterisation of sterol-ester hydrolase in Saccharomyces cerevisiae. Biochim Biophys Acta 525:87–92

10.

Rodriguez Couto S, Sanromán Á (2006) Application of solid-state fermentation to food industry—a review. J Food Eng 76:291–302

11.

Vorderwülbecke T, Kieslich K, Erdmann H (1992) Comparison of lipases by different assays. Enzyme Microbiol Technol 14:631–639

12.

Viniegra-Gonzáles G, Favela-Torres E, Aguilar CN, Rómero-Gomez SJ, Díaz-Godínez G, Augur C (2003) Advantages of fungal enzyme production in solid state over liquid fermentation systems. Biochem Eng J 13:157–167

13.

Nagy V, Tőke ER, Keong LC, Szatzker G, Ibrahim D, Che Omar I, Szakács G, Poppe L (2006) Production of novel, highly enantioselective fungal lipases by solid state fermentation. J Mol Catal B Enzym 39:141–148

14.

Kontkanen H, Tenkanen M, Reinikainen T (2006) Purification and characterisation of a novel steryl esterase from Melanocarpus albomyces. Enzyme Microb Technol 39:265–273

15.

Kontkanen H, Tenkanen M, Fagerström R, Reinikainen T (2004) Characterisation of sterol esterase activities in commercial lipase preparations. J Biotechnol 108:51–59

16.

Miller A, Majauskaite L, Engel K-H (2004) Enzyme-catalyzed hydrolysis of γ-oryzanol. Eur Food Res Technol 218:349–354

17.

Jandrositz A, Petschnigg J, Zimmermann R, Natter K, Scholze H, Hermetter A, Kohlwein SD, Leber R (2005) The lipid droplet enzyme Tgl1p hydrolyzes both steryl esters and triglycerides in the yeast, Saccharomyces cerevisiae. Biochim Biophys Acta 1735:50–58

18.

Koeffel R, Tiwari R, Falquet L, Schneiter R (2005) The Saccharomyces cerevisiae YLL012/YEH1, YLR020/YEH2, and TGL1 genes encode a novel family of membrane-anchored lipases that are required for steryl ester hydrolysis. Mol Cell Biol 25:1655–1668

19.

Altschul SF, Gish W, Miller W, Myers EW, Lipman DJ (1990) Basic local alignment search tool. J Mol Biol 215(3):403–410

20.

Machida M, Asai K, Sano M, Tanaka T, Kumagai T, Terai G, Kusumoto K, Arima T, Akita O, Kashiwagi Y, Abe K, Gomi K, Horiuchi H, Kitamoto K, Kobayashi T, Takeuchi M, Denning DW, Galagan JE, Nierman WC, Yu J, Archer DB, Bennett JW, Bhatnagar D, Cleveland TE, Fedorova ND, Gotoh O, Horikawa H, Hosoyama A, Ichinomiya M, Igarashi R, Iwashita K, Juvvadi PR, Kato M, Kato Y, Kin T, Kokubun A, Maeda H, Maeyama N, Maruyama J, Nagasaki H, Nakajima T, Oda K, Okada K, Paulsen I, Sakamoto K, Sawano T, Takahashi M, Takase K, Terabayashi Y, Wortman JR, Yamada O, Yamagata Y, Anazawa H, Hata Y, Koide Y, Komori T, Koyama Y, Minetoki T, Suharnan S, Tanaka A, Isono K, Kuhara S, Ogasawara N, Kikuchi H (2005) Genome sequencing and analysis of Aspergillus oryzae. Nature 438:1157–1161

21.

Warwel S, Borgdorf R (2000) Substrate selectivity of lipases in the esterification of cis/trans-isomers and positional isomers of conjugated linoleic acid (CLA). Biotechnol Lett 22:1151–1156
Acknowledgments
The financial support from the Hungarian Scientific Research Fund (OTKA, T-48854) is gratefully acknowledged. Thanks are due to Dr. Pál Kolonits for the NMR spectroscopic measurements and Dr. Sándor Tömösközi for lyophilization facilities. Professor Robert P. Tengerdy (Colorado State University) is thankfully acknowledged for his valuable comments and advice.
About this article
Cite this article
Tőke, E.R., Nagy, V., Recseg, K. et al. Production and Application of Novel Sterol Esterases from Aspergillus Strains by Solid State Fermentation. J Am Oil Chem Soc 84, 907–915 (2007). https://doi.org/10.1007/s11746-007-1127-4
Received:

Revised:

Accepted:

Published:

Issue Date:
Keywords
Aspergillus sp.

Solid state fermentation

Sterol esterase

Sterol esters