Abstract
In our previous study, unusual odd-numbered dienoic acids with a terminal olefin were found as minor components in ovaries of the Japanese limpet Cellana toreuma, and the synthetic interests have been focused onto their structural confirmation and the inspection into their potential biological activity. Here, we describe an efficient and stereoselective total synthesis of two new unusual dienoic acids, 19:2∆7,18 and 21:2∆7,20, through a common pathway involving the strategic combination of alkyne-zipper reaction and Lindlar hydrogenation for the construction of their unique carbon chains. In our synthetic study, 2-propyn-1-ol was at first subjected to alkylation and alkyne-zipper reaction to form the two fragments, and the subsequent carbon chain elongation was achieved by the usual coupling reaction to obtain the C-19 and C-21 products bearing an internal acetylenic group. Then, the internal acetylenic group of these products was subjected to Lindlar hydrogenation to form a Z-alkenyl moiety, and the subsequent deprotection of the products was carried out under an acidic condition without isomerization of the internal Z-alkenyl group. Total synthesis of target fatty acids, 19:2∆7,18 and 21:2∆7,20, was finally accomplished by two-step oxidation of the resulting alcohols into carboxylic acids in a highly chemoselective manner, and the structures of these unusual natural fatty acids were finally elucidated by identifying the GC–MS spectra of the methyl esters of authentic and synthetic fatty acids.
Access options
Buy single article
Instant access to the full article PDF.
USD 39.95
Price excludes VAT (USA)
Tax calculation will be finalised during checkout.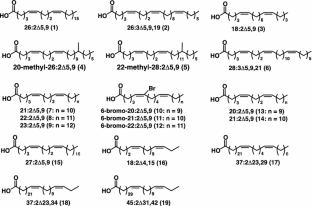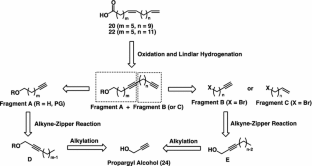 Abbreviations
DMPU:

N,N′-Dimethylpropyleneurea

DMSO:

Dimethyl sulfoxide

ECL:

Equivalent chain length

GC–MS:

Gas chromatography–mass spectrometry

HRMS:

High resolution mass spectrometry

IR:

Infrared ray spectroscopy

MIFA:

Methylene-interrupted fatty acid

MOM:

Methoxymethyl

MS:

Mass spectrometry

m.p.:

Melting point

NMIFA:

Non-methylene-interrupted fatty acid

NMR:

Nuclear magnetic resonance spectroscopy

THF:

Tetrahydrofuran

TLC:

Thin-layer chromatography
References
Djerassi C, Lam W (1991) Sponge phospholipids. Acc Chem Res 24:69–75

Barnathan G (2009) Non-methylene-interrupted fatty acids from marine invertebrates: occurrence, characterization and biological properties. Biochimie 91:671–678

Kornprobst JM, Barnathan G (2010) Demospongic acids revisited. Mar Drugs 8:2569–2577

Jefferts E, Morales RW, Litchfield C (1974) Occurrence of cis-5, cis-9-hexacosadienoic and cis-5, cis-9, cis-19-hexacosatrienoic acids in the marine sponge Microciona prolifera. Lipids 9:244–247

Litchfield C, Marcantonio CC (1978) Occurrence of 5,9,19-octacosatrienoic, 5,9-hexacosadienoic and 17-hexacosenoic acids in the marine sponge Xestospongia halichondroides. Lipids 13:199–202

Walkup RD, Jamieson GC, Ratcliff MR, Djerassi C (1981) Phospholipid studies of marine organisms: 2. Phospholipids, phospholipid-bound fatty acids and free sterols of the sponge Aplysina fistularis (Pallas) from fulva (Pallas) (=Verongia thiona), isolation and structure elucidation of unprecedented branched fatty acids. Lipids 16:631–646

Carballeira NM, Jesús RM (1994) New Δ5,9 fatty acids in the phospholipids of the sea anemone Stoichactis helianthus. J Nat Prod 57:1688–1695

Carballeira NM, Reyes M (1995) Identification of a new 6-bromo-5,9-eicosadienoic acid from the anemone Condylactis gigantea and the zoanthid Palythoa caribaeorum. J Nat Prod 58:1689–1694

Ando Y, Kawabata Y, Narukawa K, Ota T (1998) Demospongic acids of the marine sponge Halichondria panicea from the coast of Hokkaido, Japan. Fish Sci 64:136–139

Kawashima H, Ohnishi M, Uchiyama H (2001) Fatty acid compositions of muscle and viscera lipids in dominant limpet species from Otsuchi Bay in northern Japan. J Oleo Sci 50:607–611

Kawashima H, Ohnishi M, Uchiyama H (2002) Sexual differences in gonad fatty acid compositions in dominant limpets species from the Sanriku coast in northern Japan. J Oleo Sci 51:503–508

Kawashima H (2005) Unusual minor nonmethylene-interrupted di-, tri-, and tetraenoic fatty acids in limpet gonads. Lipids 40:627–630

Kawashima H, Ohnishi M (2006) Occurrence of novel nonmethylene-interrupted C24 polyenoic fatty acids in female gonad lipids of the limpet Cellana grata. Biosci Biotechnol Biochem 70:2575–2578

Kawashima H, Ohnishi M, Ogawa S, Matsui K (2008) Unusual fatty acid isomers of triacylglycerols and polar lipids in female limpet gonads of Cellana grata. Lipids 43:559–567

Kawashima H, Ohnishi M, Ogawa S (2009) Difference in sterol composition between male and female gonads of dominant limpet species. Lipids 44:665–669

Kawashima H, Ohnishi M, Ogawa S (2011) Differences in sterol composition of gonads of the lottiid limpets Nipponacmea concinna and Nipponacmea fuscoviridis from northern Japan. J Oleo Sci 60:501–504

Kawashima H, Ohnishi M (2012) Novel heneicosadienoic and tricosadienoic acid isomers in ovaries of marine archaeogastropods. Lipids 47:827–833

Kawashima H, Ohnishi M, Ogawa S (2013) Distribution of unusual cholesterol precursors, 4-methyl- and 4,4-dimethylsterols with Δ8-unsaturation, in gonads of marine archaeogastropods. J Oleo Sci 62:465–470

Kawashima H, Onishi M (2016) An unprecedented occurrence of Δ5,9- and Δ9,15-dienoic acids in ovaries of the archaeogastropod limpet Cellana toreuma. Lipids 51:257–262

Zhukova NV (2007) Lipid classes and fatty acid composition of the tropical nudibranch mollusks Chromodoris sp. and Phyllidia coelestis. Lipids 42:1169–1175

Mishra PM, Sree A (2008) Composition of the lipophilic extract from the sponge Axinella carteri collected from the bay of Bengal of the Orissa coast. Chem Nat Compd 44:282–286

Carballeira NM (2008) New advances in fatty acids as antimalarial, antimycobacterial and antifungal agents. Prog Lipid Res 47:50–61

Zhukova NV (2014) Lipids and fatty acids of nudibranch mollusks: potential sources of bioactive compounds. Mar Drugs 12:4578–4592

Zhang HY, Yamakawa Y, Matsuya Y, Toyooka N, Tohda C, Awale S, Li F, Kadota S, Tezuka Y (2014) Synthesis of long-chain fatty acid derivatives as a novel anti-Alzheimer's agent. Bioorg Med Chem Lett 24:604–608

Yoshida J, Uesugi S, Kawamura T, Kimura K, Hu D, Xia S, Toyooka N, Ohnishi M, Kawashima H (2017) (4Z,15Z)-Octadecadienoic acid inhibits glycogen synthase kinase-3β and glucose production in H4IIE cells. Lipids 52:295–301

Kawashima H, Ohnishi M (2017) Novel odd-chain fatty acids with a terminal double bond in ovaries of the limpet Cellana toreuma. Lipids 52:375–381

Maryanoff BE, Reits AB (1989) The Wittig olefination reaction and modifications involving phosphoryl-stabilized carbanions. Stereochemistry, mechanism, and selected synthetic aspects. Chem Rev 89:863–927

Mena PL, Pilet O, Djerassi C (1984) Phospholipid studies of marine organisms. 7. Stereospecific synthesis of (5Z,9Z)-, (5Z,9E)-, (5E,9Z)-, and (5E,9E)-5,9-hexacosadienoic acids. J Org Chem 49:3260–3264

Carballeira NM, Emiliano A, Guzma A (1990) Facile syntheses for (5Z,9Z)-5,9-hexadecadienoic acid, (5Z,9Z)-5,9-nonadecadienoic acid, and (5Z,9Z)-5,9-eicosadienoic acid through a common synthetic route. Chem Phys Lipids 100:33–40

Reyes ED, Carballeira NM (1997) Total synthesis of the antimicrobial fatty acid (5Z,9Z)-14-methylpentadeca-5,9-dienoic acid and its longer-chain analogue (5Z,9Z)-24-methylpentacosa-5,9-dienoic acid. Synthesis 1997:1195–1198

Kulkarni BA, Sharma A, Gamre S, Chattopadhyay S (2004) Synthesis of the marine compound (2R,5Z,9Z)-2-methoxyhexacosa-5,9-dienoic acid via a lipase-catalyzed resolution and a novel O-alkylation protocol. Synthesis 2004:595–599

D'yakonov VA, Makarov AA, Makarova EK, Dzhemilev UM (2013) Novel organomagnesium reagents in synthesis. Catalytic cyclomagnesiation of allenes in the synthesis of N-, O-, and Si-substituted 1Z,5Z-dienes. Tetrahedron 69:8516–8526

D'yakonov VA, Dzhemileva LU, Makarov AA, Mulyukova AR, Baev DS, Khusnutdinova EK, Tolstikova TG, Dzhemilev UM (2015) Stereoselective synthesis of 11-phenylundeca-5Z,9Z-dienoic acid and investigation of its human topoisomerase I and IIα inhibitory activity. Bioorg Med Chem Lett 25:2405–2408

Dyakonov VA, Dzhemileva LU, Makarov AA, Mulyukova AR, Baev DS, Khusnutdinova EK, Tolstikova TG, Dzhemilev UM (2015) 11-Phenylundeca-5Z,9Z-dienoic acid: stereoselective synthesis and dual topoisomerase I/IIα inhibition. Curr Cancer Drug Targets 15:504–510

Adrian J, Stark CB (2016) Flexible approach to (5Z,9Z)-dienoic fatty acids relevant to synthesis of demospongic acids and related natural products. Eur J Org Chem 2016:4607–4610

Brown CA, Yamashita A (1975) Saline hydrides and superbases in organic syntheses. IX. Acetylene zipper. Exceptionally facile contrathermodynamic multipositional isomerization of alkynes with potassium 3-aminopropylamide. J Am Chem Soc 97:891–892

Chinnababu B, Purushotham-Reddy S, Kumar-Reddy D, Chandra-Rao D, Venkateswarlu Y (2012) Stereoselective concise total synthesis of leodomycin C and D. Synthesis 44:311–315

Hoye RC, Anderson LG, Brown SG, Schultz EE (2010) Total synthesis of clathculins A and B. J Org Chem 75:7400–7403

Reddy CR, Suman D, Rao NN (2012) Alkyne-assisted approach to the formal synthesis of antibiotic macrolide (−)-26771B. Synlett 23:272–274

Liu FP, Zhong J, Zheng B, Li S, Gao G, Wang Z, Li M, Hou S, Wang M, Bian Q (2015) Catalytic asymmetric synthesis of (S,4E,15Z)-docosa-4,15-dien-1-yn-3-ol, an antitumor marine natural product. Tetrahedron Asymmetry 26:961–965

Liu FP, Zhong J, Li S, Wu L, Wang Q, Mao J, Liu S, Zheng B, Wang M, Bian Q (2016) Total synthesis of (R)-strongylodiols C and D. J Nat Prod 79:244–247

Avocetien KF, Li JJ, Liu X, Wang Y, Xing Y, O'Doherty GA (2016) De novo asymmetric synthesis of phoracantholide. J. Org Lett 18:4970–4973

Calzada JG, Hooz J (1974) Geranyl chloride [2,6-Octadiene, 1-chloro-3,7-dimethyl, (E)-]. Org Synth 54:63–69

Gericke KM, Chai DI, Lautens M (2008) The versatile role of norbornene in C-H functionalization processes: concise synthesis of tetracyclic fused pyrroles via a threefold domino reaction. Tetrahedron 64:6002–6014

Bayer AA, Maier ME (2004) Synthesis of enamides from aldehydes and amides. Tetrahedron 60:6665–6677

Aursnes M, Tungen JE, Vik A, Colas R, Cheng CYC, Dalli J, Serhan CN, Hansen TV (2014) Total synthesis of the lipid mediator PD1n-3 DPA: configurational assignments and anti-inflammatory and pro-resolving actions. J Nat Prod 77:910–916

Mancuso AJ, Huang SL, Swern D (1978) Oxidation of long-chain and related alcohols by dimethyl sulfoxide "activated" by oxalyl chloride. J Org Chem 43:2480–2482

Marx M, Tidwell TT (1984) Reactivity-selectivity in the Swern oxidation of alcohols using dimethyl sulfoxide-oxalyl chloride. J Org Chem 49:788–793

Lindgren B, Nilsson T (1973) Preparation of carboxylic acids from aldehydes (including hydroxylated benzaldehydes) by oxidation with chlorite. Acta Chem Scand 27:888–890

Jakobsen CG, Vik A, Hansen TV (2012) Concise synthesis of ω-3 polyunsaturated fatty acids. Tetrahedron Lett 53:5837–5839

Angulo-Pachón CA, Diaz-Oltra S, Murga J, Carda M, Marco JA (2010) Stereoselective synthesis and structural correction of the naturally occurring lactone stagonolide G. Org Lett 12:5752–5755

Morrison WR, Smith LM (1964) Preparation of fatty acid methyl esters and dimethylacetals from lipids with boron fluoride-methanol. J Lipid Res 5:600–608

Destaillats F, Wolff RL, Angers P (2002) Saturated and unsaturated anteiso-C19 in the seed lipids from Hesperopeuce mertensiana (Pinaceae). Lipids 37:325–328

Wu M, Lee C, Wu Y, Chen C (2008) Synthesis of (4R,15R,16R,21S)-Rollicosin and Its 4S epimer. Eur J Org Chem 2008:854–861

Neef AB, Schultz C (2009) Selective fluorescence labeling of lipids in living cells. Angew Chem Int Ed 48:1498–1500

Shen Z, Huang M, Xiao C, Zhang Y, Wang PG (2007) Nonlabeled quartz crystal balance biosensor for bacterial detection using carbohydrate and lectin recognitions. Anal Chem 79:2312–2319

Mames A, Stecko S, Mikolajczyk P, Soluch M, Furman B, Chmielewski M (2010) Direct catalytic synthesis of carbapenams via cycloaddition/rearrangement cascade reaction: unexpected acetylenes' structure effect. J Org Chem 75:7580–7587

Trost BM, Livingston RC (2008) An atom-economic and selective ruthenium-catalyzed redox isomerization of propargyl alcohols. An efficient strategy for the synthesis of leucotrienes. J Am Chem Soc 130:11970–11978

Cheng X, Li L, Uttamchandani M, Yao SQ (2014) In situ proteome profiling of C75, a covalent bioactive compound with potential anticancer activities. Org Lett 16:1414–1417

Fenlon EE, Ito BR (2008) The thread and cut method: synthesis of molecular knot precursors. Eur J Org Chem 2008:3065–3068

Nguyen TB, Castanet AS, Nguyen TH, Nguyen KPP, Baedeau JF, Gibaud A, Mortier J (2006) Synthesis of model long-chain ω-alkenyltrichlorosilanes and triethoxysilanes for the formation of self-assembled monolayers. Tetrahedron 62:647–651
Electronic supplementary material
Below is the link to the electronic supplementary material.
About this article
Cite this article
Shimada, K., Sugawara, A., Korenaga, T. et al. Total Synthesis and Structural Elucidation of Two Unusual Non-Methylene-Interrupted Fatty Acids in Ovaries of the Limpet Cellana toreuma . Lipids 52, 1019–1032 (2017). https://doi.org/10.1007/s11745-017-4303-9
Received:

Accepted:

Published:

Issue Date:

DOI: https://doi.org/10.1007/s11745-017-4303-9
Keywords
Limpet

Non-methylene-interrupted fatty acid

Synthesis

Alkyne-zipper reaction

Lindlar hydrogenation