Abstract
Economically motivated adulteration (EMA) of extra virgin olive oils (EVOO) has been a worldwide problem and a concern for government regulators for a long time. The US Food and Drug Administration (FDA) is mandated to protect the US public against intentional adulteration of foods and has jurisdiction over deceptive label declarations. To detect EMA of olive oil and address food safety vulnerabilities, we used a previously developed rapid screening methodology to authenticate EVOO. For the first time, a recently developed FT-NIR spectroscopic methodology in conjunction with partial least squares analysis was applied to commercial products labeled EVOO purchased in College Park, MD, USA to rapidly predict whether they are authentic, potentially mixed with refined olive oil (RO) or other vegetable oil(s), or are of lower quality. Of the 88 commercial products labeled EVOO that were assessed according to published specified ranges, 33 (37.5%) satisfied the three published FT-NIR requirements identified for authentic EVOO products which included the purity test. This test was based on limits established for the contents of three potential adulterants, oils high in linoleic acid (OH-LNA), oils high in oleic acid (OH-OLA), palm olein (PO), and/or RO. The remaining 55 samples (62.5%) did not meet one or more of the criteria established for authentic EVOO. The breakdown of the 55 products was EVOO potentially mixed with OH-LNA (25.5%), OH-OLA (10.9%), PO (5.4%), RO (25.5%), or a combination of any of these four (32.7%). If assessments had been based strictly on whether the fatty acid composition was within the established ranges set by the International Olive Council (IOC), less than 10% would have been identified as non-EVOO. These findings are significant not only because they were consistent with previously published data based on the results of two sensory panels that were accredited by IOC but more importantly each measurement/analysis was accomplished in less than 5 min.
Access options
Buy single article
Instant access to the full article PDF.
USD 39.95
Price excludes VAT (USA)
Tax calculation will be finalised during checkout.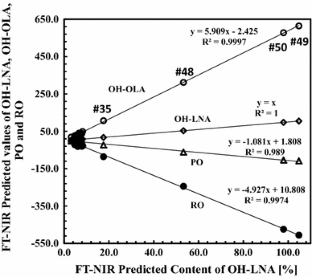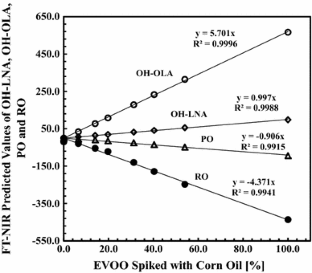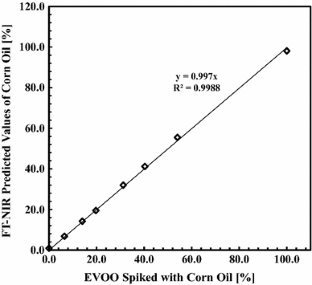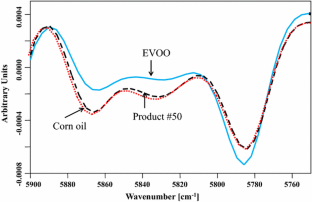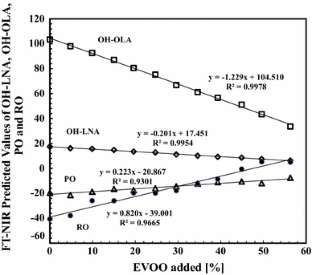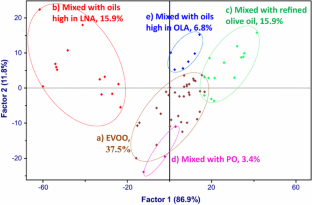 Abbreviations
EVOO:

Extra virgin olive oils

FA:

Fatty acid

FT-NIR:

Fourier transform near-infrared spectroscopy

GC:

Gas chromatography

LNA:

Linoleic acid

OH-OLA:

Oils high in oleic acid

OH-LNA:

Oils high in linoleic acid

OLA:

Oleic acid

PLS:

Partial least squares

PO:

Palm olein

RO:

Refined olive oil
References
Butler J (2016) Scientists pool expertise in fight against fake olive oils. Olive Oil Times October 4, 2013. http://www.oliveoiltimes.com/olive-oil-basics/madrid-meeting-olive-oil-authentication/36606. Accessed 12 May 2016

Mueller T (2016) Slippery business. The trade in adulterated olive oil. The New Yorker, August 13, 2007. http://www.newyorker.com/magazine/2007/08/13/slippery-business. Accessed 12 May 2016

Frankel EN, Mailer RJ, Wang SC, Shoemaker CF, Guinard J-X. Flynn JD, Sturzenberger ND (2011) Evaluation of extra-virgin olive oil sold in California. UC Davis Olive Center at the Robert Mondavi Institute, Davis, California. http://olivecenter.ucdavis.edu/research/files/report041211finalreduced.pdf. Accessed 12 May 2016

Rossell JB, King B, Downes MJ (1983) Detection of adulteration. J Am Oil Chem Soc 60:333–339

International Olive Council (2013) Trade standard applying to olive oils and olive-pomace oils. International Olive Council, Madrid, Spain, p 17. http://www.internationaloliveoil.org/estaticos/view/224-testing-methods. Accessed 12 May 2016

Alimentarius C (2003) Standard for olive oils and olive pomace oils 33-1981. Codex Secretariat, Rome

European Commission (2013) Implementing regulation (EU) No. 1348/2013 amending regulation (EEC) No. 2568/91 on the characteristics of olive oil and olive-residue oil and on the relevant methods of analysis. Official J Eur Union 4:31–67

United States Department of Agriculture, Agricultural Marketing Service (2010) United States standards for grades of olive oil and olive-pomace oil. Federal Register 75 FR 22363-22368. http://www.oliveoiltimes.com/general/usda-standards-for-olive-oil/6173. Accessed 12 May 2016

Australian Standard (2011) Olive oils and olive-pomace oils standards. Australia Sydney, Australia, AS 5264-2011. https://www.australianolives.com.au/login/?redirect=/article-detail/australian-standard-5264-2011. Accessed 12 May 2016

Azizian H, Mossoba MM, Fardin-Kia AR, Delmonte P, Karunathilaka SR, Kramer JKG (2015) Novel, rapid identification and quantification of adulterants in extra virgin olive oil using near-infrared spectroscopy and chemometrics. Lipids 50:705–718

Azizian H, Mossoba MM, Fardin-Kia AR, Karunathilaka SR, Kramer JKG (2016) Developing FT-NIR and PLS1 methodology for the determination of potential adulteration in representative varieties/blends of extra virgin olive oil. Lipids 51:1300–1321

Azizian H, Kramer JKG (2005) A rapid method for the quantification of fatty acids in fats and oils with emphasis on trans fatty acids using Fourier transform near infrared spectroscopy (FT-NIR). Lipids 40:855–867

Azizian H, Kramer JKG, Mossoba MM (2012) Evaluating the transferability of FT-NIR calibration models for fatty acid determination of edible fats and oils among five same-make spectrometers using transmission or transflection modes with different pathlengths. J Am Oil Chem Soc 89:2143–2154

AOCS Standard Procedure Cd 14f-14, Rapid determination of total SFA, MUFA, PUFA, and trans fatty acid content of edible fats and oils by pre-calibrated FT-NIR. Approved 2014

AOCS Official Method Ce 1 h-05, Determination of cis-, trans-, saturated, monounsaturated and polyunsaturated fatty acids in vegetable or non-ruminant animal oils and fats by capillary GLC. Approved 2005

Ayton J, Mailer RJ, Graham K (2012) The effect of storage conditions on extra virgin olive oil quality. RIRDC, Australia

Guillaume C, Gertz C, Ravetti L (2014) Pyropheophytin a and 1,2-diacyl-glycerols over time under different storage conditions in natural olive oils. J Am Oil Chem Soc 91:697–709

Srigley CT, Oles VJ, Fardin Kia AR, Mossoba MM (2016) Authenticity assessment of extra virgin olive oil: evaluation of desmethylsterols and triterpene dialcohols. J Am Oil Chem Soc 93:171–181

IOC (2015) COI/T.20/Doc. No. 30/Rev. 1. Method for the determination of the composition and content of sterols and triterpene dialcohols by capillary column gas chromatography. http://www.internationaloliveoil.org/estaticos/view/224-testing-methods. Accessed 12 May 2016

IOC (2015) COI/T.20/Doc. no. 25. Global method for the detection of extraneous oils in olive oils. http://www.internationaloliveoil.org/estaticos/view/224-testing-methods. Accessed 12 May 2016

US International Trade Commission (2013) Washington, DC. Publication 4419

FDA Field Science and Laboratories, Volume IV-1.3 analytical methods. http://www.fda.gov/ScienceResearch/FieldScience/ucm171912.htm. Accessed 21 August 2016
About this article
Cite this article
Mossoba, M.M., Azizian, H., Fardin-Kia, A.R. et al. First Application of Newly Developed FT-NIR Spectroscopic Methodology to Predict Authenticity of Extra Virgin Olive Oil Retail Products in the USA. Lipids 52, 443–455 (2017). https://doi.org/10.1007/s11745-017-4250-5
Received:

Accepted:

Published:

Issue Date:

DOI: https://doi.org/10.1007/s11745-017-4250-5
Keywords
FT-NIR

PLS

Extra virgin olive oil

FA markers

Volatile compounds