Abstract
Dietary supplementation with marine omega-3 polyunsaturated fatty acids (n-3 PUFA) can have beneficial effects on a number of risk factors for cardiovascular disease (CVD). We compared the effects of two n-3 PUFA rich food supplements (freeze-dried Odontella aurita and fish oil) on risk factors for CVD. Male rats were randomly divided into four groups of six animals each and fed with the following diets: control group (C) received a standard diet containing 7 % lipids; second group (HF high fat) was fed with a high-fat diet containing 40 % lipids; third group (HFFO high fat+fish oil) was fed with the high-fat diet supplemented with 0.5 % fish oil; and fourth group (HFOA high fat+O. aurita) received the high-fat diet supplemented with 12 % of freeze-dried O. aurita. After 8 weeks rats fed with the high-fat diet supplemented with O. aurita displayed a significantly lower bodyweight than those in the other groups. Both the microalga and the fish oil significantly reduced insulinemia and serum lipid levels. O. aurita was more effective than the fish oil in reducing hepatic triacyglycerol levels and in preventing high-fat diet-induced steatosis. O. aurita and fish oil also reduced platelet aggregation and oxidative status induced by high fat intake. After an OA supplementation, the adipocytes in the HFOA group were smaller than those in the HF group. Freeze-dried O. aurita showed similar or even greater biological effects than the fish oil. This could be explained by a potential effect of the n-3 PUFA but also other bioactive compounds of the microalgae.
Access options
Buy single article
Instant access to the full article PDF.
USD 39.95
Price excludes VAT (USA)
Tax calculation will be finalised during checkout.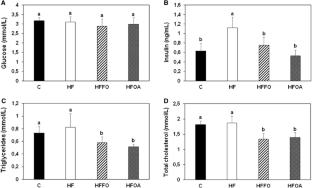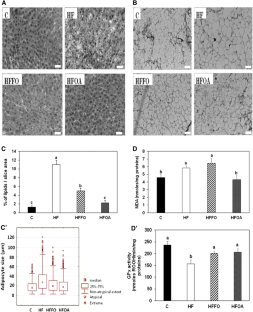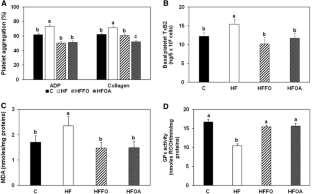 Abbreviations
AT:

Adipose tissue

C:

Control diet

CVD:

Cardiovascular disease

DHA:

Docosahexaenoic acid

DPA:

Docosapentaenoic acid

EPA:

Eicosapentaenoic acid

FO:

Fish oil

GPx:

Glutathione peroxidase

HF:

High fat diet

HFFO:

High fat + fish oil diet

HFOA:

High fat + Odontella aurita diet

MDA:

Malondialdehyde

OA:

Odontella aurita

PRP:

Platelet rich plasma

PUFA:

Polyunsaturated fatty acid (s)

SFA:

Saturated fatty acid

TxB2 :

Thromboxane B2
References
EFSA (2009) Opinion of the scientific panel on dietetic products, nutrition and allergies on a request from the commission related to labelling reference intake values for n-3 and n-6 polyunsaturated fatty acids. EFSA J 1176:1–11

Lund EK (2013) Health benefits of seafood; is it just the fatty acids? Food Chem 140:413–420

Weintraub H (2013) Update on marine omega-3 fatty acids: management of dyslipidemia and current omega-3 treatment options. Atherosclerosis 230:381–389

Mozaffarian D, Wu JHY (2011) Omega-3 fatty acids and cardiovascular diseases. J Am Coll Cardiol 58:2047–2067

Scicchitano P, Cameli M, Maiello M, Modesti PA, Muiesan ML, Novo S, Palmiero P, Saba PS, Pedrinelli R, Ciccone MM (2014) Neutraceuticals and dyslipidemia: beyond the common therapeutics. J Funct Foods 6:11–32

Dworatzek PD, Acrudi K, Gougeon R, Husein N, Sievenpiper JL, Williams SL (2013) Nutrition therapy. Can J Diabetes 37:S45–S55

Gao LG, Cao J, Mao QX, Lu XC, Zhou XL, Fan L (2013) Influence of omega-3 polyunsaturated fatty acids-supplementation on platelet aggregation in humans: a meta-analysis of randomized controlled trials. Atherosclerosis 226:328–334

Sijtsma L, De Swaaf ME (2004) Biotechnological production and applications of the omega-3 polyunsaturated fatty acid docosahexaenoic acid. Appl Microbiol Biotechnol 64:146–153

Martins DA, Custódio L, Barreria L, Pereira H, Ben-Hamadou R, Varela J, Abu-Salah KM (2013) Alternative sources of n-3 long chain polyunsaturated fatty acids in marine microalgae. Mar Drugs 11:2259–2281

De Jesus Raposo MF, De Morais RM, De Morais AM (2013) Health applications of bioactive compounds from marine microalgae. Life Sci 15:479–486

Shibata S, Natori Y, Nishihara T, Tomisaka K, Matsumoto K, Sansawa H, Nguyen VC (2003) Antioxidant and anticataract effects of Chlorella on rats with streptozotocin-induced diabetes. J Nutr Sci Vitaminol 49:334–339

Moreau D, Tomasoni C, Jacquot C, Kaas R, Le Guedes R, Cadoret JP, Muller-Feuga A, Kontiza I, Vagias C, Roussis V, Roussakis C (2006) Cultivated microalgae and the carotenoid fucoxanthin from Odontella aurita as potent anti-proliferative agents in bronchopulmonary and epithelial cell lines. Envir Toxicol Pharmacol 22:97–103

Fujimoto M, Tsuneyama K, Fujimoto T, Selmi C, Gershwin ME, Shimada Y (2012) Spirulina improves non-alcoholic steatohepatitis, visceral fat macrophage aggregation, and serum lipid in mouse model of metabolic syndrome. Dig Liver Dis 44:767–774

Lattimer JM, Haub MD (2010) Effects of dietary fibers and its components on metabolic health. Nutrients 2:1266–1289

Haimeur A, Ulmann L, Mimouni V, Guéno F, Pineau-Vincent F, Meskini N, Tremblin G (2012) The role of Odontella aurita, a marine diatom rich in EPA, as a dietary supplement in dyslipidemia, platelet function and oxidative stress in high-fat fed rats. Lipids Health Dis 11:147

Lorgeril M, Salen P (2006) The Mediterranean-style diet for the prevention of cardiovascular diseases. Public Health Nutr 9:118–123

Amine H, Benomar Y, Haimeur A, Messaouri H, Meskini N, Taouis M (2016) Odontella aurita-enriched diet prevent high fat diet-induced liver insulin resistance. J Endocrinol 228:1–12

Folch J, Lees M, Sloane Stanley GH (1957) A simple method for the isolation and purification of total lipids from animal tissues. J Biol Chem 226:497–509

Bligh EG, Dyer WJ (1959) A rapid method of lipid extraction and purification. Can J Biochem Physiol 37:911–917

Slover HT, Lanza E (1979) Quantitative analysis of food fatty acids by capillary gas chromatography. J Am Oil Chem Soc 56:933–943

Born GVR (1962) Aggregation of blood platelets by adenosine diphosphate and its reversal. Nature 194:927–929

Ohkawa H, Ohishi N, Yagik K (1979) Assay for lipid peroxides in animal tissues by thiobarbituric acid reaction. Anal Biochem 95:351–358

Paglia DE, Valentine WN (1967) Studies on the quantitative and qualitative characterization of erythrocyte glutathione peroxidase. J Lab Clin Med 70:158–169

Chaudiére J, Gerard D (1988) Dosage de l'activité glutathion-peroxydase. In: Mendy F (ed) Douste-Blazy L. Biologie des Lipides chez l'Homme, Paris

Bradford MM (1976) A rapid and sensitive method for the quantitation of microgram quantities of protein utilizing the principle of protein dye-binding method. Anal Biochem 72:248–254

Lottenberg AM, da Silva Afonso M, Ferrari Lavrador MS, Machado RM, Nakandakare ER (2012) The role of dietary fatty acids in the pathology of metabolic syndrome. J Nutr Biochem 23:1027–1040

Oliart Ros RM, Torres-Márquez ME, Badillo A, Angulo Guerrero O (2001) Dietary fatty acids effects on sucrose-induced cardiovascular syndrome in rats. J Nutr Biochem 12:207–212

Matsumori R, Miazaki T, Shimada K, Kume A, Kitamura Y, Oshida K, Yanagisawa N, Kiyanagi T, Hiki M, Fukao K, Hirose K, Ohsaka H, Mokuno H, Daida H (2013) High level of very long-chain saturated fatty acid in erythrocytes correlates with atherogenic lipoprotein profiles in subjects with metabolic syndrome. Diabetes Res Clin Pr 99:12–18

Jans A, van Hees AMJ, Gjelstad IMF, Sparks LM, Tierney AC, Risérus U, Drevon CA, Schrauwen P, Roche HM, Blaak EE (2012) Impact of dietary fat quantity and quality on skeletal muscle fatty acid metabolism in subjects with the metabolic syndrome. Metabolism 61:1554–1565

Richard C, Royer MM, Couture P, Cianflone K, Rezvani R, Desroches S, Lamarche B (2013) Effect of the Mediterranean diet on plasma adipokine concentrations in men with metabolic syndrome. Metabolism 62:1803–1810

Djoussé L, Akinkuolie AO, Wu JHY, Ding EL, Gaziano JM (2012) Fish consumption, omega-3 fatty acids and risk of heart failure: a meta-analysis. Clin Nutr 31:846–853

Buckley JD, Howe RP (2009) Anti-obesity effects of long-chain omega-3 polyunsaturated fatty acids. Obes Rev 10:648–659

Hotamisligil GS, Shargill NS, Spiegelman BM (1993) Adipose expression of tumor necrosis factor-alpha: direct role in obesity induced inflammation. Science 259:87–91

Yates CM, Calder PC, Rainger GE (2014) Pharmacology and therapeutics of omega-3 polyunsaturated fatty acids in chronic inflammatory disease. Pharmacol Therapeutic 141:272–282

Titos E, Clària J (2013) Omega-3-derived mediators counteract obesity-induced adipose tissue inflammation. Prostaglandins Other Lipid Mediat 107:77–84

Munro IA, Garg ML (2013) Dietary supplementation with long chain omega-3 polyunsaturated fatty acids and weight loss in obese adults. Obes Res Clin Pr 7:173–181

Walrand S, Fish F, Bourre JM (2010) Tous les acides gras saturés ont-ils le même effet métabolique? Nutr Clin Metabol 24:63–75

Adkins Y, Kelley DS (2010) Mechanisms underlying the cardioprotective effects of omega-3 polyunsaturated fatty acids. J Nutr Biochem 21:781–792

Guihéneuf F, Fouqueray M, Mimouni V, Ulmann L, Jacquette B, Morant-Manceau A, Tremblin G (2010) Effect of UV stress on the fatty acid and lipid class composition in two marine microalgae Pavlova lutheri (Pavlovophyceae) and Odontella aurita (Bacillariophyceae). J Appl Phycol 22:629–638

Matsuzawa-Nagata N, Takamura T, Ando H, Nakamura S, Kurita S, Misu H, Yokoyama M, Honda M, Miyamoto KI, Kaneko S (2008) Increased oxidative stress precedes the onset of high-fat diet-induced insulin resistance and obesity. Metab Clin Exp 57:1071–1077

Robert CK, Barnard RJ, Sindhu RK, Jurczak M, Ehdaie A, Vaziri ND (2006) Oxidative stress and dysregulation of NAD(P)H oxidase and antioxidant enzymes in diet induced metabolic syndrome. Metabolism 55:928–934

Xia S, Wang K, Wan L, Li A, Hu Q, Zhang C (2013) Production, characterization, and antioxidant activity of fucoxanthin from marine diatom Odontella aurita. Mar Drugs 11:2667–2681

Peng J, Yuan JP, Wu CF, Wang JH (2011) Fucoxanthin, a marine carotenoid present in brown seaweeds and diatoms: metabolism and bioactivities relevant to human health. Mar Drugs 9:1806–1828

Goodnight SH, Harris WS, Connor WE (1981) The effects of dietary omega-3 fatty acids on platelet composition and function in man: a prospective, controlled study. Blood 58:880–885

Milionis HJ, Elisaf MS, Mikhailidis DP (1999) Platelet function and lipid-lowering interventions. Platelets 10:357–367

Archer SI, Green D, Chamberlain M, Dyer AR, Liu K (1998) Association of dietary fish and n-3 fatty acids intake with hemostatic factors in the coronary artery risk development in young adults (CARDIA) study. Arterioscler Thromb Vasc Biol 18:1119–11123

Von Schacky C, Fischer S, Weber PC (1985) Long-term effects of dietary marine omega-3 fatty acids upon plasma and cellular lipids, platelet function, and eicosanoid formation in humans. J Clin Invest 76(4):1626–1631

Knapp HR, Reilly IA, Alessandrini P, Fitzgerald GA (1986) In vivo indexes of platelet and vascular function during fish-oil administration in patients with atherosclerosis. The New Engl J Med 314(15):937–942

Véricel E, Calzada C, Chapuy P, Lagarde M (1999) The influence of n-3 fatty acids on platelets in elderly people. Atherosclerosis 147(1):187–192

Axelrod L, Camuso J, Williams E, Kleinman K, Briones E, Schoenfeld D (1994) Effects of a small quantity of omega-3 fatty acids on cardiovascular risk factors in NIDDM. A randomized, prospective, double-blind, controlled study. Diabetes Care 17:37–44

Mori TA, Beilin LJ, Burke V, Morris J, Ritchie J (1997) Interactions between dietary fat, fish, and fish oils and their effects on platelet function in men at risk of cardiovascular disease. Arterioscler Thromb Vasc Biol 17:279–286

Tamura Y, Hirai A, Terano T, Yoshida S, Takenaga M, Kitagawa H (1987) Anti-thrombotic and anti-atherogenic action of eicosapentaenoic acid. Jpn Circ J 51(4):471–477

Wensing AG, Mensink RP, Hornstra G (1999) Effects of dietary n-3 polyunsaturated fatty acids from plant and marine origin on platelet aggregation in healthy elderly subjects. Br J Nutr 82:183–191

Prisco D, Filippini M, Francalanci I, Paniccia R, Gensini GF, Neri Serneri GG (1995) Effect of n-3 fatty acid ethyl ester supplementation on fatty acid composition of the single platelet phospholipids and on platelet functions. Metabolism 44:562–569

Das UN (1995) Essential fatty acid metabolism in patients with essential hypertension diabetes mellitus and coronary heart diseases. Prostaglandins Leukot Essent Fatty Acids 52:387–391

Hornstra G, Rand ML (1986) Influence of dietary lipids on platelet-vessel wall interaction: possible role of eicosanoids and platelet membrane fluidity. Haemostasis 16:41–42
Acknowledgments
This study was supported by the PHC-Volubilis program No MA/21/61 with joint financial support from the French Foreign Affairs Ministry, the Moroccan Ministry of Research and Higher Education and the FP 7 European Project GIAVAP (Genetic Improvement of Algae for Value Added Products). The authors also thank M. Ghosh for reviewing the English text in the first version of the manuscript.
Ethics declarations
Conflict of interest
The authors declare that they do not have any conflict of interest.
About this article
Cite this article
Haimeur, A., Mimouni, V., Ulmann, L. et al. Fish Oil and Microalga Omega-3 as Dietary Supplements: A Comparative Study on Cardiovascular Risk Factors in High-Fat Fed Rats. Lipids 51, 1037–1049 (2016). https://doi.org/10.1007/s11745-016-4177-2
Received:

Accepted:

Published:

Issue Date:

DOI: https://doi.org/10.1007/s11745-016-4177-2
Keywords