Abstract
Mucositis affects about 40 % of patients undergoing chemotherapy. Short chain fatty acids (SCFA), mainly butyrate, are claimed to improve mucosal integrity, reduce intestinal permeability and act as anti-inflammatory agents for the colon mucosa. We evaluated the effects of oral administration of SCFA or butyrate in the 5FU-induced mucositis. Mice received water, SCFA or butyrate during all experiment (10 days) and a single dose of 5FU (200 mg/kg) 3 days before euthanasia. We evaluated inflammatory and histological score by morphometry, and by activity of enzymes specific to neutrophil, eosinophil and macrophage and TLR-4, TNF-alpha and IL6 expressions. Intestinal permeability and tight junction protein ZO-1 expression were evaluated. Mice from the 5FU (5-Fluorouracil) group presented weight loss, ulcerations and inflammatory infiltration of neutrophils and eosinophils, increased expression of IL6 and TNF-alpha and increased intestinal permeability. SCFA minimized intestinal damage, reduced ulcerations without affecting intestinal permeability. Butyrate alone was more efficient at improving those parameters than in SCFA solution and also reduced intestinal permeability. The expression of pro-inflammatory cytokines and ZO-1 tended to be higher in the SCFA supplemented but not in the butyrate supplemented group. We showed the beneficial effects of butyrate on intestinal mucositis and its promising function as an adjuvant in the treatment of diseases not only of the colon, but also of the small intestine.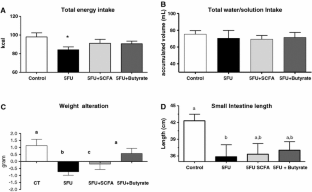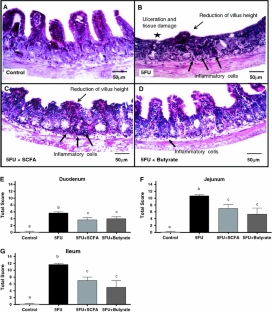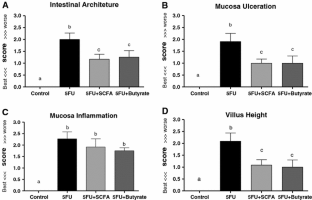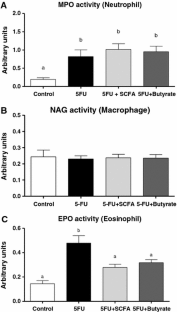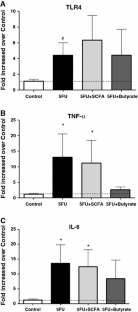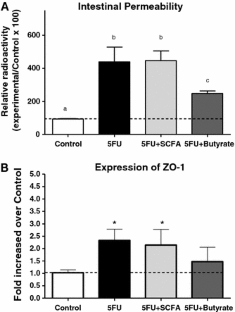 Abbreviations
5FU:

5-Fluorouracil

CCL2/MCP-1:

Monocyte chemotactic protein-1

DMSO:

Dimethyl sulfoxide

DTPA:

Diethyleneaminopentacetic acid

EPO:

Eosinophil peroxidase

GLP-2:

Glucagon-like peptide-2

MCT:

Monocarboxylate transporters

MPO:

Myeloperoxidase

NAG:

N-Acetylglucosaminidase

SCFA:

Short-chain fatty acid

TJ:

Tight junctions

(ZO)-1:

Zonula occludens-1
References
1.

Bergman EN (1990) Energy contributions of volatile fatty acids from the gastrointestinal tract in various species. Physiol Rev 70:567–590

2.

Blijlevens NM, Van't Land B, Donnelly JP, M'Rabet L, de Pauw BE (2004) Measuring mucosal damage induced by cytotoxic therapy. Support Care Cancer 12:227–233

3.

Broughton G 2nd, Janis JE, Attinger CE (2006) The basic science of wound healing. Plast Reconstr Surg 117:12S–34S

4.

Chu E, Sartorelli AC (2012) Cancer chemotherapy. In: Katzung BG, Masters SB, Trevor AJ (eds) Basic and clinical pharmacology, chap 54, 12th edn. McGraw-Hill, New York

5.

Desmoulin F, Canioni P, Cozzone PJ (1985) Glutamate–glutamine metabolism in the perfused rat liver. 13C-NMR study using (2-13C)-enriched acetate. FEBS Lett 185:29–32

6.

Duee PH, Darcy-Vrillon B, Blachier F, Morel MT (1995) Fuel selection in intestinal cells. Proc Nutr Soc 54:83–94

7.

Generoso SV, Viana M, Santos R, Martins FS, Machado JA, Arantes RM, Nicoli JR, Correia MI, Cardoso VN (2010) Saccharomyces cerevisiae strain UFMG 905 protects against bacterial translocation, preserves gut barrier integrity and stimulates the immune system in a murine intestinal obstruction model. Arch Microbiol 192:477–484

8.

Guilloteau P, Martin L, Eeckhaut V, Ducatelle R, Zabielski R, Van Immerseel F (2010) From the gut to the peripheral tissues: the multiple effects of butyrate. Nutr Res Rev 23:366–384

9.

Guilloteau P, Savary G, Jaguelin-Peyrault Y, Rome V, Le Normand L, Zabielski R (2010) Dietary sodium butyrate supplementation increases digestibility and pancreatic secretion in young milk-fed calves. J Dairy Sci 93:5842–5850

10.

Hamer HM, Jonkers D, Venema K, Vanhoutvin S, Troost FJ, Brummer RJ (2008) Review article: the role of butyrate on colonic function. Aliment Pharmacol Ther 27:104–119

11.

Hinnebusch BF, Meng S, Wu JT, Archer SY, Hodin RA (2002) The effects of short-chain fatty acids on human colon cancer cell phenotype are associated with histone hyperacetylation. J Nutr 132:1012–1017

12.

Hornby PJ, Moore BA (2011) The therapeutic potential of targeting the glucagon-like peptide-2 receptor in gastrointestinal disease. Expert Opin Ther Targets 15:637–646

13.

Hudcovic T, Kolinska J, Klepetar J, Stepankova R, Rezanka T, Srutkova D, Schwarzer M, Erban V, Du Z, Wells JM, Hrncir T, Tlaskalova-Hogenova H, Kozakova H (2012) Protective effect of Clostridium tyrobutyricum in acute dextran sodium sulphate-induced colitis: differential regulation of tumour necrosis factor-alpha and interleukin-18 in BALB/c and severe combined immunodeficiency mice. Clin Exp Immunol 167:356–365

14.

Kinoshita M, Suzuki Y, Saito Y (2002) Butyrate reduces colonic paracellular permeability by enhancing PPARgamma activation. Biochem Biophys Res Commun 293:827–831

15.

Luhrs H, Gerke T, Muller JG, Melcher R, Schauber J, Boxberge F, Scheppach W, Menzel T (2002) Butyrate inhibits NF-kappaB activation in lamina propria macrophages of patients with ulcerative colitis. Scand J Gastroenterol 37:458–466

16.

Martinez C, Vicario M, Ramos L, Lobo B, Mosquera JL, Alonso C, Sanchez A, Guilarte M, Antolin M, de Torres I, Gonzalez-Castro AM, Pigrau M, Saperas E, Azpiroz F, Santos J (2012) The jejunum of diarrhea-predominant irritable bowel syndrome shows molecular alterations in the tight junction signaling pathway that are associated with mucosal pathobiology and clinical manifestations. Am J Gastroenterol

17.

Melo ML, Brito GA, Soares RC, Carvalho SB, Silva JV, Soares PM, Vale ML, Souza MH, Cunha FQ, Ribeiro RA (2008) Role of cytokines (TNF-alpha, IL-1beta and KC) in the pathogenesis of CPT-11-induced intestinal mucositis in mice: effect of pentoxifylline and thalidomide. Cancer Chemother Pharmacol 61(5):775–784

18.

Ohata A, Usami M, Miyoshi M (2005) Short-chain fatty acids alter tight junction permeability in intestinal monolayer cells via lipoxygenase activation. Nutrition 21:838–847

19.

Peng L, He Z, Chen W, Holzman IR, Lin J (2007) Effects of butyrate on intestinal barrier function in a Caco-2 cell monolayer model of intestinal barrier. Pediatr Res 61:37–41

20.

Ramos MG, Bambirra EA, Cara DC, Vieira EC, Alvarez-Leite JI (1997) Oral administration of short-chain fatty acids reduces the intestinal mucositis caused by treatment with Ara-C in mice fed commercial or elemental diets. Nutr Cancer 28:212–217

21.

Rothenberg ME (2004) Eosinophilic gastrointestinal disorders (EGID). J Allergy Clin Immunol 113:11–28 quiz 29

22.

Sanderson IR (2007) Dietary modulation of GALT. J Nutr 137:2557S–2562S

23.

Sappington PL, Han X, Yang R, Delude RL, Fink MP (2003) Ethyl pyruvate ameliorates intestinal epithelial barrier dysfunction in endotoxemic mice and immunostimulated caco-2 enterocytic monolayers. J Pharmacol Exp Ther 304:464–476

24.

Soares PM, Mota JM, Gomes AS, Oliveira RB, Assreuy AM, Brito GA, Santos AA, Ribeiro RA, Souza MH (2008) Gastrointestinal dysmotility in 5-fluorouracil-induced intestinal mucositis outlasts inflammatory process resolution. Cancer Chemother Pharmacol 63:91–98

25.

Souba WW, Scott TE, Wilmore DW (1985) Intestinal consumption of intravenously administered fuels. JPEN J Parenter Enteral Nutr 9:18–22

26.

Turner JR (2009) Intestinal mucosal barrier function in health and disease. Nat Rev Immunol 9:799–809

27.

Van Deun K, Pasmans F, Van Immerseel F, Ducatelle R, Haesebrouck F (2008) Butyrate protects Caco-2 cells from Campylobacter jejuni invasion and translocation. Br J Nutr 100:480–484

28.

Vieira EL, Leonel AJ, Sad AP, Beltrao NR, Costa TF, Ferreira TM, Gomes-Santos AC, Faria AM, Peluzio MC, Cara DC, Alvarez-Leite JI (2012) Oral administration of sodium butyrate attenuates inflammation and mucosal lesion in experimental acute ulcerative colitis. J Nutr Biochem (in press)

29.

Windmueller HG, Spaeth AE (1978) Identification of ketone bodies and glutamine as the major respiratory fuels in vivo for postabsorptive rat small intestine. J Biol Chem 253:69–76

30.

Xavier RJ, Podolsky DK (2007) Unravelling the pathogenesis of inflammatory bowel disease. Nature 448:427–434

31.

Yan BM, Shaffer EA (2009) Primary eosinophilic disorders of the gastrointestinal tract. Gut 58:721–732

32.

Yazbeck R, Howarth GS, Abbott CA (2009) Growth factor based therapies and intestinal disease: is glucagon-like peptide-2 the new way forward? Cytokine Growth Factor Rev 20:175–184
Acknowledgments
This study was supported by grants from the Conselho Nacional de Desenvolvimento Científico e Tecnologico (CNPq); Coordenação de Aperfeiçoamento de Nível Superior (CAPES), Fundação de Amparo a Pesquisa de Minas Gerais (FAPEMIG) e Pro-Reitoria de Pesquisa (PRPq) da UFMG. The authors are grateful to Maria Helena Alves, for taking care of the animals.
Conflict of interest
The authors declare that they have no conflict of interest.
About this article
Cite this article
Ferreira, T.M., Leonel, A.J., Melo, M.A. et al. Oral Supplementation of Butyrate Reduces Mucositis and Intestinal Permeability Associated with 5-Fluorouracil Administration. Lipids 47, 669–678 (2012). https://doi.org/10.1007/s11745-012-3680-3
Received:

Accepted:

Published:

Issue Date:
Keywords
Mucositis

Inflammation

Short-chain fatty acids

Butyrate

5-Fluorouracil

Lipids