Abstract
In contrast to the consumption of long-chain triacylglycerols (LCT), consumption of medium- and long-chain triacylglycerols (MLCT) reduces the body fat and blood triacylglycerols (TAG) level in hypertriacylglycerolemic Chinese individuals. These responses may be affected by BMI because of obesity-induced insulin resistance. We aimed to compare the effects of consuming MLCT or LCT on reducing body fat and blood TAG level in hypertriacylglycerolemic Chinese subjects with different ranges of BMI. Employing a double-blind, randomized and controlled protocol, 101 hypertriacylglycerolemic subjects (including 67 men and 34 women) were randomly allocated to ingest 25–30 g/day MLCT or LCT oil as the only cooking oil for 8 consecutive weeks. Anthropometric measurements of body weight, BMI, body fat, WC, HC, blood biochemical variables, and subcutaneous fat area and visceral fat area in the abdomen were measured at week 0 and 8. As compared to subjects with BMI 24–28 kg/m2 in the LCT group, corresponding subjects in the MLCT group showed significantly greater decrease in body weight, BMI, body fat, WC, ratio of WC to HC, total fat area and subcutaneous fat area in the abdomen, as well as blood TAG and LDL-C levels at week 8. Based upon our results, consumption of MLCT oil may reduce body weight, body fat, and blood TAG and LDL-C levels in overweight hypertriacylglycerolemic Chinese subjects but may not induce these changes in normal or obese hypertriacylglycerolemic subjects.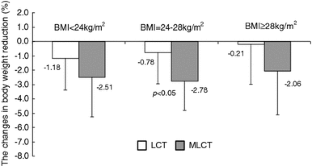 Abbreviations
ALT:

Alanine aminotransferase

AST:

Aspartate aminotransferase

BMI:

Body mass index

HC:

Hip circumference

HDL-C:

High-density lipoprotein-cholesterol

LCT:

Long-chain triacylglycerols

LDL-C:

Low-density lipoprotein-cholesterol

MLCT:

Medium- and long-chain triacylglycerols

SFA:

Subcutaneous fat area

TAG:

Triacylglycerols

TFA:

Total fat area

VFA:

Visceral fat area

WC:

Waist circumference

WHR:

Ratio of waist circumference to hip circumference
References
1.

Chen CM, Zhao W, Yang Z, Zhai Y, Wu Y, Kong L (2008) The role of dietary factors in chronic disease control in China. Obes Rev 9:100–103

2.

Zhao W, Zhai Y, Hu J, Wang J, Yang Z, Kong L, Chen C (2008) Economic burden of obesity-related chronic diseases in Mainland China. Obes Rev 9(Suppl 1):62–67

3.

Yuan G, Al-Shali KZ, Hegele RA (2007) Hypertriglyceridemia: its etiology, effects and treatment. CMAJ 176:1113–1120

4.

Zhou B, Wu Y, Yang J, Li Y, Zhang H, Zhao L (2002) Overweight is an independent risk factor for cardiovascular disease in Chinese populations. Obes Rev 3:147–156

5.

Moussavi N, Gavino V, Receveur O (2008) Could the quality of dietary fat, and not just its quantity, be related to risk of obesity? Obes (Silver Spring) 16:7–15

6.

Babayan VK (1987) Medium chain triglycerides and structured lipids. Lipids 22:417–420

7.

Hashim SA, Tantibhedyangkul P (1987) Medium chain triglyceride in early life: effects on growth of adipose tissue. Lipids 22:429–434

8.

Tsuji H, Kasai M, Takeuchi H, Nakamura M, Okazaki M, Kondo K (2001) Dietary medium-chain triacylglycerols suppress accumulation of body fat in a double-blind, controlled trial in healthy men and women. J Nutr 131:2853–2859

9.

Han JR, Deng B, Sun J, Chen CG, Corkey BE, Kirkland JL, Ma J, Guo W (2007) Effects of dietary medium-chain triglyceride on weight loss and insulin sensitivity in a group of moderately overweight free-living type 2 diabetic Chinese subjects. Metabolism 56:985–991

10.

Ogawa A, Nosaka N, Kasai M, Aoyama T, Okazaki M, Igarashi O, Kondo K (2007) Dietary medium- and long-chain triacylglycerols accelerate diet-induced thermogenesis in humans. J Oleo Sci 56:283–287

11.

Xue C, Liu Y, Wang J, Zhang R, Zhang Y, Zhang J, Zhang Y, Zheng Z, Yu X, Jing H, Nosaka N, Arai C, Kasai M, Aoyama T, Wu J (2009) Consumption of medium- and long-chain triacylglycerols decreases body fat and blood triglyceride in Chinese hypertriglyceridemic subjects. Eur J Clin Nutr 63:879–886

12.

Westphal SA (2008) Obesity, abdominal obesity, and insulin resistance. Clin Cornerstone 9:23–31

13.

Zhou B, Cooperative Meta-analysis Group of China Obesity Task Force (2002) Predictive values of body mass index and waist circumference to risk factors of related disease in Chinese adult population. Zhonghua Liu Xing Bing Xue Za Zhi 23:5–10

14.

Tokunaga K, Matsuzawa Y, Ishikawa K, Tarui S (1983) A novel technique for the determination of body fat by computed tomography. Int J Obes 7:437–445

15.

St-Onge MP, Ross R, Parsons WD, Jones PJ (2003) Medium-chain triglycerides increase energy expenditure and decrease adiposity in overweight men. Obes Res 11:395–402

16.

Nosaka N, Maki H, Suzuki Y, Haruna H, Ohara A, Kasai M, Tsuji H, Aoyama T, Okazaki M, Igarashi O, Kondo K (2003) Effects of margarine containing medium-chain triacylglycerols on body fat reduction in humans. J Atheroscler Thromb 10:290–298

17.

Kasai M, Nosaka N, Maki H, Negishi S, Aoyama T, Nakamura M, Suzuki Y, Tsuji H, Uto H, Okazaki M, Kondo K (2003) Effect of dietary medium- and long-chain triacylglycerols (MLCT) on accumulation of body fat in healthy humans. Asia Pac J Clin Nutr 12:151–160

18.

Yost TJ, Eckel RH (1989) Hypocaloric feeding in obese women: metabolic effects of medium-chain triglyceride substitution. Am J Clin Nutr 49:326–330

19.

Scalfi L, Coltorti A, Contaldo F (1991) Postprandial thermogenesis in lean and obese subjects after meals supplemented with medium-chain and long-chain triglycerides. Am J Clin Nutr 53:1130–1133

20.

Binnert C, Pachiaudi C, Beylot M, Hans D, Vandermander J, Chantre P, Riou JP, Laville M (1998) Influence of human obesity on the metabolic fate of dietary long- and medium-chain triacylglycerols. Am J Clin Nutr 67:595–601

21.

St-Onge MP, Jones PJ (2003) Greater rise in fat oxidation with medium-chain triglyceride consumption relative to long-chain triglyceride is associated with lower initial body weight and greater loss of subcutaneous adipose tissue. Int J Obes Relat Metab Disord 27:1565–1571

22.

Noguchi O, Takeuchi H, Kubota F, Tsuji H, Aoyama T (2002) Larger diet-induced thermogenesis and less body fat accumulation in rats fed medium-chain triacylglycerols than in those fed long-chain triacylglycerols. J Nutr Sci Vitaminol (Tokyo) 48:524–529

23.

Rothwell NJ, Stock MJ (1987) Stimulation of thermogenesis and brown fat activity in rats fed medium chain triglyceride. Metabolism 36:128–130

24.

Baba N, Bracco EF, Hashim SA (1987) Role of brown adipose tissue in thermogenesis induced by overfeeding a diet containing medium chain triglyceride. Lipids 22:442–444

25.

Young JB, Walgren MC (1994) Differential effects of dietary fats on sympathetic nervous system activity in the rat. Metabolism 43:51–60

26.

Hill JO, Peters JC, Swift LL, Yang D, Sharp T, Abumrad N, Greene HL (1990) Changes in blood lipids during six days of overfeeding with medium or long chain triglycerides. J Lipid Res 31:407–416

27.

Roynette CE, Rudkowska I, Nakhasi DK, Jones PJ (2007) Structured medium and long chain triglycerides show short-term increases in fat oxidation, but no changes in adiposity in men. Nutr Metab Cardiovasc Dis 18:298–305

28.

St-Onge MP, Bourque C, Jones PJ, Ross R, Parsons WE (2003) Medium- versus long-chain triglycerides for 27 days increases fat oxidation and energy expenditure without resulting in changes in body composition in overweight women. Int J Obes Relat Metab Disord 27:95–102

29.

Shinohara H, Wu J, Kasai M, Aoyama T (2006) Randomly interesterified triacylglycerol containing medium- and long-chain fatty acids stimulates fatty acid metabolism in white adipose tissue of rats. Biosci Biotechnol Biochem 70:2919–2926

30.

Kasai M, Maki H, Nosaka N, Aoyama T, Ooyama K, Uto H, Okazaki M, Igarashi O, Kondo K (2003) Effect of medium-chain triglycerides on the postprandial triglyceride concentration in healthy men. Biosci Biotechnol Biochem 67:46–53

31.

Takeuchi H, Kasai M, Taguchi N, Tsuji H, Suzuki M (2002) Effect of triacylglycerols containing medium- and long-chain fatty acids on serum triacylglycerol levels and body fat in college athletes. J Nutr Sci Vitaminol (Tokyo) 48:109–114

32.

Takase S, Morimoto A, Nakanishi M, Muto Y (1977) Long-term effect of medium-chain triglyceride on hepatic enzymes catalyzing lipogenesis and cholesterogenesis in rats. J Nutr Sci Vitaminol (Tokyo) 23:43–51

33.

Tsai YH, Park S, Kovacic J, Snook JT (1999) Mechanisms mediating lipoprotein responses to diets with medium-chain triglyceride and lauric acid. Lipids 34:895–905

34.

Cater NB, Heller HJ, Denke MA (1997) Comparison of the effects of medium-chain triacylglycerols, palm oil, and high oleic acid sunflower oil on plasma triacylglycerol fatty acids and lipid and lipoprotein concentrations in humans. Am J Clin Nutr 65:41–45

35.

Temme EH, Mensink RP, Homstra G (1997) Effects of medium chain fatty acids (MCFA), myristic acid, and oleic acid on serum lipoproteins in healthy subjects. J Lipid Res 38:1746–1754
Acknowledgments
This work was supported by the Nisshin Oillio Company. Authors are grateful to Dr. Akira Seto and Ms. Kaori Nakajima for technical support. We also gratefully acknowledge the dedicated volunteers who participated in this project.
Conflict of interest statement
None of the authors have any conflicts of interest.
About this article
Cite this article
Zhang, Y., Liu, Y., Wang, J. et al. Medium- and Long-Chain Triacylglycerols Reduce Body Fat and Blood Triacylglycerols in Hypertriacylglycerolemic, Overweight but not Obese, Chinese Individuals. Lipids 45, 501–510 (2010). https://doi.org/10.1007/s11745-010-3418-z
Received:

Accepted:

Published:

Issue Date:
Keywords
Medium-and long-chain triacylglycerols

Body fat

Blood triacylglycerols

Hypertriacylglycerolemia

Overweight

Chinese

Long-chain triacylglycerols