Abstract
A study was conducted in dogs to assess n-3 long chain polyunsaturated fatty acid incorporation after feeding an α-linolenic (ALA)-rich flaxseed supplemented diet (FLX) for 84 days. Serum total phospholipids (PL), triacylglycerol (TG), and cholesteryl esters (CE) were isolated at selected times and fatty acid methyl esters were analyzed. Increased LA was seen in the FLX-PL fraction after 28 days and an expected decrease in PL–AA. Enrichment of ALA, eicosapentaenoic acid (EPA) and docosapentaenoic acid n-3 (DPAn-3) in the FLX-group occurred early on (day 4) in both PL and TG fractions but no docosahexaenoic acid (DHA) was found, consistent with data from other species including humans. In contrast, no accumulation of DPAn-3 was seen in serum-CE, suggesting that this fatty acid does not participate in reverse-cholesterol transport. The accumulation of DPAn-3 in fasting PL and TG fractions is likely due to post-absorptive secretion after tissue synthesis. Because conversion of DPAn-3 to DHA occurs in canine neurologic tissues, this DPAn-3 may provide a circulating reservoir for DHA synthesis in such tissues. The absence of DPAn-3 in serum-CE suggests that such transport may be unidirectional. Although conversion of DPAn-3 to DHA is slow in most species, one-way transport of DPAn-3 in the circulation may help conserve this fatty acid as a substrate for DHA synthesis in brain and retinal tissues especially when dietary intakes of DHA are low.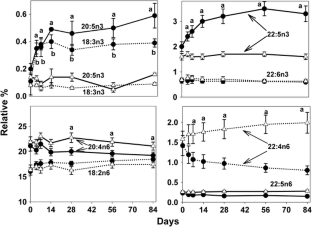 Abbreviations
AA:

Arachidonic acid

ALA:

Alpha-linolenic acid

CE:

Serum cholesteryl ester fraction

DHA:

Docosahexaenoic acid

DPAn-3:

Docosapentaenoic acid, n-3

EDTA:

Ethylenediaminetetraacetic acid

EPA:

Eicosapentaenoic acid

FLX:

Flax seed supplemented diet

LA:

Linoleic acid

PL:

Serum phospholipid fraction

SUN:

Sunflower seed supplemented diet

TG:

Serum triacylglycerol fraction
References
1.

Burr ML, Fehily AM, Gilbert JF, Rogers S, Holliday RM, Sweetnam PM, Elwod PC, Deadman NM (1989) Effects of changes in fat, fish, and fibre intakes on death and myocardial reinfarction: diet and reinfarction trial (DART). Lancet 2:757–761

2.

DeLorgeril M, Salen P, Martin JL, Monjaud I, Delaye J, Mamelle N (1999) Mediterranean diet, traditional risk factors, and the rate of cardiovascular complications after myocardial infarction; final report of the Lyon Diet Heart Study. Circulation 99:779–785

3.

Wang C, Harris WS, Chung MM, Lichtenstein AH, Balk EM, Kupelnick B, Jordan HS, Lau J (2006) Fatty acids from fish or fish-oil supplements, but not linolenic acid, benefit cardiovascular disease outcomes in primary and secondary prevention studies; a systematic review. Am J Clin Nutr 83:5–17

4.

Sinclair AJ (1975) Long chain polyunsaturated fatty acids in the mammalian brain. Proc Nutr Soc 34:287–291

5.

Anderson GJ, Connor WE, Corliss JD (1990) Docosahexaenoic acid is the preferred dietary n-3 fatty acid for the development of the brain, retina. Pediatr Res 27:89–97

6.

Jeffrey BG, Mitchell DC, Gibson RA, Neuringer M (2002) n-3 Fatty acid deficiency alters recovery of the rod photoresponse in rhesus monkeys. Invest Ophthalmol Vis Sci 43:2806–2814

7.

James MJ, Gibson RA, Cleland LG (2000) Dietary polyunsaturated fatty acids and inflammatory mediator production. Am J Clin Nutr 71:343S–348S

8.

Calder PC (2002) Dietary modification of inflammation with lipids. Proc Nutr Soc 61:345–358

9.

Lee TH, Hoover RL, Williams JD, Sperling RI, Ravalese J 3rd, Spur BW, Robinson DR, Corey EJ, Lewis RA, Austen KF (1985) Effect of dietary enrichment with eicosapentaenoic and docosahexaenoic acids on in vitro neutrophil and monocyte leukotriene generation and neutrophil function. New Eng J Med 312:1217–1224

10.

Voss A, Reinhart M, Sankarappa S, Sprecher H (1991) The metabolism of 7, 10, 13, 16, 19-docosapentaenoic acid to 4, 7, 10, 13, 16, 19-docosahexaenoic acid in rat liver is independent of a 4-desaturase. J Biol Chem 266:19995–20000

11.

Kris-Etherton PM, Harris WS, Appel LJ (2002) Fish consumption, fish oil, n-3 fatty acids, and cardiovascular disease. Circulation 106:2747–2757

12.

Krauss RM, Eckel RH, Howard B, Appel LJ, Daniels SR, Deckelbaum RJ, Erdman JW Jr, Kris-Etherton P, Goldberg IJ, Kotchen TA, Lichtenstein AH, Mitch WE, Mullis R, Robinson K, Wylie-Rosett J, Jeor S, Suttie J, Tribble DL, Bazzarre TL (2000) AHA dietary guidelines: revision 2000: a statement for healthcare professionals from the Nutrition Committee of the American Heart Association. Stroke 31:2751–2766

13.

Crawford MA, Casperal NM, Sinclair AJ (1978) The long chain metabolites of linoleic and linolenic acids in liver and brain in herbivores and carnivores. Comp Biochem Physiol 54B:395–401

14.

Zhao G, Etherton TD, Martin KR, West SG, Gillies PJ, Kris-Etherton PM (2004) Dietary alpha-linolenic acid reduces inflammatory and lipid cardiovascular risk factors in hypercholesterolemic men and women. J Nutr 134:2991–2997

15.

Caughey GE, Mantzioris E, Gibson RA, Cleland LG, James MJ (1996) The effect on human tumor necrosis factor α and interleukin 1β production of diets enriched in n-3 fatty acids from vegetable or fish oil. Am J Clin Nutr 63:116–122

16.

Zhao G, Etherton TD, Martin KR, Gillies PJ, West SG, Kris-Etherton PM (2007) Dietary α-linolenic acid inhibits proinflammatory cytokine production by peripheral blood mononuclear cells in hypercholesterolemic subjects. Am J Clin Nutr 85:385–391

17.

Stark AH, Crawford MA, Reifen R (2008) Update on alpha-linolenic acid. Nutr Rev 66:326–332

18.

Leaf A, Kang JX, Xiao YF, Billman GE (2003) Clinical prevention of sudden cardiac death by n-3 polyunsaturated fatty acids and mechanism of prevention of arrhythmias by n-3 fish oils. Circulation 107:2646–2652

19.

Dunbar BL, Bauer JE (2002) Conversion of essential fatty acid by delta-6 desaturase in dog liver microsomes. J Nutr 132:1701S–1703S

20.

Harris WS, DiRienzo MA, Sands SA, George C, Jones PG, Eapen AK (2007) Stearidonic acid increases the red blood cell and heart eicosapentaenoic acid content in dogs. Lipids 42:325–333

21.

Bauer JE, Dunbar BL, Bigley KE (1998) Dietary flaxseed in dogs results in differential transport and metabolism of (n-3) polyunsaturated fatty acids. J Nutr 128:2641S–2644S

22.

Lands WEM, Libelt B, Morris A, Kramer NC, Prewitt TE, Bowen P, Schmeisser D, Davidson MH, Burns JH (1992) Maintenance of lower proportions of (n-6) eicosanoid precursors in phospholipids of human plasma in response to added dietary (n-3) fatty acids. Biochim Biophys Acta 1180:147–162

23.

Bauer JE, Waldron MK, Spencer AL, Hannah SS (2002) Predictive equations for the quantitation of polyunsaturated fats in dog plasma and neutrophils from dietary fatty acid profiles. J Nutr 132:1642S–1645S

24.

Marangoni F, Colombo C, Martiello A, Poli A, Paoletti R, Galli C (2007) Level of the n-3 fatty acid eicosapentaenoic acid in addition to those of alpha linolenic acid are significantly raised in blood lipids by the intake of four walnuts a day in humans. Nutr Metab Cardiovasc Dis 17:457–461

25.

Brenna JT, Salem N Jr, Sinclair AJ, Cunnane SC, International Society for the Study of Fatty Acids, Lipids, ISSFAL (2009) Alpha-linolenic acid supplementation and conversion to n-3 long-chain polyunsaturated fatty acids in humans. Prostaglandins Leukot Essent Fatty Acids 80:85–91

26.

Heinemann KM, Waldron MK, Bigley KE, Lees GE, Bauer JE (2005) Long-chain (n-3) polyunsaturated fatty acids are more efficient than α-linolenic acid in improving electroretinogram response of puppies exposed during gestation, lactation, and weaning. J Nutr 135:1960–1966

27.

Rapoport SI, Rao JS, Igarashi M (2007) Brain metabolism of nutritionally essential polyunsaturated fatty acids depends on both the diet and the liver. Prostaglandins Leukot Essent Fatty Acids 77:251–261

28.

Alvarez RA, Aguirre GD, Acland GM, Andreson RE (1994) Docosapentaenoic acid is converted to docosahexaenoic acid in the retinas of normal and prcd-affected Miniature Poodle dogs. Invest Vis Sci 35:402–408

29.

Pawlosky R, Barnes A, Salem N Jr (1994) Essential fatty acid metabolism in the feline: relationship between liver and brain production of long-chain polyunsaturated fatty acids. J Lipid Res 35:2032–2040

30.

National Research Council (NRC) (2006) Nutrient requirements of dogs and cats. National Academy Press, Washington, DC

31.

Simopoulos AP, Leaf A, Salem N Jr (2000) Workshop statement on the essentiality of and recommended dietary intakes for n-6 and n-3 fatty acids. Prostaglandins Leukot Essent Fatty Acids 63:119–121

32.

Executive Committee Report: (2004) Recommendation for intake of polyunsaturated fatty acids in healthy adults. International Society for the Study of Fatty Acids and Lipids. http://www.issfal.org.uk

33.

Bauer JE, McAlister KG, Rawlings JM, Markwell P (1997) Molecular species of cholesteryl esters formed via plasma lecithin:cholesterol acyltransferase in fish oil supplemented dogs. Nutr Res 17:861–872

34.

Subbaiah PV, Liu M (1996) Comparative studies on the substrate specificity of lecithin:cholesterol acyl transferase towards the molecular species of phosphatidyl choline in the plasm of 14 vertebrates. J Lipid Res 37:113–120

35.

Liu M, Bagdade JD, Subbaiah PV (1995) Specificity of lecithin:cholesterol acyl transferase and atherogenic risk: comparative studies on the plasma composition and in vitro synthesis of cholesteryl esters in 14 vertebrate species. J Lipid Res 36:1813–1824

36.

Kirby NA, Hester SL, Rees CA, Kennis RA, Zoran DL, Bauer JE (2009) Skin surface lipids and skin and hair coat condition in dogs fed increased total fat diets containing polyunsaturated fatty acids. J An Phys An Nutr 93:505–511

37.

Rees CA, Bauer JE, Burkholder WJ, Kennis RA, Dunbar BL, Bigley KE (2001) Effects of dietary flax seed and sunflower seed supplementation on normal canine serum polyunsaturated fatty acids and skin and hair coat condition scores. Vet Derm 12:111–117
Acknowledgments
This work was supported in part by Essential Nutrient Research Corp., Manitowoc, WI, USA and the Mark L. Morris Professorship in Clinical Nutrition at Texas A&M University.
About this article
Cite this article
Dunbar, B.L., Bigley, K.E. & Bauer, J.E. Early and Sustained Enrichment of Serum n-3 Long Chain Polyunsaturated Fatty Acids in Dogs Fed a Flaxseed Supplemented Diet. Lipids 45, 1–10 (2010). https://doi.org/10.1007/s11745-009-3364-9
Received:

Accepted:

Published:

Issue Date:
Keywords
Gas–liquid chromatography

Lipid analysis

Thin layer chromatography

Mammalian lipid biochemistry

Plasma lipids

Cholesteryl ester formation

Metabolism

n-3 Fatty acids

Nutrition