Abstract
We recently proposed that the biological markers improved by carbohydrate restriction were precisely those that define the metabolic syndrome (MetS), and that the common thread was regulation of insulin as a control element. We specifically tested the idea with a 12-week study comparing two hypocaloric diets (~1,500 kcal): a carbohydrate-restricted diet (CRD) (%carbohydrate:fat:protein = 12:59:28) and a low-fat diet (LFD) (56:24:20) in 40 subjects with atherogenic dyslipidemia. Both interventions led to improvements in several metabolic markers, but subjects following the CRD had consistently reduced glucose (−12%) and insulin (−50%) concentrations, insulin sensitivity (−55%), weight loss (−10%), decreased adiposity (−14%), and more favorable triacylglycerol (TAG) (−51%), HDL-C (13%) and total cholesterol/HDL-C ratio (−14%) responses. In addition to these markers for MetS, the CRD subjects showed more favorable responses to alternative indicators of cardiovascular risk: postprandial lipemia (−47%), the Apo B/Apo A-1 ratio (−16%), and LDL particle distribution. Despite a threefold higher intake of dietary saturated fat during the CRD, saturated fatty acids in TAG and cholesteryl ester were significantly decreased, as was palmitoleic acid (16:1n-7), an endogenous marker of lipogenesis, compared to subjects consuming the LFD. Serum retinol binding protein 4 has been linked to insulin-resistant states, and only the CRD decreased this marker (−20%). The findings provide support for unifying the disparate markers of MetS and for the proposed intimate connection with dietary carbohydrate. The results support the use of dietary carbohydrate restriction as an effective approach to improve features of MetS and cardiovascular risk.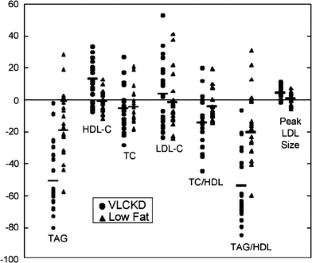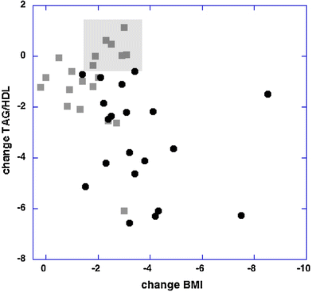 Abbreviations
Apo:

Apolipoprotein

CA-IMT:

Carotid artery intima-media thickness

CE:

Cholesteryl ester

CRD:

Carbohydrate-restricted diets

ChREBP:

Carbohydrate response element binding protein

DSL:

Diagnostics Systems Laboratory

HDL-C:

HDL cholesterol

LDL-C:

LDL cholesterol

LFD:

Low-fat diets

MetS:

Metabolic syndrome

NMR:

Nuclear magnetic resonance

PAGE:

Polyacrylamide gel electrophoresis

RBP4:

Retinol binding protein 4

SCD-1:

Stearoyl-coenzyme A desaturase 1

SFA:

Saturated fatty acid

SREBP1c:

Sterol response element binding protein

TAG:

Triacylglycerols
References
1.

Reaven GM (1988) Role of insulin resistance in human disease. Diabetes 37:1595–1607

2.

Grundy SM, Cleeman JI, Daniels SR, Donato KA, Eckel RH, Franklin BA, Gordon DJ, Krauss RM, Savage PJ, Smith SC Jr et al (2006) Diagnosis and management of the metabolic syndrome: an American Heart Association/National Heart, Lung, and Blood Institute scientific statement. Curr Opin Cardiol 21:1–6

3.

Haffner S, Cassells HB (2003) Metabolic syndrome—a new risk factor of coronary heart disease? Diabetes Obes Metab 5:359–370

4.

Dreon DM, Fernstrom HA, Williams PT, Krauss RM (1999) A very low-fat diet is not associated with improved lipoprotein profiles in men with a predominance of large, low-density lipoproteins. Am J Clin Nutr 69:411–418

5.

Krauss RM (2005) Dietary and genetic probes of atherogenic dyslipidemia. Arterioscler Thromb Vasc Biol 25(11):2265–2272

6.

Kahn R, Buse J, Ferrannini E, Stern M (2005) The metabolic syndrome: time for a critical appraisal: joint statement from the American Diabetes Association and the European Association for the Study of Diabetes. Diabetes Care 28:2289–2304

7.

Lomangino K (2008) Metabolic syndrome diagnosis: clinical value called questionable. Clin Nutr Insight 34:7–8

8.

Reaven GM (2005) The metabolic syndrome: requiescat in pace. Clin Chem 51:931–938

9.

Sattar N (2006) The metabolic syndrome: should current criteria influence clinical practice? Curr Opin Lipidol 17:404–411

10.

Sattar N, McConnachie A, Shaper AG, Blauw GJ, Buckley BM, de Craen AJ, Ford I, Forouhi NG, Freeman DJ, Jukema JW et al (2008) Can metabolic syndrome usefully predict cardiovascular disease and diabetes? Outcome data from two prospective studies. Lancet 371:1927–1935

11.

Bloomgarden ZT (2005) 2nd International Symposium on Triglycerides and HDL: metabolic syndrome. Diabetes Care 28:2577–2584

12.

Boden G, Homko C, Mozzoli M, Zhang M, Kresge K, Cheung P (2007) Combined use of rosiglitazone and fenofibrate in patients with type 2 diabetes: prevention of fluid retention. Diabetes 56:248–255

13.

Volek JS, Feinman RD (2005) Carbohydrate restriction improves the features of metabolic syndrome. Metabolic syndrome may be defined by the response to carbohydrate restriction. Nutr Metab (Lond) 2:31

14.

Volek JS, Fernandez ML, Feinman RD, Phinney SD (2008) Dietary carbohydrate restriction induces a unique metabolic state positively affecting atherogenic dyslipidemia, fatty acid partitioning, and metabolic syndrome. Prog Lipid Res 47:307–318

15.

Bloomgarden ZT (2005) Thiazolidinediones. Diabetes Care 28(2):488–493

16.

Devchand PR (2008) Glitazones and the cardiovascular system. Curr Opin Endocrinol Diabetes Obes 15:188–192

17.

Richter B, Bandeira-Echtler E, Bergerhoff K, Clar C, Ebrahim SH (2007) Rosiglitazone for type 2 diabetes mellitus. Cochrane Database Syst Rev CD006063

18.

Nielsen JV, Joensson EA (2008) Low-carbohydrate diet in type 2 diabetes: stable improvement of bodyweight and glycemic control during 44 months follow-up. Nutr Metab (Lond) 5:14

19.

Boden G, Sargrad K, Homko C, Mozzoli M, Stein TP (2005) Effect of a low-carbohydrate diet on appetite, blood glucose levels, and insulin resistance in obese patients with type 2 diabetes. Ann Intern Med 142:403–411

20.

Yancy WS Jr, Foy M, Chalecki AM, Vernon MC, Westman EC (2005) A low-carbohydrate, ketogenic diet to treat type 2 diabetes. Nutr Metab (Lond) 2:34

21.

Ahrens E Jr (1986) Carbohydrates, plasma triglycerides, and coronary heart disease. Nutr Rev 44:60–64

22.

Hellerstein MK (2002) Carbohydrate-induced hypertriglyceridemia: modifying factors and implications for cardiovascular risk. Curr Opin Lipidol 13:33–40

23.

Karam J, Nessim F, McFarlane S, Feinman R (2008) Carbohydrate restriction and cardiovascular risk. Curr Cardiovasc Risk Rep 2:88–94

24.

Tirosh A, Rudich A, Shochat T, Tekes-Manova D, Israeli E, Henkin Y, Kochba I, Shai I (2007) Changes in triglyceride levels and risk for coronary heart disease in young men. Ann Intern Med 147:377–385

25.

Feinman RD, Volek JS (2006) Low carbohydrate diets improve atherogenic dyslipidemia even in the absence of weight loss. Nutr Metab (Lond) 3:24

26.

Krauss RM, Blanche PJ, Rawlings RS, Fernstrom HS, Williams PT (2006) Separate effects of reduced carbohydrate intake and weight loss on atherogenic dyslipidemia. Am J Clin Nutr 83:1025–1031

27.

Forsythe CE, Phinney SD, Fernandez ML, Quann EE, Wood RJ, Bibus DM, Kraemer WJ, Feinman RD, Volek JS (2008) Comparison of low fat and low carbohydrate diets on circulating fatty acid composition and markers of inflammation. Lipids 43:65–77

28.

Graham TE, Kahn BB (2007) Tissue-specific alterations of glucose transport and molecular mechanisms of intertissue communication in obesity and type 2 diabetes. Horm Metab Res 39:717–721

29.

Graham TE, Yang Q, Bluher M, Hammarstedt A, Ciaraldi TP, Henry RR, Wason CJ, Oberbach A, Jansson PA, Smith U et al (2006) Retinol-binding protein 4 and insulin resistance in lean, obese, and diabetic subjects. N Engl J Med 354:2552–2563

30.

Yang Q, Graham TE, Mody N, Preitner F, Peroni OD, Zabolotny JM, Kotani K, Quadro L, Kahn BB (2005) Serum retinol binding protein 4 contributes to insulin resistance in obesity and type 2 diabetes. Nature 436:356–362

31.

Glickman SG, Marn CS, Supiano MA, Dengel DR (2004) Validity and reliability of dual-energy X-ray absorptiometry for the assessment of abdominal adiposity. J Appl Physiol 97:509–514

32.

Friedewald WT, Levy RI, Fredrickson DS (1972) Estimation of the concentration of low-density lipoprotein cholesterol in plasma, without use of the preparative ultracentrifuge. Clin Chem 18:499–502

33.

Matthews DR, Hosker JP, Rudenski AS, Naylor BA, Treacher DF, Turner RC (1985) Homeostasis model assessment: insulin resistance and beta-cell function from fasting plasma glucose and insulin concentrations in man. Diabetologia 28:412–419

34.

Sharman MJ, Kraemer WJ, Love DM, Avery NG, Gomez AL, Scheett TP, Volek JS (2002) A ketogenic diet favorably affects serum biomarkers for cardiovascular disease in normal-weight men. J Nutr 132:1879–1885

35.

Larosa JC, Fry AG, Muesing R, Rosing DR (1980) Effects of high-protein, low-carbohydrate dieting on plasma lipoproteins and body weight. J Am Diet Assoc 77:264–270

36.

Volek JS, Sharman MJ, Gomez AL, DiPasquale C, Roti M, Pumerantz A, Kraemer WJ (2004) Comparison of a very low-carbohydrate and low-fat diet on fasting lipids, LDL subclasses, insulin resistance, and postprandial lipemic responses in overweight women. J Am Coll Nutr 23:177–184

37.

Howard BV, Manson JE, Stefanick ML, Beresford SA, Frank G, Jones B, Rodabough RJ, Snetselaar L, Thomson C, Tinker L et al (2006) Low-fat dietary pattern and weight change over 7 years: the Women's Health Initiative Dietary Modification Trial. JAMA 295:39–49

38.

Feinman RD, Fine EJ (2003) Thermodynamics and metabolic advantage of weight loss diets. Metab Syndr Relat Disord 1:209–219

39.

Krieger JW, Sitren HS, Daniels MJ, Langkamp-Henken B (2006) Effects of variation in protein and carbohydrate intake on body mass and composition during energy restriction: a meta-regression 1. Am J Clin Nutr 83:260–274

40.

Aarsland A, Wolfe RR (1998) Hepatic secretion of VLDL fatty acids during stimulated lipogenesis in men. J Lipid Res 39:1280–1286

41.

Volek JS, Sharman MJ, Forsythe CE (2005) Modification of lipoproteins by very low-carbohydrate diets. J Nutr 135:1339–1342

42.

Barter PJ, Ballantyne CM, Carmena R, Castro Cabezas M, Chapman MJ, Couture P, de Graaf J, Durrington PN, Faergeman O, Frohlich J et al (2006) Apo B versus cholesterol in estimating cardiovascular risk and in guiding therapy: report of the thirty-person/ten-country panel. J Intern Med 259:247–258

43.

Dreon DM, Krauss RM (1997) Diet–gene interactions in human lipoprotein metabolism. J Am Coll Nutr 16:313–324

44.

Gardner CD, Kiazand A, Alhassan S, Kim S, Stafford RS, Balise RR, Kraemer HC, King AC (2007) Comparison of the Atkins, Zone, Ornish, and LEARN diets for change in weight and related risk factors among overweight premenopausal women: the A TO Z weight loss study: a randomized trial. JAMA 297:969–977

45.

Nuttall FQ, Schweim K, Hoover H, Gannon MC (2008) Effect of the LoBAG30 diet on blood glucose control in people with type 2 diabetes. Br J Nutr 99:511–519

46.

Westman EC, Yancy WS Jr, Olsen MK, Dudley T, Guyton JR (2006) Effect of a low-carbohydrate, ketogenic diet program compared to a low-fat diet on fasting lipoprotein subclasses. Int J Cardiol 110:212–216

47.

Feinman RD, Volek JS (2008) Carbohydrate restriction as the default treatment for type 2 diabetes and metabolic syndrome. Scand Cardiovasc J 42:256–263

48.

Westman EC, Feinman RD, Mavropoulos JC, Vernon MC, Volek JS, Wortman JA, Yancy WS, Phinney SD (2007) Low-carbohydrate nutrition and metabolism. Am J Clin Nutr 86:276–284

49.

Shai I, Schwarzfuchs D, Henkin Y, Shahar DR, Witkow S, Greenberg I, Golan R, Fraser D, Bolotin A, Vardi H et al (2008) Weight loss with a low-carbohydrate, Mediterranean, or low-fat diet. N Engl J Med 359:229–241

50.

Shoji T, Hatsuda S, Tsuchikura S, Shinohara K, Kimoto E, Koyama H, Emoto M, Nishizawa Y (2008) Small dense low-density lipoprotein cholesterol concentration and carotid atherosclerosis. Atherosclerosis (in press)

51.

Austin MA, Hokanson JE, Edwards KL (1998) Hypertriglyceridemia as a cardiovascular risk factor. Am J Cardiol 81:7B–12B

52.

Toth PP (2005) High-density lipoprotein as a therapeutic target: clinical evidence and treatment strategies. Am J Cardiol 96(9A):50K–58K (discussion: 34K–35K)

53.

Knopp RH, Paramsothy P, Retzlaff BM, Fish B, Walden C, Dowdy A, Tsunehara C, Aikawa K, Cheung MC (2005) Gender differences in lipoprotein metabolism and dietary response: basis in hormonal differences and implications for cardiovascular disease. Curr Atheroscler Rep 7:472–479

54.

Fleming J, Sharman MJ, Avery NG, Love DM, Gomez AL, Scheett TP, Kraemer WJ, Volek JS (2003) Endurance capacity and high-intensity exercise performance responses to a high fat diet. Int J Sport Nutr Exerc Metab 13:466–478

55.

Kunesova M, Hainer V, Tvrzicka E, Phinney SD, Stich V, Parizkova J, Zak A, Stunkard AJ (2002) Assessment of dietary and genetic factors influencing serum and adipose fatty acid composition in obese female identical twins. Lipids 37:27–32

56.

Okada T, Furuhashi N, Kuromori Y, Miyashita M, Iwata F, Harada K (2005) Plasma palmitoleic acid content and obesity in children. Am J Clin Nutr 82:747–750

57.

Volek JS, Sharman MJ, Gomez AL, Scheett TP, Kraemer WJ (2003) An isoenergetic very low carbohydrate diet improves serum HDL cholesterol and triacylglycerol concentrations, the total cholesterol to HDL cholesterol ratio and postprandial lipemic responses compared with a low fat diet in normal weight, normolipidemic women. J Nutr 133:2756–2761

58.

Allick G, Bisschop PH, Ackermans MT, Endert E, Meijer AJ, Kuipers F, Sauerwein HP, Romijn JA (2004) A low-carbohydrate/high-fat diet improves glucoregulation in type 2 diabetes mellitus by reducing postabsorptive glycogenolysis. J Clin Endocrinol Metab 89:6193–6197

59.

Gannon MC, Nuttall FQ (2006) Control of blood glucose in type 2 diabetes without weight loss by modification of diet composition. Nutr Metab (Lond) 3:16

60.

Foster GD, Wyatt HR, Hill JO, McGuckin BG, Brill C, Mohammed BS, Szapary PO, Rader DJ, Edman JS, Klein S (2003) A randomized trial of a low-carbohydrate diet for obesity. N Engl J Med 348:2082–2090

61.

Accurso A, Bernstein RK, Dahlqvist A, Draznin B, Feinman RD, Fine EJ, Gleed A, Jacobs DB, Larson G, Lustig RH et al (2008) Dietary carbohydrate restriction in type 2 diabetes mellitus and metabolic syndrome: time for a critical appraisal. Nutr Metab (Lond) 5:9

62.

Ng TW, Watts GF, Barrett PH, Rye KA, Chan DC (2007) Effect of weight loss on LDL and HDL kinetics in the metabolic syndrome: associations with changes in plasma retinol-binding protein-4 and adiponectin levels. Diabetes Care 30:2945–2950

63.

Vitkova M, Klimcakova E, Kovacikova M, Valle C, Moro C, Polak J, Hanacek J, Capel F, Viguerie N, Richterova B et al (2007) Plasma levels and adipose tissue messenger ribonucleic acid expression of retinol-binding protein 4 are reduced during calorie restriction in obese subjects but are not related to diet-induced changes in insulin sensitivity. J Clin Endocrinol Metab 92:2330–2335

64.

Shea J, Randell E, Vasdev S, Wang PP, Roebothan B, Sun G (2007) Serum retinol-binding protein 4 concentrations in response to short-term overfeeding in normal-weight, overweight, and obese men. Am J Clin Nutr 86(5):1310–1315

65.

Kahn R (2008) Metabolic syndrome—what is the clinical usefulness? Lancet 371:1892–1893

66.

Stern L, Iqbal N, Seshadri P, Chicano KL, Daily DA, McGrory J, Williams M, Gracely EJ, Samaha FF (2004) The effects of low-carbohydrate versus conventional weight loss diets in severely obese adults: one-year follow-up of a randomized trial. Ann Intern Med 140:778–785
Acknowledgments
We thank Timothy E. Graham and Barbara B. Kahn at the Division of Endocrinology, Diabetes, and Metabolism, Department of Medicine, Beth Israel Deaconess Medical Center and Harvard Medical School, Boston, MA for measuring serum RBP4 concentrations. This work was supported in part by funds from the Graduate School and the Health Disparity EXPORT Center at the University of Connecticut, USDA Hatch, the Dr. Robert C. Atkins Foundation, the Egg Nutrition Center, and the Research Foundation of the State University of New York.
Electronic supplementary material
Below is the link to the electronic supplementary material.
About this article
Cite this article
Volek, J.S., Phinney, S.D., Forsythe, C.E. et al. Carbohydrate Restriction has a More Favorable Impact on the Metabolic Syndrome than a Low Fat Diet. Lipids 44, 297–309 (2009). https://doi.org/10.1007/s11745-008-3274-2
Received:

Accepted:

Published:

Issue Date:
Keywords
Metabolic syndrome

HDL

LDL

Lipoprotein metabolism

Plasma lipids

Triglyceride metabolism

Dietary fat

Human