Abstract
Abnormal distribution of plasma fatty acids and increased inflammation are prominent features of metabolic syndrome. We tested whether these components of metabolic syndrome, like dyslipidemia and glycemia, are responsive to carbohydrate restriction. Overweight men and women with atherogenic dyslipidemia consumed ad libitum diets very low in carbohydrate (VLCKD) (1504 kcal:%CHO:fat:protein = 12:59:28) or low in fat (LFD) (1478 kcal:%CHO:fat:protein = 56:24:20) for 12 weeks. In comparison to the LFD, the VLCKD resulted in an increased proportion of serum total n-6 PUFA, mainly attributed to a marked increase in arachidonate (20:4n-6), while its biosynthetic metabolic intermediates were decreased. The n-6/n-3 and arachidonic/eicosapentaenoic acid ratio also increased sharply. Total saturated fatty acids and 16:1n-7 were consistently decreased following the VLCKD. Both diets significantly decreased the concentration of several serum inflammatory markers, but there was an overall greater anti-inflammatory effect associated with the VLCKD, as evidenced by greater decreases in TNF-α, IL-6, IL-8, MCP-1, E-selectin, I-CAM, and PAI-1. Increased 20:4n-6 and the ratios of 20:4n-6/20:5n-3 and n-6/n-3 are commonly viewed as pro-inflammatory, but unexpectedly were consistently inversely associated with responses in inflammatory proteins. In summary, a very low carbohydrate diet resulted in profound alterations in fatty acid composition and reduced inflammation compared to a low fat diet.
This is a preview of subscription content, log in to check access.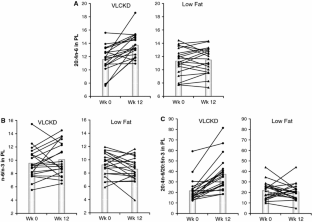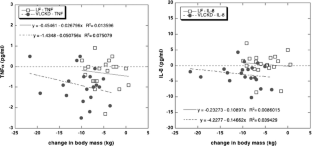 Abbreviations
VLCKD:

Very low carbohydrate ketogenic diet

LFD:

Low fat diet

PL:

Phospholipid

CE:

Cholesteryl ester

CVD:

Cardiovascular disease

RDA:

Recommended daily allowance

BMI:

Body mass index

IL:

Interleukin

TNF-α:

Tumor necrosis factor-α

VEGF:

Vascular endothelial growth factor

IFN-γ:

Interferon-γ

EGF:

Epidermal growth factor

MCP-1:

Monocyte chemotactic protein-1

ICAM-1:

Intracellular cellular adhesion molecule-1

VCAM-I:

Vascular cellular adhesion molecule-I

NF-κB:

Nuclear factor-kappa B

CRP:

C-reactive protein

TAG:

Triglycerides
References
1.

Warensjo E, Riserus U, Vessby B (2005) Fatty acid composition of serum lipids predicts the development of the metabolic syndrome in men. Diabetologia 48:1999–2005

2.

Dougherty RM, Galli C, Ferro-Luzzi A, Iacono JM (1987) Lipid and phospholipid fatty acid composition of plasma, red blood cells, and platelets and how they are affected by dietary lipids: a study of normal subjects from Italy, Finland, and the USA. Am J Clin Nutr 45:443–455

3.

King IB, Lemaitre RN, Kestin M (2006) Effect of a low-fat diet on fatty acid composition in red cells, plasma phospholipids, and cholesterol esters: investigation of a biomarker of total fat intake. Am J Clin Nutr 83:227–236

4.

Raatz SK, Bibus D, Thomas W, Kris-Etherton P (2001) Total fat intake modifies plasma fatty acid composition in humans. J Nutr 131:231–234

5.

Phinney SD (2006) The low fat paradox––do dietary carbohydrates increase circulating saturated fatty acids? Am J Clin Nutr 84:461–462

6.

Parks EJ (2002) Changes in fat synthesis influenced by dietary macronutrient content. Proc Nutr Soc 61:281–286

7.

Volek JS, Feinman RD, Phinney SD, Forsythe CE, Silvestre R, Judelson D, Quann EE, Wood RJ, Puglisi MJ, LaBonte CC, Kraemer WJ, Bibus DM, Contois JH, Fernandez ML (2007) Comparative effects of dietary restriction of carbohydrate or fat on circulating saturated fatty acids and atherogenic dyslipidemia. (Submitted)

8.

Reaven GM (1988) Banting lecture 1988. Role of insulin resistance in human disease. Diabetes 37:1595–1607

9.

Dandona P, Aljada A, Chaudhuri A, Mohanty P, Garg R (2005) Metabolic syndrome: a comprehensive perspective based on interactions between obesity, diabetes, and inflammation. Circulation 111:1448–1454

10.

Lee JY, Hwang DH (2006) The modulation of inflammatory gene expression by lipids: mediation through Toll-like receptors. Mol Cells 21:174–185

11.

Lee JY, Zhao L, Youn HS, Weatherill AR, Tapping R, Feng L, Lee WH, Fitzgerald KA, Hwang DH (2004) Saturated fatty acid activates but polyunsaturated fatty acid inhibits Toll-like receptor 2 dimerized with Toll-like receptor 6 or 1. J Biol Chem 279:16971–16979

12.

de Winther MP, Kanters E, Kraal G, Hofker MH (2005) Nuclear factor kappaB signaling in atherogenesis. Arterioscler Thromb Vasc Biol 25:904–914

13.

Calder PC (2006) Polyunsaturated fatty acids and inflammation. Prostaglandins Leukot Essent Fatty Acids 75(3):197–202

14.

Johnston CS, Tjonn SL, Swan PD, White A, Hutchins H, Sears B (2006) Ketogenic low-carbohydrate diets have no metabolic advantage over nonketogenic low-carbohydrate diets. Am J Clin Nutr 83:1055–1061

15.

Peplow PV (1996) Actions of cytokines in relation to arachidonic acid metabolism and eicosanoid production. Prostaglandins Leukot Essent Fatty Acids 54:303–317

16.

Feinman RD, Volek JS (2006) Low carbohydrate diets improve atherogenic dyslipidemia even in the absence of weight loss. Nutr Metab (Lond) 3:24

17.

Feinman RD, Westman EC, Volek JS (2006) Low carbohydrate and low fat diets in diabetes, cardiovascular disease and metabolic syndrome. Cellscience Reviews 3, no. 1 (http://www.cellscience.com/reviews9/Low_carbohydrate_low_fat_diets_in_disease. html)

18.

Krauss RM, Blanche PJ, Rawlings RS, Fernstrom HS, Williams PT (2006) Separate effects of reduced carbohydrate intake and weight loss on atherogenic dyslipidemia. Am J Clin Nutr 83:1025–1031

19.

Volek JS, Feinman RD (2005) Carbohydrate restriction improves the features of metabolic syndrome. Metabolic syndrome may be defined by the response to carbohydrate restriction. Nutr Metab (Lond) 2:31

20.

Kasim-Karakas SE, Tsodikov A, Singh U, Jialal I (2006) Responses of inflammatory markers to a low-fat, high-carbohydrate diet: effects of energy intake. Am J Clin Nutr 83:774–779

21.

Liu S, Manson JE, Buring JE, Stampfer MJ, Willett WC, Ridker PM (2002) Relation between a diet with a high glycemic load and plasma concentrations of high-sensitivity C-reactive protein in middle-aged women. Am J Clin Nutr 75:492–498

22.

Volek JS, Sharman MJ, Gomez AL, Scheett TP, Kraemer WJ (2003) An isoenergetic very low carbohydrate diet improves serum HDL cholesterol and triacylglycerol concentrations, the total cholesterol to HDL cholesterol ratio and postprandial pipemic responses compared with a low fat diet in normal weight, normolipidemic women. J Nutr 133:2756–2761

23.

Gannon MC, Nuttall FQ (2006) Control of blood glucose in type 2 diabetes without weight loss by modification of diet composition. Nutr Metab (Lond) 3:16

24.

Phinney SD, Davis PG, Johnson SB, Holman RT (1991) Obesity and weight loss alter serum polyunsaturated lipids in humans. Am J Clin Nutr 53:831–838

25.

Sullivan PG, Rippy NA, Dorenbos K, Concepcion RC, Agarwal AK, Rho JM (2004) The ketogenic diet increases mitochondrial uncoupling protein levels and activity. Ann Neurol 55:576–580

26.

Zhou L, Nilsson A (2001) Sources of eicosanoid precursor fatty acid pools in tissues. J Lipid Res 42:1521–1542

27.

Brash AR (2001) Arachidonic acid as a bioactive molecule. J Clin Invest 107:1339–1345

28.

Phinney SD, Tang AB, Thurmond DC, Nakamura MT, Stern JS (1993) Abnormal polyunsaturated lipid metabolism in the obese Zucker rat, with partial metabolic correction by gamma-linolenic acid administration. Metabolism 42:1127–1140

29.

Monaco C, Paleolog E (2004) Nuclear factor kappaB: a potential therapeutic target in atherosclerosis and thrombosis. Cardiovasc Res 61:671–682

30.

Shin WS, Szuba A, Rockson SG (2002) The role of chemokines in human cardiovascular pathology: enhanced biological insights. Atherosclerosis 160:91–102

31.

Fernandez ML, Volek JS (2006) Guinea pigs: a suitable animal model to study lipoprotein metabolism, atherosclerosis and inflammation. Nutr Metab (Lond) 3:17

32.

Aarsland A, Wolfe RR (1998) Hepatic secretion of VLDL fatty acids during stimulated lipogenesis in men. J Lipid Res 39:1280–1286

33.

Okada T, Furuhashi N, Kuromori Y, Miyashita M, Iwata F, Harada K (2005) Plasma palmitoleic acid content and obesity in children. Am J Clin Nutr 82:747–750

34.

Kunesova M, Hainer V, Tvrzicka E, Phinney SD, Stich V, Parizkova J, Zak A, Stunkard AJ (2002) Assessment of dietary and genetic factors influencing serum and adipose fatty acid composition in obese female identical twins. Lipids 37:27–32
Acknowledgments
This work was supported by the Dr. Robert C. Atkins Foundation.
About this article
Cite this article
Forsythe, C.E., Phinney, S.D., Fernandez, M.L. et al. Comparison of Low Fat and Low Carbohydrate Diets on Circulating Fatty Acid Composition and Markers of Inflammation. Lipids 43, 65–77 (2008). https://doi.org/10.1007/s11745-007-3132-7
Received:

Revised:

Accepted:

Published:

Issue Date:
Keywords
Arachidonic acid

Palmitoleic acid

Ketogenic diet

Saturated fat

Metabolic syndrome