Abstract
To investigate octacosanol (OC) metabolism in humans and its influence on cholesterol metabolism, two studies were conducted. In the first study ten healthy women received daily 30 mg OC for a period of 4 weeks. Blood and feces samples were collected at baseline and after the intervention. Serum concentrations of total cholesterol, LDL cholesterol, and HDL cholesterol were not altered following OC administration. Concentrations of excreted cholesterol end products decreased with the intervention (neutral sterols: 24.6 ± 9.7 mg/g vs. 20.3 ± 7.5 mg/g dry matter, P < 0.05; bile acids: 6.47 ± 3.89 mg/g vs. 4.03 ± 2.26 mg/g dry matter, P < 0.05). OC was not detected in serum samples, but the fecal OC concentration increased after the intervention period (11 ± 7 μg/g vs. 817 ± 179 μg/g dry matter, P < 0.05). In the second kinetic study on three participants, OC was identified in serums after oral application of 50 mg OC within 8 h. The decrease in the concentration of fecal cholesterol end products may underline a systemic effect of OC on cholesterol metabolism, even though the serum cholesterol levels were not influenced.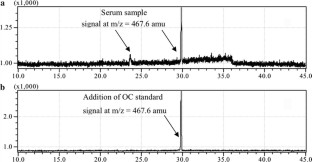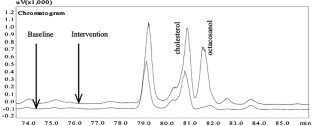 Abbreviations
BA:

Bile acid

FA:

Fatty acid

FAME:

Fatty acid methyl ester

NS:

Neutral sterol

OC:

Octacosanol

TC:

Total cholesterol
References
1.

Nies LK, Cymbala AA, Kasten SL, Lamprecht DG, Olson KL (2006) Complementary and alternative therapies for the management of dyslipidemia. Ann Pharmacother 40:1984–1992

2.

Varady KA, Wang Y, Jones P (2003) Role of policosanols in the prevention and treatment of cardiovascular disease. Nutr Rev 61:376–383

3.

Janikula M (2002) Policosanol: a new treatment for cardiovascular disease? Altern Med Rev 7:203–217

4.

Crespo N, Illnait J, Más R, Fernández L, Fernández J, Castaño G (1999) Comparative study of the efficacy and tolerability of policosanol and lovastatin in patients with hypercholesterolemia and noninsulin dependent diabetes mellitus. Int J Clin Pharmacol Res 19:117–127

5.

Fernández JC, Más R, Castaño G, Menéndez R, Amor A, González RM, Alvarez E (2001) Comparison of the efficacy, safety and tolerability of policosanol versus fluvastatin in elderly hypercholesterolaemic women. Clin Drug Investig 21:103–113

6.

Castaño G, Menéndez R, Más R, Amor A, Fernández JL, González RL, Lezcay M, Alvarez E (2002) Effects of policosanol and lovastatin on lipid profile and lipid peroxidation in patients with dyslipidemia associated with type 2 diabetes mellitus. Int J Clin Pharmacol Res 22:89–100

7.

Cubeddu LX, Cubeddu RJ, Heimowitz T, Restrepo B, Lamas G, Weinberg GB (2006) Comparative lipid-lowering effects of policosanol and atorvastatin: a randomized, parallel, double-blind, placebo-controlled trial. Am Heart J 152:982.e1–982.e5

8.

Greyling A, De Witt C, Oosthuizen W, Jerling JC (2006) Effects of a policosanol supplement on serum lipid concentrations in hypercholesterolemic subjects. Br J Nutr 95:968–975

9.

Lin Y, Rudrum M, Van der Wielen RPJ, Trautwein EA, McNeill G, Sierksma A, Meijer GW (2004) Wheat germ policosanol failed to lower plasma cholesterol in subjects with normal to mildly elevated cholesterol concentrations. Metabolism 53:1309–1314

10.

Berthold HK, Unverdorben S, Degenhardt R, Bulitta M, Gouni-Berthold I (2006) Effect of policosanol on lipid levels among patients with hypercholesterolemia or combined hyperlipidemia. A randomized controlled trial. J Am Med Assoc 295:2262–2269

11.

Rizzo WB, Craft DA, Dammann AL, Phillips MW (1987) Fatty alcohol metabolism in cultured human fibroblasts. Evidence for a fatty alcohol cycle. J Biol Chem 262:17412–17419

12.

Menéndez R, Marrero D, Más R, Fernández I, González L, González RM (2005) In vitro and in vivo study of octacosanol metabolism. Arch Med Res 36:113–119

13.

Más R (2000) Policosanol. Hypolipidemic antioxidant treatment of atherosclerosis. Drugs Future 25:569–586

14.

Menéndez R, Más R, Amor AM, Rodeiro I, González RM, Alfonso JL (2001) Inhibition of cholesterol biosynthesis in cultured fibroblasts by D003, a mixture of very long chain saturated fatty acids. Pharmacol Res 44:299–304

15.

Castaño G, Más R, Fernández L, López E, Gutiérrez JA, Illnait J, Fernández JC, Gámez R, Alvarez E (2002) Assessment of the effects of D-003, a new antiplatelet and lipid-lowering compound, in healthy volunteers. A phase I clinical study. Drugs R D 3:337–348

16.

Castaño G, Más R, Fernández L, Illnait J, López E, Gámez R, Mendoza S, Fernández J, Mesa M (2003) Effects of D-003 on the lipid profile of patients with type II hypercholesterolaemia. A phase II clinical study. Clin Drug Investig 23:789–802

17.

Menéndez R, Más R, Pérez J, González RM, Jiménez S (2004) Oral administration of D-003, a mixture of very long chain fatty acids prevents casein-induced endogenous hypercholesterolemia in rabbits. Can J Physiol Pharmacol 82:22–29

18.

Gouni-Berthold I, Berthold HK (2002) Policosanol: clinical pharmacology and therapeutic significance of a new lipid-lowering agent. Am Heart J 143:356–365

19.

Singh DK, Li L, Porter TD (2006) Policosanol inhibits cholesterol synthesis in hepatoma cells by activation of AMP-kinase. J Pharmacol Exp Ther 318:1020–1026

20.

Menéndez R, Fernández SI, Del Rio A, González RM, Fraga V, Amor AM, Más RM (1994) Policosanol inhibits cholesterol biosynthesis and enhances low density lipoprotein processing in cultured human fibroblasts. Biol Res 27:199–203

21.

Menéndez R, Arruzazabala L, Más R, Del Rio A, Amor AM, González RM, Carbajal D, Fraga V, Molina V, Illnait J (1997) Cholesterol-lowering effect of policosanol on rabbits with hypercholesterolemia induced by a wheat starch-casein diet. Br J Nutr 77:923–932

22.

Menéndez R, Amor AM, Rodeiro I, González RM, González PC, Alfonso JL, Más R (2001) Policosanol modulates HMG-CoA reductase activity in cultured fibroblasts. Arch Med Res 32:8–12

23.

Menéndez R, Sotolongo V, Fraga V, Amor AM, González R, Del Rio A, Jiménez S, Pérez N, Más R (1996) Plasma levels and total radioactivity excretion in healthy volunteers after oral 3H-octacosanol administration. Rev CENIC Cien Biol 27:32–35

24.

Kabir Y, Kimura S (1993) Biodistribution and metabolism of orally administered octacosanol in rats. Ann Nutr Metab 37:33–38

25.

Kabir Y, Kimura S (1994) Distribution of radioactive octacosanol in response to exercise in rats. Nahrung 38:373–377

26.

Kabir Y, Kimura S (1995) Tissue distribution of (8-14C)-octacosanol in liver and muscle of rats after serial administration. Ann Nutr Metab 39:279–284

27.

Marinangeli CPF, Kassis AN, Jain D, Ebine N, Cunnane SC, Jones PJH (2007) Comparison of composition and absorption of sugarcane policosanol. Br J Nutr 97:381–388

28.

Ditscheid B, Keller S, Jahreis G (2005) Cholesterol metabolism is affected by calcium phosphate supplementation in humans. J Nutr 135:1678–1682

29.

Keller S, Jahreis G (2004) Determination of underivatised sterols and bile acid trimethyl silyl ether methyl esters by gas chromatography-mass spectrometry-single ion monitoring in faeces. J Chromatogr B Analyt Technol Biomed Life Sci 813:199–207

30.

Kraft J, Hanske L, Möckel P, Zimmermann S, Härtl A, Kramer JKG, Jahreis G (2006) The conversion efficiency of trans-11 and trans-12 18:1 by Δ9-desaturation differs in rats. J Nutr 136:1209–1214

31.

Wilkins TD, Hackman AS (1974) Two patterns of neutral steroid conversion in the feces of normal north Americans. Cancer Res 34:2250–2254

32.

Pepping J (2003) Policosanol. Am J Health Syst Pharm 60:1112–1115

33.

Hernández F, Illnait J, Más R, Castaño G, Fernádez L, González M, Cordovi N, Fernandez JC (1992) Effect of policosanol on serum lipids and lipoproteins in healthy volunteers. Curr Ther Res Clin Exp 51:568–575

34.

Shefer S, Hauser S, Lapar V, Mosbach EH (1973) Regulatory effects of sterols and bile acids on hepatic 3-hydroxy-3-methylglutaryl CoA reductase and cholesterol 7α-hydroxylase in the rat. J Lipid Res 14:573–580

35.

Wang YW, Jones PJH, Pischel I, Fairow C (2003) Effects of policosanols and phytosterols on lipid levels and cholesterol biosynthesis in hamsters. Lipids 38:165–170

36.

Hargrove JL, Greenspan P, Hartle DK (2004) Nutritional significance and metabolism of very long chain fatty alcohols and acids from dietary waxes. Exp Biol Med 229:215–226

37.

Ng CH, Leung KY, Huang Y, Chen ZY (2005) Policosanol has no antioxidant activity in human low-density lipoprotein but increases excretion of bile acids in hamsters. J Agric Food Chem 53:6289–6293
Additional information
Dual first authorship. S. Keller and F. Gimmler having contributed equally to the basic science presented.
About this article
Cite this article
Keller, S., Gimmler, F. & Jahreis, G. Octacosanol Administration to Humans Decreases Neutral Sterol and Bile Acid Concentration in Feces. Lipids 43, 109–115 (2008). https://doi.org/10.1007/s11745-007-3127-4
Received:

Accepted:

Published:

Issue Date:
Keywords
Bile acid

Cholesterol

LDL cholesterol

Neutral sterol

Octacosanoic acid

Octacosanol

Policosanol