Abstract
Green tea extracts have hypocholesterolaemic properties in epidemiological and animal intervention studies. Upregulation of the low-density lipoprotein (LDL) receptor may be one mechanism to explain this as it is the main way cholesterol is removed from the circulation. This study aimed to determine if a green tea extract could upregulate the hepatic LDL receptor in vivo in the rat. A green tea extract (GTE) enriched in its anti-oxidant constituents, the catechins, was fed to rats (n = 6) at concentrations of either 0, 0.5, 1.0 or 2.0% (w/w) mixed in with their normal chow along with 0.25% (w/w) cholesterol for 12 days. Administration of the GTE had no effect on plasma total or LDL cholesterol concentrations but high-density lipoprotein significantly increased (41%; p < 0.05). Interestingly, there was a significant increase in LDL receptor binding activity (2.7-fold) and LDL receptor protein (3.4-fold) in the 2% (w/w) treatment group compared to controls. There were also significant reductions in liver total and unesterified cholesterol (40%). Administration of the GTE significantly reduced cholesterol absorption (24%) but did not affect cholesterol synthesis. These results show that, despite no effect on plasma cholesterol, the GTE upregulated the LDL receptor in vivo. This appears to be via a reduction in liver cholesterol concentration and suggests that the green tea extract was able to increase the efflux of cholesterol from liver cells.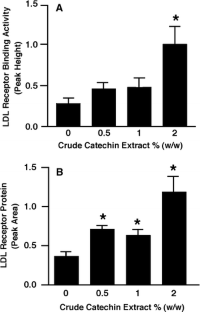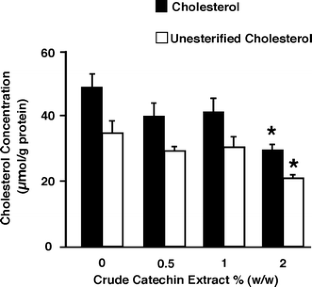 References
1.

Brown MS, Goldstein JL (1986) A receptor-mediated pathway for cholesterol homeostasis. Science 232:34–47

2.

Glass CK, Witztum JL (2001) Atherosclerosis: the road ahead. Cell 104:503–516

3.

Kono S, Shinchi K, Ikeda N, Yanai F, Imanishi K (1992) Green tea consumption and serum lipid profiles: a cross-sectional study in northern Kyushu, Japan. Prev Med 21:526–531

4.

Stensvold I, Tverdal A, Solvoll K, Foss OP (1992) Tea consumption: relationship to cholesterol, blood pressure, and coronary and total mortality. Prev Med 21:546–553

5.

Imai K, Nakachi K (1995) Cross sectional study of effects of drinking green tea on cardiovascular and liver diseases. BMJ 310:693–696

6.

Muramatsu K, Fukuyo M, Hara Y (1986) Effect of green tea catechins on plasma cholesterol level in cholesterol-fed rats. J Nutr Sci Vitaminol (Tokyo) 32:613–622

7.

Matsuda H, Chisaka T, Kubomura Y, Yamahara J, Sawada T, Fujimura H, Kimura H (1986) Effects of crude drugs on experimental hypercholesterolemia. I. Tea and its active principles. J Ethnopharmacol 17:213–224

8.

Yang TT, Koo MW (1997) Hypocholesterolemic effects of Chinese tea. Pharmacol Res 35:505–512

9.

Anonymous (2000) Chinese green tea lowers cholesterol level through an increase in fecal lipid excretion. Life Sci 66:411–423

10.

Chan PT, Fong WP, Cheung YL, Huang Y, Ho WK, Chen ZY (1999) Jasmine green tea epicatechins are hypolipidemic in hamsters (Mesocricetus auratus) fed a high fat diet. J Nutr 129:1094–1101

11.

Bursill C, Roach PD, Bottema CD, Pal S (2001) Green tea upregulates the low-density lipoprotein receptor through the sterol-regulated element binding protein in HepG2 liver cells. J Agric Food Chem 49:5639–5645

12.

Bursill CA, Roach PD (2006) Modulation of cholesterol metabolism by the green tea polyphenol (−)-epigallocatechin gallate in cultured human liver (HepG2) cells. J Agric Food Chem 54:1621–1626

13.

Kuhn DJ, Burns AC, Kazi A, Dou QP (2004) Direct inhibition of the ubiquitin–proteasome pathway by ester bond-containing green tea polyphenols is associated with increased expression of sterol regulatory element-binding protein 2 and LDL receptor. Biochim Biophys Acta 1682:1–10

14.

Chisaka T, Matsuda H, Kubomura Y, Mochizuki M, Yamahara J, Fujimura H (1988) The effect of crude drugs on experimental hypercholesteremia: mode of action of (−)-epigallocatechin gallate in tea leaves. Chem Pharm Bull (Tokyo) 36:227–233

15.

Ikeda I, Imasato Y, Sasaki E, Nakayama M, Nagao H, Takeo T, Yayabe F, Sugano M (1992) Tea catechins decrease micellar solubility and intestinal absorption of cholesterol in rats. Biochim Biophys Acta 1127:141–146

16.

Bursill CA, Abbey M, Roach PD (2007) A green tea extract lowers plasma cholesterol by inhibiting cholesterol synthesis and upregulating the LDL receptor in the cholesterol-fed rabbit. Atherosclerosis 193:86–93

17.

Huang MT, Ho CT, Wang ZY, Ferraro T, Finnegan-Olive T, Lou YR, Mitchell JM, Laskin JD, Newmark H et al (1992) Inhibitory effect of topical application of a green tea polyphenol fraction on tumor initiation and promotion in mouse skin. Carcinogenesis 13:947–954

18.

Clifton PM, Chang L, Mackinnon AM (1988) Development of an automated Lowry protein assay for the Cobas-Bio centrifugal analyser. Anal Biochem 172:165–168

19.

Wolthers BG, Walrecht HT, van der Molen JC, Nagel GT, Van Doormaal JJ, Wijnandts PN (1991) Use of determinations of 7-lathosterol (5 alpha-cholest-7-en-3 beta-ol) and other cholesterol precursors in serum in the study and treatment of disturbances of sterol metabolism, particularly cerebrotendinous xanthomatosis. J Lipid Res 32:603–612

20.

Kempen HJ, Glatz JF, Gevers Leuven JA, van der Voort HA, Katan MB, (1988) Serum lathosterol concentration is an indicator of whole-body cholesterol synthesis in humans. J Lipid Res 29:1149–1155

21.

Tilvis RS, Miettinen TA (1986) Serum plant sterols and their relation to cholesterol absorption. Am J Clin Nutr 43:92–97

22.

Roach PD, Zollinger M, Noel SP (1987) Detection of the low density lipoprotein (LDL) receptor on nitrocellulose paper with colloidal gold–LDL conjugates. J Lipid Res 28:1515–1521

23.

Roach PD, Noel SP (1985) Solubilization of the 17 alpha-ethinyl estradiol-stimulated low density lipoprotein receptor of male rat liver. J Lipid Res 26:713–720

24.

Roach PD, Kerry NL, Whiting MJ, Nestel PJ (1993) Coordinate changes in the low density lipoprotein receptor activity of liver and mononuclear cells in the rabbit. Atherosclerosis 101:157–164

25.

Grundy SM (1991) George Lyman Duff memorial lecture. Multifactorial etiology of hypercholesterolemia. Implications for prevention of coronary heart disease. Arterioscler Thromb 11:1619–1635

26.

Albertini R, Moratti R, De Luca G (2002) Oxidation of low-density lipoprotein in atherosclerosis from basic biochemistry to clinical studies. Curr Mol Med 2:579–592

27.

Steinberg D (1997) Low density lipoprotein oxidation and its pathobiological significance. J Biol Chem 272:20963–20966

28.

Ohashi R, Mu H, Wang X, Yao Q, Chen C (2005) Reverse cholesterol transport and cholesterol efflux in atherosclerosis. QJM 98:845–856

29.

Randomised trial of cholesterol lowering in 4,444 patients with coronary heart disease: the Scandinavian simvastatin survival study (4S) (1994) Lancet 344:1383–1389

30.

MRC/BHF heart protection study of cholesterol lowering with simvastatin in 20,536 high-risk individuals: a randomised placebo-controlled trial (2002) Lancet 360:7–22

31.

Roach PD BS, Hirata F, Abbey M, Szanto A, Simons LA, Nestel PJ (1993) The low-density lipoprotein receptor and cholesterol synthesis are affected differently by dietary cholesterol in the rat. Biochim Biophys Acta 1170(2):165–172

32.

Wang S, Noh SK, Koo SI (2006) Epigallocatechin gallate and caffeine differentially inhibit the intestinal absorption of cholesterol and fat in ovariectomized rats. J Nutr 136(11):2791–2796

33.

Cornelis MC, El-Sohemy A (2007) Coffee, caffeine, and coronary heart disease. Curr Opin Lipidol 18(1):13–9
Acknowledgments
We would like to thank the University of Adelaide for providing Christina Bursill with a postgraduate scholarship and additional funding.
About this article
Cite this article
Bursill, C.A., Roach, P.D. A Green Tea Catechin Extract Upregulates the Hepatic Low-Density Lipoprotein Receptor in Rats. Lipids 42, 621–627 (2007). https://doi.org/10.1007/s11745-007-3077-x
Received:

Accepted:

Published:

Issue Date:
Keywords
Green tea

LDL receptor

Cholesterol synthesis

Cholesterol absorption

Lathosterol

Phytosterols