Abstract
In this study multivariate analysis of Raman spectra has been used to classify adipose tissue from four different species (chicken, beef, lamb and pork). The adipose samples were dissected from the carcass and their spectra recorded without further preparation. 102 samples were used to create and compare a range of statistical models, which were then tested on 153 independent samples. Of the classical multivariate methods employed, Partial Least Squares Discriminant Analysis (PLSDA) performed best with 99.6% correct classification of species in the test set compared with 96.7% for Principal Component Linear Discrimination Analysis (PCLDA). Kohenen and Feed-forward artificial neural networks compared well with the PLSDA, giving 98.4 and 99.2% correct classification, respectively.
Access options
Buy single article
Instant access to the full article PDF.
USD 39.95
Price excludes VAT (USA)
Tax calculation will be finalised during checkout.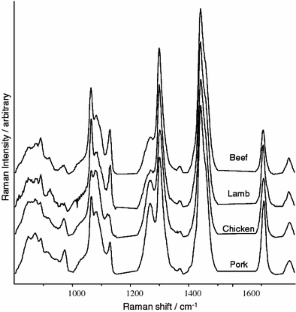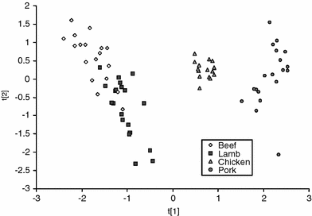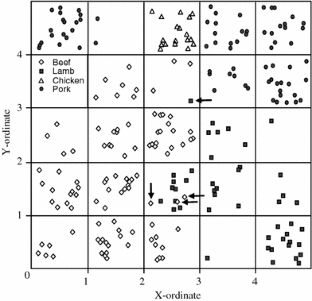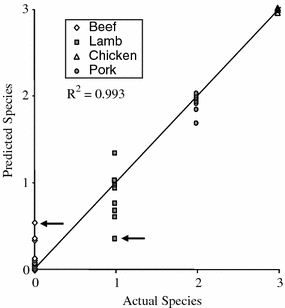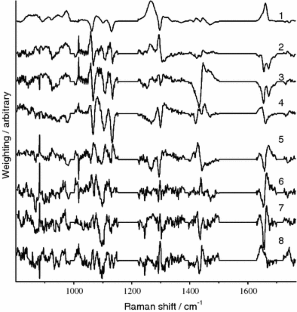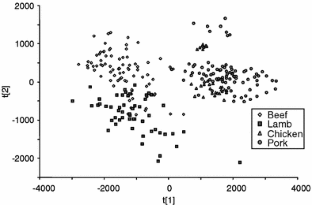 Similar content being viewed by others
Abbreviations
PCA:

Principal components analysis

PLSDA:

Partial least squares discriminant analysis

LDA:

Linear discriminant analysis

GC:

Gas chromatography

FAME:

Fatty acid methyl ester

PUFA:

Polyunsaturated fatty acid

MUFA:

Monounsaturated fatty acid

ANN:

Artificial neural network
References
Tu AT (1982) Raman spectroscopy in biology: principles and applications. Wiley, New York

Sadeghi-Jorabchi H, Hendra PJ, Wilson RH, Belton PS (1990) Determination of the total unsaturation in oils and fats by Fourier transform Raman spectroscopy. JAOCS 67:483–486

Larsson K (1973) Conformation dependent features in the Raman spectra of simple lipids. Chem Phys Lipids 10:165

Bailey GF, Horvat RJ (1972) Raman spectroscopy analysis of the cis/trans isomer composition of edible vegetable oils. JAOCS 49:494–498

Afseth NK, Wold JP, Segtnan VH (2006) The potential of Raman spectroscopy for characterisation of the fatty acid unsaturation of salmon. Anal Chim Acta 572:85–92

Chmielarz B, Bajdor K, Labudzinska A, Klukowskamajewska Z (1995) Studies on the double-bond positional isomerization process in linseed oil by UV, IR and Raman-Spectroscopy. J Mol Struct 348:313–316

Beattie JR, Bell SEJ, Moss BW (2004) A critical evaluation of Raman spectroscopy for the analysis of lipids: fatty acid methyl esters. Lipids 39:407–419

Weldon MK, Morris MD (2000) Surface-enhanced Raman spectroscopic investigation of bacterial lipolysis in a skin pore phantom. Appl Spectrosc 54:20–23

Beattie JR, Bell SEJ, Borgaard C, Fearon AM, Moss BW (2004) Multivariate prediction of clarified butter composition using Raman spectroscopy. Lipids 39:897–906

Beattie JR, Bell SEJ, Borgaard C, Fearon A, Moss BW (2006) Prediction of adipose tissue composition using Raman spectroscopy: average properties and individual fatty acids. Lipids 41:287–294

Sprunt JC, Jayasooriya UA, Wilson RH (2000) A simultaneous FT-Raman-DSC (SRD) study of polymorphism in sn-1,3-distearoyl-2-oleoylglycerol (SOS). Phys Chem Chem Phys 2:4299–4305

Heise HM, Damm U, Lampen P, Davies AN, McIntyre PS (2005) Spectral variable selection for partial least squares calibration applied to authentication and quantification of extra virgin olive oils using Fourier transform Raman spectroscopy. Appl Spectrosc 59:1286–1294

Williams P, Norris K (2001) Near-Infrared technology in the agricultural and food industries. AACC Press, St Paul, p 312

Oakes RE, Beattie JR, Moss B, Bell SEJ (2002) Conformations, vibrational frequencies and Raman intensities of short chain fatty acid methyl esters using DFT with 6–31 G(d) and Sadlej pVTZ basis sets. J Mol Struct 586:91–110

Oakes RE, Beattie JR, Moss BW, Bell SEJ (2003) DFT studies of long-chain fames: theoretical justification for determining chain length and unsaturation from experimental Raman Spectra. J Mol Struct-Theochem 626:27–45

Sadeghi-Jorabchi H, Wilson RH, Belton PS, Edwards-Webb JD, Coxon DT (1991) Quantitative analysis of oils and fats by Fourier transform Raman Spectroscopy. Spectrochim Acta 47A:1449–1458

Enser M, Hallett KG, Hewett B, Fursey GAJ, Wood JD, Harrington G (1998) Fatty acid content and composition of UK beef and lamb muscle in relation to production system and implications for human nutrition. Meat Sci 49:329–341

Raes K, De Smet S, Demeyer D (2004) Effect of dietary fatty acids on incorporation of long chain polyunsaturated fatty acids and conjugated linoleic acid in lamb, beef and pork meat: a review. Anim Feed Sci Technol 113:199–221

Wachira AM, Sinclair LA, Wilkinson RG, Enser M, Wood JD, Fisher AV (2002) Effects of dietary fat source and breed on the carcass composition, n-3 polyunsaturated fatty acid and conjugated linoleic acid content of sheep meat and adipose tissue. Br J Nutr 88:697–709

Warren HE, Enser M, Hallett K, Wood JD, Dhanoa MS, Scollan ND (2004) Effect of age on the fatty acid classes of beef muscle. In: Proceedings of the British Society of Animal Science, p 83
About this article
Cite this article
Beattie, J.R., Bell, S.E.J., Borggaard, C. et al. Classification of Adipose Tissue Species using Raman Spectroscopy. Lipids 42, 679–685 (2007). https://doi.org/10.1007/s11745-007-3059-z
Received:

Accepted:

Published:

Issue Date:

DOI: https://doi.org/10.1007/s11745-007-3059-z
Keywords