Abstract
In the present study, the adsorption behavior of Congo Red (CR) dye from aqueous systems onto sawdust modified by cetyltrimethylammonium bromide, CH3(CH2)15N(CH3)3Br (CTAB) was attempted. Adsorption experiments were carried out using both batch and column modes under various operating conditions. The effects of some important parameters such as solution pH, adsorbent dosage, initial dye concentration and contact time were investigated. Treatment of the equilibrium data obtained in batch experiments was carried out using Langmuir and Freundlich isotherm equations. Based on the isotherm analysis, it was found that the adsorption of CR dye onto SD fits well to the Langmuir model and the adsorption pattern on CTAB modified sawdust (CTAB/SD) followed the Freundlich isotherm which is indicative of heterogeneity of the adsorption sites on the surfactant-modified sawdust. The maximum adsorption capacity of SD and CTAB/SD were found to be 5.2 and 9.1 mg g−1, respectively, according to the Langmuir model. However, much higher differences in sorption capacities were observed for CTAB/SD and SD in the column system (66.73 mg g−1). In order to find out the possibility of the exhausted column for frequent use, a regeneration study was also carried out. It was found that the dye uploaded column can be easily regenerated with a high performance using ethanol as the washing solution.
Access options
Buy single article
Instant access to the full article PDF.
USD 39.95
Price excludes VAT (USA)
Tax calculation will be finalised during checkout.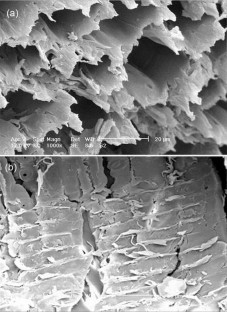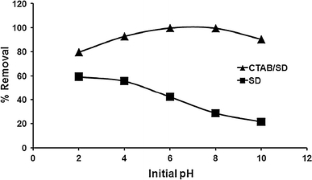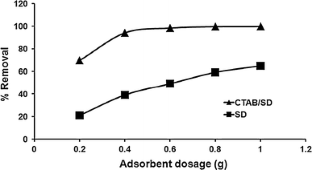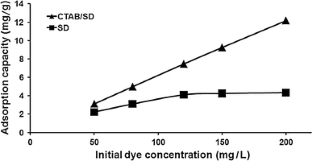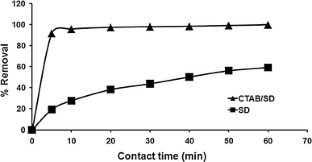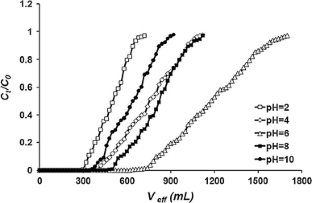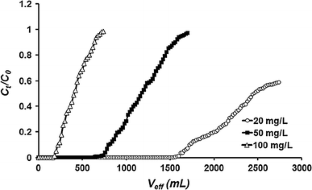 References
Alinsafi A, Khemis M, Pons MN, Leclerc JP, Yaacoubi A, Benhammou A, Nejmeddine A (2005) Electro-coagulation of reactive textile dyes and textile wastewater. Chem Eng Process 44:461–470

Vimonses V, Lei S, Jin B, Chow CWK, Saint C (2009) Adsorption of Congo Red by three Australian kaolins. Appl Clay Sci 43:465–472

Dolphen R, Sakkayanwong N, Thiravetyan P, Nakbanpote W (2007) Adsorption of Reactive Red 141 from wastewater onto modified chitin. J Hazard Mater 145:250–255

Visa M, Andronic L, Lucaci D, Duta A (2011) Concurrent dyes adsorption and photo-degradation on fly ash based substrates. Adsorption 17:101–108

Barzias FA, Sidiras DK (2007) Dye adsorption by prehydrolysed beech sawdust in batch and fixed-bed systems. Bioresour Technol 98:1208–2121

Lin JX, Zhan SL, Fang MH, Qian XQ, Yang H (2008) Adsorption of basic dye from aqueous solution onto fly ash. J Environ Manage 87:193–200

Smaranda C, Gavrilescu M, Bulgariu D (2011) Studies on sorption of Congo Red from aqueous solution onto soil. Int J Environ Res 5:177–188

Mall ID, Srivastava VC, Agarwal NK, Mishra IM (2005) Removal of Congo Red from aqueous solution by bagasse fly ash and activated carbon: kinetic study and equilibrium isotherm analyses. Chemosphere 61:492–501

Purkait MK, Maiti A, Das Gupta S, De S (2007) Removal of Congo Red using activated carbon and its regeneration. J Hazard Mater 145:287–295

Grabowska EL, Gryglewicz G (2007) Adsorption characteristics of Congo Red on coal-based mesoporous activated carbon. Dyes Pigm 74:34–40

Acemioglu B (2004) Adsorption of Congo Red from aqueous solution onto calcium-rich fly ash. J Colloid Interface Sci 274:371–379

Ozmen EY, Yilmaz M (2007) Use of β-cyclodextrin and starch based polymers for sorption of Congo Red from aqueous solutions. J Hazard Mater 148:303–310

Pavan FA, Dias SLP, Lima EC, Benvenutti EV (2008) Removal of Congo Red from aqueous solution by anilinepropylsilica xerogel. Dyes Pigm 76:64–69

Han R, Ding D, Xu Y, Zou W, Wang Y, Li Y, Zou L (2008) Use of rice husk for the adsorption of Congo Red from aqueous solution in column mode. Bioresour Technol 99:2938–2946

Ahmad AA, Hameed BH (2010) Fixed-bed adsorption of reactive azo dye onto granular activated carbon prepared from waste. J Hazard Mater 175:298–303

Zambrano JB, Szygula A, Ruiz M, Sastre AM, Guibal E (2010) Biosorption of reactive black 5 from aqueous solutions by chitosan: column studies. J Environ Manage 91:2669–2675

Mendoza-Barrón J, Jacobo-Azuara A, Leyva-Ramos R, Berber-Mendoza MS, Guerrero-Coronado RM, Fuentes-Rubino L, Martinez-Rosakes JM (2011) Adsorption of arsenic (V) from a water solution onto a surfactant-modified zeolite. Adsorption 17(3):489–496

Bingol A, Ucun H, Bayhan YK, Karagunduz A, Cakici A, Keskinler B (2004) Removal of chromate anions from aqueous stream by cationic surfactant-modified yeast. Bioresour Technol 94:245–249

Khenifi A, Bouberka Z, Sekrane F, Kameche M, Derriche Z (2007) Adsorption study of an industrial dye by an organic clay. Adsorption 13:149–158

Sureshkumar MV, Namasivayam C (2008) Adsorption behavior of Direct Red 12B and Rhodamine B from water onto surfactant-modified coconut coir pith. Colloids Surf A Physicochem Eng Asp 317:277–283

Ogino K, Kakihara T, Uchyama H, Abe M (1988) Solution properties of mixed surfactant system sodium dodecyl sulfate and alkyl polyoxyethylene ether system. J Am Oil Chem Soc 65:405–411

Chern JM, Chien YW (2002) Adsorption of nitrophenol onto activated carbon: isotherms and breakthrough curves. Water Res 36:647–655

Singh S, Srivastava VC, Mall ID (2009) Fixed-bed study for adsorptive removal of furfural by activated carbon. Colloids Surf A Physicochem Eng Asp 332:50–56

Vazquez G, Alonso R, Freire S, Gonzalez-Alvarez J, Antorrena G (2006) Uptake of phenol from aqueous solutions by adsorption in a Pinus pinaster bark packed bed. J Hazard Mater B133:61–67

Kalavathy H, Karthik B, Miranda LR (2010) Removal and recovery of Ni and Zn from aqueous solution using activated carbon from Hevea brasiliensis: batch and column studies. Colloids Surf B Biointerface 78:291–302

Pandal GC, Dasl SK, Guha AK (2009) Jute stick powder as a potential biomass for the removal of Congo Red and Rhodamine B from their aqueous solution. J Hazard Mater 164:374–379

Parab H, Joshi S, Shenoy N, Lali A, Sarma US, Sudersanan M (2006) Determination of kinetic and equilibrium of Co (II), Cr (III), and Ni (II) onto coir pith. Process Biochem 41:609–615

Langmuir I (1916) The constitution and fundamental properties of solids and liquids. J Am Chem Soc 38:2221–2295

Hall KR, Eagleton LC, Acrivos A, Vermeulen T (1966) Pore- and solid-diffusion kinetics in fixed-bed adsorption under constant-pattern conditions. Ind Eng Chem Fund 5:212–223

Freundlich H (1906) Over the adsorption in solution. Z Phys Chem 57A:385–471

Ho YS, Porter JF, McKay G (2002) Equilibrium isotherm studies for the sorption of divalent metal ions onto peat: copper, nickel and lead single component systems. Water Air Soil Pollut 141:1–33

Namasivayam C, Muniasamy N, Gayatri K, Rani M, Ranganathan K (1996) Removal of dyes from aqueous solutions by cellulosic waste orange peel. Bioresour Technol 57:37–43
Acknowledgments
The authors would like to acknowledge financial support from the Postgraduate Studies of University of Guilan, Rasht, Iran.
Electronic Supplementary Material
Below is the link to the electronic supplementary material.
About this article
Cite this article
Ansari, R., Seyghali, B., Mohammad-khah, A. et al. Highly Efficient Adsorption of Anionic Dyes from Aqueous Solutions Using Sawdust Modified by Cationic Surfactant of Cetyltrimethylammonium Bromide. J Surfact Deterg 15, 557–565 (2012). https://doi.org/10.1007/s11743-012-1334-3
Received:

Accepted:

Published:

Issue Date:

DOI: https://doi.org/10.1007/s11743-012-1334-3
Keywords
Adsorption

Congo Red

Dye removal

Isotherm

Sawdust

Surfactant modification