Abstract
A one-shot device is referred to as a unit that performs its function only once, hence a one-shot device cannot be used for testing more than once. Missiles, airbags of automobiles, magnetorheological fluids, and thermal batteries are some examples of one-shot devices. Usually, one-shot devices are kept in storage or in the stand-by condition and taken into use when required. As a matter of fact, proper operation of such devices at designated times becomes an important issue. Thus, choosing appropriate and reliable suppliers of one-shot devices in preventive maintenance periods can be regarded as a critical measure. This paper presents a new approach to provide resilience in supplier selection for one-shot devices and its subsystems in response to risks. In this research: (1) an expert team is set up having experience and expertise in one-shot systems, (2) risks of suppliers are estimated using satisfying and simple additive weighting (SAW) methods, (3) risk related to each equipment are determined by a cause and effect matrix, (4) after presenting a novel integrated approach, the best combination for one-shot equipment suppliers is selected by using fault tree analysis, (5) finally, to evaluate the performance of the proposed approach, a real case study is also used. This approach can therefore be used for determining faults in the entire system evaluated along with allocating suppliers to each equipment by considering suppliers and equipment risks as well as making and selecting scenarios.
Access options
Buy single article
Instant access to the full article PDF.
US$ 39.95
Tax calculation will be finalised during checkout.
Subscribe to journal
Immediate online access to all issues from 2019. Subscription will auto renew annually.
US$ 79
Tax calculation will be finalised during checkout.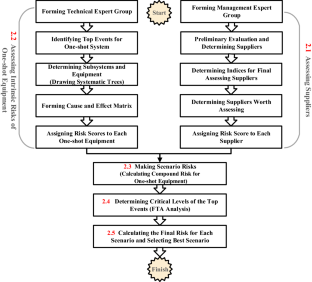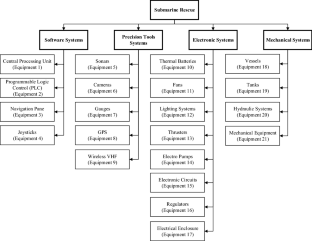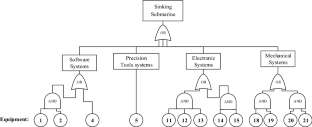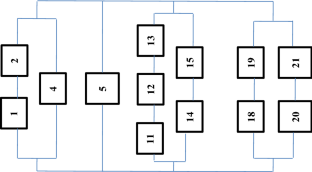 Data availability
Some or all data, models, or code that support the findings of this study are available from the corresponding author.
Abbreviations
MADM:

Multi-attribute decision making

FTA:

Fault tree analysis

SAW:

Simple additive weighting

SPM:

Scheduled preventive maintenance

RBD:

Reliability block diagram

DEA:

Data envelopment analysis

FIS:

Fuzzy inference system

QFD:

Quality function deployment

CBR:

Case-based reasoning

DSS:

Decision support system

FMEA:

Failure mode and effect analysis

GT:

Group technology

Si :

Total score for the ith supplier

Wj :

weight of the jth attribute (Index)

Sij :

Score of the ith supplier relative to the jth attribute

Ri :

Risk score assigned to the ith supplier

Yj :

The maximum imaginable score for each supplier in the jth attribute

RSk :

Intrinsic risk of the kth subset

SWkz :

Weight of the kth subset in relative to occurrence of the zth top event

EWz :

Weight of the zth top event

MRSk :

Modified risk for the kth subset when it is supplied from the ith supplier

CRz :

Critical level of top event z

Pz :

Probability of the top event z

Lz :

Damage inflicted by the top event z

TR:

Total risk of one-shot system
References
1.

Wu S-J, Hsu C-C, Huang S-R (2020) Optimal designs and reliability sampling plans for one-shot devices with cost considerations. Reliab Eng Syst Saf 197:106795

2.

Ling MH, Hu XW (2020) Optimal design of simple step-stress accelerated life tests for one-shot devices under weibull distributions. Reliabil Eng Syst Saf 193:106630

3.

Petrovic S, Petrovic P, Lozanovic Sajic J (2018) Rapid evaluation of maintenance process using statistical process control and simulation. Int J Simul Model 17:119–132

4.

Dunson DB, Dinse GE (2002) Bayesian models for multivariate current status data with informative censoring. Biometrics 58:79–88

5.

Yates S, Yates A (2006) A bayesian approach to reliability demonstration for aerospace systems. Reliability and Maintainability Symposium, Newport Beach

6.

Vinter Z, Valis D (2008) Reliability modelling of automatic gun with pyrotechnic charging. Adv Military Technol 3(1):33

7.

Fan T, Balakrishnam N, Chang C (2009) The Beysian approach for highly reliable electro-explosive devices using one-shot device testing. J Stat Comput Simul 79(9):1143–1154

8.

Guo H, Honecker S, Mettes A, Ogden D (2010) Reliability estimation for one-shot systems with zero component test failures. Annu Reliab Maintain Ability Symposium, IEEE

9.

Mehrvars A, Sanei Monfared M, Farsi M, Shafiei M (2018) Monitoring the states and maintaining the reliability of the one-shot systems. J Sharif Ind Eng Manage 34–1(1/1):73–85 ([In Persian])

10.

Wu H, Li Y-F (2020) Bérenguer C (2020) Optimal inspection and maintenance for a repairable k-out-of-n: G warm standby system. Reliabil Eng Syst Saf 193:106669

11.

Kaio N, Dohi T, Osaki S (1994) Inspection policy with failure due to inspection. Microelectron Reliabil 34:599–602

12.

Hariga M (1996) A Maintenance inspection model for a single machine with general failure distribution. Microelectron Reliabil 36:353–358

13.

Ito K, Nakagawa T (2000) Optimal inspection policies for a storage system with degradation at periodic tests. Math Comput Model 31:191–195

14.

Grall A, Bérenguer C, Dieulle L (2002) A condition-based maintenance policy for stochastically deteriorating systems. Reliabil Eng Syst Saf 76:167–180

15.

Li W, Pham H (2005) An inspection-maintenance model for systems with multiple competing processes. IEEE Trans Reliab 54:318–327

16.

Newby M (2008) Monitoring and maintenance of spares and one-shot devices. Reliabil Eng Syst Saf 93:588–594

17.

Yun W, Kim H, Han Y (2012) Simulation-based inspection policies for a one-shot system in storage. In: Proceedings of the 5th Asia-Pacific Int. Symp. Advanced Reliability and Maintenance Modeling (APARM 2012)

18.

Yun W, Han Y, J, Kim H, (2014) Simulation-based inspection policies for a one-shot system in storage over a finite time span. Commun Stat Simul Comput 43:1979–2003

19.

Kitagaw T, Yuge T, Yanagi S (2016) Periodic and non-perodic inspection policies for a one-shot system with minimal repair. J Jpn Ind Manage Assoc 66(4):387–395

20.

Moradi M, Karbasian M, Yousefi O (2017) Providing a mathematical model to determine the optimal time to replace parts in one-shot systems, case study: composite pressure vessel. In: Proceedings of the 3rd International Conference on Industrial and System Engineering. 13&14, Mashhad, Iran [In Persian]

21.

Kitagaw T, Kitagaw T, Yanagi S (2016) Periodic and non-perodic inspection policies for a one-shot system with minimal repair. J Jpn Ind Manage Assoc 66:387–395

22.

Felecia, (2014) Fuzzy logic reliability centered maintenance. J Tek Ind 16(2):121–126

23.

Azimian M, Javadi H, Farshchiha A, Nosohi I (2017) selecting the optimum combination of suppliers using a mixed model of MADM and fault tree analysis. Prod Oper Manage 8(114):45–63 ([In Persian])

24.

Barak S, Javanmard S (2020) Outsourcing modelling using a novel interval-valued fuzzy quantitative strategic planning matrix (QSPM) and multiple criteria decision-making (MCDMs). Int J Prod Econ 222:107494

25.

Garcia Niet P, Garcia-Gonzalo E, Sanchez F, Lasheras F (2015) Hybrid pso-sum-based method for forecasting of the remaining useful life for aircraft engines and evaluation of its reliability. Reliabil Eng Syst Saf 138:209–231

26.

Li W, He M, Sun Y, Cao Q (2019) A novel layered fuzzy petri nets modeling and reasoning method for process equipment failure risk assessment. J Less Prev Process Ind 62:103953

27.

Jianxing Y, Haicheng C, Yang Y, Zhenglong Y (2019) A weakest T-norm based fuzzy fault tree approach for leakage risk assessment of submarine pipline. J Less Prev Process Ind 62:103968

28.

Fartaj S.R, Kabir G, Eghujovbo V, Ali S. M, Paul S. K (2020) Modeling transportation disruption in the supply chain of automotive parts manufacturing company. Int J Prod Econ 222

29.

De Oliveria U, Silva Marins F, Rocha H, Salomon V (2017) The ISO 31000 standard in supply chain risk management. Journal of Cleaner Production 151:616–633

30.

Solgi O, Gheidar-Kheljani J, Dehghani E, Taromi A (2019) Resilient supplier selection in complex product and its subsystems' supply chain under uncertainty and risk disruption: a case study for satellite components. Int J Sci Technol. https://doi.org/10.24200/sci.2019.52556.2773

31.

Piadeh F, Ahmadi M, Behzadian K (2018) Reliability assessment for hybrid systems of advanced treatment units of industrial wastewater reuse using combined event tree and fuzzy fault tree analyses. J Clean Prod 201:958–973

32.

Chai J, Nagi EW (2020) Decision-making techniques in supplier selection: recent accomplishments and what lies ahead. Expert Syst Appl 140:112903

33.

Abdel-Basset M, Saleh M, Gamal A, Smarandache F (2019) An approach of topsis technique for developing supplier selection with group decision making under type-2 neutrosophic number. Appl Soft Comput 77:438–452

34.

Zaretalab A, Hajipour V, Tavana M (2020) Redundancy allocation problem with multi-state component systems and reliable supplier selection. Reliabil Eng Syst Saf 193:106629

35.

Govindan K, Mina H, Alavi B (2020) A decision support system for demand management in healthcare supply chains considering the epidemic outbreaks: a case study of coronavirus disease 2019 (COVID-19). Transport Res Part E Logist Transport Rev 138:101967

36.

Ghahroodi S, Hanbali A, Zijm W, Timmer J (2019) Emergency supply contracts for a service provider limmited local resources. Reliabil Eng Syst Saf 189:445–460

37.

Rashidi K, Cullinance K (2019) A comparison of fuzzy DEA and fuzzy topsis in sustainable supplier selection: implications for sourcing strategy. Expert Syst Appl 121:266–281

38.

Babber C, Hassanzadeh Amin S (2018) A multi-objective mathematical model integrating environmental concerns for supplier selection and order allocation based on fuzzy QFD in beverage industry. Expert Syst Appl 92:27–38

39.

Salimi F, Vahdani B (2018) Designing a bio-fuel network considering links reliability and risk-pooling effect in bio-refineries. Reliabil Eng Syst Saf 174:96–107

40.

Segura M, Maroto C (2017) A multiple criteria supplier segmentation using outranking and value function methods. Expert Syst Appl 69:87–100

41.

Thakur V, Anbanandam R (2015) Supplier selection using grey theory: a case study from Indian banking industry. J Enterprise Inf Manage 28(6):769–787

42.

Tavan M, Fallahpour A, Fallahpour D, Santes-Artega F (2016) A hybrid inteligent fuzzy predictive model with simulation for supplier evaluation and selection. Expert Syst Appl 61:129–144

43.

Zeydan M, Zeydan C, Çobanog C (2011) A combined methodology for supplier selection and performance evaluation. Expert Syst Appl 38(3):2741–2751

44.

Kuo R, Wang Y, Tien F (2010) integration of artificial neural network and mada methods for green supplier selection. J Clean Prod 18(12):1161–1170

45.

Faez F, Ghodsypour S, Ghodsypour C (2009) Vendor selection and order allocation using an integrated fuzzy case-based reasoning and mathematical programming model. Int J Prod Econ 121(2):395–408

46.

Wu D (2009) Supplier Selection: A hybrid model using DEA, decision tree and neural network. Expert Syst Appl 36:9105–9112

47.

Demirtas A, Ustun O (2009) Analytic network process and multi-period goal programming integration in purchasing decisions. Comput Ind Eng 56:677–690

48.

Alikhani R, Torabi S, Altay N (2019) Strategic supplier selection under sustainability and risk criteria. Int J Prod Econ 208:69–82

49.

Chen TY (2012) Comparative analysis of SAW and topsis based on interval-valued fuzzy sets: discussion on score function and weight constraints. Expert Syst Appl 39(2):1848–1861

50.

Ding L, Wang H, Jin J, Xu A (2017) Sil verification for SRS with diverse redundancy based on system degradation using reliability block diagram. Reliabil Eng Syst Saf 165:170–187
Ethics declarations
Conflict of interest
The authors declare that they have no conflict of interest.
Additional information
Publisher's Note
Springer Nature remains neutral with regard to jurisdictional claims in published maps and institutional affiliations.
About this article
Cite this article
Azimian, M., Karbasian, M., Atashgar, K. et al. A new approach to select the reliable suppliers for one-shot devices. Prod. Eng. Res. Devel. (2021). https://doi.org/10.1007/s11740-021-01032-8
Received:

Accepted:

Published:
Keywords
One-shot

Risk assessment

Supplier selection

Multi-attribute decision making (MADM)

Fault tree analysis (FTA)