Abstract
Preforming is an essential step in flashless forging processes. This paper describes the development of a four stage process chain for flashless forging of a two cylinder crankshaft with pin and flange. The process consists of cross wedge rolling, lateral extrusion, bi-directional forging and final forming, with cross wedge rolling being the essential step. The finite-element-analysis (FEA) performed with the software Forge 3 and experimental tests are executed with different process parameters, like billet and tool temperature, rolling velocity and steel. To reduce process steps, like lateral extrusion, a direct combination of cross wedge rolling and bi-directional forging is analysed with FEA-software Forge 3 for a one cylinder crankshaft without pin and flange. The one cylinder crankshaft is selected to reduce development effort. The results of the FEA give suitable forming angles α for cross wedge rolling and several geometric parameters for a modification of the bi-directional tool.
This is a preview of subscription content,
to check access.
Access this article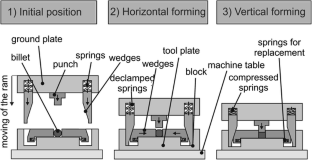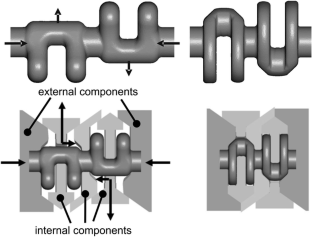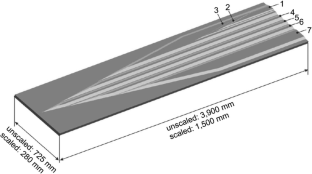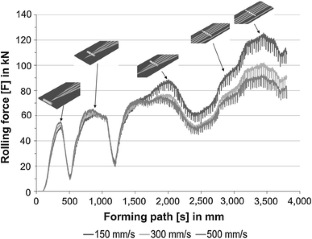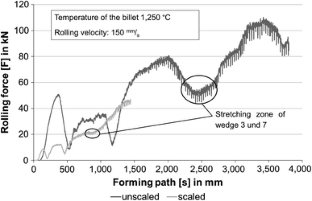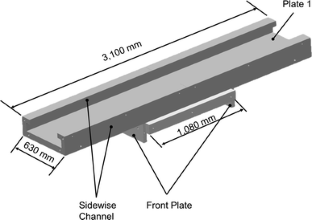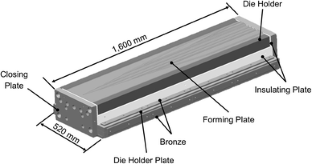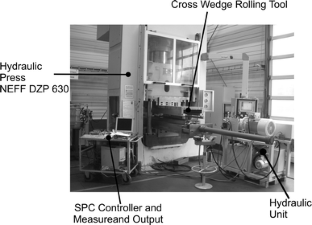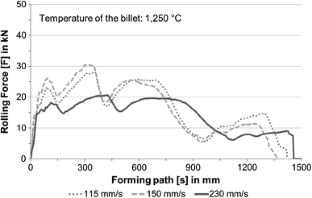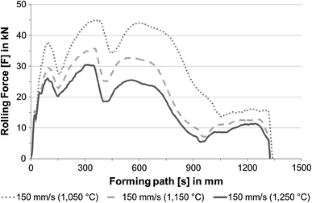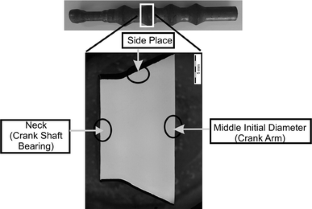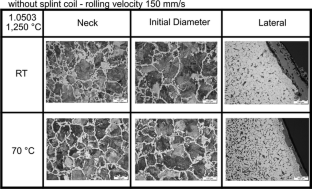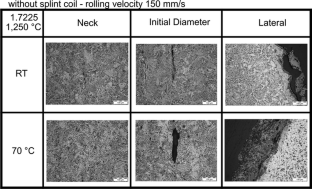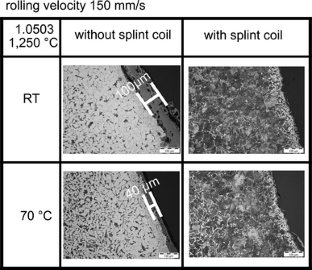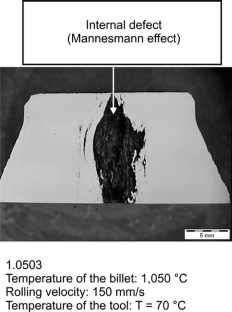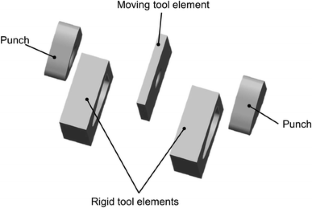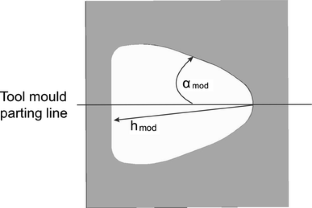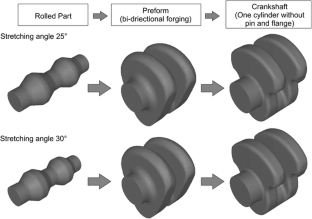 References
Claasen K-H, Herlan T, Lorenz B (1995) Querwalzen—Möglichkeiten und Kriterien. In: Sächsische Fachtagung Umformtechnik. Tagungsband, Freiberg, pp 16.1–16.34

Neugebauer R, Lorenz B, Pannasch S (1998) Integration des Querwalzens verbessert den Schmiedeprozess. In: Umformtechnik, Verlag, Nr 1: S. 26–28

Li Q, Lovell M (2008) Cross wedge rolling failure mechanisms and industrial application. Int J Adv Manuf Technol 37(3–4):265–278

Li Q, Lovell MR (2004) The establishment of a failure criterion in cross wedge rolling. Int J Adv Manuf Technol 24(3–4):180–189

Pater Z (2006) Finite element analysis of cross wedge rolling. J Mater Process Technol 173(2):201–208

Kaul W (1985) Beitrag zur Verfahrens-charakterisierung Querwalzen mit geradlinig keilförmigen Werkzeugen. Dissertation Ingenieurshochschule Zwickau

Kache H, Nickel R, Behrens B-A (2011) An innovative cross wedge rolling preforming operation for warm forging. In: 4th conference on Changeable, Agile, reconfigurable and virtual production (CARV 2011), October 2nd–5th 2011, Montreal, Canada, pp 310–315

Kache H, Nickel R, Behrens B-A (2010) Development of variable warm forging process chain. In: Steel research international, proceedings of the 13th international conference on metal forming, Toyohashi, Japan, 19th September–22nd September 2010, Verlag Stahleisen GmbH, pp 346–349

Neugebauer R, Sterzing A, Bergmann M (2010) Severe plastic deformation by incremental bulk metal forming. Prod Eng Res Dev 4(4):391–397

Hustedt P, Meyer E (2004) Masseverteilung auf neuen Wegen: Mehrdirektional wirkende Werkzeugsysteme. Schmiede J, o. Jg H. 3 IMU e.V., S. 28–29

Müller S (2011) Methode zur Auslegung schrumpfungskorrigierter Schmiede-werkzeuge für komplizierte Langteile. In: Behrens B-A, Nyhuis P, Overmeyer L (Hrsg) Berichte aus dem IPH, Bd.03/2011, PZH Produk-tionstechnisches Zentrum GmbH, Garbsen 2011

Reinsch S, Meyer E, Lau P (2004) Masseverteilung auf neuen Wegen—Mehrdirektional wirkende Werkzeug-systeme. wt Werkstattstechnik online, Jg. 94, H. 10, S. 495–499

Huststedt P (2003) Modular aufgebaute Vorformwerkzeuge für das Schmieden von Langteilen. Dissertation, Universität Hannover

Altmann H-C (2006) Beitrag zum Präzisionsschmieden von Kurbelwellen. In: Bernd-Arno Behrens (Hrsg) Berichte aus dem IFUM, Bd. 04/2006, PZH Produktionstechnische Zentrum GmbH, Hannover

Odening D, Meyer M, Klassen A, Bouguecha A, Behrens B-A (2014) Präzisionsschmieden. In: Bach F-W, Kerber K (Hrsg) Prozesskette Präzisionsschmieden, Springer, S. 15–51

Specker A (2009) Untersuchungen zum gratlosen Gesenkschmieden von Kurbelwellen. In: Behrens B-A, Nyhuis P, Overmeyer L (Hrsg) Be-richte aus dem IPH, Bd.04/2009, PZH Produktionstechnisches Zentrum GmbH, Garbsen

Behrens B-A, Nickel R, Müller S (2009) Flashless precision forging of a two-cylinder crankshaft. Prod Eng 3(4):381–389

Müller, S, Lau P, Nickel R (2008) Influence of the process parameters on the multi-directional forging operation of a two cylinder crankshaft. In: TMS 2008 137th annual meeting and exhibition: proceedings of the ninth global innovations symposium, 9th–13th March 2008, New Orleans, Louisiana, USA, pp 121–127

Lücke M, Krause A, Behrens B-A (2011) Forging complex parts without flash. In: Proceedings of the 14th international ESAFORM conference on material forming, AIP Conf. Proc. 1353, Belfast, pp 386–390
Acknowledgments
The authors thank the German Research Foundation (Deutsche Forschungsgemeinschaft—DFG) for the funding of the Collaborative Research Project 489 "Prozesskette zur Herstellung präzisionsgeschmiedeter Hochleistungsbauteile" and the research project "ProKomb—Prozesskombination des Querkeilwalzens mit der mehrdirektionalen Umformung" (DFG STO 1011/5-1).
Conflict of interest
The authors declare that they have no conflict of interest.
About this article
Cite this article
Meyer, M., Stonis, M. & Behrens, BA. Cross wedge rolling and bi-directional forging of preforms for crankshafts. Prod. Eng. Res. Devel. 9, 61–71 (2015). https://doi.org/10.1007/s11740-014-0581-8
Received:

Accepted:

Published:

Issue Date:

DOI: https://doi.org/10.1007/s11740-014-0581-8
Keywords