Abstract
High productivity and availability of machining centers can only be achieved by avoiding unplanned machine downtimes. Machine failures induced by wear can be coped with by implementing preventive and condition-based maintenance strategies so that downtimes are as short as possible. In contrast, machine damages caused by collisions cannot be avoided by these strategies, but only fixed afterwards by reactive maintenance, leading to high repair costs and long machine downtimes. This article presents a new approach for the avoidance of damages to the main spindle unit caused by collisions in machining centers. The mechanical components of this protection system enable the controlled reversible decoupling of the main spindle from the machine structure in case of exceedance of an adjustable force limit. Decoupling leads to a reduction of the whole machine stiffness, resulting in the decrease of the acting collision force. Consequently, all machine components in the collision's force flux are protected against overload and damage. Once a collision occurred, a general method is shown, where the spindle and its collision objects are separated automatically by the machine's numerical control. Due to the reversible decoupling mechanism of the protection system, the described retreat strategy eases the handling after a collision for the machine operator.
This is a preview of subscription content, log in to check access.
Access options
Buy single article
Instant access to the full article PDF.
US$ 39.95
Price includes VAT for USA
Subscribe to journal
Immediate online access to all issues from 2019. Subscription will auto renew annually.
US$ 99
This is the net price. Taxes to be calculated in checkout.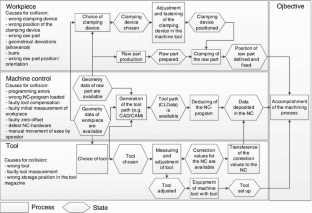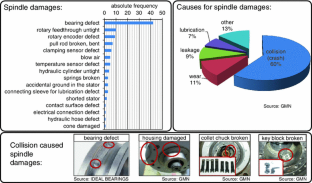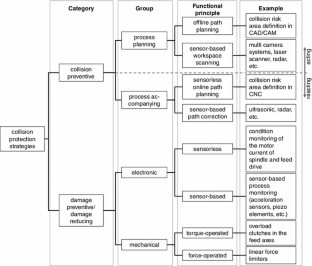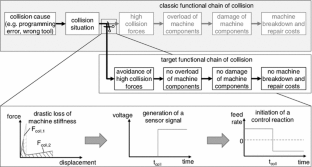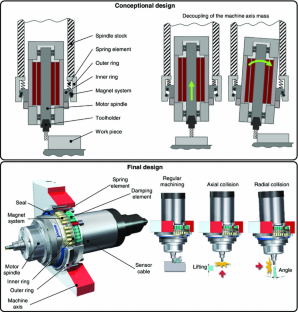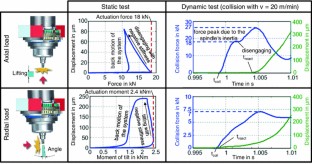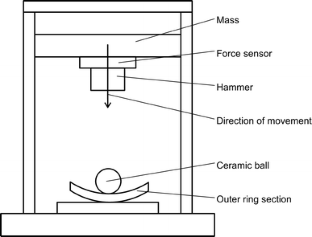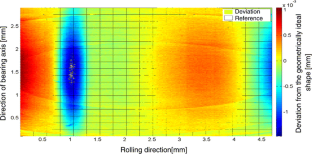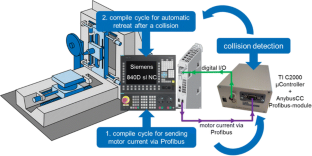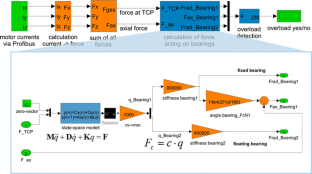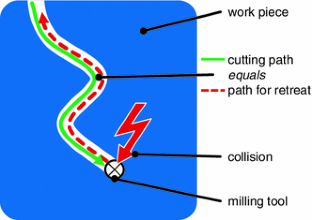 References
1.

Gebeshuber R (2008) Der formen- und Werkzeugbau im Wandel der Zeit—Entwicklung und Innovationen inkl. Praxis-Fallbeispiel: "Vom Einzelfertiger zum Weltmarktführer". Verlag Dr. Müller

2.

Abele E, Reinhart G (2011) Zukunft der Produktion—Herausforderungen, Forschungsfelder, Chancen. Carl Hanser, Munich

3.

Abele E, Dervisopoulos M, Kreis M (2006) Beeinflussbarkeit von Lebenszykluskosten durch Wissensaustausch—Produzieren mit Blick auf die Lebenszykluskosten. wt Werkstattstechnik online, 96 (7/8):447–454

4.

Metzele M (2008) Zustandsorientierte Instandhaltung von schnelllaufenden Werkzeugmaschinen-Hauptspindeln. Dissertation, RWTH Aachen University

5.

Abele E, Korff D (2011) Avoidance of collision caused spindle damages—challenges, methods and solutions for high dynamic machine tools. Ann CIRP 60(1):425–428

6.

Rehling S (2009) Technologische Erweiterung der simulation von NC-Fertigungsprozessen. Dissertation, Leibniz University Hannover

7.

Dietrich B (2007) Maschinenintegrierte Bauteillageerkennung zur Kollisionsprävention mittels skalierbarer Mehrkamerabildverarbeitung. Dissertation, RWTH Aachen University

8.

Altintas Y, Brecher C, Weck M, Witt S (2005) Virtual machine tool. Ann CIRP 54(2):115–138

9.

Siart U (2011) Spindelkollisionsschutz auf Radarbasis. Conference paper, Ott-Spanntechnik GmbH Technologietagung, Lengenwang

10.

Dennig H-J (2009) Entwicklung einer schnell schaltenden Bremse und Kupplung für Linearbewegungen zum Überlastschutz in Werkzeugmaschinen. Dissertation, University Stuttgart

11.

Byrne G, O'Donnell GE (2007) An integrated force sensor solution for process monitoring of drilling operations. Ann CIRP 56(1):89–92

12.

Ebeling W (2002) Wirksamer schutz vor Kollisionen. Werkstatt Betrieb 135(10):58–59

13.

Brecher C, Rudolf T (2006) Kontakterkennungsbasierte kollisionsüberwachung—sicher produzieren durch kollisionsschutzsysteme. Conference paper, simulationstechnik in der produktion, ABS-Treffen 2005, Düsseldorf

14.

Rudolf T, Brecher C, Possel-Dölken F (2007) Contact-based collision detection—a new approach to avoid hard collisions in machine tools. Conference paper, international conference on smart machining systems, Gaithersburg

15.

Chr. Mayr GmbH + Co. KG (2011) EAS axial—Überlastsicherung für lineare Bewegungen. Catalogue

16.

Maschinenfabrik Berthold Hermle AG (2011) C20—the dynamic, product description. Catalogue

17.

Weck M, Brecher C (2006) Werkzeugmaschinen 3—mechatronische systeme, vorschubantriebe, prozessdiagnose, 6th edn. Springer, Berlin

18.

Tüllmann U (1999) Das Verhalten axial verspannter, schnelldrehender Schrägkugellager. Dissertation, RWTH Aachen University

19.

Schaeffler Technologies GmbH & Co. KG (2011) Hochgenauigkeitslager—high precision bearings. Catalogue

20.

DIN ISO 76 (2009) Wälzlager—statische tragzahlen. DIN Deutsches Institut für Normung e.V.

21.

Brändlein J, Eschmann P, Hasbargen L, Weigand K (1995) Die Wälzlagerpraxis, 3rd edn. Vereinigte Fachverlage, Mainz

22.

Harris TA, Kotzalas MN (2007) Essential concepts of bearing technology, 5th edn. CRC Press, Boca Raton, FL

23.

Rombach M, Hollstein T (1995) Untersuchungen zum mechanischen Verhalten von Siliciumnitrid in einem Kugel-Platte-Kontakt. Materialwissenschaften Werkstofftechnik 26(4):276–282

24.

Strutzke A (2008) CNC-Werkzeugmaschinen mit Kollisionskontrolle. Metav J 2008:60–63

25.

da Silva VD (2005) Mechanics and strength of materials. Springer, Berlin
Acknowledgments
We extend our sincere thanks to the Federal Ministry of Economics and Technology (BMWi) and to the AiF—Otto von Guericke e.V. for their generous support of the work described in this paper. Its development was accomplished in cooperation with Jakob Antriebstechnik GmbH, Kleinwallstadt.
About this article
Cite this article
Abele, E., Brecher, C., Gsell, S.C. et al. Steps towards a protection system for machine tool main spindles against crash-caused damages. Prod. Eng. Res. Devel. 6, 631–642 (2012). https://doi.org/10.1007/s11740-012-0422-6
Received:

Accepted:

Published:

Issue Date:
Keywords
Machine tools

Main spindle units

Collision protection

Downtime reduction