Abstract
The integration of suppliers and customers into the supply chain is a constant objective for companies in a network of production resources, especially in the automotive industry. Complaints of OEMs and suppliers in this field of business must be processed with high urgency and precision by the complaint management. To allow an efficient flow of information, a method and a software prototype have been developed to work on complaints along the supply chain. The extended 8D-method can be applied to an unlimited number of customer-supplier-relations along the supply chain. A web service provides the data transport, implementing parts of the data model QDX, which is about to form a standard for the exchange of quality related information in the automotive industry of Germany. The applied methods and concepts are described in this paper.
Access options
Buy single article
Instant access to the full article PDF.
USD 39.95
Price includes VAT (USA)
Tax calculation will be finalised during checkout.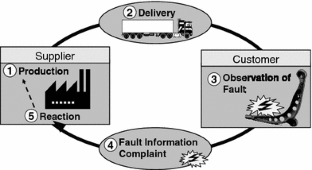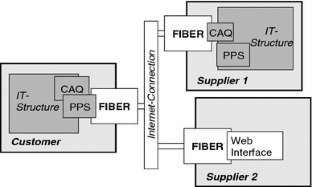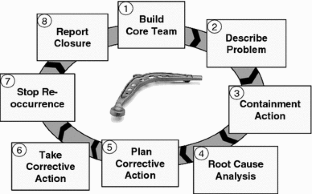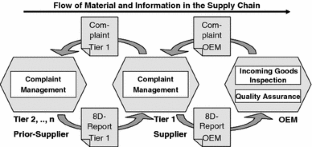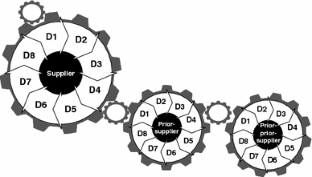 References
1.

Behrens BA, Mathieu H, Hoffmann M, Wilde I (2004) Ohne Fehl und Tadel-Austausch von Fehlerdaten zwischen Unternehmen. QZ 49(8):59–61

2.

Crostack H-A et al (2005) Plan- und Ziellos, Fehlermanagement deutscher Unternehmen. QZ 50(3):70–71

3.

Pfeifer T et al (1997) Fehlermanagement mit objektorientierten Technologien in der qualitätsorienterten Produktion. Forschungszentrum Karlsruhe, Karlsruhe

4.

Stauss B, Schöler A (2003) Beschwerdemanagement mangelhaft. Studie: Handlungsdefizite der Unternehmen beim Beschwerdenmanagement. QZ 48(9):878–883

5.

Behrens B-A, Hoffmann M, Wilde I (2006) Leifaden zum FQS-Forschungsprojekt Fehlerdatenmodell zum unternehmensübergreifenden Qualitätsdatenaustausch. FQS-DGQ-Vol 84–05, DGQ Verlag, Frankfurt a. M

6.

Linß G (2002) Qualitätsmanagement für Ingenieure. Hanser Verlag, Leibzig

7.

Wimmer F Beschwerdepolitik als Marketinginstrument. In: Hansen U, Schoenheit I (eds) Verbraucherabteilungen in privaten und öffentlichen Unternehmen. Campus-Verlag, Frankfurt am Main etc, pp 225–254

8.

Zollondz H-D (2001) Lexikon Qualitätsmanagement. Handbuch des Modernen Managements auf der Basis des Qualitätsmanagements. Oldenbourg Verlag, München Wien

9.

Nedeß C, Friedewald A (1996) Reklamations- und Beschwerdemanagement als Baustein des lernenden Unternehmens. VDI-Z 138(10):74–77

10.

N N (2003) "8D-report definition", Available: http://www.vda-qmc.de/de/

11.

Krause F-L, Edler A, Woll R (1996) Problemmanagement informationstechnisch unterstützen. ZWF 91 11, Hanser Verlag, München, pp 530–533

12.

Edler A (2001) Nutzung von Felddaten in der qualitätsgetriebenen Produktentwicklung und im Service. University of Berlin, Berlin

13.

Behrens B-A, Hoffmann M, Wilde I (2005) FIBER—fault information exchange between enterprises. In: Arabnia HR (ed) Proceedings of the international conference on e-Business, enterprise information systems, e-Government, and outsourcing, Las Vegas

14.

Berk J, Berk S (2000) Quality management for the technology sector. Newnes, Boston

15.

N N (1992) TOPS (8D), Handbook, Ford Motor Company, Essex

16.

Edler A (2001) Nutzung von Felddaten in der qualitätsgetriebenen Produktentwicklung und im Service. TU Berlin, Berlin

17.

Kelkar O, Ide H (2004) Anschluss an die erste Reihe: QDX-Qualitätsdatenaustausch entlang der Automobil-Lieferkette. QZ 49(10):42–44

18.

Chatterjee S, Webber J (2004) Developing enterprise web services. Prentice Hall, Upper Saddle River
Additional information
FIBER was funded by the German Ministry of Education and Research (BMBF) and supervised by the Federation for Quality, Research and Science (FQS) in Germany. The project was supported by two Original Equipment Manufacturers (OEM) of the German automotive industry and several suppliers.
About this article
Cite this article
Behrens, BA., Wilde, I. & Hoffmann, M. Complaint management using the extended 8D-method along the automotive supply chain. Prod. Eng. Res. Devel. 1, 91–95 (2007). https://doi.org/10.1007/s11740-007-0028-6
Received:

Accepted:

Published:

Issue Date:
Keywords
Quality assurance

Method

Software