Abstract
We aimed to assess the prevalence, patient allocation adequacy, and mortality of adults with sepsis in Brazilian emergency departments (ED) in a point-prevalence 3-day investigation of patients with sepsis who presented to the ED and those who remained there due to inadequate allocation. Allocation was considered adequate if the patient was transferred to the intensive care unit (ICU), ward, or remained in the ED without ICU admission requests. Prevalence was estimated using the total ED visit number. Prognostic factors were assessed with logistic regression. Of 33,902 ED visits in 74 institutions, 183 were acute admissions (prevalence: 5.4 sepsis per 1000 visits [95% confidence interval (CI): 4.6–6.2)], and 148 were already in the ED; totaling 331 patients. Hospital mortality was 32% (103/322, 95% CI 23.0–51.0). Age (odds ratio (OR) 1.22 [95% CI 1.10–1.37]), Sequential Organ Failure Assessment (SOFA) score (OR 1.41 [95% CI 1.28–1.57]), healthcare-associated infections (OR 2.59 [95% CI 1.24–5.50]) and low-resource institution admission (OR 2.65 [95% CI 1.07–6.90]) were associated with higher mortality. Accredited institutions (OR 0.42 [95% CI 0.21–0.86]) had lower mortality rates. Allocation within 24 h was adequate in only 52.8% of patients (public hospitals: 42.4% (81/190) vs. private institutions: 67.4% (89/132, p < 0.001) with 39.2% (74/189) of public hospital patients remaining in the ED until discharge, of whom 55.4% (41/74) died. Sepsis exerts high burden and mortality in Brazilian EDs with frequent inadequate allocation. Modifiable factors, such as resources and quality of care, are associated with reduced mortality.
This is a preview of subscription content,
to check access.
Access this article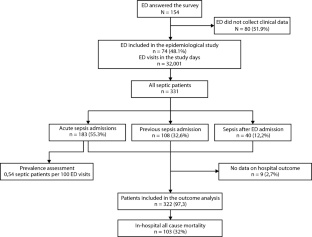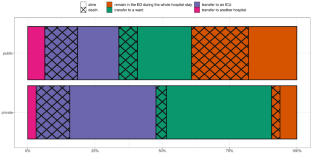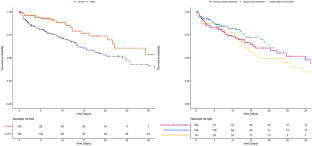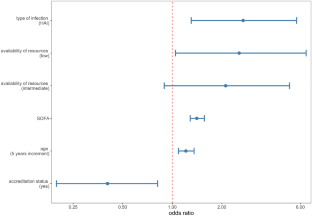 Similar content being viewed by others
Availability of data and materials
The datasets used and/or analyzed during the current study are available from the corresponding author on reasonable request.
References
WHO. WHA70.7 Improving the prevention, diagnosis and clinical management of sepsis 2017 [Available from: http://apps.who.int/gb/e/e_wha70.html.

Rudd KE, Johnson SC, Agesa KM, Shackelford KA, Tsoi D, Kievlan DR et al (2020) Global, regional, and national sepsis incidence and mortality, 1990–2017: analysis for the Global Burden of Disease Study. Lancet 395(10219):200–211

Zhou J, Tian H, Du X, Xi X, An Y, Duan M et al (2017) Population-based epidemiology of sepsis in a subdistrict of Beijing. Crit Care Med 45(7):1168–1176

Baykara N, Akalin H, Arslantas MK, Hanci V, Caglayan C, Kahveci F et al (2018) Epidemiology of sepsis in intensive care units in Turkey: a multicenter, point-prevalence study. Crit Care 22(1):93

Machado FR, Cavalcanti AB, Bozza FA, Ferreira EM, Angotti Carrara FS, Sousa JL et al (2017) The epidemiology of sepsis in Brazilian intensive care units (the Sepsis PREvalence Assessment Database, SPREAD): an observational study. Lancet Infect Dis 17(11):1180–1189

Hammond NE, Kumar A, Kaur P, Tirupakuzhi Vijayaraghavan BK, Ghosh A, Grattan S et al (2022) Estimates of sepsis prevalence and outcomes in adult patients in the ICU in India: a cross-sectional study. Chest 161(6):1543–1554

Kayambankadzanja RK, Schell CO, Namboya F, Phiri T, Banda-Katha G, Mndolo SK et al (2020) The prevalence and outcomes of sepsis in adult patients in two hospitals in Malawi. Am J Trop Med Hyg 102(4):896–901

Papali A, Verceles AC, Augustin ME, Colas LN, Jean-Francois CH, Patel DM et al (2017) Sepsis in Haiti: prevalence, treatment, and outcomes in a port-au-prince referral hospital. J Crit Care 38:35–40

Lewis JM, Abouyannis M, Katha G, Nyirenda M, Chatsika G, Feasey NA et al (2020) Population incidence and mortality of sepsis in an Urban African setting, 2013–2016. Clin Infect Dis 71(10):2547–2552

Wang HE, Jones AR, Donnelly JP (2017) Revised National estimates of emergency department visits for sepsis in the United States. Crit Care Med 45(9):1443–1449

McNevin C, McDowell R, Fitzpatrick F, O'Sullivan R, Wakai A (2018) The prevalence of severe sepsis or septic shock in an Irish emergency department. Ir Med J 111(2):692

Hossain I, Hill P, Bottomley C, Jasseh M, Bojang K, Kaira M et al (2021) Healthcare seeking and access to care for pneumonia, sepsis, meningitis, and malaria in rural Gambia. Am J Trop Med Hyg 106(2):446–453

Ouma PO, Maina J, Thuranira PN, Macharia PM, Alegana VA, English M et al (2018) Access to emergency hospital care provided by the public sector in sub-Saharan Africa in 2015: a geocoded inventory and spatial analysis. Lancet Glob Health 6(3):e342–e350

Murthy S, Adhikari NK (2013) Global health care of the critically ill in low-resource settings. Ann Am Thorac Soc 10(5):509–513

Cardoso LT, Grion CM, Matsuo T, Anami EH, Kauss IA, Seko L et al (2011) Impact of delayed admission to intensive care units on mortality of critically ill patients: a cohort study. Crit Care 15(1):R28

Khan BA, Shakeel N, Siddiqui EU, Kazi G, Khan IQ, Khursheed M et al (2016) Impact of delay in admission on the outcome of critically ill patients presenting to the emergency department of a tertiary care hospital from low income country. J Pak Med Assoc 66(5):509–516

Zhang Z, Bokhari F, Guo Y, Goyal H (2019) Prolonged length of stay in the emergency department and increased risk of hospital mortality in patients with sepsis requiring ICU admission. Emerg Med J 36(2):82–87

Aitavaara-Anttila M, Liisanantti JH, Raatiniemi L, Ohtonen P, Ala-Kokko T (2019) Factors related to delayed intensive care unit admission from emergency department-a retrospective cohort study. Acta Anaesthesiol Scand 63(7):939–946

Al-Qahtani S, Alsultan A, Haddad S, Alsaawi A, Alshehri M, Alsolamy S et al (2017) The association of duration of boarding in the emergency room and the outcome of patients admitted to the intensive care unit. BMC Emerg Med 17(1):34

Chalfin DB, Trzeciak S, Likourezos A, Baumann BM, Dellinger RP, Group D-Es (2007) Impact of delayed transfer of critically ill patients from the emergency department to the intensive care unit. Crit Care Med 35(6):1477–1483

Mathews KS, Durst MS, Vargas-Torres C, Olson AD, Mazumdar M, Richardson LD (2018) Effect of emergency department and ICU occupancy on admission decisions and outcomes for critically Ill patients. Crit Care Med 46(5):720–727

Singer M, Deutschman CS, Seymour CW, Shankar-Hari M, Annane D, Bauer M et al (2016) The third international consensus definitions for sepsis and septic shock (sepsis-3). JAMA 315(8):801–810

Cowan SL, Holland JA, Kane AD, Frost I, Boyle AA (2015) The burden of sepsis in the emergency department: an observational snapshot. Eur J Emerg Med 22(5):363–365

Murthy S, Leligdowicz A, Adhikari NK (2015) Intensive care unit capacity in low-income countries: a systematic review. PLoS ONE 10(1):e0116949

Conselho Federal de Medicina. Leitos de UTI no Brasil por Estado em junho 2020. https://portal.cfm.org.br/wp-content/uploads/2020/08/leitosdeutijunho2020-capitais-1.pdf. Acessed October 10th 2022.

Bauer J, Bruggmann D, Klingelhofer D, Maier W, Schwettmann L, Weiss DJ et al (2020) Access to intensive care in 14 European countries: a spatial analysis of intensive care need and capacity in the light of COVID-19. Intensive Care Med 46(11):2026–2034

Taniguchi LU, Azevedo LCP, Bozza FA, Cavalcanti AB, Ferreira EM, Carrara FSA et al (2019) Availability of resources to treat sepsis in Brazil: a random sample of Brazilian institutions. Rev Bras Ter Intensiva 31(2):193–201

Antimicrobial RC (2022) Global burden of bacterial antimicrobial resistance in 2019: a systematic analysis. Lancet 399(10325):629–655
Acknowledgements
We would like to thank the Tiago Mendonça dos Santos for statistical support. We want to express our gratitude to all participating emergency departments, as this relevant work for our country would not be possible without their commitment.
The SPREAD ED Investigators, the Instituto Latino Americano de Sepsis Network: SZSP Alves, CB Velasco - Complexo Hospitalar de Niterói; GF Sanches, LN Azevedo - Fundação Centro Médico de Campinas; EB Sobrinho, AOL Veríssimo - Hospital Adventista de Belém; AG Macedo - Hospital Adventista de Manaus; AP Borges, F Colombari - Hospital Alemão Oswaldo Cruz; A Habitante, GS Oliveira - Hospital Alvorada Moema; RM Filho, NM Gambero - Hospital Ana Costa; LC Machado - Hospital Brasília; JAL Albuquerque, SM Fernandes - Hospital Copa D'Or; BAMP Bessen, EVN Martins - Hospital da Luz Vila Mariana; MR da Silva, EF de Paula - Hospital de Clínicas da Unicamp; MMC Silva - Hospital de Clínicas de Uberlândia; AF Pereira, PA Quesado - Hospital De Clínicas Mário Lioni; G Fernandes - Hospital de Clínicas Nossa Senhora da Conceição /Associação Congregação de Santa Catarina; W Ayrão, N Kondratievans - Hospital de Doenças Tropicais Dr. Anuar Auad HDT/HAA; IR Leite, PKO Sá - Hospital de Emergência e Trauma Dom Luiz Gonzaga Fernandes; EA de Oliveira, IO de Freitas - Hospital de Pronto Socorro de Porto Alegre; D Pedroso, A Bonifácio - Hospital de Urgências de Goiânia; SA dos Santos Junior, MB do Amaral - Hospital Divina Providência; AAG Alves, SHCA Carvalho - Hospital Djalma Marques; JC Fernandes, CR Duarte - Hospital Ernesto Dorneles; GR Fonseca, LG Almeida - Hospital Estadual Jayme Santos Neves; LC de Oliveira Junior, RN de Oliveira - Hospital Geral Clériston Andrade; M Damos - Hospital Geral De Juiz De Fora; RNDM de Souza, VS dos Santos - Hospital Geral de Palmas Dr. Francisco Ayres; AR Durães, YSL Bitar - Hospital Geral Roberto Santos; F Liberali - Hospital Metropolitano De Várzea Grande; CA Branco - Hospital Miguel Arraes; LFS Varela - Hospital Moinhos De Vento; KAP Conde - Hospital Municipal Dr. José Soares Hungria; EA Peixoto - Hospital Municipal Santa Isabel; RB Pardo, L Delgatto - Hospital Municipal Vereador José Storopolli; CGC Jacob, A Silva - Hospital Next Santo Amaro; LMB Vinãs, KDA Coqueti - Hospital Next São Bernardo; MCG Ribeiro, GBA Faria - Hospital Oeste D'Or; DASF da Silva, JS Jardim - Hospital Pasteur; A Farias, AP Amorin - Hospital Português da Bahia; ZE Sakamoto, VHC Barros - Hospital Pronto Socorro João Lucio Pereira Machado; ALM Filho, DP de Oliveira - Hospital Quinta D'Or; R Guimarães, LF Pires - Hospital Regional de Presidente Prudente; MA Sicolo - Hospital Rio Grande; BBK Boettger, FA de Castro - Hospital Santa Catarina de Blumenau; JS Yamano, AR da Silva - Hospital Santa Cruz SP; CFD Dornelles - Hospital Santa Cruz; GP Alba, AP Correa - Hospital Santa Isabel; N de Alcantara - Hospital Santo Antônio; A Martins, NB Gouveia - Departamento de Pesquisa Imed, Hospital São Camilo Pompéia; RL Coelho, AT Maciel - Departamento de Pesquisa Imed, Hospital São Camilo Ipiranga; CSS Matos, EGL Guadalupe - Departamento de Pesquisa Imed, Hospital São Camilo Santana; M Pereira, R Rabe - Hospital São José/Associação Congregação Santa Catarina; T Smith, R Oliveira - Hospital São Lucas; C Toscan, MR e Karnikowski - Hospital São Lucas da PUC RS; FGR Freitas, AT Bafi - Hospital Sepaco; J Giacomazzi - Hospital Tacchini; PGMB e Silva, AN Rabaça - Hospital TotalCor; LES Fontes, AB Simões - Hospital Unimed Petrópolis; C Grion, J Festti - Hospital Universitário de Londrina; KR de Oliveira, S Xavier - Hospital Universitário de Petrolina; TS Giancursi, DF Maccari - Hospital Universitário do Oeste do Paraná; BGC Araujo, JF Ferreira - Hospital Vera Cruz; G Borges, A Dino - Hospital Vitória Curitiba; AH Soares, LF Vieira - Hospital Vitória Anália Franco; AM Soeiro, MT de Oliveira Junior - Instituto Do Coração - InCor/HCFMUSP; RS Lopes, F Moulin - O.S.S. Santa Marcelina Hospital Cidade Tiradentes; GC Fernandes, DA de Mattos - Santa Casa de Misericórdia de Juiz de Fora; FM Araujo, VOS Pereira - Santa Casa de Misericórdia de Passos; MV Arnoni, SP Santana - Santa Casa de São Paulo; E Zukeran, SRSA Velihovetchi - São Lucas Hospital das Clínicas; MAP Bronchtein, MT de Araújo - Seisa Serviços Integrados de Saúde Ltda - Hospital Next Guarulhos; R Borges, MT Ferreira - Unidade de Pronto Atendimento UAI Pampulha; R Borges, MT Ferreira - Unidade de Pronto Atendimento UAI São Jorge (UPA Sul); EY Hamada - Unidade de Pronto Atendimento de Varginha; G Marcatto - UPA Região Norte; C Piras, TR Pancini - Vitória Apart Hospital.
Funding
This work was supported by a research grant from Fundação de Apoio a Pesquisa do Estado de São Paulo, FAPESP, under the number 2017/21052-0 and an individual research grant (FRM) from Conselho Nacional de Desenvolvimento Cientifico e Tecnologico (CNPq). The funding source has no influence in study design; in the collection, analysis, and interpretation of data; in the writing of the report; and in the decision to submit the paper for publication.
Ethics declarations
Conflict of interests
We declare that we have no conflicts of interest.
Ethical approval
All procedures performed in studies involving human participants were in accordance with the ethical standards of the institutional and/or national research committee and with the 1964 Helsinki Declaration and its later amendments or comparable ethical standards. The study was approved by the Research Ethics Committee (ERB) at the coordinating center (Federal University of São Paulo) under the number CAAE: 60953816.4.1001.5505.
Consent to participate
Informed consent was waived because of its observational nature and no direct involvement of patients beyond data collection from patients' charter.
Additional information
Publisher's Note
Springer Nature remains neutral with regard to jurisdictional claims in published maps and institutional affiliations.
The SPREAD ED Investigators, the Instituto Latino Americano de Sepsis Network members name listed in acknowledgement section.
Supplementary Information
Below is the link to the electronic supplementary material.
Rights and permissions
Springer Nature or its licensor (e.g. a society or other partner) holds exclusive rights to this article under a publishing agreement with the author(s) or other rightsholder(s); author self-archiving of the accepted manuscript version of this article is solely governed by the terms of such publishing agreement and applicable law.
About this article
Cite this article
Machado, F.R., Cavalcanti, A.B., Braga, M.A. et al. Sepsis in Brazilian emergency departments: a prospective multicenter observational study. Intern Emerg Med 18, 409–421 (2023). https://doi.org/10.1007/s11739-022-03179-3
Received:

Accepted:

Published:

Issue Date:

DOI: https://doi.org/10.1007/s11739-022-03179-3
Keywords