Abstract
Anorexia Nervosa is one of the most common form of eating disorders. Cardiac involvement occurs in approximately 80% of patients. Few reports focused on the association between body weight fluctuations and echocardiographic abnormalities, considering linear measurements. We describe echocardiographic and clinical features among male and female patients with anorexia nervosa and the effect of weight gain on these parameters. We performed a single center, retrospective study of patients followed at a dedicated multidisciplinary Unit. The study population consisted of 81 patients, mean age 25 ± 11 years, 94% female. Median body mass index was 14.4 kg/m2 (25th–75th percentile 12.7–15.6 kg/m2). Patients with body mass index below the median value had more often pericardial effusion, smaller left ventricular mass and left ventricular end-diastolic volume and thinner interventricular septum. However, when indexed to body surface area, left ventricular mass and volumes were within the normal range in 90% of population. Patients with pericardial effusion showed mitral valve abnormalities and lower values of white blood cells and platelets, although within normal limits. Presence of pericardial effusion was not related to inflammatory parameters or low plasma protein levels. In 39 patients who displayed weight gain during a median follow-up of 189 days (25th–75th percentile 47–471), increased left ventricular mass, interventricular septum thickness, white blood cells and platelet count and decreased pericardial effusion were observed. Patients with anorexia nervosa have a specific echocardiographic pattern which seems to be proportional to the body size, suggesting a pathophysiological adaptation to the lack of substrates.
Access options
Buy single article
Instant access to the full article PDF.
USD 39.95
Price includes VAT (USA)
Tax calculation will be finalised during checkout.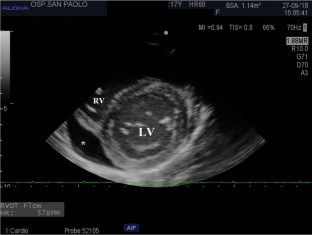 References
1.

Neumarker KJ (1997) Mortality and sudden death in anorexia nervosa. Int J Eat Disord 21:205–212

2.

Halmi KA (1974) Anorexia nervosa: demographic and clinical features in 94 cases. Psychosom Med 36:18–26

3.

Fichter MM, Quadflieg N (2016) Mortality in eating disorder—results of a large prospective clinical longitudinal study. Int J Eat Disord 49(4):391–401

4.

Casiero D, Frishman WH (2006) Cardiovascular complications of eating disorders. Cardiol Rev 14(5):227–231

5.

Gottdiener JS, Gross HA, Henry WL et al (1978) Effects of selfinduced starvation on cardiac size and function in anorexia nervosa. Circulation 58:425–433

6.

Lelli L, Rotella F, Castellini G, Benni L, Lo Sauro C, Barletta G et al (2015) Echocardiographic findings in patients with eating disorders: a case–control study. Nutr Metab Cardiovasc Dis 25(7):694–696

7.

Smythe J, Colebourn C, Prisco L, Petrinic T, Leeson P (2020) Cardiac abnormalities identified with echocardiography in anorexia nervosa: systematic review and meta-analysis. Br J Psychiatry 6:1–10

8.

Kastner S, Salbach-Andrae H, Renneberg B, Pfeiffer E, Lehmkuhl U, Schmitz L (2012) Echocardiographic findings in adolescents with anorexia nervosa at beginning of treatment and after weight recovery. Eur Child Adolesc Psychiatry 21:15–21

9.

Docx MKF, Gewillig M, Simons A, Vandenberghe P, Weyler J, Ramet J et al (2010) Pericardial effusions in adolescent girls with anorexia nervosa: clinical course and risk factors. Eat Disord 18:218–225

10.

Sutton MGSJ, Plappert T et al (1985) Effects of reduced left ventricular mass on chamber architecture, load, and function: a study of anorexia nervosa. Circulation 72(5):991–1000

11.

Olivares JL, Vázquez M, Fleta J, Moreno LA, Pérez-González JM, Bueno M (2005) Cardiac findings in adolescents with anorexia nervosa at diagnosis and after weight restoration. Eur J Pediatr 164(6):383–386

12.

Frölich J, von Gontard A, Lehmkuhl G et al (2001) Pericardial effusions in anorexia nervosa. Eur Child Adolesc Psychiatry 10:54–57

13.

(2013) Diagnostic and statistical manual of mental disorders (DSM-5®). American Psychiatric Pub

14.

Garner DM (1991) Eating disorder Inventory-2. Professional manual. Florida: Psychological Assessment Resources

15.

Shuter B, Alsani A (2000) Body surface area: Du Bois and Du Bois revisited. Eur J Appl Physiol 82(3):250–254

16.

Malik M (2001) Problems of heart rate correction in assessment of drug-induced QT interval prolongation. J Cardiovasc Electrophysiol 12:411–420

17.

Lang RM, Badano LP, Mor-Avi V et al (2016) Recommendations for cardiac chamber quantification by echocardiography in adults: an update from the American Society of Echocardiography and the European Association of Cardiovascular Imaging. Eur Heart J Cardiovasc Imaging 17(4):412

18.

Zoghbi WA, Adams D, Bonow RO et al (2017) Recommendations for noninvasive evaluation of native valvular regurgitation: a report from the american society of echocardiography developed in collaboration with the society for cardiovascular magnetic resonance. J Am Soc Echocardiogr 30(4):303–371

19.

Addetia K, Mor-Avi V, Weinert L, Salgo IS, Lang RM (2014) A new definition for an old entity: improved definition of mitral valve prolapse using three-dimensional echocardiography and color-coded parametric models. J Am Soc Echocardiogr 27(1):8–16

20.

Carpentier A, Adams DH, Filsoufi F (2010) Pathophysiology, preoperative valve analysis, and surgical indications. In: Carpentier A, Adams DH, Filsoufi F (eds) Carpentier's reconstructive valve surgery, 1st edn. Saunders Elsevier, Maryland Heights, pp 43–53

21.

Klein A, Abbara S, Agler DA, Appleton CP, Asher CR, Hoit B, Hung J, Garcia MJ, Kronzon I, Oh JK, Rodriguez ER, Schaff HV, Schoenhagen P, Tan CD, White RD (2013) American Society of Echocardiography clinical recommendations for multimodality cardiovascular imaging of patients with pericardial disease: endorsed by the Society for Cardiovascular Magnetic Resonance and Society of Cardiovascular Computed Tomography. J Am Soc Echocardiogr 26(9):965-1012.e15

22.

Ramacciotti CE, Coli E, Biadi O, Dell'Osso L (2003) Silent pericardial effusion in a sample of anorexic patients. Eat Weight Disord 8(1):68–71

23.

Nagueh SF, Smiseth OA, Appleton CP, Byrd BF 3rd, Dokainish H, Edvardsen T et al (2016) Recommendations for the evaluation of left ventricular diastolic function by echocardiography: an update from the american society of echocardiography and the European association of cardiovascular imaging. J Am Soc Echocardiogr 29(4):277–314

24.

Arcelus J, Mitchell AJ, Wales J, Nielsen S (2011) Mortality rates in patients with anorexia nervosa and other eating disorders. A meta-analysis of 36 studies. Meta-Analysis. Arch Gen Psychiatry 68(7):724–731

25.

Silvetti MS, Magnani M, Santilli A, Di Liso G, Diamanti A, Pompei E, Gambarara M, Montecchi F, Ragonese P (1998) The heart of anorexic adolescents. G Ital Cardiol 28(2):131–139

26.

Webb JG, Kiess MC, Chan-Yan CC (1986) Malnutrition and the heart. CMAJ 135(7):753–758

27.

Escudero CA, Potts JE, Lam PY, De Souza AM, Mugford GJ, Sandor GGS (2016) An echocardiographic study of left ventricular size and cardiac function in adolescent females with anorexia nervosa. Eur Eat Disord Rev 24(1):26–33

28.

Billeci L, Brunori E, Scardigli S, Curzio O, Calderoni S, Maestro S, Morales MA (2018) Excessive physical activity in young girls with restrictive-type anorexia nervosa: its role on cardiac structure and performance. Eat Weight Disord 23(5):653–663

29.

Ulger Z, Gürses D, Ozyurek AR, Arikan C, Levent E, Aydoğdu S (2006) Follow-up of cardiac abnormalities in female adolescents with anorexia nervosa after refeeding. Acta Cardiol 61(1):43–49

30.

Kollai M, Kollai B (1992) Cardiac vagal tone in generalised anxiety disorder. Br J Psychiatry 161:831–835

31.

Yahalom M, Spitz M, Sandler L, Heno N, Roguin N, Turgeman Y (2013) The significance of bradycardia in anorexia nervosa. Int J Angiol 22(2):83–94

32.

Di Vasta AD, Walls CE, Feldman HA, Quach AE, Woods ER, Gordon CM, Alexander ME (2010) Malnutrition and hemodynamic status in adolescents hospitalized for anorexia nervosa. Arch Pediatr Adolesc Med 164(8):706–713

33.

Lamzabi I, Syed S, Reddy VB, Jain R, Harbhajanka A, Arunkumar P (2015) Myocardial changes in a patient with anorexia nervosa: a case report and review of literature. Am J Clin Pathol 143(5):734–737

34.

Vázquez M, Olivares JL, Fleta J, Lacambra I, González M (2003) Cardiac disorders in young women with anorexia nervosa. Rev Esp Cardiol 56(7):669–673

35.

Caregaro L, Favaro A, Santonastaso P, Alberino F, Di Pascoli L, Nardi M, Favaro S, Gatta A (2001) Insulin-like growth factor 1 (IGF-1), a nutritional marker in patients with eating disorders. Clin Nutr 20(3):251–257

36.

Krantz MJ, Lee D, Donahoo WT, Mehler PS (2005) The paradox of normal serum albumin in anorexia nervosa: a case report. Int J Eat Disord 37(3):278–280

37.

Lang RM, Badano LP, MorAvi V, Afilalo J, Armstrong A, Ernande L, Flachskampf FA, Elyse F, Goldstein SA, Kuznetsova T, Lancellotti P, Muraru D, Picard MH, Rietzschel ER, Rudski L, Spencer KT, Tsang W, Voigt JU (2015) Recommendations for cardiac chamber quantification by echocardiography in adults: an update from the American Society of Echocardiography and the European Association of Cardiovascular Imaging. J Am Soc Echocardiogr 28(1):1–3914

38.

Teichholz LE, Kreulen T, Herman MV, Gorlin R (1976) Problems in echocardiographic volume determinations: echocardiographic-angiographic correlations in the presence of absence of asynergy. Am J Cardiol 37(1):7–11

39.

Burup Kristensen C, Steensgaard-Hansen F, Aagaard Myhr K, Jørgen Løkkegaard N, Høyer Finsen S, Hassager C, Møgelvang R (2020) Left ventricular mass assessment by 1- and 2-dimensional echocardiographic methods in hemodialysis patients: changes in left ventricular volume using echocardiography before and after a hemodialysis session. Kidney Med 2(5):578–588
Acknowledgements
We thank Doctor Elena Epis and Doctor Emilio Bergamelli for the contribution in data collection and our sonographer, Alessia Zaniboni and Dario Sansalone, for the high quality of their work.
Funding
This research did not receive any specific grant from funding agencies in the public, commercial, or not-for-profit sectors.
Ethics declarations
Conflict of interest
The authors certify that there is no conflict of interest with any financial organization regarding the material discussed in the manuscript.
Availability of data and material
The data underlying this article will be shared on reasonable request to the corresponding author.
Ethics approval
All study procedures were approved by the Partners Healthcare Institutional Review Board (protocol number 2020/ST/193) and carried out in accordance with the Declaration of Helsinki.
Consent to participate
Freely given informed consent to collect data was obtained from participants.
Consent for publication
Not applicable.
Additional information
Publisher's Note
Springer Nature remains neutral with regard to jurisdictional claims in published maps and institutional affiliations.
About this article
Cite this article
Santangelo, G., Bursi, F., Toriello, F. et al. Echocardiographic changes in anorexia nervosa: a pathophysiological adaptation or a disease?. Intern Emerg Med (2021). https://doi.org/10.1007/s11739-021-02871-0
Received:

Accepted:

Published:
Keywords
Anorexia nervosa

Echocardiography

Pericardial effusion

Mitral regurgitation