Abstract
Atrial fibrillation (AF) is the most prevalent heart rhythm disorder in the general population. Stroke prevention is one of the leading management objectives in the treatment of AF patients. The variables associated with the non-initiation of thromboprophylaxis in patients with thrombotic risk consulting for an episode of AF in Emergency Departments (ED) were investigated. This was a multipurpose, analytical, non-interventionist, multicenter Spanish study with a prospective 30-day follow-up. All patients ≥ 18 years of age consulting to the ED for the casual finding of AF in an electrocardiogram (ECG) performed 12 h prior to the consultation or with symptoms related to AF were enrolled from September 1, 2016 to February 28, 2017. Patients not previously received thromboprophylaxis were selected. Multivariate analysis was performed to calculate the odds ratio (OR) and the 95% confidence interval (CI). A total of 634 patients, not received thromboprophylaxis and at high thrombotic risk, were included. Of these, 251 (39.6%) did not receive thromboprophylaxis at ED discharge. In the multivariate analysis, non-initiation of anticoagulation at discharge from the ED was mostly related to cognitive impairment (OR 3.95; (95% CI 2.02–7.72), cancer history (OR 2.12; (95%CI 1.18–3.81), AF duration < 48 h (OR 2.49; (95% CI 1.48–4.21) and patients with re-establishment of sinus rhythm (OR 3.65; (95% CI 1.47–9.06). Reinforcement of the use of CHA2DS2-VASC as a stroke risk scale and empowerment of ED physicians is a must to improve this gap in care.
Access options
Buy single article
Instant access to the full article PDF.
USD 39.95
Price includes VAT (USA)
Tax calculation will be finalised during checkout.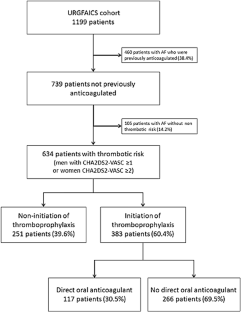 References
1.

Parkash R, Magee K, McMullen M et al (2019) The Canadian Community Utilization of Stroke Prevention Study in Atrial Fibrillation in the Emergency Department (C-CUSP ED). Ann Emerg Med 73:382–392

2.

European Society of Cardiology. 2020 Atrial Fibrillation ESC Guidelines: Implication for practice. Available at: https://www.escardio.org/Guidelines/Clinical-Practice-Guidelines/Atrial-Fibrillation-Management.

3.

Ruff CT, Giugliano RP, Braunwald E, Hoffman EB, Deenadayalu N, Ezekowitz MD et al (2014) Comparison on the efficacy and safety of new oral anticoagulants with warfarin in patients with atrial fibrillation: a meta-analysis of randomized trials. Lancet 383(9921):955–962

4.

Informe de posicionamiento terapéutico UT/V4/23122013: Criterios y recomendaciones generales para el uso de nuevos anticoagulantes orales (NACO) en la prevención del ictus y la embolia sistémica en pacientes con fibrilación auricular no valvular. Madrid: Ministerio de Sanidad, Servicios Sociales e Igualdad, Agencia Española de Medicamentos y Productos Sanitarios; 2013. Available at: http://www.aemps.gob.es/medicamentosUsoHumano/informesPublicos/home.htmKea B, Amber L, Olshansky B, Malveau S, Fu R, Raitt M et al. Stroke-prophylaxis after a new emergency department diagnosis of atrial fibrillation. J Am Coll Cardiol 2018;72(4): 471–472.

5.

Sandhu RK, Bakal JA, Ezekowitz JA et al (2011) The epidemiology of atrial fibrillation in adults depends on locale of diagnosis. Am Heart J 161:986–992

6.

Vinson D, Warton EM, Mark D, Ballard DW, Reed ME, Chettinally UK et al (2018) Thromboprophylaxis for patients with high-risk atrial fibrillation and flutter discharged from the emergency department. West J Emerg Med 19(2):346–360

7.

Coll-Vinent B, Martín A, Sánchez J, Tamargo J, Suero C, Malagón F et al (2017) Benefits of Emergency Departments' contribution to stroke prohpylaxis in atrial fibrillation. The EMERG-AF Study (Emergency Department Stroke Prophylaxis and Guidelines Implementation in Atrial Fibrillation). Stroke 48(5):1344–1352

8.

Kirchhof P, Benussi S, Kotecha D, Ahlsson A, Atar D, Casadei B, ESC Scientific Document Group et al (2016) 2016 ESC Guidelines for the management of atrial fibrillation developed in collaboration with EACTS. Europace 18(11):1609–1678

9.

Wynn G, Todd D, Webber M, Bonnett L, McShane J, Kirchhof P et al (2014) The European Heart Rhythm Association symptom classification for atrial fibrillation: validation and improvement through a simple modification. Europace 16(7):965–972

10.

Dorian P, Cvitkovic SS, Kerr CR, Crystal E, Gillis A, Guerra P et al (2006) A novel, simple scale for assessing the symptom severity of atrial fibrillation at the bedside: the CCS-SAF scale. Can J Cardio 22:383–386

11.

Coll-Vinent B, Martín A, Malagón F, Suero C, Sanchez J, Varona M et al (2015) Stroke prophylaxis in atrial fibrillation: searching for management improvement opportunities in the Emergency Department: the HERMES-AF study. Ann Emerg Med 65(1):1–12

12.

Laguna P, Martín A, Aarco D, on behalf of the GEFAUR-1 investigators et al (2004) Risk factors for stroke and thromboprophylaxis in atrial fibrillation: what happens in daily clinical practice the GEFAUR-1 study. Ann Emerg Med 44:3–11

13.

Holt TA, Hunter TD, Gunnarsson C et al (2012) Risk of stroke and oral anticoagulant use in atrial fibrillation: a cross-sectional survey. Br J Gen Pract 62(603):e710–e717

14.

Madhavan M, Holmes D, Piccini J, Ansell J, Fonarow G, Hylek E et al (2019) Association of frailty and cognitive impairment with benefits of oral anticoagulation in patients with atrial fibrillation. Am Heart J 211:77–89

15.

Tyrovolas S, Koyanagi A, Lara E, Santini XL, Haro JM (2016) Mild cognitive impairment is associated with falls among older adults: findings from the Irish longitudinal study on ageing (TILDA). Exp Gerontol 75:42–47

16.

Man-Son-Hing M, Nichol G, Lau A et al (1999) Choosing antithrombotic therapy for elderly patients with atrial fibrillation who are at risk for falls. Arch Intern Med 159(7):677–685

17.

Gage BF, Birman-Deych E, Kerzner R, Radford MJ, Nilasena DS, Rich MW (2005) Incidence of intracranial hemorrhage in patients with atrial fibrillation who are prone to fall. Am J Med 118:612–617

18.

Garwood CL, Corbett TL (2008) Use of anticoagulation in elderly patients with atrial fibrillation who are at risk for falls. Ann Pharmacother 42:523–532

19.

Donzé J, Clair C, Hug B et al (2012) Risk of falls and major bleeds in patients on oral anticoagulation therapy. Am J Med 125:773–778

20.

Sabbag A, Yao X, Siontis K, Noseworthy P (2018) Anticoagulation for stroke prevention in older adults with atrial fibrillation and comorbidity: current evidence and treatment challenges. Korean Circ J 48(10):873–889

21.

Steffel J, Giugliano RP, Braunwald E et al (2016) Edoxaban versus warfarin in atrial fibrillation patients at risk of falling: ENGAGE AF-TIMI 48 analysis. J Am Coll Cardiol 68:1169–1178

22.

Rao MP, Vinereanu D, Wojdyla DM et al (2018) Clinical outcomes and history of fall in patients with atrial fibrillation treated with oral anticoagulation: insights from the ARISTOTLE trial. Am J Med 131:269-275.e2

23.

López-Fernández T, Martín A, Roldán I, Mitroi C, Mazón P, Díez-Villanueva P et al (2019) Atrial fibrillation in active cancer patients: expert position paper and recommendations. Rev Esp Cardiol (Engl Ed) 72(9):749–759

24.

Atzema C, FRCPC (2018) Stroke prevention for high-risk atrial fibrillation in the emergency setting: the emergency physician perspective. Can J Cardiol 34:125–131

25.

Kea B, Alligood T, Robinson C, Livingston J, Sun B (2019) Stroke prophylaxis for atrial fibrillation? To prescribe or not to prescribe –A qualitative study on the decisiomaking process of emergency department providers. Ann Emerg Med 74(6):759–771

26.

Atzema CL, Jackevicius CA, Chong A, Dorian P, Ivers NM, Parkash R, Austin PC (2019) Prescribing of oral anticoagulants in the emergency department and subsequent long-term use by older adults with atrial fibrillation. CMAJ 191(49):1345–1354

27.

Kim HM, Choi EK, Park CS, Cha MJ, Lee SY, Kwon JM, Oh S (2019) Effectiveness and safety of non-vitamin K antagonist oral anticoagulants in octogenarian patients with non-valvular atrial fibrillation. PLoS ONE 14(3):e0211766
Acknowledgements
Additional authors and members of the URGFAICS Research Group: Dr Xavier Ichart Tomas (Hospital Arnau de Vilanova); Dr Jesús Galvez Mora (Hospital Universitari Joan XXIII); Dr Adrià Steinherr and Dr Neus Robert (Hospital Universitari Germans Trias i Pujol de Badalona); Dr Genis Camprubí (Hospital Universitari de Bellvitge); Dr Loreto Espuis Albas, Dr Javier Del Castillo Nos, Dr Àngel Sierra Moreno and Dr Cristina Herranz Martínez (Hospital de Viladecans).
Funding
This study had no financial support.
Ethics declarations
Conflict of interest
The authors (OY, IC, MA, JG, AM, PF, JS, AE, AZ, JMM and JJ) declare no conflict of interest.
Ethical approval
The study was approved by the Clinical Research Ethics Committee of Hospital Universitari de Bellvitge, Barcelona, Spain (reference number PR354/16).
Consent to participate
Informed consent was obtained from all individual participants included in the study.
Consent for publication
Patients signed informed consent regarding publishing their data.
Additional information
Publisher's Note
Springer Nature remains neutral with regard to jurisdictional claims in published maps and institutional affiliations.
Supplementary Information
Below is the link to the electronic supplementary material.
About this article
Cite this article
Yuguero, O., Cabello, I., Arranz, M. et al. Emergency Department capacity to initiate thromboprophylaxis in patients with atrial fibrillation and thrombotic risk after discharge: URGFAICS cohort analysis. Intern Emerg Med (2021). https://doi.org/10.1007/s11739-021-02864-z
Received:

Accepted:

Published:
Keywords
Atrial fibrillation

Stroke

Thromboprophylaxis

Emergency medicine