Abstract
Background
Patients with aspiration pneumonitis often receive empiric antibiotic therapy despite it being due to a non-infectious, inflammatory response.
Objective
To study the benefits of early antibiotic therapy in patients with suspected aspiration pneumonitis in an acute care hospital.
Design
Retrospective cohort study using electronic medical records from Teine Keijinkai Hospital.
Participants
Adults aged over 18 years admitted with a diagnosis of aspiration pneumonitis to the Department of General Internal Medicine or Emergency Department between January 1, 2008, and May 31, 2019. A diagnosis of aspiration pneumonitis was defined as a documented macro-aspiration event and a chest radiograph demonstrating new radiographic infiltrates.
Main measures
Patients were classified into the "early antibiotic treatment" group and the "no or late treatment" group depending on whether they received antibiotic therapy for respiratory bacterial pathogens within 8 h of arrival. The primary outcome was in-hospital all-cause mortality. Secondary outcomes included length of hospital stay, antibiotic-free days, duration of fever, readmission within one month, and incidence of complications.
Key results
Of the 146 patients enrolled, 52 (35.6%) did not receive early antibiotic therapy, while the remaining 94 (64.4%) did. There was no difference in in-hospital mortality rates between the groups after adjustment for potential confounding variables using Cox proportional hazards analysis (hazard ratio 2.78; 95% confidence interval, 0.57–13.50, p = 0.20). Patients in the no or late treatment group had more antibiotic-free days (p < 0.001) and a shorter length of hospital stay among survivors (p = 0.040) than did those in the early antibiotic treatment group. There were no statistically significant differences between the groups with respect to other secondary outcomes.
Conclusions
Early antibiotic therapy for acute aspiration pneumonitis was not associated with in-hospital mortality, but was associated with a longer hospital stay and prolonged use of antibiotics.
Access options
Buy single article
Instant access to the full article PDF.
US$ 39.95
Tax calculation will be finalised during checkout.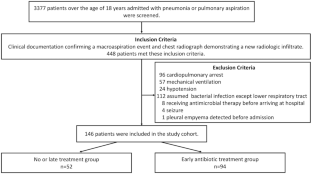 References
1.

DiBardino DM, Wunderink RG (2015) Aspiration pneumonia: a review of modern trends. J Crit Care 30:40–48

2.

Mendelson CL (1946) The aspiration of stomach contents into the lungs during obstetric anesthesia. Am J Obstet Gynecol 52:191–205

3.

Mandell LA, Niederman MS (2019) Aspiration pneumonia. N Engl J Med 380:651–663

4.

Raghavendran K, Nemzek J, Napolitano LM, Knight PR (2011) Aspiration induced lung injury. Crit Care Med 39:818–826

5.

Rebuck JA, Rasmussen JR, Olsen KM (2001) Clinical aspiration-related practice patterns in the intensive care unit: a physician survey. Crit Care Med 29:2239–2244

6.

Kane-Gill SL, Olsen KM, Rebuck JA, Rea RS, Boatwright DW, Smythe MA (2007) Multicenter treatment and outcome evaluation of aspiration syndromes in critically ill patients. Ann Pharmacother 41:549–555

7.

Magill SS, Edwards JR, Beldavs ZG et al (2014) Prevalence of antimicrobial use in US acute care hospitals, May–September 2011. JAMA 312:1438–1446

8.

Hecker MT, Aron DC, Patel NP, Lehmann MK, Donskey CJ (2003) Unnecessary use of antimicrobials in hospitalized patients: current patterns of misuse with an emphasis on the antianaerobic spectrum of activity. Arch Intern Med 163:972–978

9.

Tamma PD, Avdic E, Li DX, Dzintars K, Cosgrove SE (2017) Association of adverse events with antibiotic use in hospitalized patients. JAMA Intern Med 177:1308–1315

10.

Dragan V, Wei Y, Elligsen M, Kiss A, Walker SAN, Leis JA (2018) Prophylactic antimicrobial therapy for acute aspiration pneumonitis. Clin Infect Dis 67:513–518

11.

Lee JS, Giesler DL, Gellad WF, Fine MJ (2016) Antibiotic therapy for adults hospitalized with community-acquired pneumonia: a systematic review. JAMA 315:593–602

12.

Waterer GW, Self WH, Courtney DM et al (2018) In-hospital deaths among adults with community-acquired pneumonia. Chest 154:628–635

13.

Renaud B, Labarère J, Coma E et al (2009) Risk stratification of early admission to the intensive care unit of patients with no major criteria of severe community-acquired pneumonia: development of an international prediction rule. Crit Care 13:R54

14.

Fine MJ, Auble TE, Yealy DM et al (1997) A prediction rule to identify low-risk patients with community-acquired pneumonia. N Engl J Med 336:243–250

15.

Son YG, Shin J, Ryu HG (2017) Pneumonitis and pneumonia after aspiration. J Dent Anesth Pain Med 17:1–12

16.

Lim WS, van der Eerden MM, Laing R et al (2003) Defining community acquired pneumonia severity on presentation to hospital: an international derivation and validation study. Thorax 58:377–382

17.

Kanda Y (2013) Investigation of the freely available easy-to-use software "EZR" for medical statistics. Bone Marrow Transplant 48:452–458

18.

Cameron JL, Mitchell WH, Zuidema GD (1973) Aspiration pneumonia. Clinical outcome following documented aspiration. Arch Surg. 106:49–52

19.

Bynum LJ, Pierce AK (1976) Pulmonary aspiration of gastric contents. Am Rev Respir Dis 114:1129–1136
Acknowledgements
We would like to thank Editage (www.editage.com) for English language editing.
Funding
This research received no specific grant from any funding agency.
Ethics declarations
Conflict of interest
All authors declare that they have no conflicts of interest.
Statement of human and animal rights
The study was approved by the Institutional Review Board of Teine Keijinkai Hospital.
Informed consent
An opt-out consent approach was adopted.
Additional information
Publisher's Note
Springer Nature remains neutral with regard to jurisdictional claims in published maps and institutional affiliations.
Supplementary Information
Below is the link to the electronic supplementary material.
About this article
Cite this article
Aga, M., Naganuma, T., Ohashi, Y. et al. Association of early antibiotic therapy and in-hospital mortality in adult mild-to-moderate acute aspiration pneumonitis: a cohort study. Intern Emerg Med 16, 1841–1848 (2021). https://doi.org/10.1007/s11739-021-02695-y
Received:

Accepted:

Published:

Issue Date:
Keywords
Aspiration pneumonitis

Aspiration pneumonia

Pneumonitis

Antibiotic therapy

Antimicrobial stewardship