Abstract
Low thyroid function has been widely recognized as a potential cause of heart failure (HF), but the evidence about a possible association with in-hospital, all-cause mortality in patients with acute HF (AHF) is not consistent. This study sought to investigate the prevalence and prognostic role of hypothyroidism, overt and subclinical, and of low free-triiodothyronine (fT3) levels in patients hospitalized with AHF. We retrospectively analyzed consecutive 1018 patients who were hospitalized for AHF in a single academic medical center [Fondazione Policlinico A.Gemelli IRCCS, Rome, Italy] between January 1st 2016, and December 31st 2018. Patients were divided into three groups: normal thyroid function (n = 798), subclinical hypothyroidism (n = 105), and overt hypothyroidism (n = 115). The outcome was in-hospital, all-cause mortality. Patients were 81 years of age, 55% were females and nearly two-thirds of the patients were on New York Heart Association functional class III. The three most common cardiovascular comorbidities were coronary artery disease, hypertension, and atrial fibrillation with no differences across the three groups. Overall, 138 patients (14%) died during the hospital stay. The mortality rate was 27% among patients with overt hypothyroid, 17% among those with subclinical hypothyroidism, and 11% among euthyroid patients (p < 0.001). At a multivariate Cox regression model, overt hypothyroidism (HR 2.1, 95% CI 1.4–3.2) and fT3 levels < 1.8 pg/mL (HR 3.4, 95% CI 2.3–5.1) were associated with an increased likelihood of in-hospital death. No association was found with subclinical hypothyroidism. Among patients hospitalized with AHF, overt hypothyroidism and low fT3 levels are independent predictors of all-cause mortality during the hospital stay.
Access options
Buy single article
Instant access to the full article PDF.
USD 39.95
Price excludes VAT (USA)
Tax calculation will be finalised during checkout.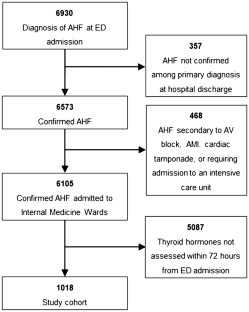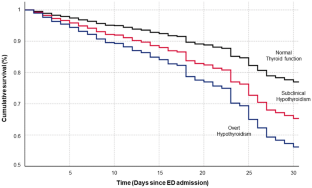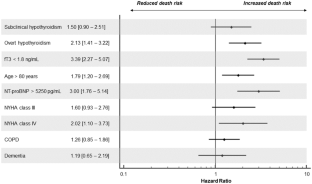 Availability of data and materials
The datasets generated during and/or analyzed during the current study are available from the corresponding author on reasonable request.
References
Floriani C, Gencer B, Coller TH, Rodondi N (2018) Subclinical thyroid dysfunction and cardiovascular diseases: 2016 Update. Eur Heart J 39:503–507

Biondi B, Coppola AR, Cooper DS (2019) Subclinical hypothyroidism: a review. JAMA 322:153–160

Coppola AR, Desai AS, Medici M, Cooper LS, Egan D, Sopko G, Fishman GI, Goldman S, Cooper DS, Mora S, Kudenchuk PJ, Hollenberg AN, McDonald CL, Ladensonet PW (2019) Thyroid and cardiovascular disease: research agenda for enhancing knowledge, prevention and treatment. Circulation 29:760–777

Hamilton MA, Stevenson LW, Luu M, Walden JA (1990) Altered thyroid hormone metabolism in advanced heart failure. J Am Coll Cardiol 16:91–95

Opasich C, Pacini F, Ambrosino N, Riccardi PG, Febo O, Ferrari R, Cobelli F, Tavazzi L (1996) Sick euthyroid syndrome in patients with moderate-to-severe chronic heart failure. Eur Heart J 17:1860–1866

Frey A, Kroiss M, Berliner D, Seifert M, Allolio B, Güder G, Ertl G, Angermann CE, Störk S, Fassnachtet M (2013) Prognostic impact of subclinical thyroid dysfunction in heart failure. Int J Cardiol 168:300–305

Iacoviello M, Guida P, Guastamacchia E, Triggiani V, Forleo C, Catanzaro R, Cicala M, Basile M, Sorrentino S, Favaleet S (2008) Prognostic role of sub-clinical hypothyroidism in chronic heart failure outpatients. Curr Pharm Des 14:2686–2692

Sgarbi JA, Matsumura LK, Kasamatsu TS, Ferreira SR, Maciel RM (2010) Subclinical thyroid dysfunctions are independent risk factors for mortality in a 7.5-year follow-up: the Japanese-Brazilian thyroid study. Eur J Endocrinol 162:569–577

McQuade C, Skugor M, Brennan DM, Hoar B, Stevenson C, Hoogwerf BJ (2011) Hypothyroidism and moderate subclinical hypothyroidism are associated with increased all-cause mortality independent of coronary heart disease risk factors: a preCIS database study. Thyroid 21:837–843

Rodondi N, Newman AB, Vittinghoff E, de Rekeneire N, Satterfield S, Harris TB, Baueret DC (2005) Subclinical hypothyroidism and the risk of heart failure, other cardiovascular events, and death. Arch Intern Med 165:2460–2466

Nyirenda MJ, Clark DN, Finlayson AR, Read J, Elders A, Bain M, Fox KAA, Toftet AD (2005) Thyroid disease and increased cardiovascular risk. Thyroid 15:718–724

Flynn RW, MacDonald TM, Jung RT, Morris AD, Leese GP (2006) Mortality and vascular outcomes in patients treated for thyroid dysfunction. J Clin Endocrinol Metab 91:2159–2164

Thvilum M, Brandt F, Brix TH, Hegedüs L (2012) A review of the evidence for and against increased mortality in hypothyroidism. Nat Rev Endocrinol 8:417–424

Selmer C, Olesen JB, Hansen ML, von Kappelgaard LM, Madsen JC, Hansen PR, Pedersen OD, Faber J, Torp-Pedersen C, Gislason GH (2014) Subclinical and overt thyroid dysfunction and risk of all-cause mortality and cardiovascular events: a large population study. J Clin Endocrinol Metab 99:2372–2382

Vale C, Neves JS, von Hafe M, Borges-Canha M, Leite-Moreira A (2019) The role of thyroid hormones in heart failure. Cardiv Drug Ther 33:179–188

Schweizer U, Steegborn C (2015) New insights into the structure and mechanism of iodothyronine deiodinases. J Mol Endocrinol 55:R37-52

De Groot LJ (2006) Non-thyroidal illness syndrome is a manifestation of hypothalamic-pituitary dysfunction, and in view of current evidence, should be treated with appropriate replacement therapies. Crit Care Clin 22:57–86

Mancini A, Di Segni C, Raimondo S, Olivieri G, Silvestrini A, Meucci E, Currò D (2016) Thyroid hormones, oxidative stress, and inflammation. Mediators Inflamm 16:6757154

Rothberger GD, Gadhvi S, Michelakis N, Kumar A, Calixte R, Shapiro LE (2017) Usefulness of serum triiodothyronine (T3) to predict outcomes in patients hospitalized with acute heart failure. Am J Cardiol 119:599–603

Sato Y, Yoshihisa A, Kimishima Y, Kiko T, Kanno Y, Yokokawa T, Abe S, Misaka T, Sato T, Oikawa M, Kobayashi A, Yamaki T, Kunii H, Nakazato K, Takeishi Y (2019) Low T3 Syndrome is associated with high mortality in hospitalized patients with heart failure. J Card Fail 25:195–203

Hayashi T, Hasegawa T, Kanzaki H, Funada A, Amaki M, Takahama H, Ohara T, Sugano Y, Yasuda S, Ogawa H, Anzai T (2016) Subclinical hypothyroidism is an independent predictor of adverse cardiovascular outcomes in patients with acute decompensated heart failure. ESC Heart Failure 3:168–176

Sato Y, Yoshihisa A, Kimishima Y, Kiko T, Watanabe S, Kanno Y, Abe S, Miyata M, Sato T, Suzuki S, Oikawa M, Kobayashi A, Yamaki T, Kunii H, Nakazato K, Ishida T, Takeishi Y (2018) Subclinical hypothyroidism is associated with adverse prognosis in heart failure patients. Can J Cardiol 34:80–87

Asai K, Shirakabe A, Kiuchi K, Kiko T, Watanabe S, Kanno Y, Abe S, Miyata M, Sato T, Suzuki S, Oikawa M, Kobayashi A, Yamaki T, Kunii H, Nakazato K, Ishida T, Takeishi Y (2020) Relation of low triiodothyronine syndrome associated with aging and malnutrition to adverse outcome in patients with acute heart failure. Am J Cardiol 125:427–435

Marfella R, D'Amico M, Di Filippo C, Siniscalchi M, Sasso FC, Ferraraccio F, Rossi F, Paolisso G (2007) The possible role of the ubiquitin proteasome system in the development of atherosclerosis in diabetes. Cardiovasc Diabetol 6:35

Lino CA, Demasi M, Barreto-Chaves ML (2019) Ubiquitin proteasome system (UPS) activation in the cardiac hypertrophy of hyperthyroidism. Mol Cell Endocrinol 493:110451

Razvi S (2019) Novel uses of thyroid hormones in cardiovascular conditions. Endocrine 66:115–123

Rodondi N, den Elzen WPJ, Bauer DC, Cappola AR, Razvi S, Walsh JP, Asvold BO, Iervasi G, Imaizumi M, Collet TH, Bremner A, Maisonneuve P, Sgarbi JA, Khaw KT, Vanderpump MPJ, Newman AB, Cornuz J, Franklyn JA, Westendorp RGJ, Vittinghoff E, Gussekloo J, Thyroid studies collaboration (2010) Subclinical hypothyroidism and the risk of coronary heart disease and mortality. JAMA 304:1365–1374

Jessup M, Abraham WT, Casey DE, Feldman AM, Francis GS, Ganiats TG, Konstam MA, Mancini DM, Rahko PS, Silver MA, Stevenson LW, Yancy CW (2009) Writing group to review new evidence and update the 2005 guideline for the management of patients with chronic heart failure writing on behalf of the 2005 heart failure writing committee (2009) 2009 Focused update: ACCF/AHA guidelines for the diagnosis and management of heart failure in adults: a report of the American College of Cardiology Foundation/American Heart Association Task Force on Practice Guidelines: developed in collaboration with the International Society for Heart and Lung Transplantation. Circulation 119:1977–2016

Ponikowski P, Voors AA, Anker SD, Bueno H, Cleland JGF, Coats AJS, Falk V, González-Juanatey JR, Harjola VP, Jankowska EA, Jessup M, Linde C, Nihoyannopoulos P, Parissis JT, Pieske B, Riley JP, Rosano GMC, Ruilope LM, Ruschitzka F, Rutten FH, van der Meer P, Authors/Task Force Members (2016) 2016 ESC guidelines for the diagnosis and treatment of acute and chronic heart failure: The Task Force for the diagnosis and treatment of acute and chronic heart failure of the European Society of Cardiology (ESC). Developed with the special contribution of Heart Failure Association (HFA) of the ESC. Eur J Heart Fail 18:891–975

Chuang C, Jong Y, Wu C, Lo H (2014) Impact of triiodothyronine and N-Terminal Pro-B-Type natriuretic peptide on the long-term survival of critically Ill patients with acute heart failure. Am J Cardiol 113:845–850

Hamilton MA, Stevenson LW, Fonarow GC, Steimle A, Goldhaber JI, Child JS, Chopra IJ, Moriguchi JD, Hageet A (1998) Safety and hemodynamic effects of intravenous triiodothyronine in advanced congestive heart failure. Am J Cardiol 81:443–447

Pingitore A, Galli E, Barison A, Iervasi A, Scarlattini M, Nucci D, Labbate A, Mariotti R, Iervasi G (2008) Acute effects of triiodothyronine (T3) replacement therapy in patients with chronic heart failure and low-T3 syndrome: a randomized, placebo-controlled study. J Clin Endocrinol Metab 93:1351–1358

Goldman S, McCarren M, Morkin E, Ladenson PW, Edson R, Warren S, Ohm J, Thai H, Churby L, Barnhill J, O'Brien T, Anand I, Warner A, Hattler B, Dunlap M, Erikson J, Shih MC, Lavori P (2009) DITPA (3-5-diiodothyropropionic acid), a thyroid hormone analog to treat heart failure: phase II trial veterans affair cooperative study. Circulation 119:3093–3100

Trivieri MG, Oudit GY, Sah R, Kerfant GB, Sun H, Gramolini AO, Pan Y, Wickenden AD, Croteau W, de Escobar GM, Pekhletski R, St Germain D, Maclennan DH, Backxet PH (2006) Cardiac-specific elevations in thyroid hormone enhance contractility and prevent pressure overload-induced cardiac dysfunction. Proc Natl Acad Sci USA 103:6043–6048

Marfella R, Ferraraccio F, Rizzo MR, Portoghese M, Barbieri M, Basilio C, Nersita R, Siniscalchi LI, Sasso FC, Ambrosino I, Siniscalchi M, Maresca L, Sardu C, Amato G, Paolisso G, Carella C (2011) Innate immune activity in plaque of patients with untreated and l-thyroxine-treated subclinical hypothyroidism. J Clin Endocrinol Metab 4:1015–1020

Doust JA, Pietrzak E, Dobson A, Glaszin PP (2005) How well does B-type natriuretic peptide predict death and cardiac events in patients with heart failure: systemic review. Br Med J 330:625e634

Daniels LB, Maisel AS (2007) Natriuretic peptides. J Am Coll Cardiol 50:2357-e2368
Funding
This research did not receive any specific grant from funding agencies in the public, commercial, or not-for-profit sectors.
Ethics declarations
Conflict of interest
All authors declare no conflict of interest in this paper.
Ethics approval
The study was conducted in accordance with the principles expressed in the Declaration of Helsinki and was approved by the local ethical committee.
Informed consent
Being a retrospective study performed on a database of anonymized patients, informed consent was not required.
Additional information
Publisher's Note
Springer Nature remains neutral with regard to jurisdictional claims in published maps and institutional affiliations.
About this article
Cite this article
De Matteis, G., Covino, M., Burzo, M.L. et al. Prognostic role of hypothyroidism and low free-triiodothyronine levels in patients hospitalized with acute heart failure. Intern Emerg Med 16, 1477–1486 (2021). https://doi.org/10.1007/s11739-020-02582-y
Received:

Accepted:

Published:

Issue Date:

DOI: https://doi.org/10.1007/s11739-020-02582-y
Keywords
Acute heart failure

Overt hypothyroidism

Subclinical hypothyroidism

Free-triiodothyronine