Abstract
It is well known that tobacco smoking worsens asthma. Conversely, few data are currently available in the literature on the effects of vaping in asthmatic patients. This work aims to investigate the effects of vaping on asthmatic patients and in asthmatic patients that switched from tobacco smoking to electronic cigarette (e-cig), in particular focusing on quality of life, asthma control, and pulmonary function. We designed a two-group study. One group encompassed vapers with asthma selected through a web survey with questions on quality of life and symptoms worsening; the other group encompassed vapers that switched from tobacco smoking to e-cig, and that volunteered to undergo clinical visits at our outpatient clinic. 2787 people responded to the web survey, including 631 asthmatics. In the second group, 55 volunteers, including 15 asthmatics, were enrolled after a visit. The visit included physical examination and pulmonary function tests (PFT). Internationally validated questionnaires were administered to all subjects: Asthma Control Test (ACT), Asthma Control Questionnaire (ACQ), 36-Item Short Form Survey (SF-36) and Asthma Quality of Life Questionnaire (AQLQ). The 382 asthmatic vapers-only in the web survey were mainly males (86.9%), 31–65 years old. 90% of them declared that vaping did not worsen asthma symptoms and would recommend asthmatic smokers to switch to vaping (98.4%). There was worsening of asthma symptoms due to the actual asthma therapy used by the participants, while no relationship was found with other aspects analysed. In the second group, the analysis of variance in the questionnaires administered to the 10 asthmatics showed a significant improvement in ACQ, ACT and SF-36 for asthmatics that switched from tobacco to vaping, while PFT remained stable throughout the three visits. Almost all of the asthmatics who previously smoked would recommend switching to e-cig, and vaping did not worsen their asthma symptoms. Furthermore, switching from tobacco smoking to e-cigs showed a significant improvement in asthma control and quality of life, not showing, in the period studied, to affect pulmonary function tests.
This is a preview of subscription content,
to check access.
Access this article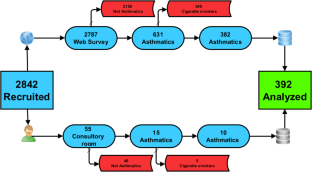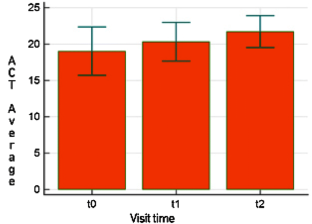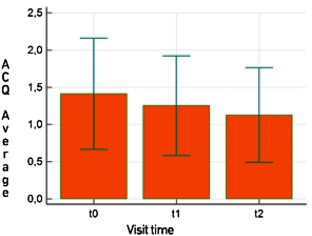 Data availability
The datasets generated during and/or analysed during the current study are available from the corresponding author on reasonable request.
References
Matthew M, Denise F, Shaun H, Richard B (2004) The global burden of asthma: executive summary of the GINA Dissemination Committee Report. Allergy 59(5):469–478. https://doi.org/10.1111/j.1398-9995.2004.00526.x

Lai CKW, Beasley R, Crane J, Foliaki S, Shah J, Weiland S (2009) Global variation in the prevalence and severity of asthma symptoms: Phase Three of the International Study of Asthma and Allergies in Childhood (ISAAC). Thorax 64(6):476–483. https://doi.org/10.1136/thx.2008.106609

Bateman ED, Hurd SS, Barnes PJ, Bousquet J, Drazen JM, FitzGerald JM, Gibson P, Ohta K, O'Byrne P, Pedersen SE, Pizzichini E, Sullivan SD, Wenzel SE, Zar HJ (2008) Global strategy for asthma management and prevention: GINA executive summary. Eur Respir J 31(1):143–178. https://doi.org/10.1183/09031936.00138707

Thomson NC, Chaudhuri R, Livingston E (2004) Asthma and cigarette smoking. Eur Respir J 24(5):822–833. https://doi.org/10.1183/09031936.04.00039004

Chalmers GW, Macleod KJ, Little SA, Thomson LJ, McSharry CP, Thomson NC (2002) Influence of cigarette smoking on inhaled corticosteroid treatment in mild asthma. Thorax 57(3):226–230

Chaudhuri R, Livingston E, McMahon AD, Thomson L, Borland W, Thomson NC (2003) Cigarette smoking impairs the therapeutic response to oral corticosteroids in chronic asthma. Am J Respir Crit Care Med 168(11):1308–1311. https://doi.org/10.1164/rccm.200304-503OC

Barrington-Trimis JL, Gibson LA, Halpern-Felsher B, Harrell MB, Kong G, Krishnan-Sarin S, Leventhal AM, Loukas A, McConnell R, Weaver SR (2018) Type of e-cigarette device used among adolescents and young adults: findings from a pooled analysis of eight studies of 2166 vapers. Nicotine Tob Res 20(2):271–274. https://doi.org/10.1093/ntr/ntx069

Bauld L, MacKintosh AM, Eastwood B, Ford A, Moore G, Dockrell M, Arnott D, Cheeseman H, McNeill A (2017) Young people's use of e-cigarettes across the United Kingdom: findings from five surveys 2015–2017. Int J Environ Res Public Health. https://doi.org/10.3390/ijerph14090973

Brown J, West R, Beard E, Michie S, Shahab L, McNeill A (2014) Prevalence and characteristics of e-cigarette users in Great Britain: findings from a general population survey of smokers. Addict Behav 39(6):1120–1125. https://doi.org/10.1016/j.addbeh.2014.03.009

Brown J, Beard E, Kotz D, Michie S, West R (2014) Real-world effectiveness of e-cigarettes when used to aid smoking cessation: a cross-sectional population study. Addiction (Abingdon, England) 109(9):1531–1540. https://doi.org/10.1111/add.12623

Rahman MA, Hann N, Wilson A, Mnatzaganian G, Worrall-Carter L (2015) E-cigarettes and smoking cessation: evidence from a systematic review and meta-analysis. PLoS ONE. https://doi.org/10.1371/journal.pone.0122544

Tombor I, Shahab L, Herbec A, Neale J, Michie S, West R (2015) Smoker identity and its potential role in young adults' smoking behavior: a meta-ethnography. Health Psychol 34(10):992–1003. https://doi.org/10.1037/hea0000191

Etter JF (2017) Electronic cigarette: a longitudinal study of regular vapers. Nicotine Tob Res. https://doi.org/10.1093/ntr/ntx132

Farsalinos KE, Poulas K, Voudris V, Le Houezec J (2016) Electronic cigarette use in the European Union: analysis of a representative sample of 27 460 Europeans from 28 countries. Addiction (Abingdon, England) 111(11):2032–2040. https://doi.org/10.1111/add.13506

Polosa R, Caponnetto P, Niaura R, Abrams D (2017) Analysis of E-cigarette use in the 2014 Eurobarometer survey: calling out deficiencies in epidemiology methods. Intern Emerg Med 12(6):733–735. https://doi.org/10.1007/s11739-017-1667-z

Polosa R, Morjaria J, Caponnetto P, Caruso M, Strano S, Battaglia E, Russo C (2014) Effect of smoking abstinence and reduction in asthmatic smokers switching to electronic cigarettes: evidence for harm reversal. Int J Environ Res Public Health 11(5):4965–4977. https://doi.org/10.3390/ijerph110504965

Institute OHR (2019) E-Cigarette Inner City RCT [ClinicalTrials.gov Identifier: NCT03249428]. https://clinicaltrials.gov/ct2/show/NCT03249428?term=e-cig&cond=Asthma&rank=1

Juniper EF, Svensson K, Mork AC, Stahl E (2005) Measurement properties and interpretation of three shortened versions of the asthma control questionnaire. Respir Med 99(5):553–558. https://doi.org/10.1016/j.rmed.2004.10.008

Ware JE Jr, Sherbourne CD (1992) The MOS 36-item short-form health survey (SF-36). I. Conceptual framework and item selection. Med Care 30(6):473–483

Schatz M, Sorkness CA, Li JT, Marcus P, Murray JJ, Nathan RA, Kosinski M, Pendergraft TB, Jhingran P (2006) Asthma Control Test: reliability, validity, and responsiveness in patients not previously followed by asthma specialists. J Allergy Clin Immunol 117(3):549–556. https://doi.org/10.1016/j.jaci.2006.01.011

Chung KF, Wenzel SE, Brozek JL, Bush A, Castro M, Sterk PJ, Adcock IM, Bateman ED, Bel EH, Bleecker ER, Boulet LP, Brightling C, Chanez P, Dahlen SE, Djukanovic R, Frey U, Gaga M, Gibson P, Hamid Q, Jajour NN, Mauad T, Sorkness RL, Teague WG (2014) International ERS/ATS guidelines on definition, evaluation and treatment of severe asthma. Eur Respir J 43(2):343–373. https://doi.org/10.1183/09031936.00202013

Patroniti N, Bellani G, Manfio A, Maggioni E, Giuffrida A, Foti G, Pesenti A (2004) Lung volume in mechanically ventilated patients: measurement by simplified helium dilution compared to quantitative CT scan. Intensive Care Med 30(2):282–289. https://doi.org/10.1007/s00134-003-2109-0

Macintyre N, Crapo RO, Viegi G, Johnson DC, van der Grinten CP, Brusasco V, Burgos F, Casaburi R, Coates A, Enright P, Gustafsson P, Hankinson J, Jensen R, McKay R, Miller MR, Navajas D, Pedersen OF, Pellegrino R, Wanger J (2005) Standardisation of the single-breath determination of carbon monoxide uptake in the lung. Eur Respir J 26(4):720–735. https://doi.org/10.1183/09031936.05.00034905

Dweik RA, Boggs PB, Erzurum SC, Irvin CG, Leigh MW, Lundberg JO, Olin AC, Plummer AL, Taylor DR (2011) An official ATS clinical practice guideline: interpretation of exhaled nitric oxide levels (FENO) for clinical applications. Am J Respir Crit Care Med 184(5):602–615. https://doi.org/10.1164/rccm.9120-11ST

Schoonjans F, Zalata A, Depuydt CE, Comhaire FH (1995) MedCalc: a new computer program for medical statistics. Comput Methods Progr Biomed 48(3):257–262

Groneberg DA, Quarcoo D, Frossard N, Fischer A (2004) Neurogenic mechanisms in bronchial inflammatory diseases. Allergy 59(11):1139–1152. https://doi.org/10.1111/j.1398-9995.2004.00665.x

Polosa R, Cibella F, Caponnetto P, Maglia M, Prosperini U, Russo C, Tashkin D (2017) Health impact of e-cigarettes: a prospective 3.5-year study of regular daily users who have never smoked. Sci Rep 7(1):13825. https://doi.org/10.1038/s41598-017-14043-2

Prevention, C.f.D.C.a., Percentage of people with asthma who smoke. Published January 31, 2013. Accessed January 14, 2017

Adam (2018) Mouth to lung (MTL) vs direct to lung (DTL) vaping: a full guide on different vaping styles. Ecigology

Beatriz GF, Isabel V, Pertega-Diaz S (2019) The relationship of psychological factors and asthma control to health-related quality of life. J Allergy Clin Immunol Pract. https://doi.org/10.1016/j.jaip.2019.07.009

Asthma GIf (2017) Global strategy for asthma management and prevention (2017 update). https://www.ginasthma.org

Cochrane MG, Bala MV, Downs KE, Mauskopf J, Ben-Joseph RH (2000) Inhaled corticosteroids for asthma therapy: patient compliance, devices, and inhalation technique. Chest 117(2):542–550. https://doi.org/10.1378/chest.117.2.542

Gamble J, Stevenson M, McClean E, Heaney LG (2009) The prevalence of nonadherence in difficult asthma. Am J Respir Crit Care Med 180(9):817–822. https://doi.org/10.1164/rccm.200902-0166OC

Polosa R, Caponnetto P (2016) The health effects of electronic cigarettes. N Engl J Med 375(26):2608
Funding
None to declare from all of the authors relevant to this work.
Ethics declarations
Conflict of interest
The authors report no conflicts of interest.
Human and animal rights
All human and animal studies have been approved by the appropriate ethics committee and have therefore been performed in accordance with the ethical standards laid down in the 1964 Declaration of Helsinki and its later amendments.
Informed consent
Informed consent was obtained from all individual participants included in the study.
Additional information
Publisher's Note
Springer Nature remains neutral with regard to jurisdictional claims in published maps and institutional affiliations.
Electronic supplementary material
Below is the link to the electronic supplementary material.
About this article
Cite this article
Solinas, A., Paoletti, G., Firinu, D. et al. Vaping effects on asthma: results from a web survey and clinical investigation. Intern Emerg Med 15, 663–671 (2020). https://doi.org/10.1007/s11739-019-02247-5
Received:

Accepted:

Published:

Issue Date:

DOI: https://doi.org/10.1007/s11739-019-02247-5
Keywords