Abstract
Hazelnut and cocoa spread is an Italian product containing cocoa and hazelnut. Several epidemiological studies suggest that cocoa and hazelnuts cocoa exert beneficial cardiovascular effects. To investigate whether in smokers, hazelnut and cocoa spread elicits artery dilatation via down-regulation of oxidative stress. Flow-mediated dilatation (FMD), oxidative stress (as assessed by serum isoprostanes excretion, Nox2 activation and NO bioavailability) and antioxidant status [as assessed by vitamin E levels, plasma total polyphenols and H2O2 breaking down activity (HBA)] were studied in 20 smokers in a crossover, single-blind study. Patients were randomly allocated to 60 g of Hazelnut and cocoa spread or 60 g of milk chocolate (≤ 35% cocoa). FMD, serum isoprostanes, Nox2 activation, NOx, vitamin E, HBA and total polyphenols were assessed at baseline and 2 h after chocolate ingestion. After Hazelnut and cocoa spread intake, FMD and NOx significantly increased (from 4.3 ± 2.8 to 8.0 ± 3.2%, p < 0.001 and from 23.1 ± 5.5 to 32.0 ± 12.6 µM, p = 0.016, respectively); conversely, serum isoprostanes and Nox2 activation significantly decreased (from 302.8 ± 59.8 to 240.7 ± 90.8 pmol/l, p = 0.03 and from 25 ± 4.4 to 22.6 ± 3.2, p = 0.03, respectively). After Hazelnut and cocoa spread intake, serum total polyphenols, vitamin E and HBA significantly increased (from 133.8 ± 49.7 to 202.5 ± 69.5 mg/l GAE, p = 0.001; from 3.56 ± 1.4 to 4.5 ± 1.0 μmol/mmol cholesterol, p = 0.002 and from 63.3 ± 13.2 to 74.2 ± 12.4%, p = 0.003, respectively). No changes in the above variables were observed after milk chocolate intake. A linear correlation analysis shows that Δ (expressed by difference of values between before and after chocolate intake) of FMD correlates with Δ of total polyphenols and Δ of vitamin E. This study shows that Hazelnut and cocoa spread improves FMD with a mechanism potentially involving downregulation of oxidative stress and eventually increased NO generation in smokers.
Access options
Buy single article
Instant access to the full article PDF.
USD 39.95
Price includes VAT (USA)
Tax calculation will be finalised during checkout.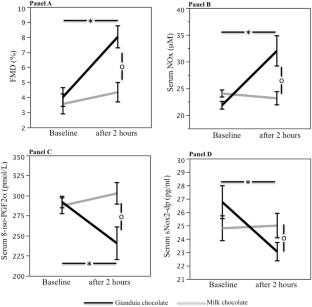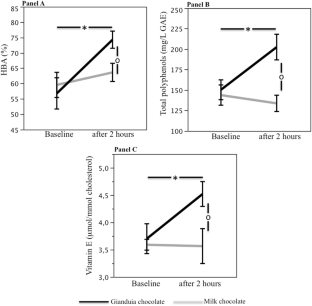 References
1.

Messner B, Bernhard D (2014) Smoking and cardiovascular disease: mechanisms of endothelial dysfunction and early atherogenesis. Arterioscler Thromb Vasc Biol 34(3):509–515. https://doi.org/10.1161/ATVBAHA.113.300156

2.

Carnevale R, Loffredo L, Pignatelli P, Nocella C, Bartimoccia S, Di Santo S, Martino F, Catasca E, Perri L, Violi F (2012) Dark chocolate inhibits platelet isoprostanes via NOX2 down-regulation in smokers. J Thromb Haemost JTH 10(1):125–132. https://doi.org/10.1111/j.1538-7836.2011.04558.x

3.

Kim M, Han CH, Lee MY (2014) NADPH oxidase and the cardiovascular toxicity associated with smoking. Toxicol Res 30(3):149–157. https://doi.org/10.5487/TR.2014.30.3.149

4.

Cangemi R, Angelico F, Loffredo L, Del Ben M, Pignatelli P, Martini A, Violi F (2007) Oxidative stress-mediated arterial dysfunction in patients with metabolic syndrome: effect of ascorbic acid. Free Radic Biol Med 43(5):853–859. https://doi.org/10.1016/j.freeradbiomed.2007.06.002

5.

Loffredo L, Carnevale R, Perri L, Catasca E, Augelletti T, Cangemi R, Albanese F, Piccheri C, Nocella C, Pignatelli P, Violi F (2011) NOX2-mediated arterial dysfunction in smokers: acute effect of dark chocolate. Heart 97(21):1776–1781. https://doi.org/10.1136/heartjnl-2011-300304

6.

Santos-Garcia D, Blanco M, Serena J, Rodriguez-Yanez M, Leira R, Castillo J (2011) Impaired brachial flow-mediated dilation is a predictor of a new-onset vascular event after stroke. Cerebrovasc Dis 32(2):155–162. https://doi.org/10.1159/000328651

7.

Loffredo L, Perri L, Catasca E, Pignatelli P, Brancorsini M, Nocella C, De Falco E, Bartimoccia S, Frati G, Carnevale R, Violi F (2014) Dark chocolate acutely improves walking autonomy in patients with peripheral artery disease. J Am Heart Assoc. https://doi.org/10.1161/JAHA.114.001072

8.

Orem A, Yucesan FB, Orem C, Akcan B, Kural BV, Alasalvar C, Shahidi F (2013) Hazelnut-enriched diet improves cardiovascular risk biomarkers beyond a lipid-lowering effect in hypercholesterolemic subjects. J Clin Lipidol 7(2):123–131. https://doi.org/10.1016/j.jacl.2012.10.005

9.

Verna R (2013) The history and science of chocolate. Malays J Pathol 35(2):111–121

10.

Martinez-Gonzalez MA, Fernandez-Jarne E, Serrano-Martinez M, Wright M, Gomez-Gracia E (2004) Development of a short dietary intake questionnaire for the quantitative estimation of adherence to a cardioprotective Mediterranean diet. Eur J Clin Nutr 58(11):1550–1552. https://doi.org/10.1038/sj.ejcn.1602004

11.

Corretti MC, Anderson TJ, Benjamin EJ, Celermajer D, Charbonneau F, Creager MA, Deanfield J, Drexler H, Gerhard-Herman M, Herrington D, Vallance P, Vita J, Vogel R (2002) Guidelines for the ultrasound assessment of endothelial-dependent flow-mediated vasodilation of the brachial artery: a report of the International Brachial Artery Reactivity Task Force. J Am Coll Cardiol 39(2):257–265

12.

Loffredo L, Marcoccia A, Pignatelli P, Andreozzi P, Borgia MC, Cangemi R, Chiarotti F, Violi F (2007) Oxidative-stress-mediated arterial dysfunction in patients with peripheral arterial disease. Eur Heart J 28(5):608–612. https://doi.org/10.1093/eurheartj/ehl533

13.

Hoffman SW, Roof RL, Stein DG (1996) A reliable and sensitive enzyme immunoassay method for measuring 8-isoprostaglandin F2 alpha: a marker for lipid peroxidation after experimental brain injury. J Neurosci Methods 68(2):133–136

14.

Pignatelli P, Carnevale R, Cangemi R, Loffredo L, Sanguigni V, Stefanutti C, Basili S, Violi F (2010) Atorvastatin inhibits gp91phox circulating levels in patients with hypercholesterolemia. Arterioscler Thromb Vasc Biol 30(2):360–367. https://doi.org/10.1161/ATVBAHA.109.198622

15.

Serafini M, Maiani G, Ferro-Luzzi A (1998) Alcohol-free red wine enhances plasma antioxidant capacity in humans. J Nutr 128(6):1003–1007. https://doi.org/10.1093/jn/128.6.1003

16.

Zerbinati C, Galli F, Regolanti R, Poli G, Iuliano L (2015) Gas chromatography-mass spectrometry microanalysis of alpha- and gamma-tocopherol in plasma and whole blood. Clin Chim Acta 446:156–162. https://doi.org/10.1016/j.cca.2015.04.026

17.

Loffredo L, Baratta F, Ludovica P, Battaglia S, Carnevale R, Nocella C, Novo M, Pannitteri G, Ceci F, Angelico F, Violi F, Del Ben M (2018) Effects of dark chocolate on endothelial function in patients with non-alcoholic steatohepatitis. Nutr Metab Cardiovasc Dis NMCD 28(2):143–149. https://doi.org/10.1016/j.numecd.2017.10.027

18.

Lundberg JO, Weitzberg E (2005) NO generation from nitrite and its role in vascular control. Arterioscler Thromb Vasc Biol 25(5):915–922. https://doi.org/10.1161/01.ATV.0000161048.72004.c2

19.

Corti R, Flammer AJ, Hollenberg NK, Luscher TF (2009) Cocoa and cardiovascular health. Circulation 119(10):1433–1441. https://doi.org/10.1161/CIRCULATIONAHA.108.827022

20.

Joris PJ, Mensink RP (2015) Effects of supplementation with the fat-soluble vitamins E and D on fasting flow-mediated vasodilation in adults: a meta-analysis of randomized controlled trials. Nutrients 7(3):1728–1743. https://doi.org/10.3390/nu7031728
Ethics declarations
Conflict of interest
The authors declare that they have no conflict of interest.
Statement of human and animal rights
All procedures performed in studies involving human participants were in accordance with the ethical standards of the institutional or national research committee and with the Helsinki declaration and its later amendments or comparable ethical standards.
Informed consent
Informed written consent was obtained from all subjects; the study conformed to the ethical guidelines of the 1975 Declaration of Helsinki, and was approved by the Sapienza University of Rome Ethics Committee.
About this article
Cite this article
Loffredo, L., Perri, L., Battaglia, S. et al. Hazelnut and cocoa spread improves flow-mediated dilatation in smokers. Intern Emerg Med 13, 1211–1217 (2018). https://doi.org/10.1007/s11739-018-1913-z
Received:

Accepted:

Published:

Issue Date:
Keywords
Cocoa

Hazelnut

Flow-mediated dilation

Oxidative stress