Abstract
Dietary and herbal supplements (DHS) are widely used in the general population, including during hospitalization. Yet, their potential interactions with prescription drugs have seldom been delineated among inpatients. We aimed to evaluate potentially dangerous interactions of DHS with prescribed medications among inpatients. This was a cross-sectional prospective study involving a cohort of patients hospitalized in 12 departments of a public academic medical center (Bnai Zion Medical Center, Haifa, Israel) from 2009 to 2014. DHS users were determined via a questionnaire. The Natural Medicine database was used to search for potential DHS–drug interactions for identified DHS, and the clinical significance was evaluated using Lexi-interact online interaction analysis. Medical files were assessed for documentation of DHS use. Univariate and multivariate logistic regression analyses were used to characterize potential risk factors for DHS–drug interactions. Of 927 patients consenting to answer the questionnaire, 458 (49 %) reported DHS use. Of these, 215 (47 %) had at least one potential interaction during hospitalization (759 interactions). Of these interactions, 116 (15 %) were potentially clinically significant. Older age [OR = 1.02 (1.01–1.04), p = 0.002], males [OR = 2.11 (1.35–3.29), p = 0.001] and increased number of used DHS [OR = 4.28 (2.28–8.03), p < 0.001] or drugs [OR = 1.95 (1.17–3.26), p = 0.011] were associated with potential interactions in DHS users. Physicians documented only 16.5 % of DHS involved in these interactions in patients' medical files. In conclusion, a substantial number of inpatients use DHS with potential interactions with concomitant medications. Medical staff should be aware of this, question patients on DHS usage and check for such interactions.
This is a preview of subscription content, log in to check access.
Access options
Buy single article
Instant access to the full article PDF.
US$ 39.95
Tax calculation will be finalised during checkout.
Subscribe to journal
Immediate online access to all issues from 2019. Subscription will auto renew annually.
US$ 99
Tax calculation will be finalised during checkout.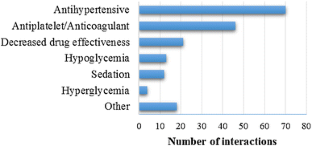 References
1.

Dietary Supplements Health and Education Act (1994) https://ods.od.nih.gov/About/dshea_wording.aspx. Accessed 15 June 2015

2.

Lavy T, Haran B, Shemer J, Shani S (2000) Regulation of natural medicines in Israel and abroad. Harefuah 139(9–10):339–344 (408, 407)

3.

Peter AGM De Smet, PharmD., Ph.D (2002) Herbal remedies. NEJM 347(25):2046–2056

4.

Qadour E, Ben-Arye E, Goldstein L, Attias S, Schiff E (2015) Dietary supplements use during hospitalization. Harefuah. 154(1):39–42

5.

Wu CH, Wang CC, Kennedy J (2011) Changes in herb and dietary supplement use in the U.S. adult population: a comparison of the 2002 and 2007 National Health Interview Surveys. Clin Ther 33(11):1749–1758

6.

Ben-Arye E, Halabi I, Goldstein L, Attias S, Schiff E (2014) Asking patients the right questions about herbal and dietary supplements: cross-cultural perspectives. Complement Ther Med. 22(2):304–310

7.

Goldstein LH, Elias M, Ron-Avraham G, Biniaurishvili BZ, Mad-jar M, Kamargash I et al (2007) Consumption of herbal remedies and dietary supplements amongst patients hospitalized in medical wards. Br J Clin Pharmacol 64(3):373–380

8.

Sood A, Sood R, Brinker FJ, Mann R, Loehrer LL, Wahner-Roedler DL (2008) Potential for interactions between dietary supplements and prescription medications. Am J Med 121(3):207–211

9.

Alexopoulou A, Dourakis SP, Mantzoukis D et al (2008) Adverse drug reactions as a cause of hospital admissions: a 6-month experience in a single center in Greece. Eur J Intern Med. 19(7):505–510

10.

Shapiro LE, Shear NH (1999) Drug-drug interactions: how scared should we be? CMAJ 161(10):1266–1267

11.

Izzo AA (2005) Herb-drug interactions: an overview of the clinical evidence. Fundam Clin Pharmacol 19(1):1–16

12.

Spiteri Staines S (2011) Herbal medicines: adverse effects and drug-herb interactions. J Malta Coll Pharm Pract 17:38–42

13.

Foster BC, Vandenhoek S, Hana J et al (2003) In vitro inhibition of human cytochrome P450-mediated metabolism of marker substrates by natural products. Phytomedicine 10:334–342

14.

Islam MS, Choi H (2008) Comparative effects of dietary ginger (Zingiber officinale) and garlic (Allium sativum) investigated in a type 2 diabetes model of rats. J Med Food 11:152–159

15.

Végh A, Lankó E, Fittler A, Vida RG, Miseta I, Takács G, Botz L (2014) Identification and evaluation of drug supplement interactions in Hungarian hospital patients. Int J Clin Pharm 36(2):451–459

16.

Graham RE, Gandhi TK, Borus J, Seger AC, Burdick E, Bates DW, Phillips RS, Weingart SN (2008) Risk of concurrent use of prescription drugs with herbal and dietary supplements in ambulatory care. In: Henriksen K, Battles JB, Keyes MA, Grady ML (eds) Advances in patient safety: new directions and alternative approaches. Technology and Medication Safety, vol 4. Agency for Healthcare Research and Quality, Rockville, US

17.

Mouly S, Morgand M, Lopes A, Lloret-Linares C, Bergmann JF (2015) Drug-foods interactions in internal medicine: what physicians should know? Rev Med Interne 36(8):530–539

18.

Gardiner P, Filippelli AC, Sadikova E, White LF, Jack BW (2015) Medication and dietary supplement interactions among a low-income, hospitalized patient population who take cardiac medications. Evid Based Complement Alternat Med 2015:429826

19.

Alsanad SM, Williamson EM, Howard RL (2014) Cancer patients at risk of herb food supplement-drug interactions—a systematic review. Phytother Res 28(12):1749–1755

20.

Donaldson M, Touger-Decker R (2013) Dietary supplement interactions with medications used commonly in dentistry. J Am Dent Assoc 144(7):787–794

21.

Natural Medicines Comprehensive Database (2015) http://naturaldatabase.therapeuticresearch.com. Accessed 15 June 2015

22.

Sarma DN, Barrett ML, Chavez ML, Gardiner P, Ko R, Mahady GB, Marles RJ, Pellicore LS, Giancaspro GI, Low Dog T (2008) Safety of green tea extracts: a systemic review by the US Pharmacopeia. Drug Saf 31(6):469–484

23.

Kandarkar SV, Sawant SS, Ingle AD, Deshpande SS, Maru GB (1998) Subchronic oral hepatotoxicity of turmeric in mice—histopatological and ultrastructural studies. Indian J Exp Biol 36(7):675–679

24.

Landbo C, Almdal TP (1998) Interaction between warfarin and coenzyme Q10. Ugeskr Laeger 160(22):3226–3227

25.

Schmolz M, Marz RW, Schaudt M, Schaudt C, Lauster C (2014) Immunomodulatory activities of a concentrated fruit and vegetable juice tested in a randomized, placebo-controlled, double-blind clinical trial in healthy volunteers. Food Nutr Sci 5:341–350

26.

Goodnight SH Jr, Harris WS, Connor WE (1981) The effects of dietary omega 3 fatty acids on platelet composition and function in man: a prospective, controlled study. Blood 58(5):880–885

27.

Peng CC, Glassman PA, Trilli LE et al (2004) Incidence and severity of potential drug-dietary supplement interactions in primary care patients: an exploratory study on 2 outpatient practices. Arch Intern Med 164:630–636

28.

McCune JS, Haltfield AJ, Blackburn AA et al (2004) Potential of chemotherapy-herb interactions in adult cancer patients. Support Care Cancer 12:454–462

29.

Dergal JM, Gold JL, Laxer DA et al (2002) Potential interactions between herbal and conventional drug therapies used by older adults attending a memory clinic. Drugs Aging 19:879–886

30.

Wirsansky I (2012) Educational interventions for developing awareness and imparting skill questioning about use of dietary and herbal supplements among hospitalized patients. Fundamental Sciences Theses. Technion
Acknowledgments
We acknowledge Ms. Silvi Auerbach, Ms. Rita Stern, Ms. Anat Melamed, Ms. Ramzia Sarouzi, Ms. Alexandra Kamladi-nov, Ms. Shani Shitrit, Ms. Nur Zahawa, Ms. Wafa Halabi, Ms. Rana Huri, Ms. Riham Hanifes, Ms. Missa Abu-Hussein, Ms. Rachel Alberg, Ms. Meital Attias, Ms. Yulia Korshov, Ms. Dikla Cogan, Ms. Marina Ukon, Ms. Michal Fassoua, Ms. Einav Kadour, Ms. Inbal Halabi, Ms. Shlomit Grimberg, Ms. Sarah Ben Shlosh and Ms. Myriam Rosenblum for their contribution in interviewing patients; Ms. Ilana Merhav and Ms. Tanya Kligerman for their assistance in the literature search; Ms. Ronit Leiba for the statistical processing.
Ethics declarations
Conflict of interest
The authors declare that they have no conflict of interest.
Statement of human and animal rights
All procedures performed in studies involving human participants were in accordance with the ethical standards of the institutional and/or national research committee and with the 1964 Helsinki declaration and its later amendments or comparable ethical standards. This article does not contain any studies with animals performed by any of the authors.
Informed consent
Informed consents have been given verbally by patients as stated in the Institutional Ethics Committee of our medical center.
Additional information
I. Levy and S. Attias have made equal contribution.
Appendix
Appendix
Screening for the use of dietary and herbal supplements in hospitalized patients
In this questionnaire we want to learn what is your opinion on the use of herbs and supplements of complementary medicine. Please consider only herbal and dietary supplements (vitamins, etc.) for the treatment of your medical conditions.
1.

Year of birth:

2.

Gender

a.

Male

b.

Female

3.

Residence

a.

Urban

b.

Rural

4.

Country of birth

a.

Israel

b.

Former USSR

c.

Other

5.

Education

a.

No education

b.

Elementary school

c.

Secondary

d.

Tertiary, university

6.

Have you used dietary supplements or herbs for health issues during the previous year? (natural products, natural medicines, grandma remedies, folk/traditional herbs picked in the wild, vitamins, etc.)

a.

Yes—Continue to question 7

b.

No—Stop here
For each supplement/herb
7.

Name of the supplement/herb:

8.

Dosage (if known):

9.

How long have you been using it?

a.

Less than a month

b.

1–6 months

c.

More than 6 months

10.

Are you using it during hospitalization?

a.

Yes

b.

No

11.

If you are not using it during hospitalization, when did you stop using it?

a.

On day of hospitalization

b.

1 day to 1 week before hospitalization

c.

Over 1 week before hospitalization

12.

What is the rationale for using it?

a.

Mental state improvement

b.

General strengthening

c.

Treatment of high cholesterol level

d.

Treatment of diabetes

e.

Treatment of hypertension

f.

Prevention or treatment of memory impairment

g.

Treatment of gastrointestinal problems

h.

Treatment of urinary tract infections

i.

Treatment of backache, joint or muscle pain

j.

Treatment of hot flushes and menopausal symptoms

k.

Prevention or treatment of cancer

l.

Treatment of cardiovascular conditions

m.

Treatment of respiratory conditions

n.

Other—specify.

13.

Who advised you using herbs/supplements?

a.

Physician

b.

Pharmacist

c.

Naturopath

d.

Friends/family

e.

Publication

f.

Other—specify.

14.

Does your primary care physician know you are using herbs/supplements?

a.

Yes

b.

No

15.

If yes, how did he/she find out?

a.

I told him/her

b.

He/she asked

c.

Other—specify.

16.

If you did not tell your primary care physician, what is the reason for that?

a.

I don't think it is important

b.

This is not a medication

c.

I was concerned about the physician's reaction

d.

The physician does not understand

e.

The physician did not ask

f.

I did not have time

g.

This is natural so it cannot harm

h.

Other—specify.

17.

Do hospital physicians know you are using herbs/supplements?

a.

Yes

b.

No

18.

If yes, how did they find out?

a.

I told them

b.

They asked

c.

Other—specify.

19.

If you did not tell hospital physicians, what is the reason for that?

a.

I don't think it is important

b.

This is not a medication

c.

I was concerned about the physicians' reaction

d.

The physicians do not understand

e.

The physicians did not ask

f.

I did not have time

g.

This is natural so it cannot harm

h.

Other—specify.
Date:
Surveyor name:
About this article
Cite this article
Levy, I., Attias, S., Ben-Arye, E. et al. Potential drug interactions with dietary and herbal supplements during hospitalization. Intern Emerg Med 12, 301–310 (2017). https://doi.org/10.1007/s11739-016-1548-x
Received:

Accepted:

Published:

Issue Date:
Keywords
Drug interactions

Dietary supplements

Herbal medicine

Inpatients

Hospital