Abstract
Academic physicians train the next generation of doctors. It is important to understand the factors that lead residents to choose an academic career to continue to effectively recruit residents who will join the national medical faculty. A decision-making theory-driven, large scale assessment of this process has not been previously undertaken. To examine the factors that predict an Emergency resident's interest in pursuing an academic career at the conclusion of training. This study employs the ABEM Longitudinal Survey (n = 365). A logistic regression model was estimated using an interest in an academic career in residency as the dependent variable. Independent variables include gender, under-represented minority status, survey cohort, number of dependent children, possession of an advanced degree, ongoing research, publications, and the appeal of science, independence, and clinical work in choosing EM. Logistic regression resulted in a statistically significant model (p < 0.001). Residents who chose EM due to the appeal of science, had peer-reviewed publications and ongoing research were more likely to be interested in an academic career at the end of residency (p < 0.05). An increased number of children (p < 0.05) was negatively associated with an interest in academics. Individual resident career interests, research productivity, and lifestyle can help predict an interest in pursuing an academic career. Recruitment and enrichment of residents who have similar values and behaviors should be considered in programs interested in generating more graduates who enter an academic career.
Access options
Buy single article
Instant access to the full article PDF.
US$ 39.95
Tax calculation will be finalised during checkout.
Subscribe to journal
Immediate online access to all issues from 2019. Subscription will auto renew annually.
US$ 79
Tax calculation will be finalised during checkout.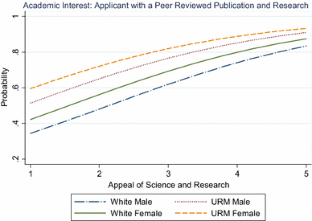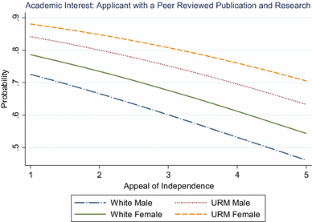 References
1.

McGaghie WC, Frey JJE (1986) Handbook for the academic physician. Springer, Berlin

2.

Maggio LA et al (2013) Evidence-based medicine training in undergraduate medical education: a review and critique of the literature published 2006–2011. Acad Med 88(7):1022–1028

3.

Chaffee EE (1983) Rational decision making in higher education. National Center for Higher Education Management, Boulder

4.

DesJardins SL, Toutkoushin RK (2005) Are students really rational? The development of rational thought and its application to student choice. In: Smart J (ed) Higher education: handbook of theory and research. Springer, The Netherlands, pp 191–240

5.

Krumbotlz JD, Mitchell AM, Jones GB (1976) A social learning theory of career selection. Couns Psychol 6(71):71–81

6.

Sanders AB, Fulginiti JV, Witzke DB (1992) Factors influencing resident career choices in emergency medicine. Ann Emerg Med 21(1):47–52

7.

Lent RW, Brown SD, Larkin KC (1986) Self-efficacy in the prediction of academic performance and perceived career options. J Couns Psychol 33(3):265–269

8.

Burkhardt JC, Kowalenko T, Meurer W (2011) Academic career selection in American emergency medicine residents. Acad Emerg Med 18(S2):S48–S53

9.

Straus SE, Straus C, Tzanteos K (2005) Career choice in academic medicine. J Gen Intern Med 21(12):1222–1229

10.

Sanders AB, Fulginiti JV, Witzke DB (1994) Characteristics influencing career decisions of academic and non academic emergency physicians. Ann Emerg Med 23(1):81–87

11.

Patterson SK et al (2002) Is past academic productivity predictive of radiology resident academic productivity? Acad Radiol 9(2):211–216

12.

Newton DA, Grayson MS, Thompson LF (2005) The variable influence of lifestyle and income on medical students' career specialty choices: data from two US medical schools, 1998–2004. Acad Med 8(9):809–815

13.

Jones BD (1999) Bounded rationality. Annu Rev Polit Sci 2:297–321

14.

Borges NJ, Navarro AM, Grover A, Hoban JD (2010) How, when, and why do physicians choose careers in academic medicine? a literature review. Acad Med 85(4):680–686

15.

Cain JM et al (2001) Effects of perceptions and mentorship on pursuing a career in academic medicine in obstetrics and gynecology. Acad Med 76(6):628–634
Ethics declarations
Conflict of interest
The authors declare that they have no conflict of interest.
Statement of human and animal rights
All procedures performed in studies involving human participants were in accordance with the ethical standards of the institutional and/or national research committee and with the 1964 Helsinki declaration and its later amendments or comparable ethical standards.
Informed consent
For this type of study formal consent is not required.
Grant/financial support
The authors report no external funding source for this study.
Electronic supplementary material
Below is the link to the electronic supplementary material.
About this article
Cite this article
Burkhardt, J.C., Smith-Coggins, R. & Santen, S. Residents values in a rational decision-making model: an interest in academics in emergency medicine. Intern Emerg Med 11, 993–997 (2016). https://doi.org/10.1007/s11739-016-1408-8
Received:

Accepted:

Published:

Issue Date:
Keywords
Medical education

Career interest

Academic career choice

Decision-making