Abstract
Metformin is the only biguanide oral hypoglycemic drug, that is used to treat patients with type-2 diabetes mellitus. There are some reports of metformin being associated with decreased serum levels of vitamin B12 (VB12). The objective of this study is to systematically analyze the impact of metformin on the frequency of VB12 deficiency and serum levels of VB12. A search of various databases provided 18 retrospective cohort studies and 11 randomized controlled trials. Pooled estimates of odds ratio with 95 % confidence interval using random effect model were conducted. Studies were examined for heterogeneity, publication bias and sensitivity analysis. Separate analysis of randomized control trials (RCTs) including both low-risk and high-risk bias was also conducted. 29 studies were selected with a total of 8,089 patients. 19 studies were rated intermediate or high quality. Primary outcome suggested increased incidence of VB12 deficiency in metformin group (OR = 2.45, 95 % CI 1.74–3.44, P < 0.0001.) Heterogeneity was relatively high (I 2 = 53 %), with minor publication bias. Secondary outcome suggested lower serum VB12 concentrations in metformin group (Mean difference = −65.8, 95 % CI −78.1 to −53.6 pmol/L, P < 0.00001) with high heterogeneity (I 2 = 98 %,) and low publication bias. RCTs analysis of low-and high-risk group revealed similar trends. We conclude that metformin treatment is significantly associated with an increase in incidence of VB12 deficiency and reduced serum VB12 levels.
Access options
Buy single article
Instant access to the full article PDF.
US$ 39.95
Tax calculation will be finalised during checkout.
Subscribe to journal
Immediate online access to all issues from 2019. Subscription will auto renew annually.
US$ 79
Tax calculation will be finalised during checkout.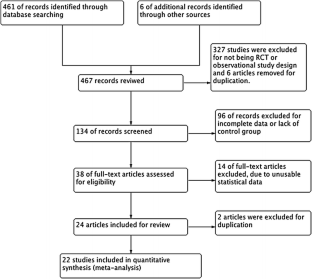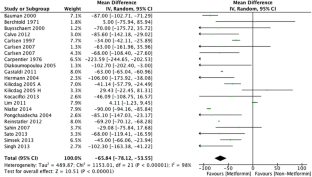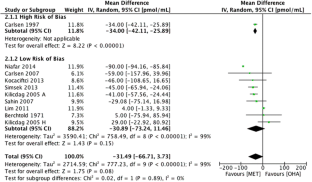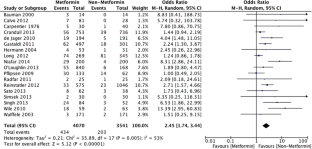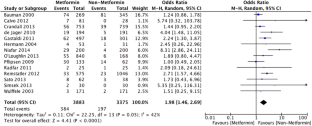 References
1.

Cho NM (ed) (2013) Diabetic atlas, 6th edn. International Diabetes Federation, Bruccel

2.

Home P (ed) (2005) Global guidelines for type-2 diabetes. International Diabetes Federation, Inc., Brussels

3.

American Diabetes Association (2014) Standards of medical care in diabetes–2014. Diabetes Care 37(Suppl 1):S14–S80. doi:10.2337/dc14-S014

4.

Adams JF, Clark JS, Ireland JT, Kesson CM, Watson WS (1983) Malabsorption of vitamin B12 and intrinsic factor secretion during biguanide therapy. Diabetologia 24(1):16–18

5.

Pflipsen MC, Oh RC, Saguil A, Seehusen DA, Seaquist D, Topolski R (2009) The prevalence of vitamin B(12) deficiency in patients with type 2 diabetes: a cross-sectional study. J Am Board Fam Med JABFM 22(5):528–534. doi:10.3122/jabfm.2009.05.090044

6.

Reinstatler L, Qi YP, Williamson RS, Garn JV, Oakley GP Jr (2012) Association of biochemical B(1)(2) deficiency with metformin therapy and vitamin B(1)(2) supplements: the National Health and Nutrition Examination Survey, 1999-2006. Diabetes Care 35(2):327–333. doi:10.2337/dc11-1582

7.

Da Silva L, McCray S (2009) Vitamin B12: no one should be without it. Pract Gastroentrol 33(1):39–46

8.

Saperstein DS, Barohn RJ (2002) Peripheral neuropathy due to cobalamin deficiency. Curr Treat Option Neurol 4(3):197–201

9.

Downs SH, Black N (1998) The feasibility of creating a checklist for the assessment of the methodological quality both of randomised and non-randomised studies of health care interventions. J Epidemiol Commun H. 52(6):377–384

10.

DerSimonian R, Laird N (1986) Meta-analysis in clinical trials. Control Clin Trials 7(3):177–188

11.

Sterne JA, Gavaghan D, Egger M (2000) Publication and related bias in meta-analysis: power of statistical tests and prevalence in the literature. J Clin Epidemiol 53(11):1119–1129

12.

Begg CB, Mazumdar M (1994) Operating characteristics of a rank correlation test for publication bias. Biometrics 50(4):1088–1101

13.

Bauman WA, Shaw S, Jayatilleke E, Spungen AM, Herbert V (2000) Increased intake of calcium reverses vitamin B12 malabsorption induced by metformin. Diabetes Care 23(9):1227–1231

14.

Berchtold P, Dahlqvist A, Gustafson A, Asp NG (1971) Effects of a biguanide (Metformin) on vitamin B 12 and folic acid absorption and intestinal enzyme activities. Scand J Gastroenterol 6(8):751–754

15.

Buysschaert M, Dramais AS, Wallemacq PE, Hermans MP (2000) Hyperhomocysteinemia in type 2 diabetes: relationship to macroangiopathy, nephropathy, and insulin resistance. Diabetes Care 23(12):1816–1822

16.

Calvo Romero JM, Ramiro Lozano JM (2012) Vitamin B(12) in type 2 diabetic patients treated with metformin. Endocrinologia y nutricion : organo de la Sociedad Espanola de. Endocrinologia y Nutricion 59(8):487–490. doi:10.1016/j.endonu.2012.06.005

17.

Carlsen SM (2007) [Metformin and vitamin B 12 deficiency]. Tidsskrift for den Norske laegeforening : tidsskrift for praktisk medicin, ny raekke 127(6):764 (author reply PubMed PMID: 17363994)

18.

Carlsen SM, Folling I, Grill V, Bjerve KS, Schneede J, Refsum H (1997) Metformin increases total serum homocysteine levels in non-diabetic male patients with coronary heart disease. Scand J Clin Lab Invest 57(6):521–527

19.

Carpentier JL, Bury J, Luyckx A, Lefebvre P (1976) Vitamin B 12 and folic acid serum levels in diabetics under various therapeutic regimens. Diabete metab 2(4):187–190

20.

Diakoumopoulou E, Tentolouris N, Kirlaki E, Perrea D, Kitsou E, Psallas M et al (2005) Plasma homocysteine levels in patients with type 2 diabetes in a Mediterranean population: relation with nutritional and other factors. Nutr Metab Cardiovasc Dis NMCD 15(2):109–117. doi:10.1016/j.numecd.2004.01.001

21.

Gastaldi G, Mura T, Sultan A, Piot C, Cristol JP, Renard EM (2011) Vit B12 deficiency and silent myocardial ischemia in type 2 diabetic patients. Diabetologia 54:S500–S501

22.

Hermann LS, Nilsson B, Wettre S (2004) Vitamin B12 status of patients treated with metformin: a cross-sectional cohort study. Br J Diabetes Vasc Dis 4:401–406

23.

Kilicdag EB, Bagis T, Tarim E, Aslan E, Erkanli S, Simsek E et al (2005) Administration of B-group vitamins reduces circulating homocysteine in polycystic ovarian syndrome patients treated with metformin: a randomized trial. Hum Reprod 20(6):1521–1528. doi:10.1093/humrep/deh825

24.

Kilicdag EB, Bagis T, Zeyneloglu HB, Tarim E, Aslan E, Haydardedeoglu B et al (2005) Homocysteine levels in women with polycystic ovary syndrome treated with metformin versus rosiglitazone: a randomized study. Hum Reprod 20(4):894–899. doi:10.1093/humrep/deh700

25.

Kocaciftci G, Aydogan U, Akbulut H, Parildar H, Aydogdu A, Yaman H et al (2013) The effects of metformin and metformin plus calcium treatments on serum vitamin B12 levels. Nobel Med 9(3):58–63

26.

Lim SS, Norman RJ, Clifton PM, Noakes M (2011) The effect of comprehensive lifestyle intervention or metformin on obesity in young women. Nutr Metab Cardiovasc Dis NMCD 21(4):261–268. doi:10.1016/j.numecd.2009.10.006

27.

Niafar M, Jamali B, Lotfi-Bakhshaieshi N, Aghamohammadzadeh N, Nader ND (2014) Effect of Metformin on Serum Vitamin B12 Level in Patients with Type 2 Diabetes Mellitus. Diabetes Tech Therap. Submitted (under review)

28.

Pongchaidecha M, Srikusalanukul V, Chattananon A, Tanjariyaporn S (2004) Effect of metformin on plasma homocysteine, vitamin B12 and folic acid: a cross-sectional study in patients with type 2 diabetes mellitus. J Med Assoc Thai Chotmaihet Thangphaet 87(7):780–787

29.

Sahin M, Tutuncu NB, Ertugrul D, Tanaci N, Guvener ND (2007) Effects of metformin or rosiglitazone on serum concentrations of homocysteine, folate, and vitamin B12 in patients with type 2 diabetes mellitus. J Diabetes Complications 21(2):118–123. doi:10.1016/j.jdiacomp.2005.10.005

30.

Sato Y, Ouchi K, Funase Y, Yamauchi K, Aizawa T (2013) Relationship between metformin use, vitamin B12 deficiency, hyperhomocysteinemia and vascular complications in patients with type 2 diabetes. Endocr J 60(12):1275–1280

31.

Simsek A, Aydogan U, Cigerli O, Yaman H, Saglam K (2013) The Effect Effect of Metformin Treatment on Serum Total Vitamin B-12. Homocysteine and Transcobalamin Levels. Nobel Med 9(3):14–21

32.

Singh AK, Kumar A, Karmakar D, Jha RK (2013) Association of B12 deficiency and clinical neuropathy with metformin use in type 2 diabetes patients. J Postgrad Med 59(4):253–257. doi:10.4103/0022-3859.123143

33.

Crandall M, Zarzaur B, Tinkoff G (2013) American Association for the Surgery of Trauma Prevention Committee topical overview: National Trauma Data Bank, geographic information systems, and teaching injury prevention. Am J Surg 206(5):709–713. doi:10.1016/j.amjsurg.2013.07.002

34.

de Jager J, Kooy A, Lehert P, Wulffele MG, van der Kolk J, Bets D et al (2010) Long term treatment with metformin in patients with type 2 diabetes and risk of vitamin B-12 deficiency: randomised placebo controlled trial. BMJ 340:c2181. doi:10.1136/bmj.c2181

35.

Long AN, Atwell CL, Yoo W, Solomon SS (2012) Vitamin B(12) deficiency associated with concomitant metformin and proton pump inhibitor use. Diabetes Care 35(12):e84. doi:10.2337/dc12-0980

36.

O'Loughlin S (2013) Wan Mahmoud WA, Kyaw Tun T, McDermott JH, Sreenan S. Vitamin B12 deficiency in diabetes patients treated with metformin. Ir J Med Sci 182:S417–S418

37.

Radfar M, Doost MJ, Hadjibabaie M, Larijani B (2011) Vitamin B12 levels in type 2 diabetic patients receiving metformin. Int J Clin Pharm-Net. 33(2):339

38.

Wile DJ, Toth C (2010) Association of metformin, elevated homocysteine, and methylmalonic acid levels and clinically worsened diabetic peripheral neuropathy. Diabetes care 33(1):156–161. doi:10.2337/dc09-0606

39.

Wulffele MG, Kooy A, Lehert P, Bets D, Ogterop JC, Borger van der Burg B et al (2003) Effects of short-term treatment with metformin on serum concentrations of homocysteine, folate and vitamin B12 in type 2 diabetes mellitus: a randomized, placebo-controlled trial. J Intern Med 254(5):455–463

40.

Andres E, Vidal-Alaball J, Federici L, Loukili NH, Zimmer J, Kaltenbach G (2007) Clinical aspects of cobalamin deficiency in elderly patients. Epidemiology, causes, clinical manifestations, and treatment with special focus on oral cobalamin therapy. Eur J Intern Med 18(6):456–462. doi:10.1016/j.ejim.2007.02.013

41.

Ting RZ, Szeto CC, Chan MH, Ma KK, Chow KM (2006) Risk factors of vitamin B(12) deficiency in patients receiving metformin. Arch Intern Med 166(18):1975–1979. doi:10.1001/archinte.166.18.1975

42.

Institute of Medicine Standing Committee on the Scientific Evaluation of Dietary Reference Intakes and its Panel on Folate Other B Vitamins and Choline USA (1998) Dietary Reference Intakes for Thiamin, Riboflavin, Niacin, Vitamin B6, Folate, Vitamin B12, Pantothenic Acid, Biotin, and Choline. The National Academies Collection: Reports funded by National Institutes of Health. Washington (DC)

43.

Carmel R, Rasmussen K, Jacobsen DW, Green R (1996) Comparison of the deoxyuridine suppression test with serum levels of methylmalonic acid and homocysteine in mild cobalamin deficiency. Br J Haematol 93(2):311–318

44.

Obeid R, Jung J, Falk J, Herrmann W, Geisel J, Friesenhahn-Ochs B et al (2013) Serum vitamin B12 not reflecting vitamin B12 status in patients with type 2 diabetes. Biochimie 95(5):1056–1061. doi:10.1016/j.biochi.2012.10.028
About this article
Cite this article
Niafar, M., Hai, F., Porhomayon, J. et al. The role of metformin on vitamin B12 deficiency: a meta-analysis review. Intern Emerg Med 10, 93–102 (2015). https://doi.org/10.1007/s11739-014-1157-5
Received:

Accepted:

Published:

Issue Date:
Keywords
Cyanocobalamin

Neuropathy

Metformin

Diabetes Mellitus type-2

Vitamin B12

Cobalamin deficiency