Prothrombotic burden in a patient with recurrent thrombotic events: might an early assessment of thrombophilia be useful in the presence of a strong family history for vascular events?
CE - LETTER TO THE EDITOR
Dear Editor,
A 55-year-old man (A. Z.) was admitted to Our Cardiac Step Down Unit of the tertiary center: Careggi Hospital, for an evaluation in the presence of a history of recurrent cardiovascular events.
Classical cardiovascular risk factors:
Hypertension on therapy with a good control, type 2 diabetes mellitus on metformin (3 g/day) with good glycemic control (glycated hemoglobin 5.6 %), high LDL cholesterol levels on statin treatment (rosuvastatin 20 mg/day) reaching a target of LDL 42 mg/dl; low HDL levels (24 mg/dl) on treatment, overweight (BMI 27.6). With regard to family history, almost all his relatives had suffered from a cardiovascular event (Fig.
1
) at a young age.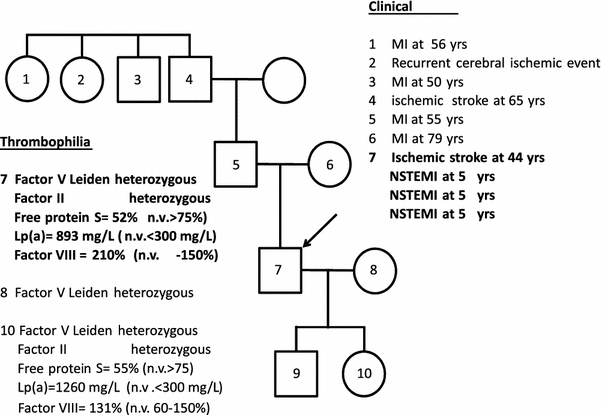 Keywords
Clopidogrel 
Left Anterior Descend 
Rosuvastatin 
Right Coronary Artery 
Thrombotic Event 
These keywords were added by machine and not by the authors. This process is experimental and the keywords may be updated as the learning algorithm improves.
Notes
Conflict of interest
None.