Abstract
Prior studies about the prognosis of syncopal patients shows that the 1-year mortality is consistently higher in cardiogenic than in non-cardiogenic or unexplained syncope. After 10 years, other studies have raised several concerns about this circumstantial evidence, showing that the risk of death is predicted by only the underlying heart disease and not from the syncope itself. This is a prospective cohort study aimed to compare the prognosis of cardiogenic and non-cardiogenic syncope. We studied 200 syncopal patients consecutively admitted to the Emergency Department Observation Unit of the University Hospital of Parma. At 1 month and 1 year after discharge, we compared the incidence of syncopal recurrences, major procedures, cardiovascular events and death for any reason in patients with cardiogenic versus non-cardiogenic syncope. Cardiogenic syncope was associated with the presence of at least one adverse event at short and long term. Despite the significant advances in the treatment of cardiovascular diseases over the past decades, cardiogenic syncope continues to be associated with a significantly worse prognosis when compared with non-cardiogenic syncope.
Access options
Buy single article
Instant access to the full article PDF.
US$ 39.95
Tax calculation will be finalised during checkout.
Subscribe to journal
Immediate online access to all issues from 2019. Subscription will auto renew annually.
US$ 79
Tax calculation will be finalised during checkout.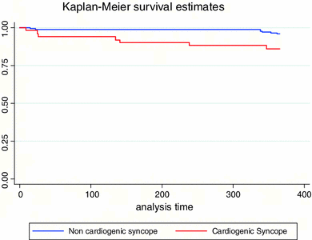 References
1.

Moya A, Sutton R, Ammirati F, Blanc JJ, Brignole M, Dahm JB, Deharo JC, Gajek J, Gjesdal K, Krahn A, Massin M, Pepi M, Pezawas T, Ruiz Granell R, Sarasin F, Ungar A, van Dijk JG, Walma EP, Wieling W (2009) Guidelines for the diagnosis and management of syncope (version 2009): the task force for the diagnosis and management of syncope of the European Society of Cardiology (ESC). Eur Heart J 30:2631–2671

2.

Olde Nordkamp LR, van Dijk N, Ganzeboom KS, Reitsma JB, Luitse JS, Dekker LR, Shen WK, Wieling W (2009) Syncope prevalence in the ED compared to general practice and population: a strong selection process. Am J Emerg Med 27(3):271–279

3.

Day SC, Cook EF, Funkenstein H, Goldman L (1982) Evaluation and outcome of emergency room patients with transient loss of consciousness. Am J Med 73(1):15–23

4.

Silverstein MD, Singer DE, Mulley A, Thibault GE, Barnett GO (1982) Patients with syncope admitted to medical intensive care units. JAMA 248:1185–1189

5.

Kapoor WN, Karpf M, Wieand S, Peterson JR, Levey GS (1983) A prospective evaluation and follow-up of patients with syncope. New Engl J Med 309:197–204

6.

Kapoor WN (1990) Evaluation and outcome of patients with syncope. Medicine 69:160–175

7.

Kapoor WN, Hanusa BH (1996) Is syncope a risk factor for poor outcomes? Comparison of patients with and without syncope. Am J Med 100:646–655

8.

Middlekauff H, Stevenson W, Stevenson L, Saxon LA (1993) Syncope in advanced heart failure: high risk of sudden death regardless of origin of syncope. J Am Coll Cardiol 21:110–116

9.

Serrano LA, Hess EP, Bellolio MF, Murad MH, Montori VM, Erwin PJ, Decker WW (2010) Accuracy and quality of clinical decision rules for syncope in the emergency department: a systematic review and meta-analysis. Ann Emerg Med 56(4):362–373

10.

Brignole M, Menozzi C, Bartoletti A, Giada F, Lagi A, Ungar A, Ponassi I, Mussi C, Maggi R, Re G, Furlan R, Rovelli G, Ponzi P, Scivales A (2006) A new management of syncope: prospective systematic guideline-based evaluation of patients referred urgently to general hospitals. Eur Heart J 27:76–82

11.

Official Journal of Italian Republic, n. 76, 31/03/2008: 68-74

12.

Ungar A, Del Rosso A, Giada F, Bartoletti A, Furlan R, Quartieri F, Lagi A, Morrione A, Mussi C, Lunati M, De Marchi G, De Santo T, Marchionni N, Brignole M (2010) Evaluation of guidelines in syncope study 2 group. Early and late outcome of treated patients referred for syncope to emergency department: the EGSYS 2 follow-up study. Eur Heart J 31(16):2021–2026
About this article
Cite this article
Numeroso, F., Mossini, G., Lippi, G. et al. Evaluation of the current prognostic role of cardiogenic syncope. Intern Emerg Med 8, 69–73 (2013). https://doi.org/10.1007/s11739-012-0889-3
Received:

Accepted:

Published:

Issue Date:
Keywords
Syncope

Prognosis

Cardiogenic syncope

Emergency department